During the summer season, you don't need to lock yourself up in a dark room to experience international cinematic masterpieces.
In fact, it's during the summer that cinema takes back its freedom in Paris and enjoys the lovely weather by going outside and pleasing all the capital's movie lovers.
Outdoor Films at Parc de la Villette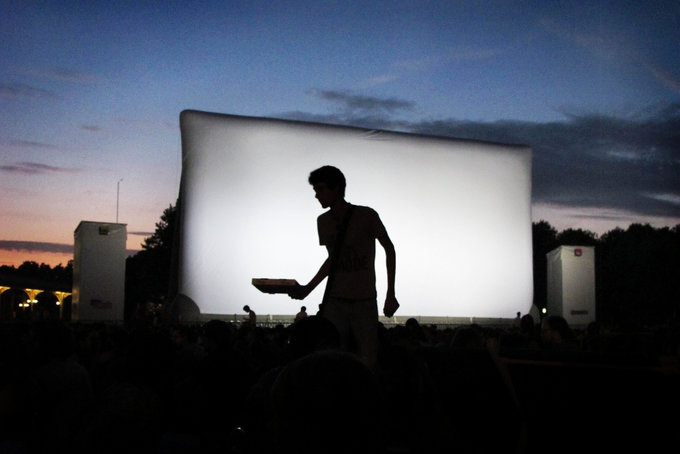 Crédits : ©Hanna Nikkanen
Every year, between the middle of July and the middle of August, it is the same thing around Parc de la Villette: dozens of groups of friends or lovers hurry out of Porte de Pantin metro station. With a blanket over the shoulder and a picnic basket in their hands, they rush along towards the "Praire du Triangle" in the Parc de la Villette. Not a giant picnic, but rather a must-see event for all movie lovers in Paris: Outdoor Films at Parc de la Villette.
The programming is always centered on a theme and offers films that are always in their original language with French subtitles. In addition to being international, the choices are all eclectic. You can even choose in regards to your film preferences or you can try out an unknown film. There is no fuss here, they screen cinematic classics, a few art-house films, but mostly films destined for the larger public. No flops are in sight; the films that are shown during the evening are masterpieces of the silver screen that are either promoted or lesser-known, and the Outdoor Film Festival also offers numerous films that are more recent (in theaters at least a year ago, for some).
The atmosphere is nice and lively. Out on the lawn, don't be afraid to borrow your neighbor's bottle opener if you forgot your own! You can bring your picnic and a bottle of wine to enjoy the beautiful summer evenings out on the large green expanse. Concerning seating at the event, it's first come, first serve on the large open-access lawn at the park, and you can also rent lawn chairs (7 euros for one, 20 euros for 5 ). But if you are interested in that, we suggest that you arrive early. For picnic lovers, you can still bring your blanket or towel and find a spot on the lawn. Despite the summer heat, we suggest not forgetting something to cover up with and/or a sweater for any cold-blooded moviegoers. These are necessary when the evenings get a bit chilly. In fact, the showing doesn't even start before nightfall (10pm in mid-July and 9pm in mid-August), expect to get home rather late, when the films last over two hours. You will be shivering if you forget that blanket!
Location: Parc de la Villette, Prairie du Triangle, 221 Avenue Jean Jaurès, Paris 19th arrondissement.
(M5 : station Porte de Pantin.)
Moonlit Cinema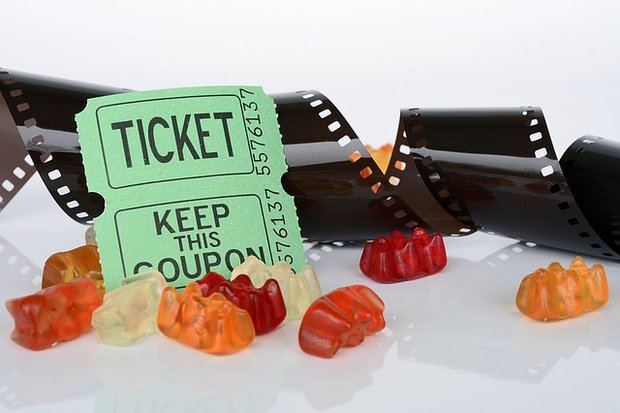 Along the same lines, the Forum des Images (Parisian cultural institution dedicated to cinema) organizes moonlit showings every summer for movie lovers who want the chance to watch or rewatch cinematic classics during the final evenings of July and the first few of August.
The program is really diverse (ranging from animated films to artsy films) but always quality works. What makes this event special is also its "nomadic" aspect. The program changes every day, and the meeting place is never the same. Also, you'll have the chance to discover different Parisian gardens and squares that will make night owls out of you for the love of film. No matter which arrondissement you live in, you can easily find a showing close to you. We recommend consulting the program, because, with the location changing each night, there may not be any seating in certain parks. So don't forget a blanket or a little sweater for the cool summer nights.
Showings always start at 9:30pm with free entry, as long as there is enough space available. Don't be late!
Ciné-Balade in Paris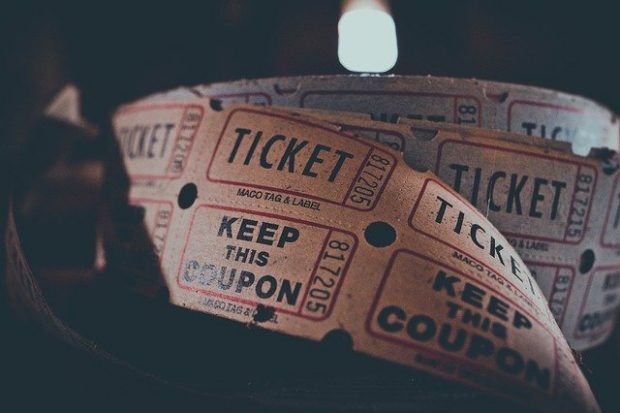 Since the beginning of film, the City of Lights has been a decorative feature in numerous cinematic works. The city's charm certainly explains why the cameras linger in its streets. For those who wish to further their experiences with film or for those who refuse to sit in dark theaters to live out their passion, we suggest Parisian Cinematic Walking Tours.
During these walks, you can follow a guide that will help you discover the other side of your favorite films' backdrop, and at the same time, you will find the most scenic places in Paris.
Paris certainly makes films special, and you will understand why well-known directors, either French or foreign, choose Paris as their background. The walking tours are organized throughout the year, but you can enjoy them the most during the summer. Follow your guide through three different routes that allow you to discover scenes from numerous masterpieces. Four different tours are offered: The Tour of Lights, the Walk of Fame, the 20th Century Tour, or the Midnight in Paris Tour.
The Tour of Lights will show you the history of film throughout the Parisian capital. Follow the footsteps of Méliès, Gaumont, Linder, the Lumiere Brothers, all inhabitants of the Capital and learn how film gradually became a popular art form.
The Walk of Fame will show you or reshow you the greatest classics of cinema from France and Hollywood that chose the mythic capital for their setting. Relive these masterpieces during a memorable stroll.
The 20th Century Tour leads you into the cradle of Parisian film among neighborhoods like Jourdain, Belleville, or the ever popular Ménilmontant. During your stroll you'll go mostly through the northeastern parts of town that held the old Gaumont studios.
Finally for fans of Woody Allen, especially his Midnight in Paris, go back in time and be carried away by the magic of Paris in the 1920's and its "lost generation". This tour will let you visit the meeting place of renowned writers and artists that lived in the capital for a time.
All the visits are lively with a passionate guide, knowledgeable in film, who will lead you through a dynamic and interactive tour through the streets of Paris. He or she will be glad to answer all your questions and share their love for the silver screen with you. The guide will find you at the meeting point before starting the tour. The cost is a bit high (you'll pay 12 euros per person with a discount for groups) but don't doubt the quality of the tours. You will have to reserve a spot in advance.

Advice, best plans, great places; I will help you in your search for trips, activities, hotels and restaurants. Whether it's for a walk, a weekend, an afternoon or merely to find a trendy place to eat, I can give you all the pointers you need for your endeavor. Just follow the guide!