In Paris, cemeteries are part of the city's cultural heritage. People come from all over the world to visit celebrities' graves, but also to take a picturesque and unusual stroll, for a break from the hustle and bustle of Paris, and a visit like no other. Tree-lined and flowered, the cemeteries are also peaceful witnesses of the incredible cultural life that has made Paris so prestigious.
1) Père-Lachaise Cemetery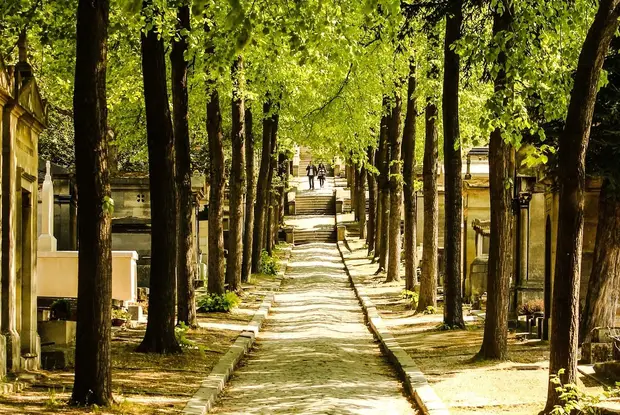 Père-Lachaise was not only the first of Paris' civilian burial grounds, but it is also one of the most famous in the world.
It is in the 20th district of the French capital, and it has the graves of many famous people: Edith Piaf, Frédéric Chopin, Jim Morrison, Oscar Wilde, Yves Montand, Allan Kardec, Honoré de Balzac, Victor Noir, Georges Rodenbach, Alfred de Musset, Molière, Jean de la Fontaine, Marcel Proust, Elisabeth Alexandrovna Stroganoff, Héloïse and Abélard, Isadora Duncan, Théodore Géricault…
A Truly Open-air Museum
The City of Paris manages the cemetery, but it is difficult to consider Père-Lachaise as a simple cemetery.
It is full of majestic tombs that makes it a peaceful English landscape garden, and a real museum with outdoor sculptures and many architectural and sculptural works of funerary art.
You can observe a wide variety of styles such as: Haussmann vaults, Gothic tombs, ancient mausoleums, Second French Empire works, and neoclassical monuments…
History of Père-Lachaise Cemetery
This cemetery gets its name from Louis XIV's time and the king's confessor priest, Father François d'Aix de La Chaise.
Created in 1804, it was not initially very successful, and contained only 2,000 graves.
Today it has 70,000 tombs of both normal and famous people.
In 1815, the city administration decided to transfer here the graves of the distinguished citizens in order to convince Parisians to bury their family and friends.
The first were the remains of Molière, Heloise and Abelard.
Since then, Père-Lachaise has been enlarged five times.
Today it is the largest green area in Paris (43 acres) after two parks – Bois de Boulogne and Bois de Vincennes.
The Tour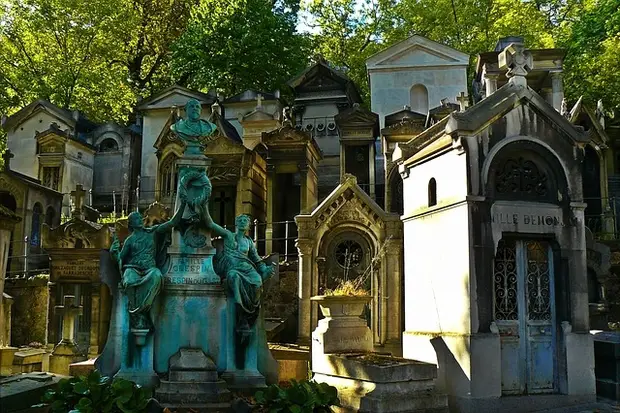 At the cemetery entrance, a small guide is available to help you find your way with indications of the most famous tombs.
However, it will not be easy to find celebrities graves; this cemetery is like a labyrinth! It is divided into sectors designated by numbers.
The lower part of the cemetery is a complex path between graves in dirt roads and paved paths.
The upper part is in a much more geometric and rational way.
Strolls, Meditation and Tranquility
Père-Lachaise is not only the most famous cemetery in Paris, but also a poetic place, good for dreams and meetings.
It is a meditation place very widely visited, nostalgic and very emotional because there is no place in the world that has so many celebrities' graves.
You can sit on a bench in the shade of the century-old big trees.
Through the avenues, you are invited to walk, meet other visitors, and share a moment of poetry and peacefulness.
While walking, you will find many normal people's graves as well, but you will be impressed by their original or architectural beauty.
How to Get to Père-Lachaise Cemetery
The cemetery has 5 entrances, which have the same names as the bus and metro stops. You can get the main entrance by bus 61, 69 and by metro line 2, Philippe-Auguste stop.
If you get off at the Père-Lachaise metro stop on lines 2 and 3, you can take the Porte des Amandiers entrance.
By metro 3, and 3b you get off at Gambetta stop, and take the Gambetta entrance.
Opening hours:
November to mid-March: 8am to 5.30pm Monday to Friday, 8.30am to 5.30pm on Saturday, and 9am to 5.30pm on Sunday and public holidays.
Mid-March to October: 8am to 6pm Monday to Friday, 8.30am to 6pm on Saturday, and 9am to 6pm on Sunday and public holidays.
Address:
8, boulevard de Ménilmontant 75020, Paris
www.pere-lachaise.com
2) Montmartre Cemetery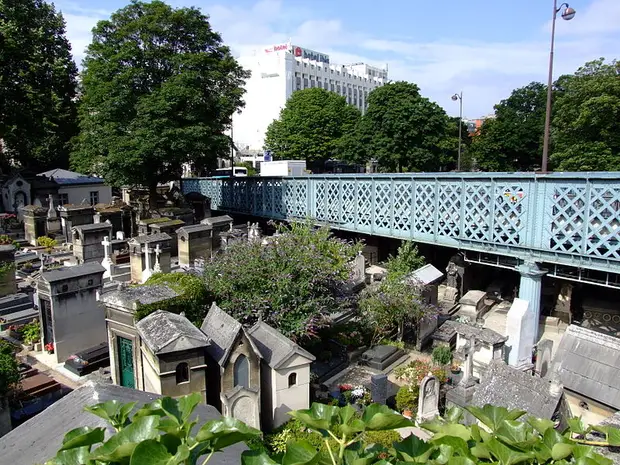 The North Cemetery, better known as the Montmartre Cemetery, is located at the bottom of the Montmartre hill in the 18th arrondissement in Paris.
The cemetery has 20,000 graves, and some of the celebrities here are include: Stendhal, Berlioz, Dalida, Fred Chichin, Michel Berger, François Truffaut, Offenbach, Nijinski, Zola, la Goulue, Jacques Legras, the Sanson executioners, the Goncourt, Annie Fratellini, Carole Fredericks, Degas, Poulbot, Labiche, Feydeau, Medrano, Louis Jouvet, and Clouzot.
Today, apart the graves of celebrities, the cemetery is open to a limited number of funerals each year.
Its Extraordinary Story
From 1798 to 1806, the cemetery was built on a former open-air gypsum quarry.
During the French Revolution, this region was used as a place to bury bodies because there was not enough space in Paris.
Then, the cemetery was restored with its neighbourhood, and officially inaugurated in 1825.
Since 1888, the cemetery has been crossed by the Caulaincourt bridge.
The Tour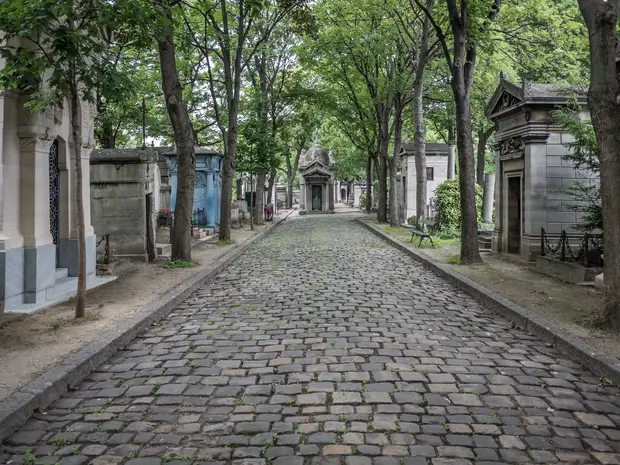 This site is large – 11 acres of land – under the level of the avenues, and is full of tombs. It is a good place to walk, and is located very close to the Sacre-Cœur Basilica.
It is a valley surrounded by three hills with more than 700 trees (maple trees, chestnut trees, linden trees, western red cedar), groves, gardens, and dilapidated chapels, that make the place very pleasant in summer.
Despite the fact that it is located in a very busy area, crossed by several main roads, Montmartre cemetery is extraordinarily quiet and peaceful. It has large paths, where there are several benches.
The cemetery has a picturesque and romantic side, that makes it original.
You can see the celebrities' graves, which are simple, flowery, or original; there are very beautiful statues as well, that are atypical, different from the others, and completely unique.
Just after the entrance, there is a map indicating where to find all the famous graves; there is an unbelievable number of celebrities buried here!
The cemetery is divided in different floors.
With a guided tour, you can discover many different anecdotes of all kinds.
How to Get to the Montmartre Cemetery
Metro stations near the cemetery are Blanche with line 2; and Place de Clichy with lines 2 and 13.
The nearest bus stop is Clichy-Caulaincourt, with the following bus lines: 30, 54, 68 and 74.
Opening hours:
From 6 November to 15 March: Monday to Friday 8am to 5.30pm; Sunday and public holidays: from 9am to 5.30pm.
From March 16 to November 5: Monday to Friday 8am to 6pm; Saturday 8:30am to 5:30pm; Sunday and public holidays: 9am to 6pm.
Address:
20 avenue Rachel 75018, Paris
https://www.paris.fr/equipements/cimetiere-de-montmartre-5061 (French website)
3) Montparnasse Cemetery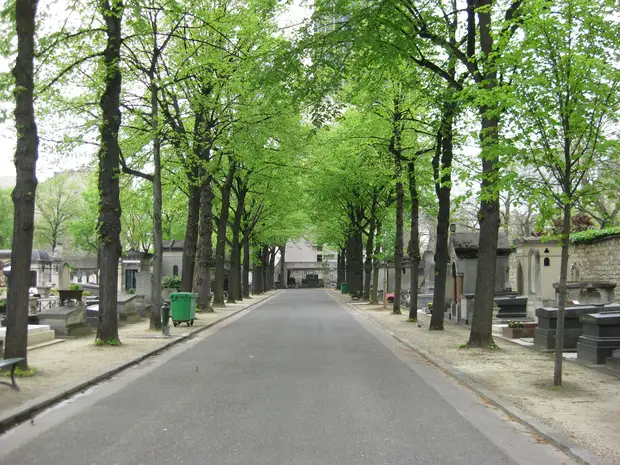 The cemetery of the South, better known as the Montparnasse cemetery, is in the 14th arrondissement, in the centre of one of the most dynamic districts in Paris.
It is one of the biggest green spaces in the capital.
There are 1,200 trees with 40 different species!
With a surface area of 19 hectares, the cemetery currently houses about 35,000 graves and about 1,000 new ones every year.
The History of Montparnasse Cemetery
The cemetery has a large number of trees, and is in the area where were three farms were formerly located.
It was built at the beginning of the 19th century in the south of Paris, and opened in 1824.
During the French Revolution, this land was confiscated by the clergy. The poor people, who died in hospitals, and could not afford their funerals fees, were buried here.
Celebrities in the Montparnasse Cemetery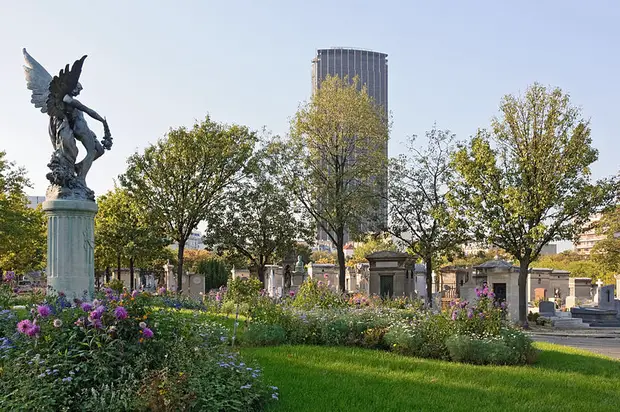 Over the years, it has become a cemetery for artists and intellectuals, not only French, but also foreigners, who have made Paris their favourite city.
Charles Baudelaire, Samuel Beckett, Guy de Maupassant, Marguerite Duras, Eugène Ionesco, Jean-Paul Sartre and Simone de Beauvoir are buried here.
The cemetery houses the graves of other distinguished individuals such as the sculptor Costantin Brancusi, the painter Chaim Soutine, the photographer Man Ray, André Citroën, the founder of the company of the same name, the singer Serge Gainsbourg, the songwriter Camille Saint-Saëns, the drawer Jean Giraud known as Moebius, as well as many actors and directors such as Philippe Noiret or Jacques Becker.
How to Get to the Montmartre Cemetery
The main entrance of the cemetery is in the north on Edgar Quinet Boulevard, from the Raspail metro station on lines 4 and 6; Edgar-Quinet on line 6; Gaîté on line 13; or buses 28, 58, 82, 88, 89, 91, 92, 94, 95, 96.
There are four entrances, and the cemetery map is available at the each of them.
Opening hours:
Every day, 8am, 8.30am or 9am to 5.30pm or 6pm, depending upon what the season is.
Address:
3, boulevard Edgar-Quinet 75014, Paris
https://www.parisinfo.com/musee-monument-paris/71295/Cimetiere-du-Montparnasse

Mona knows Paris like the back of her hand. Bars, restaurants, hotels… whether you want to sleep, eat, party or just take a walk in Paris, Mona gives you her best advice. Follow her lead, she will gladly give you all her good tips and best addresses!