You want to come and ski in France but don't know which ski resort to choose? Here is a detailed guide that will help you.
Courchevel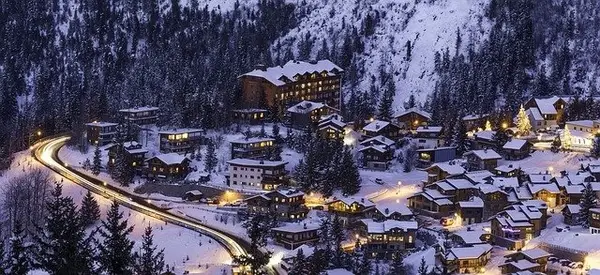 MAIN FEATURES
Setting: ★★★★☆ 4/5
Tracks: ★★★★★ 5/5
Families: ★★★★★ 5/5
Price: ★★☆☆☆ 2/5
Activities: ★★★★★ 5/5
Courchevel is internationally known for its typical french luxury and extravagance but Courchevel has more to offer and you will love this resort if you go past your prejudice.
Courchevel is one of the largest and most famous ski resorts in France and in the world. It is composed of 6 different villages that are easily accessible no matter where you stay. The resort is located at the center of the ' Les 3 vallées ' ski area, the largest ski area in the world.
The highest point of the resort is at 1850m above sea level. There are 312 tracks for all levels of skills from beginner to advanced. Additionally, there are 186 mechanical lifts and interconnected tracks, everything is thought out to provide you with the best possible skiing experience.
Furthermore, Courchevel offers many interesting activities such as driving a piste-basher, driving a snowmobile, dog sledding, ice diving and many others. Also, you will be spoilt for choices for the younger ones such as an ice rink, sledding, the aquamotion or the family park.
Take advantage of your time in Savoie to taste the local gastronomy: cheesy specialties, crozets, blueberry tarts and many others at Le Henri, l'Azimut or another great restaurant.
As far as prices are concerned, Courchevel is not the most affordable of the ski resorts but it still offers passes, and the family pass, in particular, is interesting.
Chamonix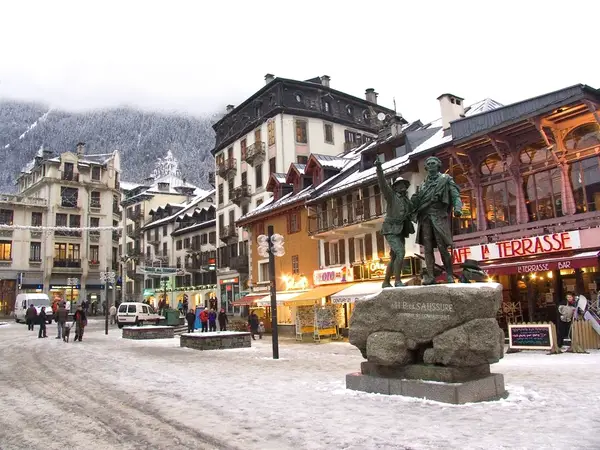 MAIN FEATURES
Setting: ★★★★★ 5/5
Tracks: ★★★★★ 5/5
Families: ★★★★☆ 4/5
Price: ★☆☆☆☆ 1/5
Activities: ★★★★☆ 4/5
Located at the base of Mont Blanc the village and its resort offer you an unforgettable setting and various activities such as climbing, paragliding, having a fondue in an Igloo (website in French)  and for the youngest, pony rides, escape games, discovery workshops and many other activities are also at your disposal. More info here.
There are three main ski areas: Les Houches, Brévent-Flégère and Grands Montets which offer tracks for skiers of all levels.
Chamonix offers an array of bars and restaurants that often stay open very late at night, creating a striking nightlife. Taste the high gastronomy at high altitudes in unique restaurants such as the 3842 at 3842m above sea level or the Chalet de Caillet.
For the hotels, you have many choices, but I recommend two that are well-situated within the resort: Les Aiglons (which provides a ski rental service) and Les Lanchers.
Price-wise the resort is quite expensive but offers several packages and you can choose to go skiing in one area only which is less expensive.
Les 2 Alpes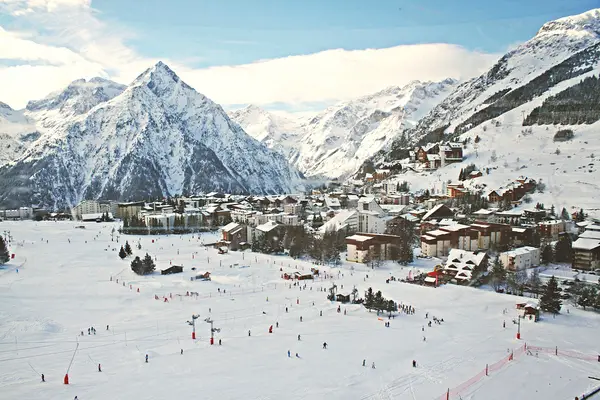 MAIN FEATURES
Setting: ★★★★☆ 4/5
Tracks: ★★★★☆ 4/5
Families: ★★★★★ 5/5
Prices: ★★★☆☆ 3/5
Activities: ★★★★☆ 4/5
Right by Grenoble, the Les 2 Alpes ski resort offers an impressive setting with its snowy peaks, both during summer and winter. An above sea level that reaches 3600m, natural snow and more than 200 km of tracks including the glacier on which you can ski even during summertime.
In 2009 the resort was awarded with the Famille Plus label (website in French), a proof that it welcomes young and old alike and guarantees good times with your family. A family pack has been set up but it is relatively expensive and you might prefer one of the other passes. There are a few free mechanical lifts which are perfect for skiing with younger children.
You will be able to go sledding, walking, ice-skating or simply visit one of the magical natural sites like the Ice Cave. You should also know that the resort offers a 'pedestrian pass' to go to the glacier. If your children can't follow you or if you want a moment of peace, the resort offers several daycare centers.
Skiing made you hungry? Try one of the many restaurants on-site such as l'Améthyste for High-end cuisine or the Bistro Les Lutins or other less expensive restaurants. As far as accommodations are concerned, there are all kinds of them but if you are with your family you might want to choose the People Hostel which is affordable and agreeable.
Gérardmer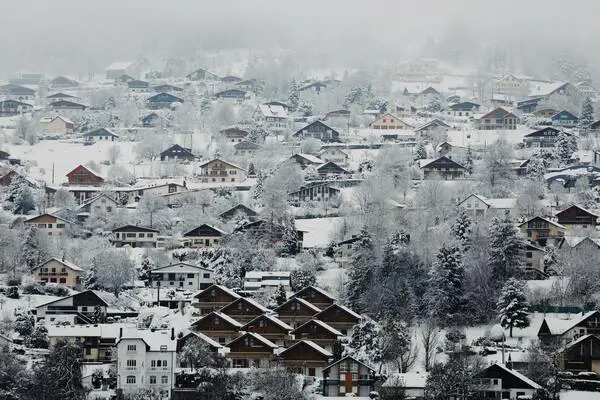 MAIN FEATURES
Setting: ★★★☆☆ 3/5
Tracks: ★★★☆☆ 3/5
Families: ★★★★★ 5/5
Prices: ★★★★★ 5/5
Activities: ★★★★☆ 4/5
Another resort that is perfect for families: Gérardmer. In the village around the resort, you'll find all the amenities you need, including gourmet restaurants such as Les Bas Rupts or more affordable ones such as  Le Mémé.
This resort was awarded the famille plus label (website in French) which means that it has daycare centers and many activities for children. The resort also provides a space dedicated to families with free access to slides and a playground to have fun in the Loustic Igloo.
The resort offers several types of tracks for cross-country skiing, downhill skiing and snowshoeing for a totaling up to 21 tracks -including the longest in the Vosges that is 2900m long. The altitude is not that high in the resort of the Vosges Massif, but it is easily compensated for by a high snow rate and well-equipped tracks.
Additionally, the resort offers 'night skiing' on Saturdays from 4:30 pm to 9:30 pm on tracks that are lit up and they also broadcast music for the occasion! After that, you could finish the evening in one of the bars that the resort offers such as the Café-Concert Le Grattoir or at the Caveau nightclub (websites in French).
When you take a look at the prices, this resort is very affordable, especially with its family passes.
L'Alpe d'Huez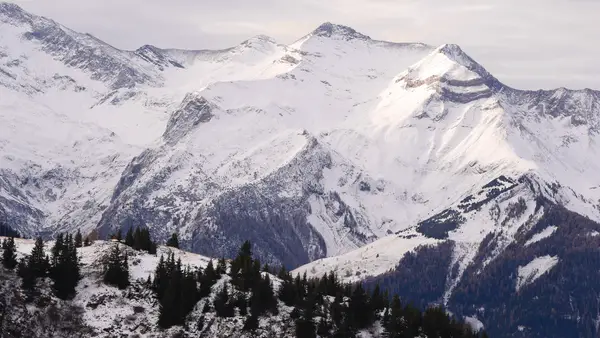 MAIN FEATURES
Setting: ★★★★★ 5/5
Tracks: ★★★★★ 5/5
Families: ★★★☆☆ 3/5
Prices: ★★★☆☆ 3/5
Activities: ★★★★☆ 4/5
When you choose l'Alpe d'Huez resort, you choose to go skiing in a huge ski area (L'Alpe d'Huez Grand Domaine de ski) shared by 5 resorts. L'Alpe d'Huez is nicknamed 'The Island in the Sunshine' is set up at 1850m altitude and offers you 251km of tracks divided into all levels of skiers.
You will be able to choose from an array of physical activities such as hiking trails, nordic skiing, trying out the giant big air bag or the 2 snowparks and many more to be enjoyed by those who enjoy walks as well as the more sporty ones. You could spend your evening at the underground club or strolling around to find an open bar which will inevitably propose a warm atmosphere.
You could also go relax at the Spa des Neiges or in the indoor swimming pool of the resort.
In the downtown area situated nearby, you will be spoilt for choices regarding the stores, shopping malls, restaurants, rental stores, and hotels. Hotels such as L'Ours Blanc or Au Chamois d'Or offer splendid viewpoints and great comfort.
Taste the delights of the Alps in restaurants like l'Authentique or Le Passe-Montagne (websites in French).
Concerning the resort's rates, they are not the most affordable but it offers interesting day or half-day and  family packages.
Méribel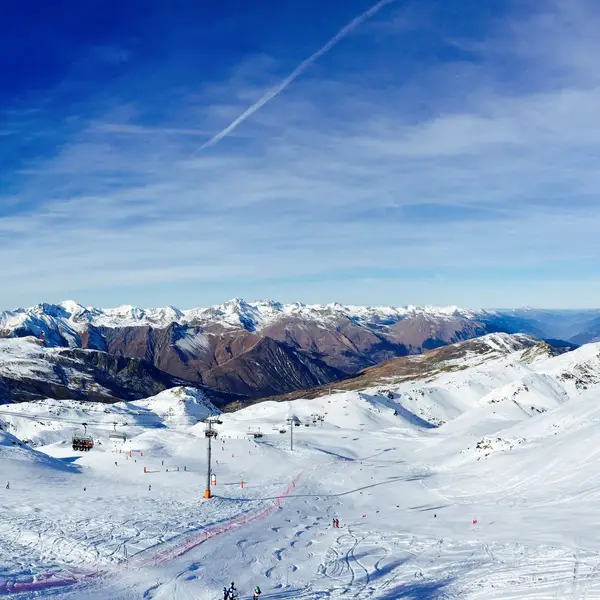 MAIN FEATURES
Setting: ★★★★★ 5/5
Tracks: ★★★★★ 5/5
Families: ★★★★☆ 4/5
Prices: ★★★☆☆ 3/5
Activities: ★★★★★ 5/5
Explore the Les 3 Vallées ski area with its splendid sites such as the summit of Mont Vallon or the signal summit in Courchevel. The ski area has a lot of very well-equipped tracks for all levels including black tracks for the more adventurous.
The resort offers ski passes for families and several-day stays; the prices are rather high but some packages may interest you.
Spend your nights in luxurious hotels such as Eterlou or Chaudanne and eat in high-altitude restaurants with magnificent views such as Rok or l'Arpasson.
When you are not skiing you can take part in an array of different activities. From paragliding, snowshoeing, horse riding, a spa afternoon or simply shopping, there's everything you expect in Méribel.
The resort includes blue and green tracks for beginners as well as 7 free mechanical lifts for beginners and the youngest. It has the largest blue track in Les 3 Vallées with more than 1500m of vertical drop. The resort also created The Yéti Park of Méribel to be enjoyed by the youngest children.
You can visit secret corners at the heart of the les 3 Vallées ski area such as the Méribel Roc de Fer or Roc de Tougne where nature still rules and the panorama is magnificent. Impressive tracks are waiting for you there.
Les Angles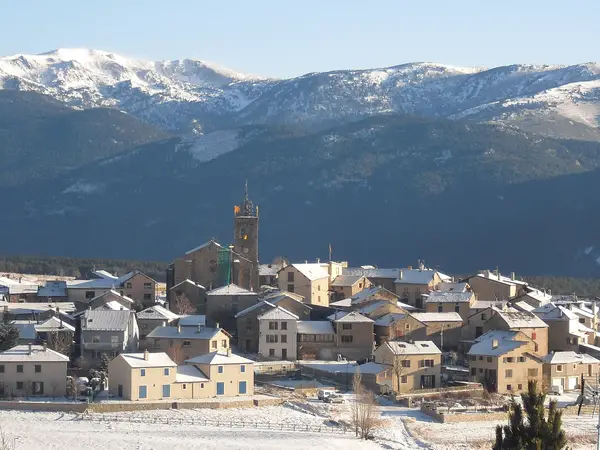 MAIN FEATURES
Setting: ★★★★☆ 4/5
Tracks: ★★★☆☆ 3/5
Families: ★★★★★ 5/5
Prices: ★★★★★ 5/5
Activities: ★★★★☆ 4/5
Les Angles is a village-resort; enjoy a historic village coupled with a very well-equipped ski resort.
The resort offers you a "snake gliss" (collective sledge to be done with the family), an animal park, orienteering, hiking, historical visits, dog sledding (more info here – all websites are mostly in French) and an area dedicated to children.
Les Angles does not have a hundred tracks, but the 44 tracks it offers will delight everyone: 8 black, 14 red, 9 blue and 13 green tracks.
These tracks lie in the heart of the forest, ski in a charming setting. The resort has 19 mechanical lifts, which allows for an important flow of skiers.
The resort also has a snow park, a freestyle AirBag and two sliding areas, for those who love other types of snow sports.
This resort can be visited at affordable prices for half-day, full-day or also interesting family and weekend packages (website in French).
Lodge at l'étoile du Berger, at the Hotel Bel Angle or at one of the various hotels to be enjoyed in this picturesque setting. You can then go eating at Chez Antoine or La Rambalade (websites in French), or any other traditional restaurant nearby.
Val d'Isère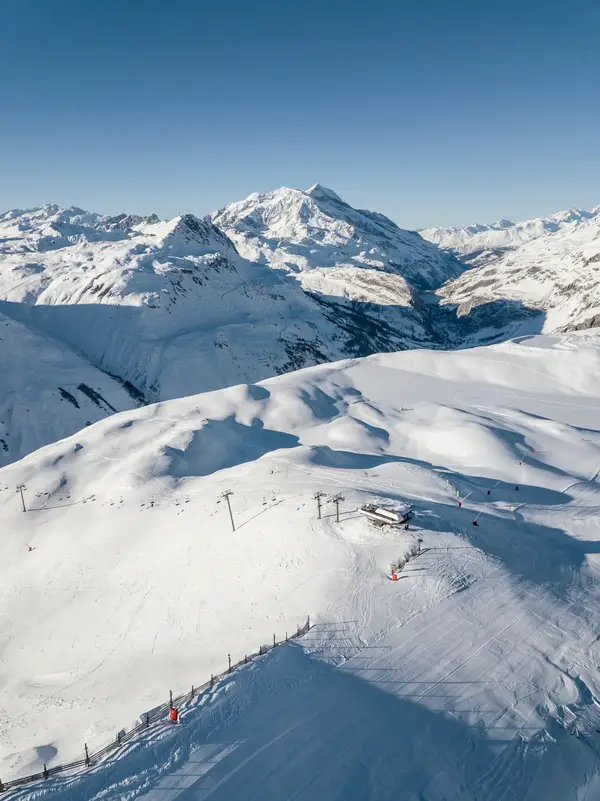 MAIN FEATURES
Setting: ★★★★☆ 4/5
Tracks: ★★★★★ 5/5
Families: ★★★★★ 5/5
Prices: ★★★☆☆ 3/5
Activities: ★★★★☆ 4/5
A perfect place for families, nestled at an altitude of 1850 m in the Vanoise valley, this authentic resort welcomes you with open arms.
Labeled 'Famille Plus', this resort offers a lot of services to have fun with your youngest: a children's village, a leisure center as well as a nursery, a daycare and babysitting to go and have fun without the children.
There is not only skiing to do in Val d'Isère, but many other activities such as sleigh rides, snowshoe trails, ski trails on foot, skating rinks or even a play area with airboard, a snake gliss track (a collective sled to enjoy with the family) and yooner (a kind of sled with shock absorber and skate).
The resort also has a beach area, an Aquasport center, a cinema and lots of other places to have fun or spend the evening.
Children can also enjoy ski slopes for free.
There are many local stores for your daily life but also various boutiques to satisfy your shopping needs. Shuttle buses are at your disposal which is very convenient to get around without a car.
The resort also offers activities for the more athletic members of the family such as speed riding, cross-country skiing, ice climbing or biathlon: you won't be bored if you want to do something other than skiing.
The resort offers interesting passes at reasonable rates such as the family pass.
Val Thorens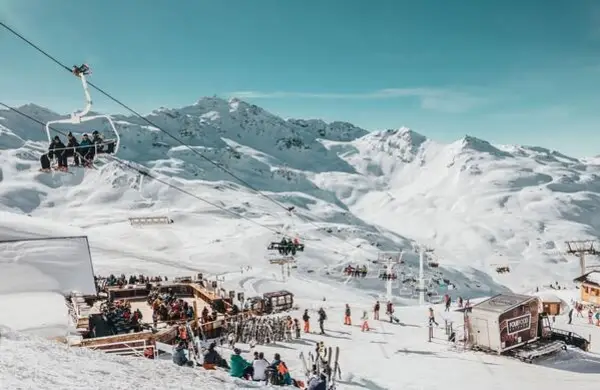 MAIN FEATURES
Setting: ★★★★★ 5/5
Tracks: ★★★★★ 5/5
Families: ★★★★☆ 4/5
Prices: ★★★☆☆ 3/5
Activities: ★★★★☆ 4/5
Welcome to Val Thorens, the resort that has been voted several times best ski resort in the World. Snow is always present there at a 2300m altitude, come enjoy the best ski area in the world, the les 3 vallées ski area.
Tracks for all levels: 11 green, 39 blue, 30 red and 8 black. Well-equipped ski tracks with more than 30 mechanical lifts, parks for sledging and snowboarding… this resort has everything you need.
For the most daring among you: ice diving, ice circuit or fat bike are available; you won't be disappointed.
Val Thorens offers many unforgettable experiences. Visit the  Yurt of the Chalet de la Marine at 2500 m above sea level. Stay at the Igloo Village if you have the chance, which is the highest village in Europe.
There is an unusual hotel in Val Thorens, the Pashmina which has a transparent Igloo in which you can sleep under the stars. This hotel also has its own gourmet restaurant.
For those on a tighter budget, consider a restaurant and a hotel with more affordable prices such as the Folie Food Ratrack and the hotel Le Portillo.
The prices are not excessive, and you can buy the family pass for the domain.
La Plagne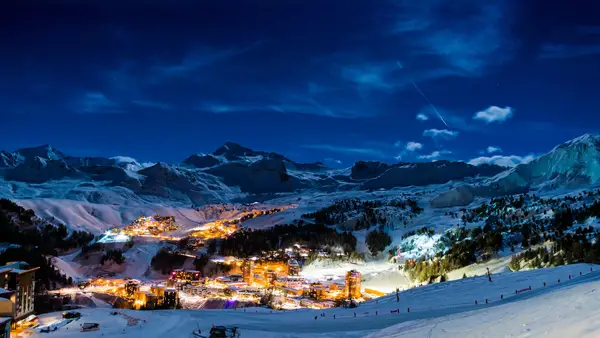 MAIN FEATURES
Setting: ★★★★☆ 4/5
Tracks: ★★★★☆ 4/5
Families: ★★★★☆ 4/5
Prices: ★★★★★ 5/5
Activities: ★★★★☆ 4/5
La Plagne has a huge ski area and is a ski resort that is as accessible in terms of transport (close to a train station, it is quick to get there whether it is from Paris or Province) as it is in terms of price.
Its domain is attached to the Paradiski ski area, a huge ski area where you can find something for any level.
Several other snow sports are practiced on their very well-equipped tracks. You can find a snowpark, a Half Pipe, an Air Bag and a water slide, among other installations.
The resort also offers ski lessons for beginners as well as for advanced skiers in its numerous schools.
The resort is composed of 5 villages, all with unique styles and linked by free shuttles. You will be spoilt for choices for hotels of different ranges such as Les Hauts Bois or l'Araucaria and restaurants that are also diverse in terms of price such as the Dou du Praz and its traditional cuisine or Le Farçon.
You can choose from an array of activities in the village: Spa and wellness, swimming pool, bowling, squash … You can even visit historical monuments of the Gallo-Roman period.
Avoriaz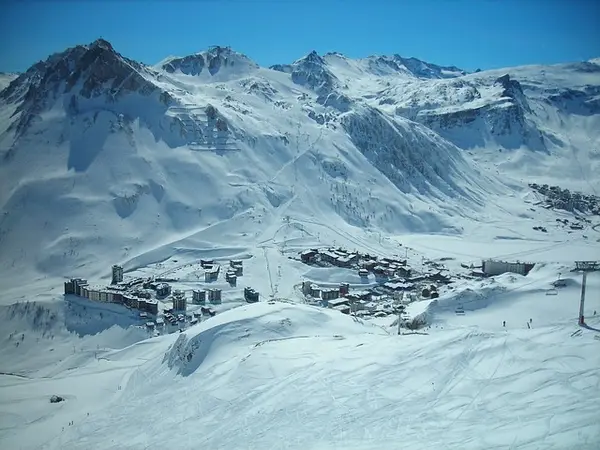 MAIN FEATURES
Setting: ★★★★☆ 4/5
Tracks: ★★★★☆ 4/5
Families: ★★★★★ 5/5
Prices: ★★★★☆ 4/5
Activities: ★★★★☆ 4/5
Welcome to Avoriaz, an illuminated village nestled at an 1800m altitude in a snowy and enchanting setting.
This resort has a fascinating history; it was the dream project of a former Olympic ski champion, Jean Vuarnet, who was able to build this resort from scratch by recruiting a team that shared his dream.
In the 70's, Avoriaz became known for its fantastic film festival which revealed genius directors such as Spielberg, Lynch or Besson as well as attracting celebrities, before it was moved to Gérardmer in '93.
The resort has developed to become a paradise for all snow sports enthusiasts. It benefits from the Portes Du Soleil ski area and its 600 km of tracks. Everything is easy to access, for pedestrians or skiers as the resort is snow-covered all winter long.
Voted best place in the world by pro riders in 2014, this resort offers a splendid slope in the heart of a forest in its eco-responsible snow park: The Stash.
Les Arcs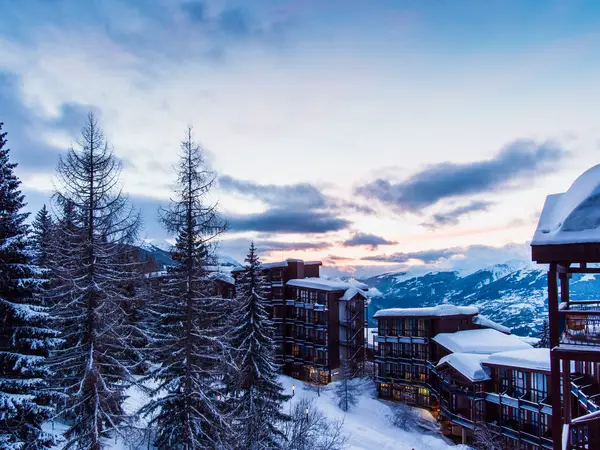 MAIN FEATURES
Setting: ★★★★★ 5/5
Tracks: ★★★★★ 5/5
Families: ★★★★☆ 4/5
Prices: ★★★☆☆ 3/5
Activities: ★★★★★ 5/5
Les Arcs, a magnificent resort nestled in the very heart of the Alps and its Paradiski ski area:
It offers 425 km of tracks separated into all difficulty levels as well as 5 small villages nestled at different altitudes to delight guests with sumptuous scenery up to a 3000 m altitude.
Come and practice other types of snow sports while experiencing unforgettable panoramas: Snowpark, Boardercross, sledge track and other areas are reserved for your favorite activities.
You can also practice other sports in spaces designed and equipped for that purpose. Snowshoeing, speed riding, snowmobiling, waterslides, big air bag….
Afterwards, you can spend your evening in the Espace Mille8 (website in French), a new facility in Les Arcs, with all the comforts of a sound system, freestyle area, a luxurious lodge and many other activities.
With bowling, a lasergame and a children's area, families are also welcome and you won't be short of fun after skiing. Then try some good food with restaurants such as Effet Boeuf or Chez Clarisse (website in French).
The prices are those of  the Paradiski ski area; not the most affordable but not the most excessive either and their passes may interest you.
You could stay at the Mercure Hotel Les Arc 1800 or at the Belmont or at one of the other hotels of all ranges available.
Megève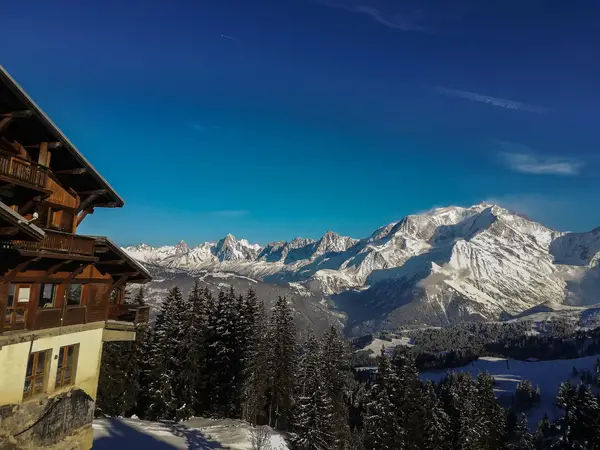 MAIN FEATURES
Setting: ★★★★★ 5/5
Tracks: ★★★★★ 5/5
Families: ★★★☆☆ 3/5
Prices: ★★★☆☆ 3/5
Activities: ★★★★☆ 4/5
The French chic in the mountains; Megève is a village designed for skiers and the reputation of its resort is well established.
The town also offers historical visits by horse-drawn carriage and tour guides will teach you the authentic history of the resort (all information about activities here).
This resort has more than 160 tracks of the Evasion Mont Blanc  ski area (website in French). The village is located at 100 meters and the resort reaches a 2350-meter altitude. The village is quickly accessible by taking the highway, it takes only one hour and a half from Grenoble, for example.
Enjoy the tracks, the sledging, other sliding, and sports activities and then you can go shopping in the luxury boutiques in the village. You can also try the local specialty: the 'Flocon de Neige' (website in French) a tempting dessert made with white chocolate.
Try luxury with the hotel Flocons de Sel which also has a restaurant or choose a more economical but pleasant solution with the Rond Point d'Arbois. You can also choose a more affordable restaurant like the Chalet Caboche (website in French).
As far as prices are concerned, you have several different passes as well as family packs. The prices are not excessive.
The Monts Jura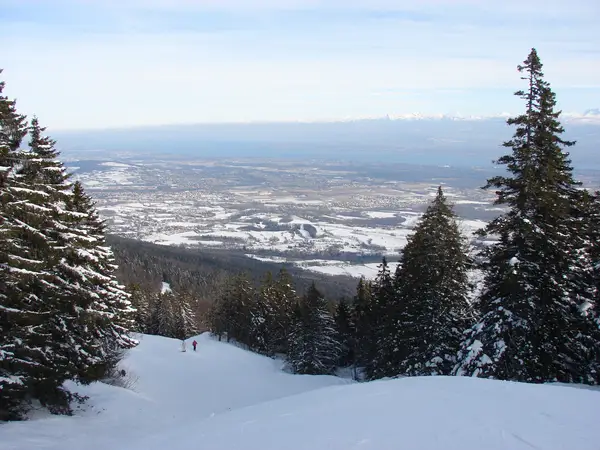 MAIN FEATURES
Setting: ★★★★☆ 4/5
Tracks: ★★★☆☆ 3/5
Families: ★★★★☆ 4/5
Prices: ★★★★★ 5/5
Activities: ★★★☆☆ 3/5
Come skiing in an exceptional setting overlooking Lake Geneva and Mont Blanc in the distance.
This family resort includes 4 areas, lots of tracks for all levels, activities to do with the family such as sledging, snowboarding (and initiation), snowshoeing or dog sledding (websites in French). A total of 160 km of tracks are available.
With its secure sledge tracks and travelators, the Menthière ski area is perfect for spending time with the whole family. Other relaxing after-ski activities are available, such as swimming in the thermal water of Divonne-les-Bains or a massage at the spa.
This resort is accessible due to its location (close to Annecy, Lyon and Geneva) but also to its prices. It is the most affordable resort on this small list, but despite the price, the charm of this resort has nothing to envy to that of the others!
There are many affordable restaurants and hotels such as the high-altitude restaurant La Catheline and the Relais Monts Jura (websites in French).
Grand Tourmalet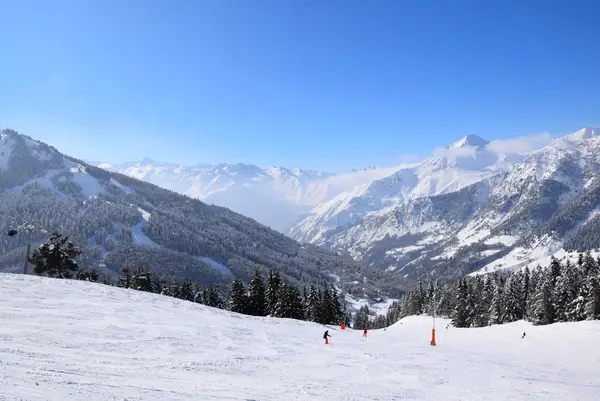 MAIN FEATURES
Setting: ★★★★☆ 4/5
Tracks: ★★★★☆ 4/5
Families: ★★★☆☆ 3/5
Prices: ★★★★★ 5/5
Activities: ★★★★☆ 4/5
Two resorts in one, the Grand Tourmalet benefits from the largest ski area in the Pyrenees.
This is a traditional place. The Barèges resort has barns and a much more modern area with the La Mongie resort, its high mountains, and its accommodations right next to the tracks.
It's also the ideal place for snow sports lovers with its 68 tracks for all levels as well as its freestyle or dedicated activities areas. It consists of 100 km of tracks at a vertical drop from 1800 to 2500 m.
The prices of the packages are affordable, which will make you want to come and ski in the Pyrenees.
Afterwards, take advantage of the classic mountain activities such as snowmobiling or dog-sled rides, snowshoe trails, climbing and hiking, as well as thermal baths, spas and other resourcing activities.
Trips in the surrounding areas promise to offer you unforgettable panoramas such as the Pic du Midi de Bigorre.
You can stay in beautiful and picturesque hotels such as L'Ardiden or Domaine de Ramonjuan.

I aim to share my tips and recommendations for the beautiful country of France. My goal is to help you plan your next adventure, whether it's a weekend getaway or a once-in-a-lifetime trip. From finding the best hotels and restaurants, to discovering unique activities and sights, I've got you covered!