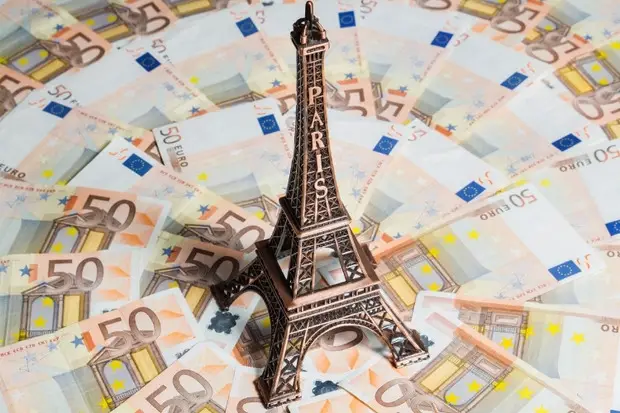 If you are planning to live in Paris, you have to take into account your monthly budget. According to a ranking established by The Economist, Paris is one of the three most expensive cities in the world. But this doesn't stop two million people from living in the French capital.
In Paris, the average salary (after the income tax direct debit) is approximately 2,250€/month. But it is possible to live in Paris for 1,400€/month if sharing a room in an apartment. The rent represents more than half of the expenses and shopping at the supermarket represents around 25%.
Let's now examine in detail the different monthly expenses.
Housing
This part is undoubtedly the most substantial part of the budget to live in Paris. It depends on the type of accommodation you are looking for: house or apartment, studio or 5-room flat, furnished or not…
Another determining factor is the arrondissement in which you want to live. The rent is not the same at the foot of the Eiffel Tower as it is at the other side of town. The most expensive arrondissement is the 6th and the cheapest is the 19th.
| | | |
| --- | --- | --- |
| | Surface | Rent |
| 1 room in a house | 12 m² | 572 € |
| Studio | 22 m² | 863 € |
| One-room apartment | 28 m² | 1,001 € |
| 2-room apartment | 38 m² | 1,290 € |
| 3-room apartment | 60 m² | 1,819 € |
| More than 3 rooms | / | 2,471 € |
According to LocService, the average rent in Paris, all categories included, is 1,079€/month.
How to reduce the price of housing?
Depending on your income, you can receive housing benefits from the CAF. Another way to reduce your rent is to find roommates with whom you can share an apartment (and thus the rent). This can also help the housing access along, for some landlords ask that you have a wage three times higher than the rent.
Bills
Here, we will examine the different bills binded to housing.
Electricity
The total of your electricity bill depends on the type of your heating system, the electric consumption and your subscription.
For a person living alone with a heating system and a water heater working with gas, and an electric hotplate, the average bill is 453€/year, being 37€/month.
However, if the heating system, the water heater and the hotplate are all-electric, the average bill is 1,509€/year, being about 125€/month.
Important: Taxes on electricity are legal to a maximum of 12% in France, except in Paris where they are legal to a maximum of 13.2%. It can be explained by the fact that Paris is both a city and a department.
Water
The price of water in Paris changes every year on the 1st of January. In 2021, a m3 of water was worth 3.45€. This price does not include the subscription, but only the production, supply and sanitation of water. In Paris, the water system is managed by only one company: Eau de Paris.
The average water consumption per person in Paris is 4,000 to 5,000 liters per month, being 4 to 5 m3. The average water bill is about 13 to 17€/month.
Internet
This bill is undoubtedly the most variable one. Subscription offers are very varied: with or without landline phone, with or without mobile phone package, wifi or ADSL, with or without television offer, etc. There are many options that affect the final price.
The price of a router generally goes from 19€ to 50€, without the price of the mobile phone package. The average internet bill is about 29€/month.
If you take the time to compare the offers according to your needs, this bill can easily be drastically reduced. The proliferation of offers enabled a drop in prices and mobile operators regularly propose special offers.
Transportation
Car
In order to calculate the price of a car, you have to take the maintenance, the gasoline, the insurance and the parking into account.
According to BudgetBanque, the cost of a car in France is valued 4,000 to 10,000€ per year, being 333 to 833€/month.
Public transport
Another alternative is to use public transportation. It is often a quicker and easier way to move around in Paris. There are different ticket options according to your needs.
An annual subscription for one person costs 827.20€, being 75.20€/month (payment over 11 months) and a monthly subscription costs 75.20€/month. If you are part of the senior category, if you are a student or if you receive social benefits, you can be entitled to reduced-price tickets and even free tickets in some cases.
For salaried people, keep in mind that 50% of your ticket is refunded by your employer. This is compulsory.
Shopping
According to an article from Le Parisien based on an investigation of the association UFC-Que choisir, the average shopping budget in Paris is 466€/month, which is more than the national average (56€ more).
Of course, it depends on the type of products you buy, the brands you choose and the places where you do your shopping. Parisian supermarkets are more expensive than the ones in the suburbs, and even within Paris, there are real price gaps between the different chains.
Learn more: A Comparison of Supermarkets You Can Find in Paris
Insurances
Housing insurance depends on the type of housing and the arrondissement you live in, but also on your status (tenant or owner). In the following chart, you will find the insurance average for a tenant in an apartment.
| | | |
| --- | --- | --- |
| | Annual average | Monthly price |
| Studio | 156 € | 13 € |
| 2-room flat | 189 € | 16 € |
| 3-room flat | 233 € | 19 € |
| More than 3 rooms | 303 € | 25 € |
In order to choose your insurance policy and pay the lowest price, be sure to compare the offers and prices. There are many online price comparators to help you make the best choice.
Taxes
Income taxes obviously depend on your income. But there are also local taxes, such as the residence tax which must be paid by both landlords and tenants. The good news is that in Paris, the rate of this tax is one of the lowest in France: it is less than 14% while the national average is 25%.
The other good news is that a wide portion of the population was partially or totally exempt from this tax in 2021, and this tax should disappear within two years.
The remaining tax is the television license fee, which costs 138€/year in 2021.
As for the household waste collection tax, it is paid by owners, but it can be included in your charges if you are a tenant.
Leisure activities
The expenses bidden to leisure activities depend on your tastes and your desires.
The average price for a movie theater ticket is 13€. This price can vary depending on the movie theater and the screening you choose.
As for the most famous museums of the French capital, the average ticket costs 15€. However, most museums offer reduced prices, and some are even free. On the first Sunday of each month, some museums which normally charge you offer free tickets.
Regarding restaurants, once again, it depends on your tastes and habits. Prices vary greatly between a fast-food restaurant and a gastronomic restaurant. A lunch costs around 15€/person on average in a low-cost restaurant. The average price for a dinner is around 30€/person in a mid-range restaurant.
Regarding sports, there are different types of gyms, from the cheapest to the most luxurious. Prices depend on the options and the chain you choose. It can go from 19.90€ to 160€/month.
Someone who goes to the movies once a month, eats dinner at a restaurant twice a month, visits a museum once a month and has a gym subscription (in a mid-range gym) will pay about 130€/month for leisure activities.
Total of monthly expenses
Here is the summary of the expenses of a person living alone in a rental housing in Paris, who uses public transportation and whose heating system works on gas.
| | | | | | | |
| --- | --- | --- | --- | --- | --- | --- |
| | 1 room in a house | Studio | 1-room flat | 2-room flat | 3-room flat | 4 rooms and more |
| Rent | 572€ | 863€ | 1,001€ | 1,290€ | 1,819€ | 2,471€ |
| Electricity (without water and heating system) | 37€ | 37€ | 37€ | 37€ | 37€ | 37€ |
| Water (average consumption: 5m³) | 17€ | 17€ | 17€ | 17€ | 17€ | 17€ |
| Internet | 29€ | 29€ | 29€ | 29€ | 29€ | 29€ |
| Public transportation | 75.2€ | 75.2€ | 75.2€ | 75.2€ | 75.2€ | 75.2€ |
| Grocery shopping | 466€ | 466€ | 466€ | 466€ | 466€ | 466€ |
| Insurance | 13€ | 13€ | 13€ | 16 € | 19 € | 25€ |
| Monthly television license fee | 11,5€ | 11,5 € | 11,5 € | 11,5€ | 11,5€ | 11,5€ |
| Leisure activities | 130€ | 130€ | 130€ | 130€ | 130€ | 130€ |
| Total | 1,350.7€ | 1,641.7€ | 1,779.7€ | 2,071.7€ | 2,603.7€ | 3,261.7€ |
| Minimum income | 1,400€ | 1,700€ | 1,800€ | 2,100€ | 2,700€ | 3,300€ |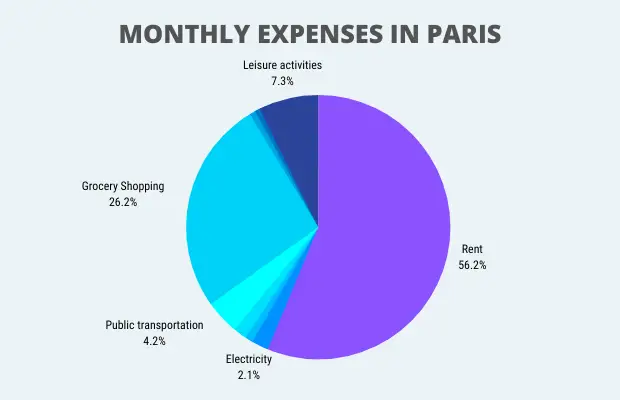 Caution: this chart is purely informative as prices are averages. Besides, it doesn't take the social benefits or the reduced prices you could be entitled to into account.

Advice, best plans, great places; I will help you in your search for trips, activities, hotels and restaurants. Whether it's for a walk, a weekend, an afternoon or merely to find a trendy place to eat, I can give you all the pointers you need for your endeavor. Just follow the guide!