Looking for a small love nest where you can have an idyllic stay with your other half? For a romantic weekend, what's better than Paris? The city of love is certainly one of the most romantic cities in the world. To perfect your love trip, I have made a selection of ideal hotels for your romantic stay.
1) The Seven Hotel ****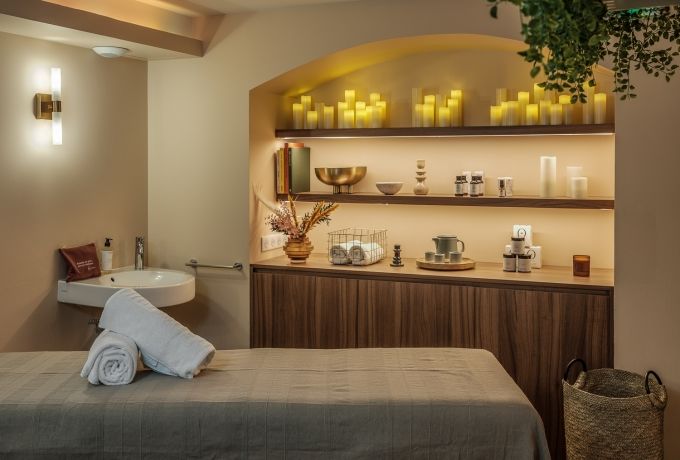 Located at the heart of the Latin Quarter and only 10 minutes on foot from the Jardin du Luxembourg, the Seven hotel is a boutique hotel with a Haussmann facade. Find in the boutique a selection of arty items and spend a night in one of the seven suites of the hotel. Each suite has its own atmosphere and is connected to the number 7.
If you are looking for sensuality to spend an unforgettable night, book the "seventh art" suite which is movie-themed and where you will feel like you are in the spotlight.
Other suites like the "seventh chakra" suite or the "seventh deadly sin" suite, are more about romanticism and bring you some comfort with their muted tons.
You will appreciate this place, with its fine fabrics and great services like breakfast in bed. Let the professionals pamper you with exotic and refreshing massages and with beauty services such as make-up, manicure and hairdressing.
Each room offers a unique sensory atmosphere with a subtle play of colors and materials.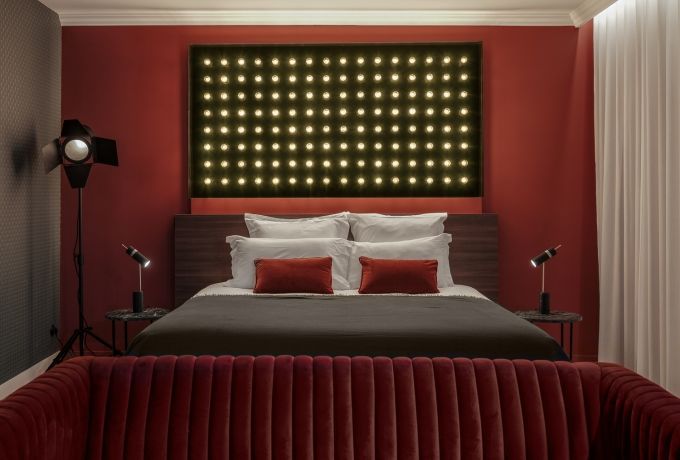 The movie-themed "seventh art" suite brings you on a movie set with its spotlights and its red velvet couch. Whether you want to watch a movie with your loved one or be the actors of your night, this suite is made for you.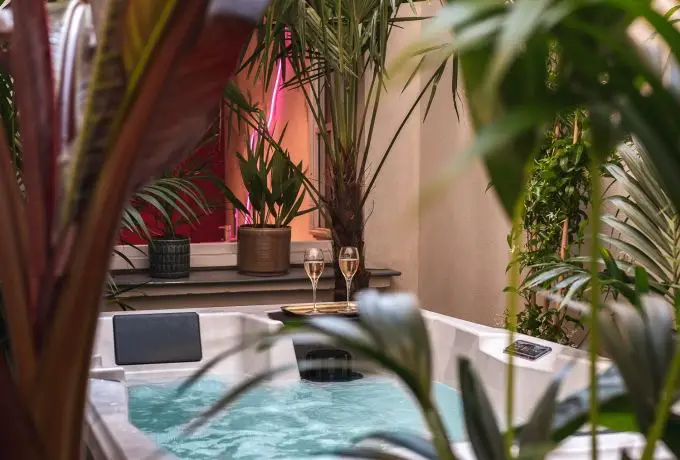 Spend some time with your loved one in the spa drinking a glass of champagne, in the "seventh deadly sin" suite. Enjoy the sensuality and comfort of the place, thanks to the combination of plants and different colors.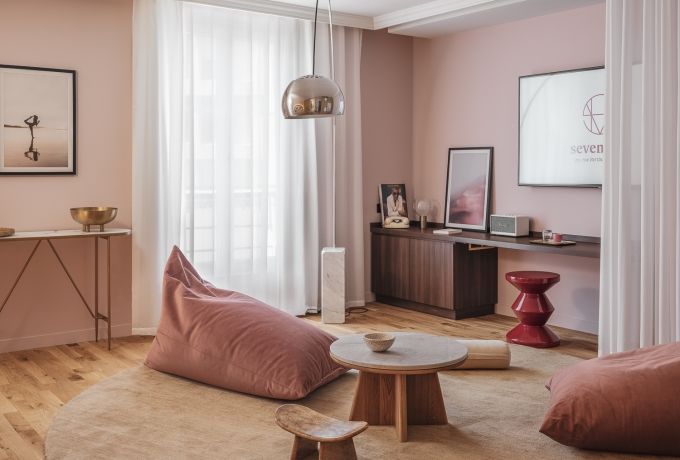 The seventh chakra suite will charm you with its fine fabrics and muted colors. You will fall under its spell thanks to its cutting-edge decoration and simplicity.
Address: 20 rue Berthollet, 75005, Paris
Access via public transport: M7 Les Gobelins, Censier Daubenton. RER B Port Royal
Pricing: starting from €119/night
Booking: Book a room here
2) The Five Hotel ***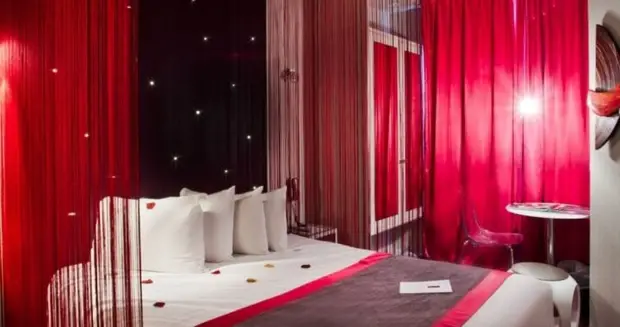 More than a hotel, Five Hotel is a real experience to be lived. A real dreamlike and romantic cocoon nestled near the garden of the Luxembourg, the establishment counts no less than 25 rooms.
With a sophisticated and contemporary design, this is the perfect place for romantic getaways within the capital. In a unique and glamorous atmosphere, rooms which are enlivened by a subtle perfume of essential oils and by delicate rose petals scattered on the bed will be sure to make this escapade in Paris perfect for anyone.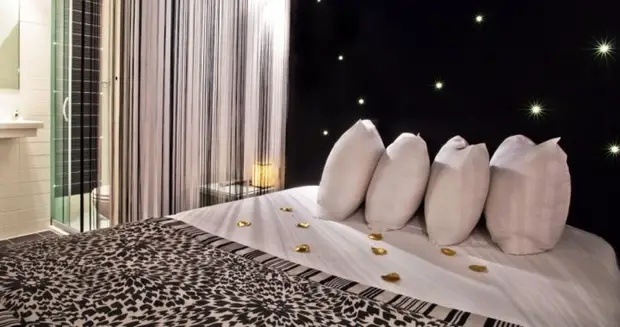 If you dream about a glass office with delicate integrated optical fibres, classic cocooning is for you. If you prefer small twinkling lights in the ceiling and a vault which gives you the impression of sleeping under a starry sky, the cocoon suite will be yours. Addicted to suspended beds? Then climb aloft with the Deluxe Cocon Suspendu suite.
If you want a luxurious room with a private terrace and a private outside Jacuzzi to enjoy a moment of relaxation, then the suite with the privative outside Jacuzzi was designed for you!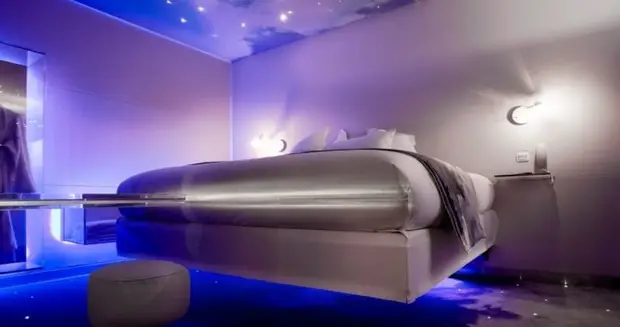 Finally, if an astronaut or an airline pilot lies dormant in you, sleep in the One by The Five with your heart in the clouds.
Address: 3 rue Flatters, 75005, Paris
Access via public transport: M7 Les Gobelins, Censier Daubenton. RER B Port Royal
Pricing: starting from €66/night
Booking: Book a room here
3) Relais Saint-Jacques Hotel ****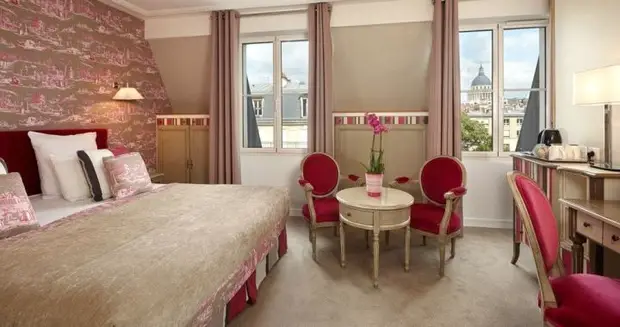 The Relais Saint-Jacques is a 4-star hotel, completely renovated in 2016. At the heart of the bustling Latin Quarter, you will not be able to resist the desire to stroll in Saint-Germain-des-Prés, Montparnasse or to stroll in the Ile de la Cité. This real haven of peace in Paris is perfect for a romantic stop and to recharge your batteries. Additionally, it offers you the possibility of escaping for a weekend or more with your spouse.
A real place full of history and of spirituality, the Relais Saint Jacques welcomes you just a step away from the gardens of the Luxembourg, the Pantheon, the Royal Chapel of Val-de-Grâce, and picturesque shops of this authentic district.
With 22 high-tech bedrooms having custom-made furniture and equipped with the most recent technologies, the hotel offers you comfortable spaces that are more than spacious and decorated in a unique way with style period furniture and oil paintings.
Not only do they have a view over the garden, but they are also equipped with flat-screen televisions receiving Canal+ and the DTT for couples who are the biggest television fans. So, everybody will find what he/she is looking for. The comfort of the room and the quality of the surmatelas will offer you a soft night of repair sleep. But also, the hotel invites you in with its magnificent modern bathrooms with an Italian-style shower and hairdryer. You can have one moment to yourself by spoiling yourself with the numerous luxury toiletries in the bathrooms.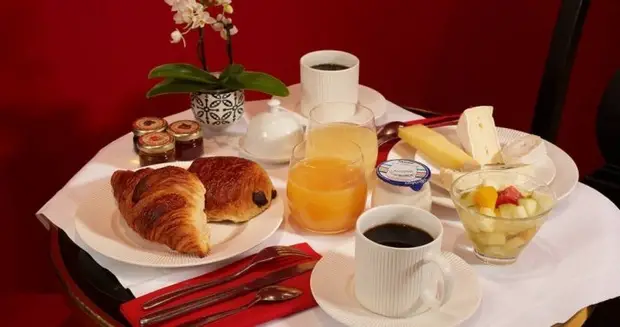 For the greedy couples, your stomachs will be filled with a breakfast served like a buffet! It's hard to know where to begin between hot drinks, fruit juice, cake, croissants, cooked meats, cheese, cereal, fresh fruit salad, and much more.
Address: 3 rue de l'Abbé-de-L'Epée, 75005, Paris
Access via public transport: M7 Censier – Daubenton, Place Monge
Pricing: starting from 108€/night
Booking: Book a room here
4) Hotel Academie Saint Germain ***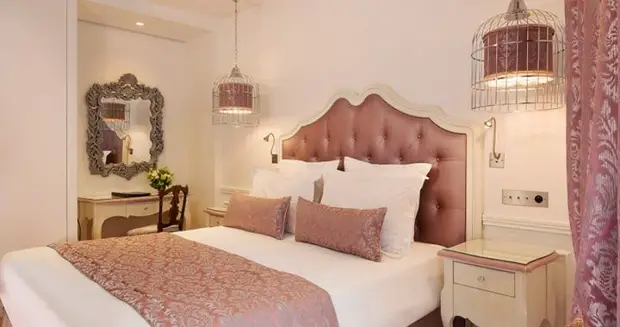 All of Paris for you in a few minutes! The Hotel Académie is situated in Saint-Germain-des-Prés on the Left bank of the Seine. A small area of elegance and district of the artists, it is ideally situated to discover Paris. The amateurs of shopping will be filled with the neighbouring streets of the hotel which offer a wide range of fashion stores, bookshops, galleries of art, interior designers, and much more!
Discover a hotel to the design filled with poetry, decorated in a period style. You will appreciate the charm of this hotel with exposed beams and stones. The refinement of the furniture, the shimmering of the noble materials, joist and vintage beams create a delicate signature of refinement and elegance to the hotel.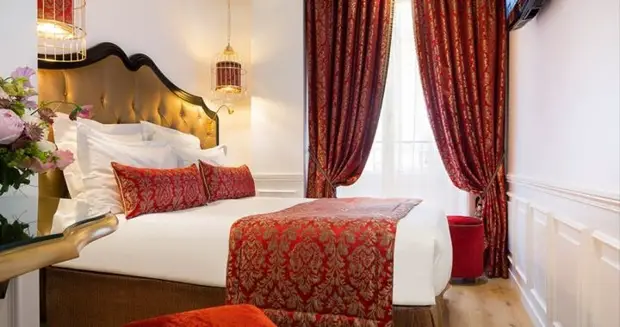 With its 33 rooms that do not lack elegance, the hotel has a flat-screen television and a private bathroom. Also, certain suites have a marble bathroom and a bathtub spa. You will love to spend a royal night with the bedrooms' ceiling moulding and the marble floor…
Address: 32 rue des Saints-Pères, 75005, Paris
Access via public transport: M4 Saint-Germain-des-Près
Pricing: starting from 149€/night
Booking: Book a room here
5) Brésil Opéra Hotel ***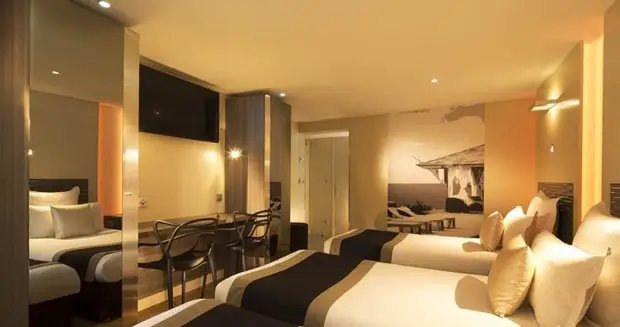 For a weekend placed under the label of Love (with a capital L please!), the Hôtel Brésil Opéra opens its doors to you in the center of Paris, near the Opera, the shopping district of Grand boulevards, as well as Galleries Lafayette.
The 49 modern rooms of this hotel are fitted out in different styles. They all include top-of-the-range furniture and, for the lucky ones, some are equipped with a strong-box in the room, an air conditioner, a cloakroom, a desk and a minibar. The cosy rooms of the hotel offer a wonderful view of the city. All bathrooms offer a bathtub, a shower, and a hairdryer.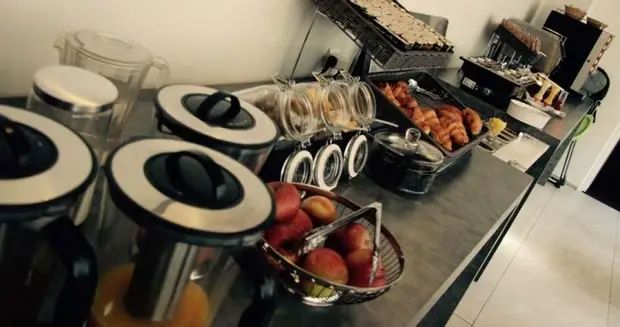 With the promise of a successful Parisian stay, the hotel offers a perfect service and all the equipment necessary for the well-being of its customers: shower, WC, hairdryer, vanity mirror, silent air conditioning, big flat-screen TV, TV cinemas-sports-foreigners-adult channels, free Wi-Fi, and an individual safe. Every morning, a gourmet breakfast is served to you at the buffet, a great way to kick off the day!
Address: 23 rue Bergère, 75009, Paris
Access via public transport: M8 et M9 Grands Boulevards, M7 Cadet

Pricing: starting from 245€/night
Booking: Book a room here
6) Original Paris Hotel ****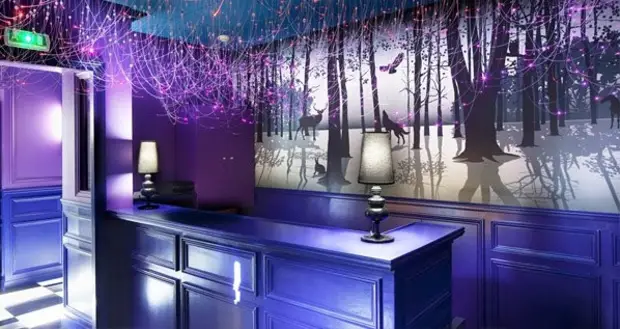 The Hotel Original Paris is a modern hotel situated right in the heart of Paris, at only 3 minutes walking distance from places like the Bastille and the Vosges. A real reflection of a universe of fancy and poetry, this charming building distinguishes itself thanks to the delicious eccentricity of its design and its luxurious services.
Endowed with elegant rooms decorated in a contemporary style, its atmosphere is similar to one of fairy tales: imaginary and extravagant. It is undoubtedly that we assure you that it will fulfill your expectations and charm you with this dreamlike universe and this unusual decoration which characterizes it so much.
The decoration of the 38 rooms of the Hotel Original reflect very different themes: on one side, we have the room "Reine de Cristal" whose decoration is directly inspired by the tale of Andersen and is equipped with white furniture, which gives the allusion to the ice cave of the tale, the Joker bedroom, the Alice bedroom, which is essentially colored in mallow and inspired by Lewis Carroll's universe, author of Alice in Wonderland, the Golden room, the rooms entitled Silver and Enchanted Forest, the Kingdom of the Snow Queen, etc.
The 6th floor of the hotel is dedicated to the 7 capital sins. That's as much as we will give away about the rooms. The rest is up to you to discover…
Regarding the equipment of the rooms, they are provided with an iPod Docking Station and a flat-screen television. Soundproofed and provided with a privative bathroom with a bathtub or a shower and free organic toiletries, the trendy rooms of the Hotel Original Paris shape you with a fantastic landscape which will make you forget the stress of the Parisian life. Atmosphere and comfort will be there!
Address: 8 Boulevard Beaumarchais, 75011, Paris
Access via public transport: Bastille (M1, M5 et M8)
Pricing: starting from 143€/night
Booking: Book a room here
7) Grey Hotel ****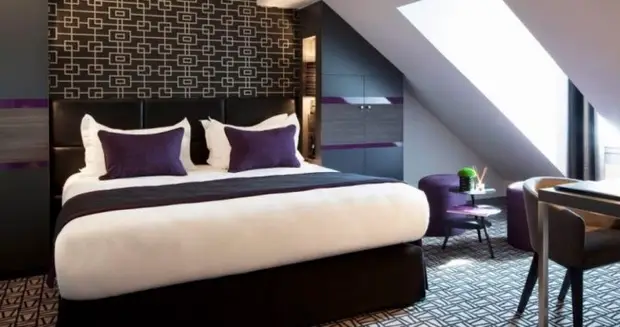 Grey Hôtel is situated between Montmartre and the Opéra Garnier, near the Famous Shops (Galeries Lafayette, Printemps), the Moulin-Rouge, and theatres. Located on a peaceful street and decorated by the renowned architect, Vincent Bastie, the Grey Hotel is carved from a clever mix of sophisticated patterns, a reflection of its design and its timelessness.
Made from noble products, embellished with delicate colours in gray-scale, enhanced with pure lines and with furniture signed by designers, Grey Hôtel will make a lot of hearts sway…
The hotel offers 33 rooms divided on 6 floors which benefit from the same services (flat-screen TV, Bluetooth speaker, air conditioning, soundproofing, welcome chocolate, etc.) and are distinguishable thanks to their surface.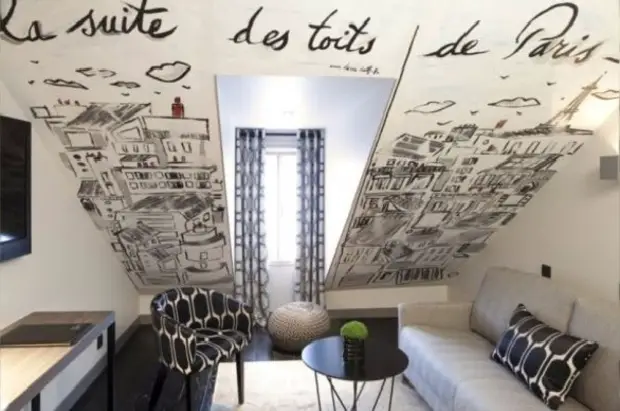 For a surprise getaway for two, to celebrate a dear event to your heart and to that of your partner or simply to take advantage of the happiness of being together, come to book one of the 6 rooms with a balcony or terrace, offering you the luxury of a real dose of oxygen at the heart of Paris!
The actual definition of sophisticated at the heart of a lively and authentic district, its big originality is due to this audacious variation of the grey's nuances reflected in twelve warm tones which make it a haven of peace.
Address: 12 rue de Parme, 75009, Paris
Access via public transport: M13 Liège et Place de Clichy, M2 Place de Clichy
Pricing: starting from 160€/night
Booking: Book a room here
8) Hôtel La Lanterne****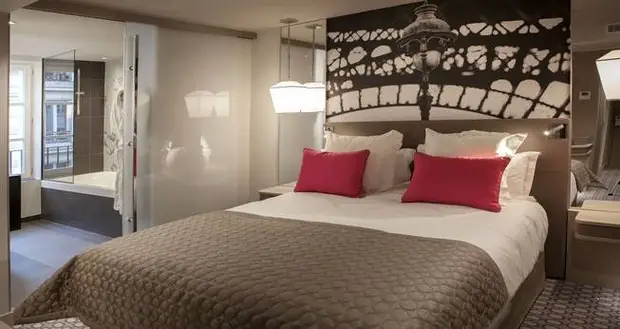 Situated in the 5th district, the oldest district of Paris, from 500 meters of the cathedral of Notre-Dame, La Lanterne is an authentically Parisian address. The hotel consists of 27 rooms, tastefully decorated in a luxurious, reserved, and felted atmosphere.
Inlayed with noble materials and decorated with picturesque objects, the hotel cultivates the Parisian style marvelously. Certain rooms possess a lounge area, allowing you to relax in the hotel just as if you were at home. With a flat-screen satellite television, you will have a very wide choice of channels…
The intimate tone of the rooms is due to the suspended lanterns on each side of the bed and is increased by a touch of elegant sobriety, a reflection of the furniture with sober and pure lines. The atmosphere of the rooms is warm thanks to the warmth of colors and the modern and distinguished comfort.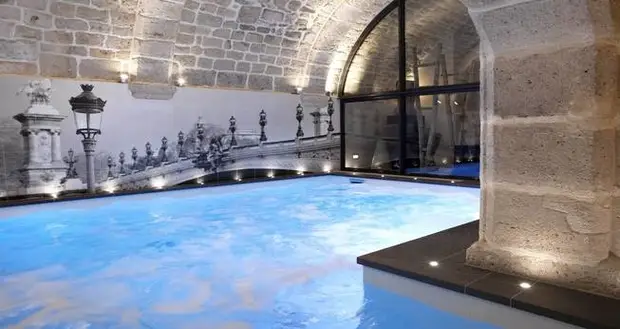 To relax as a king or queen, you can take a dip in the luxurious indoor pool and in the Hammam. To relax your muscles, the sensorial shower's spurts of the relaxing space situated into the hotel's vaulted cellar will make you feel great. You will be dazzled by the authentic charm of the room with its big mirror who's every curve is perfectly married to the stone vault of the 12th century.
Address: 12 rue de la Montagne Sainte-Geneviève
Access via public transport: M10 Maubert Mutualité
Pricing: starting from 204€/night
Booking: Book a room here
9) Hotel Splendid Etoile ****
The Splendid Etoile Hotel is situated in the 17th district, which is one of the most well-off districts of the capital. Right in the heart of Paris and near the Arc de Triomphe, this elegant hotel builds in a Louis XV style group and has 57 contemporary suites and rooms. In a chic and ultra-meticulous decoration, tradition is at the service of the modernity.
This Haussmann building consists of bedrooms enhanced with luxurious furniture, marbled bathrooms and private balconies. For the most audacious Jules, we recommend the Suite with a fantastic view over the Arc de Triomphe.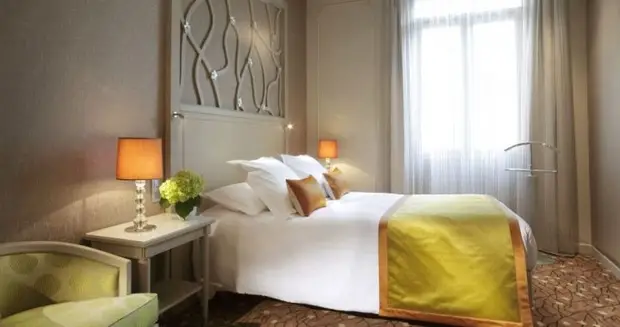 Raised in a warm and refined environment with these ornaments of dark woodwork, Splendid Etoile is the dream place for discovering or rediscovering his or her partner, maybe over a glass in the bar or over a table to the restaurant of the hotel. "Le Pré Carré" invites you in with its contemporary environment to savor a buffet breakfast and a gourmet and traditional cuisine. You will also have the possibility of sipping a made-in-house cocktail at the English bar of the hotel.
Address: 1 avenue Carnot, 75017, Paris
Access via public transports: M1, M2 and M 6 Charles de Gaulle Etoile.
Pricing: starting from 156€/night
Booking: Book a room here
10) Hotel Océania Porte de Versailles ****
Near the Porte de Versailles and the sports hall, Océania Portes of Versailles is a 4-star hotel taking advantage of a perfect situation. 250 soundproof rooms and distributed on 7 floors are offered to you: all in all, you have plenty of choice!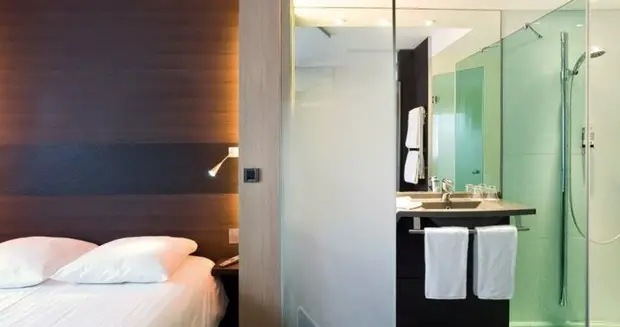 A real sanctuary of peace with a relaxing atmosphere, this hotel will refresh you as appropriate. It has all the necessary equipment for your well-being: from spacious and bright large rooms of water to deluxe rooms with a view of the Mediterranean garden of 700 square meters and its glass pyramid. Sleek, soothing, and warm decoration are the keynotes of the design of the hotel.
Do not hesitate to enjoy a moment of well-being with the spa proposing complete care, and the covered and warmed swimming pool with counter-current swimming, with Hammams, hydro jet and views of the sky. For the sportsmen, the fitness center is offered to you! Are you hesitating between your bathing suit and your trainers? Opt for both!
Address: 52 Rue d'Oradour-sur-Glane, 75015 Paris
Access in public transport: M12 Porte de Versailles
Pricing: starting from 213€/night
Booking: Book a room here

I aim to share my tips and recommendations for the beautiful country of France. My goal is to help you plan your next adventure, whether it's a weekend getaway or a once-in-a-lifetime trip. From finding the best hotels and restaurants, to discovering unique activities and sights, I've got you covered!