Gare du Nord station forms a real Parisian crossroad, close to the Gare de l'Est and several metro lines (4, 5, 2), not forgetting the Eurostar, the Thalys, and Charles-De-Gaulle airport to travel around Europe more easily.
Even if the district suffers from an average reputation, the neighborhood is quite charming and is located near noteworthy monuments.
Here is our selection of the best hotels near Gare du Nord for every budget.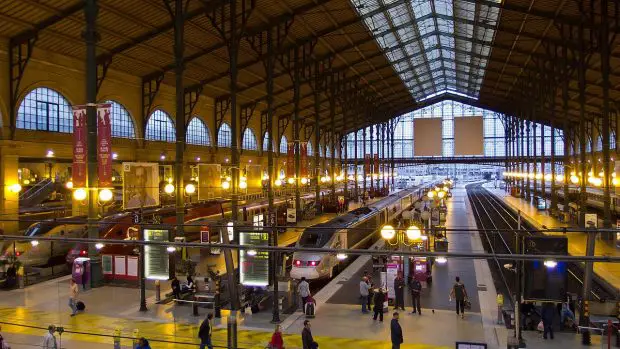 But before anything else, here's a map where you can find all these hotels:
1) Hotel Hor *** – €€€
160 rue la fayette – 75010 Paris
🦶 Distance from Gare du Nord: 220m (3 min walk)
The Hotel Hor offers a good price-quality ratio. Indeed, in any category of bedrooms, the hotel doesn't compromise on your comfort and your well-being.
Each room possesses free water bottles, Wi-Fi, air conditioning, heating, and far more surprises.
The chic and sophisticated decoration will delight you, and you will be able to fully relax in your bedroom.
Your breakfast can be served at the buffet or in your room if you prefer.
Want a little extra? Take your breakfast into the hotel's garden!
The Hotel Hor has a fitness room with free access to help you maintain your shape.
If you are more work than sport, the hotel has a business corner at your disposal, with PCs and Macs, a perfect spot to work in with the best conditions.
If you come with your children, a games library full of a great collection of board games awaits you for rainy days, in addition to a ping-pong table and darts to enjoy a good time as a family.
Perfectly located between Gare du Nord (3 min by foot) and Gare de l'Est, the hotel will allow you to get to Paris within easy reach.
A large number of restaurants and shops are present in this lively district like the Terminus Nord, a French brasserie which will satisfy you, or the Belushi's, a bar only 1 minute away from your hotel, which suggests tasty burgers!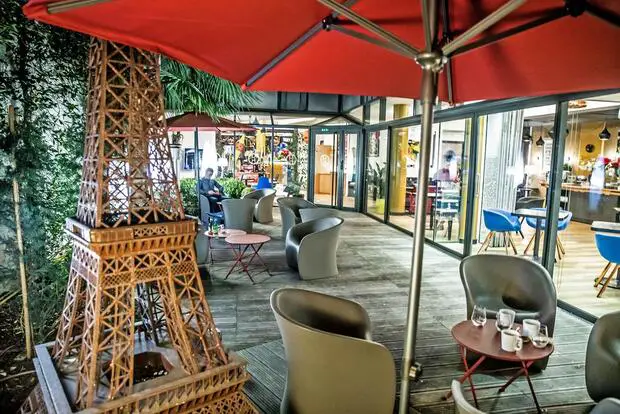 Prices: From €141
2) Hotel du Temps – €€€
11 rue de Montholon – 75009 Paris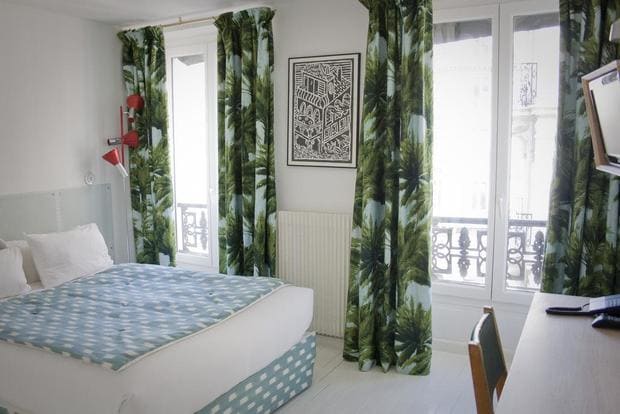 🦶 Distance from Gare du Nord: 750m (10 min walk)
With the Hotel du Temps, you will be in a real bubble of comfort. It is still a little bit far from Gare du Nord (10 min by foot), but the charm of its rooms is worth the detour.
Decorated in a sober but sophisticated way, the bedrooms and their pastel colors give a cocooning atmosphere which will relax you as soon as you put down your suitcases.
Every room has a TV so you can relax after a day of walking in Paris. The Wi-Fi is available everywhere in the hotel for you to remain connected and work in your room.
The de-compartmentalized bathroom adds a little extra to your room, either with a shower stall or a bathtub with free toiletries.
The hotel is close to the Saint Vincent de Paul church, whose architecture is quite impressive. Indeed, the church was conceived by the same architect of the Opera de Paris.
If you want to relax, the Montholon square is just behind your hotel, why wouldn't you read a book in the shade of trees?
Finally, the metro station "Poissonnière" (line 7) will allow you to rapidly catch up to the station "Opéra", hence you will admire the magnificent Opéra Garnier.
The station "Pyramides" will transport you to the Japanese quarter of the capital: Japanese restaurants are available throughout the rue Sainte Anne like the Higuma or the Sapporo which offer very interesting prices. (French version only)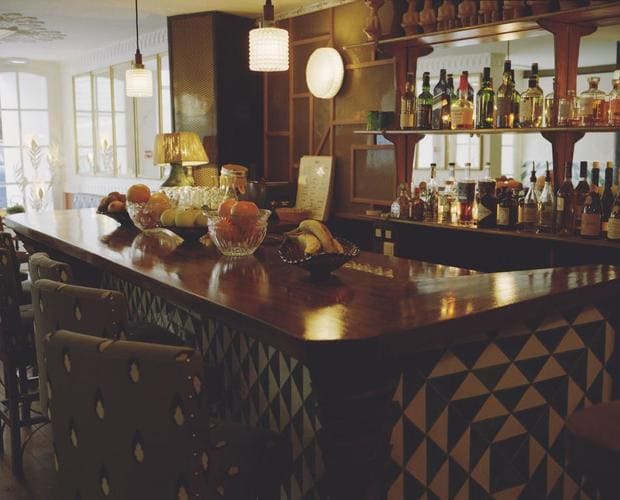 Prices: From €143
3) Hotel Soft *** – €€
52 bis, rue des Vinaigriers – 75010 Paris
🦶 Distance from Gare du Nord: 950m (13 min walk)
If your budget isn't as substantial but you still want to be in a quiet place in this bustling district, the Hotel Soft is made for you.
The rue des Vinaigriers is located in a quarter nicknamed "the village of the Canal Saint-Martin" and there's a good reason.
A relaxing atmosphere is guaranteed with the Canal located within a few minutes by foot. It is the best opportunity to have a walk and to discover a typical Parisian animated place.
The hotel offers several services such as a multilingual reception, depending on the day (perfect for tourists), a luggage service, and a lounge to relax, read or to enjoy the beverages at your disposal.
Regarding breakfast, the pastries coming out from the oven will satisfy the food lovers!
You will only be 13 minutes from Gare du Nord, and there are numerous metros and RER to visit Paris without any problem.
Closer to you stands, the Villemin garden (French version), an old convent from the XVIIIth century which shelters a beautiful-flowered garden, will please you. You will be able to wander in the building, read a book in great peace or just rest.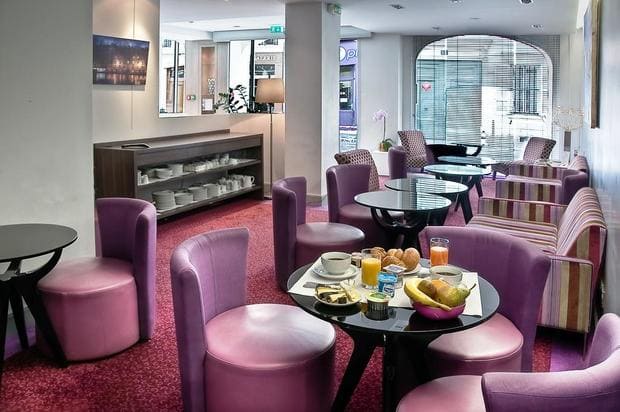 Prices: From €105
4) Midnight Hotel Paris *** – €€
133 Rue du Faubourg St Denis – 75010 Paris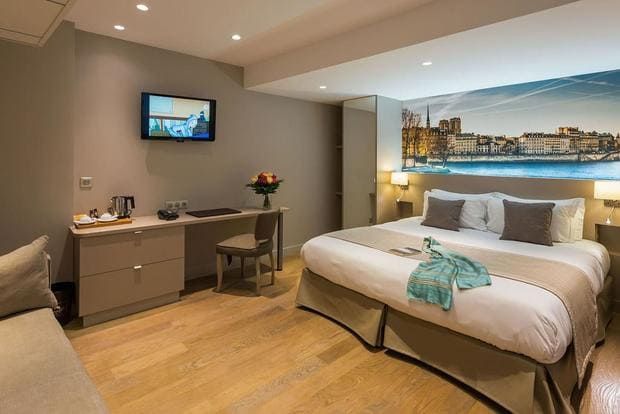 🦶 Distance from Gare du Nord: 450m (6 min walk)
The Midnight Hotel Paris offers a three-star service for a very interesting price-quality ratio! In the heart of Paris, it is only 450m from Gare du Nord, a prime location to fully enjoy Paris.
If you're afraid of noisiness because of the district, you can be reassured: the rooms are soundproofed for the best comfort.
All the rooms have a wooden floor, which fits perfectly with the modern decoration of the place.
You will be able to relax in the bathroom as its spacious shower stall awaits you and you will have a hair dryer at your disposal.
The hotel offers free Wi-Fi in your bedroom, as well as a TV and a telephone to make you feel at home.
You will be offered a breakfast at the buffet each morning, with a large range of beverages and pastries.
If you have a problem, the hotel's reception is open 24/24, in several languages.
A bicycle rental service is available just a few meters from the Midnight Hotel.  Why not take advantage and do some excursions in Paris?
For example, the cité des Sciences is 14 mins away by bicycle, a good opportunity to learn more about the latest exhibitions!
If you are interested in museums, the musée Grévin is only 8 minutes by bicycle.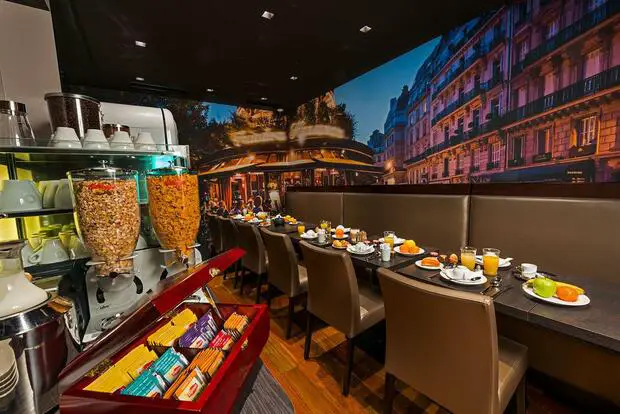 Prices: From €111
5) Hotel Alane *** – €€
72, boulevard de Magenta – 75010 Paris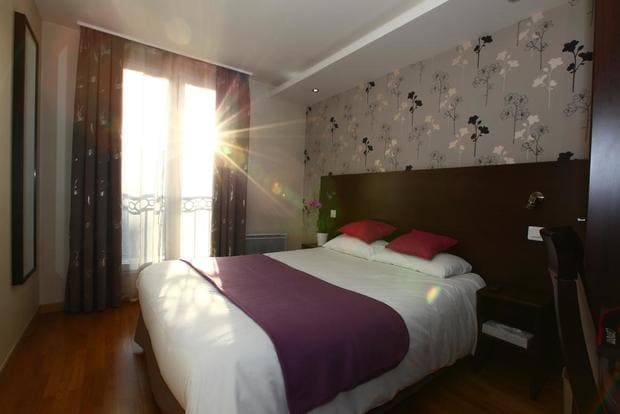 🦶 Distance from Gare du Nord: 600m (8 min walk)
Located less than 500m from Gare du Nord, the Hotel Alane welcomes you 24/24.
Its 32 rooms decorated in a contemporary and sober way will give you a real moment of relaxation.
To make you feel at home, you can also ask for a kettle in your bedroom.
The lounge corner extends this cozy atmosphere, and you will be able to quietly read the newspaper at your disposal or enjoy the unlimited free Wi-Fi anywhere in the hotel.
Each room offers a flat screen, a telephone, and a fully equipped bathroom.
It is important to note that the whole building is non-smoking.
As the hotel is located near Gare de l'Est (only 2 min by foot), you will be able to take the number 4 metro line to catch up to the station Saint-Michel to visit one of the most beautiful cathedrals in the world: Notre-Dame-de-Paris.
With the line 7, you will reach the station Palais Royal, the musée du Louvre is waiting for you.
If you are more eager to go out and eat something in the district, the Franco-Japanese restaurant Mamagoto (French version), a bar with a gastronomic look, will arouse your curiosity!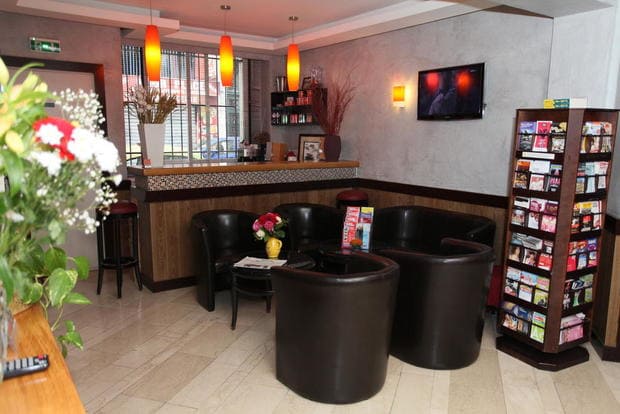 Prices: From €74
6) Chambres de la Grande Porte – €
10 rue des Petites Ecuries – 75010 Paris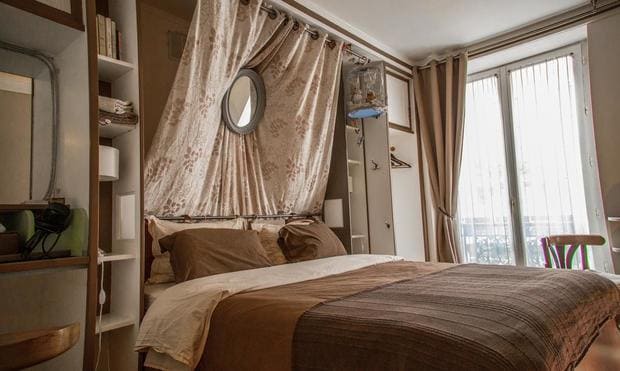 ⚠️ This hotel is temporarily closed
🦶 Distance from Gare du Nord: 900m (13 min walk)
The Chambres de la Grande Porte isn't a hotel, strictly speaking, it's a Bed and Breakfast. You will be welcomed by the host who converted different apartments for the highest comfort for the quality of a hotel, with breakfast often included in the price. Here, you will have the choice of whether you want to include breakfast or not.
In this Bed and Breakfast, the rooms have a gourmand connotation: "Crème"; "Café" and "Chocolat", they all have their proper decoration to find the perfect room depending on your preferences.
It is important to note that the room "Crème" shares its bathroom and its toilets (separated from the bathroom) with the room "Chocolat".
For a convivial atmosphere, the host offers a communal kitchen and dining room at your disposal, where you can feel at home and cook your favorite dishes!
Regarding meals, the owner can offer you menus for dinner on request.
The little extra? The hosts are vegetarian, so you can ask for a vegetarian meal, a vegan meal, or a gluten-free meal for the intolerants. Very concerned about ecology, the host serves meals with mostly organic ingredients.
You will be able to enjoy the free Wi-Fi throughout the whole building and a reception in three languages: French, English, and Italian.
The whole place is non-smoking.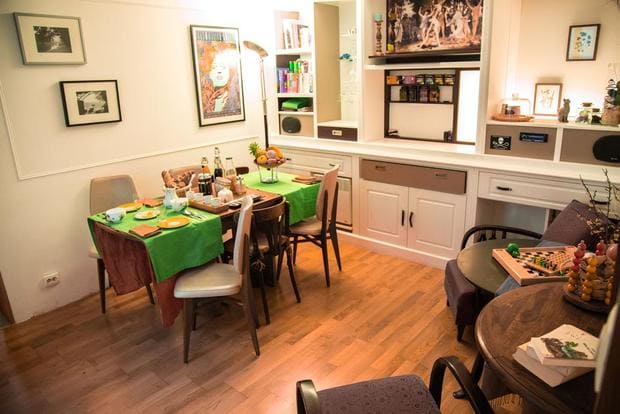 Prices: From €48
7) Hotel Little Regina ** – €
89 Boulevard De Strasbourg – 75010 Paris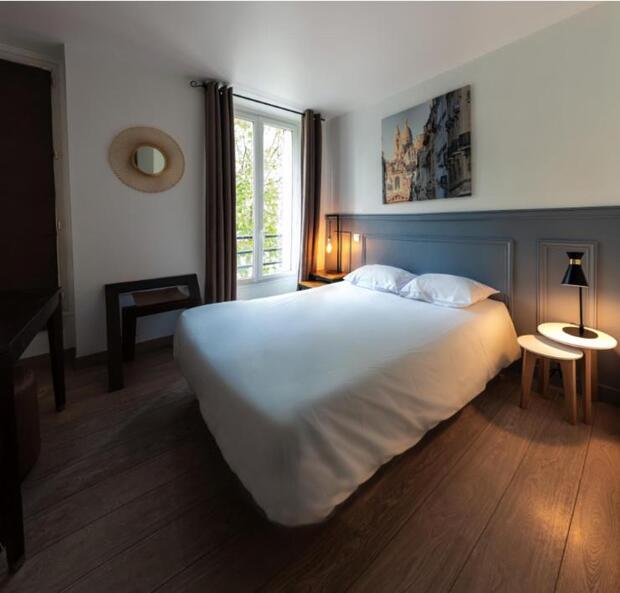 🦶 Distance from Gare du Nord: 650m (9 min walk)
Gare du Nord and Gare de l'Est are just a few minutes away from the hotel Little Regina (respectively 2 and 8 minutes).
The establishment welcomes you 24/24 in the heart of Paris! Its contemporary and very modern rooms and studios are decorated in neutral tones to assure a cosy atmosphere. This is very spacious for a hotel located in Paris.
You will enjoy a bathroom, a TV, and a telephone.
Each morning, the breakfast will be either served in your room or in a very nicely designed dining room, depending on your mood.
Furthermore, you will be able to enjoy the lounge/café corner and appreciate the hotel's surroundings.
Very concerned of your well-being, the staff will do its best to satisfy your needs, do not hesitate!
The district isn't lacking from nice restaurants!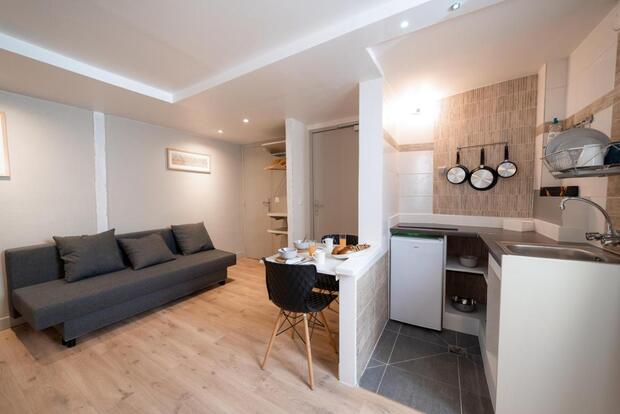 Prices: From €106
8) Ibis Paris Gare du Nord Château-Landon
197-199, rue Lafayette – 75010 Paris
🦶 Distance from Gare du Nord: 600m (9 min walk)
Perfect for small budgets, the hotel Ibis Gare du Nord is only 6 mins away from Gare du Nord.
Very comfortable, the hotel admittedly offers basic services like an access to snacks 24/24, a TV, and a free internet access, but the rooms are very luminous, and come with a modern and refined decoration. Each bedroom is air-conditioned and has a bathroom.
It will be possible to enjoy a breakfast at the buffet every morning, but also a dinner or to have a drink on the spot in the bar-restaurant of the hotel.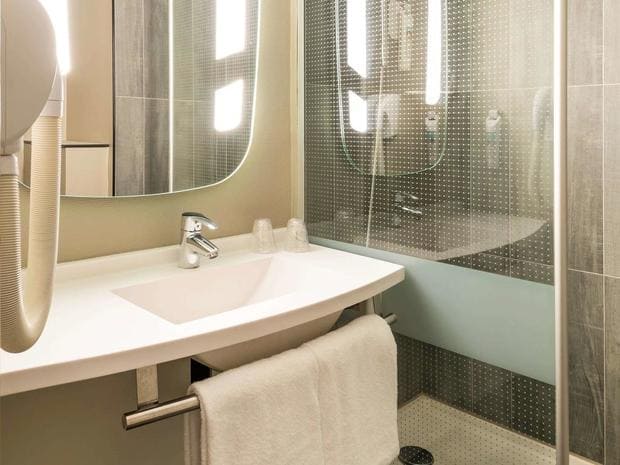 Prices: From €81

I aim to share my tips and recommendations for the beautiful country of France. My goal is to help you plan your next adventure, whether it's a weekend getaway or a once-in-a-lifetime trip. From finding the best hotels and restaurants, to discovering unique activities and sights, I've got you covered!