You have planned a little trip to Paris but you can't choose between renting a car or taking public transport? In this article, I will help you make the best choice according to your situation by comparing the different means of transport available in Paris!
My opinion in a nutshell:

With buses, the metro and the RER, you are spoilt for choice! The metro is still more recommended because you barely have to wait and it is faster than the bus. However, if you are in Paris to admire and discover its beauty, the bus might be more enjoyable.
Renting a car in Paris – is that a good idea?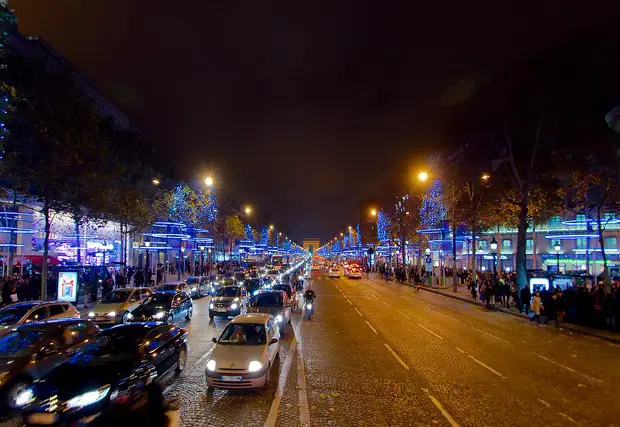 Car renting solutions in Paris
If you want to rent a car in Paris, be prepared for the action!
First of all, there are various services that will allow you to rent a car in Paris: there are the professional renters (such as Sixt, Avis or Hertz), the best is probably to use a comparator to find the best deal available (it's possible to find a car for less than €30/day).
And there are also websites that allow you to rent the car of a private individual, such as OuiCar or Getaround.
Those 2 websites help private individuals to rent out their cars to other private individuals.
Every day, they gather a lot of advertisements that are available for foreign tourists (the websites are only available in French, however.) To be able to rent a private individual's car, you must be over 18, have had a driving license for more than 3 years and be the holder of the credit card you are paying with.
Regarding the prices, it costs approximately €50 a day with a professional renter and €35 with a private individual. Prices can vary depending on the make and model of the car.
Pros of renting a car in Paris

The car can be faster than public transport, except during peak hours (7-9 A.M, 5.30-7 P.M).
It is much easier to contemplate the beauty of Paris, unlike the metro.
The car is also more practical to get to Paris' agglomeration (like Disneyland, Palace of Versailles, Fontainebleau) and offers more liberty in general.
Cons of renting a car in Paris
Driving a car in Paris can be a true challenge because of many reasons:
Paris is full of one-way streets and once you are lost, it can be very difficult to find your way back so plan your route carefully. Identify major roads on a map before you come and be equipped with a GPS (most of the cars that you can rent are equipped with one, but you never know).
Paris during peak hours is a nightmare,  so avoid them altogether or at least try to drive on the major roads, because getting stuck on the périphérique (the ring road that goes around Paris) can be very irritating.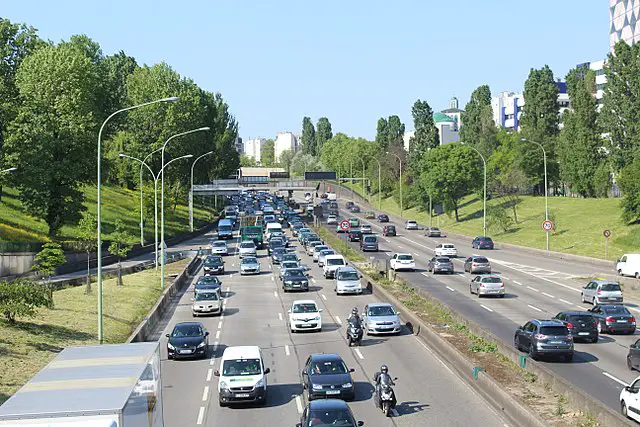 Parisians have a reputation of being pretty aggressive when they drive, but if you stay calm and attentive, everything will be fine.
The really negative thing about the car in Paris is the parking spots. You have to pay for most of the outdoor spots, parking time is limited to 6 hours for each spot and it is very difficult to find a spot where you can park, even in small streets. Sometimes, it is better to park outside of major roads and walk a little, rather than going in circles looking for a spot. If you don't want to walk, you can always park in an indoor or underground parking but be careful because prices can become really high (€20 for 12 hours in the center of Paris, €10 to 15 for 24 hours in the outskirts). Paris has around 120 parking areas distributed throughout the city.
Another negative thing to take into account when driving in Paris is motorcycles. Scooters and motorbikes are everywhere in Paris, and they snake in and out between cars. Make sure to be careful of blind spots, and leave some space to let them get through if you don't want to lose a mirror.
The car has a greater negative environmental impact than public transport.
The price of parking is also a disadvantage. It varies depending on the zone: Zone 1 = €1.20 per hour, Zone 2 = 80 cents per hour. You will find more information in this guide to parking in Paris. It is also possible to find free places, they are revealed in this article: 21 places to park for free in Paris.
My opinion: Unless you really want to use a car to visit Paris, you'd be wise to take public transport. The disadvantages that come with a car are too significant when compared to the advantages.
Public transport, the right solution
In Paris, there are several means of public transport: buses, the metro, and the RER (Regional Express Network). Each has their advantages and disadvantages:
Metro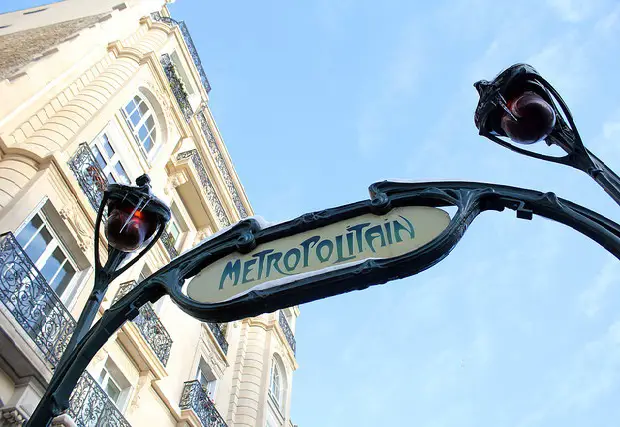 The metro is the perfect way to get from one place to another in Paris.
Faster than the bus, you will also have less chance of being late, since there is a metro passing every 2-5 minutes during the day.
It can also take you to the surrounding areas of Paris.
However, if you take it during peak hours, you may risk finding yourself in a crowded metro and your journey will become less enjoyable.
Paris' metro is old (more than 100 years) but as a whole it works well.
Some lines, such as the number 1 or 4, have been recently renovated.
Moreover, be very careful about pickpockets that are present in the metro. Favour bags that can be closed and always be aware of your surroundings.
Metro map of Paris here.
For more information on the Paris metro, check out this article on how to take the metro in Paris.
RER

The RER will allow you to move around Paris, but especially to the suburbs, near or more distant (Disneyland or Versailles for instance).
If you are not staying in Paris, it is the means of transport that you will use the most.
However, the ticket price is higher if you travel outside of Paris.
Prices vary depending on the route you will take and the zones you will want to go to.
RER map of Paris here.
Bus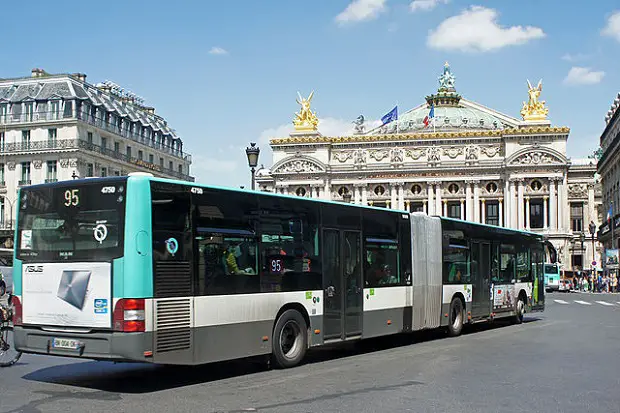 The bus is a good way to move around Paris while enjoying the view. There are around 100 bus lines that serve Paris and its suburbs in its entirety, at all times of day and night.
However, it is better to avoid taking the bus during peak hours (7-9 A.M and 5.30-7 P.M), as traffic can vastly slow down and you may risk becoming stuck in a jam.
You will also need a map because you can quickly become disorientated considering the number of lines.
Bus map of Paris here.
For more information on Paris buses, check out this article on how to take the bus in Paris.
Prices of public transport
There are several tickets depending on the duration of your stay.
The T+ ticket allows you, for €2.10, to make a trip using any of the bus lines, metro lines or RER in Paris. It is also possible to make a transfer between different lines.
If you intend to travel a lot during your stay, it is better to purchase a Paris Visite travel pass. With this pass, you can make unlimited travel for €43.30 for 5 days.
Areas 1-3 (Paris centre)
Areas 1-5 (Paris suburbs)
Adults
Children
Adults
Children
1 Day
€13.55
€6.75
€28.50
€14.25
2 Days
€22.05
€11
€43.30
€21.65
3 Days
€30.10
€15.05
€60.70
€30.35
5 Days
€43.30
€21.65
€74.30
€37.15

I aim to share my tips and recommendations for the beautiful country of France. My goal is to help you plan your next adventure, whether it's a weekend getaway or a once-in-a-lifetime trip. From finding the best hotels and restaurants, to discovering unique activities and sights, I've got you covered!