Although traveling in Paris by car can be tempting, and quite convenient if you have children, it can be quite difficult to park, and the parking spots may be expensive. Where, then, can we park for a reasonable price? Are there free parking spots in the city? Which hotels have private parking? How do you drive easily through Paris? A lot of questions can come to your mind, and we are going to answer them.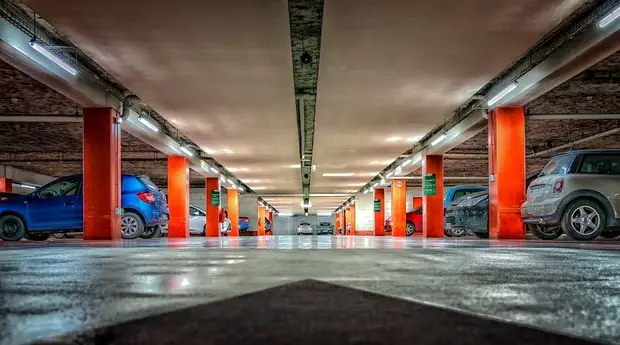 On the same topic: Is it Necessary to Rent a Car in Paris or is it Better to Use Public Transport?
Parking in The Street
First of all, you have to know that you need to pay for parking in the streets from Monday to Saturday and from 9am to 8pm.
However, you can park for free at night, on Sundays, and on national holidays on some streets.
If this is the case, you will see a yellow dot on the parking meter.
There are two parking fee zones: in midtown (districts 1 to 11) you have to pay €4 per hour, and only €2.40 in the outskirts of the city.
It's important to know that free parking is limited to two hours in the street and six hours on parking spots.
Which means that you will have to come back to your car every two to six hours to change your parking ticket.
You can pay either by credit card, using the Paris Carte card you can buy at any tobacconist, or via the application PayByPhone, available on the AppStore on Google Play.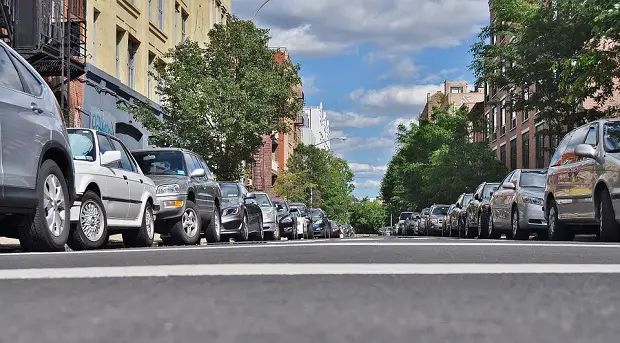 Free And Cheap Parking Spots
In Paris, only 2.5% of all parking spots are free. It is, thus, very difficult to find a free parking spot in Paris, but here are a few tips that can help you.
For instance, you need to know that you can park on the delivery parking spots at night, and on Sundays and national holidays (only).
Warning: this tip is only valid for delivery parking spots that are marked out by a dotted line or by a single continuous line, but you absolutely cannot park on a delivery spot that is marked out by two continuous lines.
The city council decided in August 2015 to prohibit almost all entirely free parking spots in the capital in order to restrict pollution.
A small number of free parking spots still exist, such as:
 In the 12th district: the Bois de Vincennes (Route de la Plaine, Route de la ceinture du Lac Daumesnil), the Avenue Bel-Air next to Saint-Mandé.
In the 8th district: the Avenue Montaigne, the Avenue de Marigny.
In the 16th district: the Route de Suresnes, the Allée de Longchamp, the Avenue Mahatma Gandhi, the road going from the Porte des Sablons to the Porte Maillot.
In the city center: the Place Louis Lépine, the Quai du Marché Neuf.
A map (in French) registering these spots was edited in 2016 by France Info (the French information media).
For more information and to find a full map of free parking spots in Paris, you can go on the official website of Paris City Hall (website in French).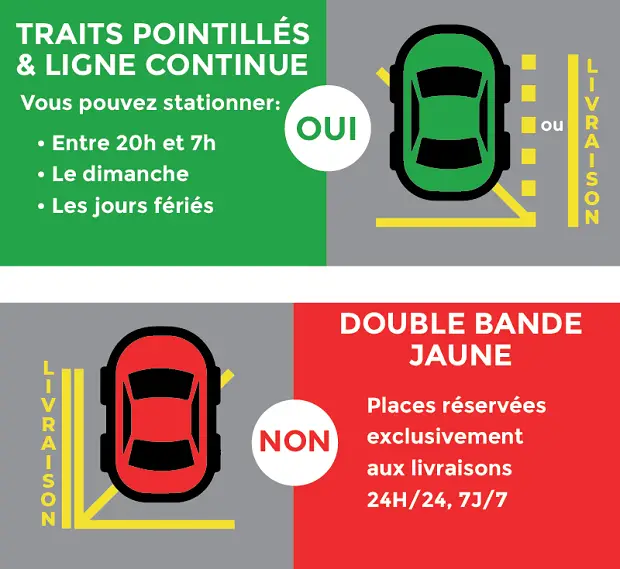 Underground Public Parking Lots
One of the safest ways to park your car quickly and easily would be to use underground parking lots that can be found midtown, near the tourist monuments, and near the shopping malls.
They welcome drivers 24/7, are equipped with security cameras, and guards are in charge of security.
Parking lots that accept motorcycles have a white P on a blue background badge.
Midtown, parking lots generally cost €2.50 for 1 hr, €5 for 2 hrs, and a bit more than €20 for 12 to 24 hrs.
The underground public parking lots located at the gateways of Paris (12th to 20th districts) are less expensive and cost between €10 and €15 for 24 hrs.
If you plan on leaving your car for more than 24 hours, public parking lots offer weekend, weekly and monthly fees with preferential rates.
On the city hall official website, you can find a map (in French) registering the underground public parking lots of Paris.
Book a Parking Spot in an Underground Public Parking Lot
The ultimate solution to park in great cities is on your smartphone.
It would be a shame to ruin your visit of Paris by searching for a parking spot for hours.
The website and the application Parclick are a parking revolution: they allow you to book a parking spot in real-time or in advance, wherever you are.
It is faster and easier to find a parking spot thanks to Parclick, but it is also cheaper since the application offers discounts that can be as much as 70%.
There are many other websites and applications for parking spot booking – for a few hours, a few days, or even a few weeks – they all function the same way.
Here are some of them: Onepark (in French), QPark, OPnGo, TravelCar, Zenpark (in French), SAEMES.
Rent a Private Parking Spot
Many Parisians have their own private parking spot but do not own a car.
A network of private individuals has been created and now, thanks to Mobypark (webpage in French), you can rent a private parking spot for a very small price.
You can either book it in advance, or rent it in real-time directly via the application.
Prends Ma Place (website in French) and Parkmatch (in French) are other websites allowing you to rent a private parking spot for your short or long trips in Paris.
Favour Small Cars
The bigger a vehicle is, the harder it is to park; no surprise there.
To park and move around Paris, we advise you to rent or come with a small car that will make your life easier.
Park for Free Outside of Paris and Take Public Transports
There may not be many free parking lots in Paris, but there are many more in the nearby suburbs.
Depending on how long you plan on staying in Paris, parking outside of the city and taking public transportation may be the cheapest option.
On Ile-de-France Mobilité (website in French), you'll be able to find a list of all the proximity car parks near train and RER stations.
Rates are more affordable than in the center of Paris and even free for Navigo pass holders.
Going from Paris' neighbors' suburbs to the center of the capital (Châtelet) will take you between 15 and 30 minutes, in public transports.
If this can be a good option when spending just a single day in the capital, don't forget that some parking spots, in the street, even if they are free, won't allow you to stay parked at night.
You can find all the details you need on the town's website.
5 Hotels With a Private Parking Lot in Paris
Come to Paris by car and having to stay at a hotel? You might as well pick a hotel with its own car park.
Here are some we recommend.
Hôtel des Buttes Chaumont
4 Avenue Secretan, 19th district.
From €46.
Check this hotel
B&B Hôtel Paris Porte des Lilas
23 Avenue René Fonck, 19th district.
From €53.
Check this hotel
Hôtel du Printemps
80 Boulevard de Picpus, 12th district.
From €67.
Check this hotel
Timhotel Paris Place d'Italie
178 Boulevard Vincent Auriol, 13th district.
From €83.
Check this hotel
Hôtel Galileo Champs Elysées
54 Rue Galilée, 8th district.
From €132.
Check this hotel
Tips To Drive Easily in Paris
Driving in Paris can be very difficult, that is why people generally pick public transportation over cars.
Instead of paying your subway tickets one by one, Navigo offers single-day passes for short trips into the city or weekly or monthly travel passes for longer stays.
If your mind is already set on taking your car to move around Paris, here are the last few tips for a peaceful ride:
Avoid driving during rush hour (between 8 and 9am, and 5 and 6pm), since Parisians, are often stressed and in a hurry, they will generally not take kindly towards lost tourists.
Avoid the Place de l'Etoile (Arc de Triomphe), as you may not be able to get out of it!
Be careful and watch out for motorcycles that weave in and out the car lanes and sometimes seem to come from nowhere.
Comparison
To get a better idea of all the available options, here is a comparison between the different parking fees you'll have to pay to go visit two of Paris' famous places: the Sacré-Coeur, in the 18th district, and the Musée Grévin, in the 9th district.
Both of them are only four kilometers apart, but we will see how big the difference can be when it comes to parking.
We will take a 12 hours-day as an example.
Example#1: Sacré-Coeur
Traveling time
Parking fees
Public transportation fees
Total
Parking in the street
None
28,80€
None
28,80€
Underground parking lot (Anvers – SAEMES)
8 min
35€
None
35€
Private parking spot
Depending on the location
Between 10 and 20€
None
10/20€
Parking outside of Paris
(Asnières-sur-Seine)
28 min
None
3 € (train) + 1.90€ (subway)
4.90€
Example #2: Musée Grévin
Traveling time
Parking fees
Public transportation fees
Total
Parking in the street
None
48€
None
48€
Underground parking lot (Sentier 41)
7 min
35€
None
20€
Private parking spot
Depending on the location
About 20€
None
20€
Parking outside of Paris
(Asnières-sur-Seine)
28 min
None
3 € (train) + 1.90€ (subway)
4.90€
As you can see, some options are more affordable than others. Take into account that prices vary greatly even inside the same district.
Additionally, despite the unchanging rate for parking spots in the street, it isn't always easy to find one.

I aim to share my tips and recommendations for the beautiful country of France. My goal is to help you plan your next adventure, whether it's a weekend getaway or a once-in-a-lifetime trip. From finding the best hotels and restaurants, to discovering unique activities and sights, I've got you covered!