Like a number of cities around the world, Paris has recently adopted the system of a City Pass for tourists.  The City Pass gives you direct access to the local museums without having to queue to get in, as well as obtaining unlimited access to public transport. Two different passes are available – the Paris PassLib' and the Paris Museum Pass. To help you decide which one to choose, I'm giving you my advice in this article with the pros and cons of each pass.
Paris Museum Pass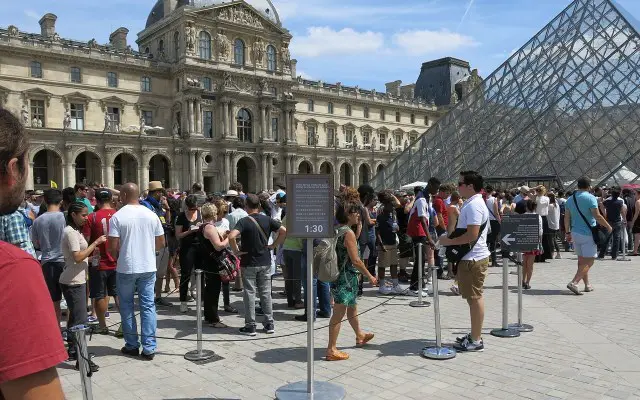 The Paris Museum Pass is essentially a queue ticket to visit Paris' monuments and museums. Available over 2, 4 or 6 days, it guarantees you quick access to 60 important monuments in Paris and the Paris region.
You can visit the Arc de Triomphe, the Louvre or Versailles or the Château de Chantilly.
The Museum Pass can be ordered online and can be picked up at the Paris Tourist Office. You can buy it in advance and activate it whenever you want.
Please note, however, that the days of use must be consecutive and cannot be spread over several visits (48h, 96h, 144h).
⚠️ Also pay attention to the opening days of the museums when preparing for Is a Paris Pass Worth Buying? Comparison of the Benefitsyour visits (many museums are closed on Tuesdays, for example). Moreover, do not forget that transport is not included and that you must add the price of subway tickets.
Here is a table summarizing the Museum Passes:
| | | | |
| --- | --- | --- | --- |
| | 2-day Museum Pass | 4-day Museum Pass | 5-day Museum Pass |
| Validity | 48h | 96h | 144h |
| Prices | €52 | €66 | €78 |
| Savings | from the 4th visit | from the 5th visit | from the 6th visit |
Here is a non-exhaustive list of discount offers:
FREE: Most museums in the Ile de France are free of charge for young people under the age of 26 who are EU citizens or under 18. If you belong to this category, it is not necessary for you to buy a Museum Pass.
Please note that no refund will be made in the event of a loss or theft of your pass.
👍🏼 Pros: access to more than 60 museums in Paris and the Paris region, free for those under 26 or 18 years old
👎🏼 Cons: Non-refundable tickets, transport not included
Where to book it?
More information on the Paris Museum Pass
Where to get it?
Paris Tourist Office 25 Rue des Pyramides – 75001 Paris
Access:
Metro
Line 1 Saint-Paul le Marais et Hôtel de ville stations
Line 11 Hôtel de ville station
RER
RER A, B et D Châtelet les Halles station
Paris PassLib'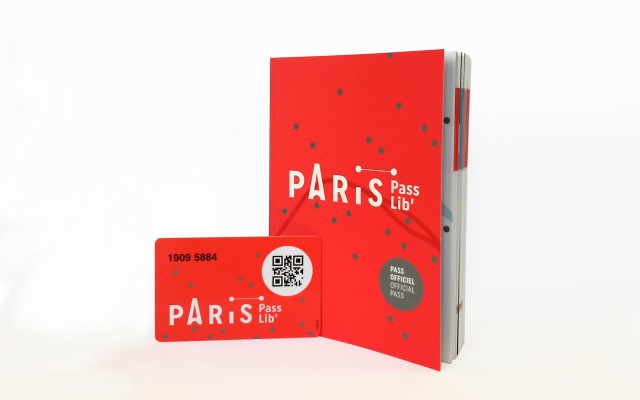 PassLib' Paris is a kind of tourist pass made to measure.
There are 4 Paris PassLib' which can be adapted to suit your wishes and make the most of Paris in all simplicity:
Paris PassLib' Mini
Paris PassLib' City
Paris PassLib' Explore
Paris PassLib' Premium
These Paris PassLib' are valid for 1 year starting from the first use.
Moreover, they offer a wide range of activities that will allow you to set up your stay exactly as you wish (cruises, museum visits, bike rentals, escape games, VIP activities…).
This means you can access all the sites you choose for free.
Comparative table of the 4 Paris PassLib'
Paris PassLib' Mini
Paris PassLib' City
Paris PassLib' Explore
Paris PassLib' Prestige
Validity
1 year from the date of first use
Number of included activities
3 (out of 23)
5 (out of 46)
6 (out of 54)
6 (out of 79)
For which type of stay?
First time in Paris
Must-see and unusual
To see it all
An unforgettable stay
Prices
€35
€69
€119
€189
Range of activities
3 activities €*

3 activities €
2 activities €€

2 activities €
3 activities €€
1 experience €€€

2 activities €
2 activities €€
1 activity €€€
1  activity €€€€
*
€: Entry-level activities (croisière sur la Seine, billet d'entrée à l'Arc de Triomphe, billet d'entrée à la Sainte-Chapelle…)
€€: Mid-range activities (access to the 2nd floor of the Eiffel Tower, entrance ticket to the Louvre Museum…)
€€€: Premium activities (night tour in a panoramic bus, 1 day/1 park ticket for Disneyland® Paris, VIP tour of Paris with a driver, 2CV ride…)
Here is a (non-exhaustive) list of the activities offered by each Paris Passlib':
👍🏼 Pros: It is not nominative and can therefore be given away or used by different people (at different times) and is fully virtual (accessible on an application).
👎🏼 Con: Not available at a reduced rate.
Where to get it?
On the official website of the Paris Tourist Office
City Hall, 29 rue de Rivoli, 75004 Paris
(Subway: Hôtel de Ville (lines 1, 11), Châtelet (lines 1, 4, 7, 11, 14) or RER: Châtelet-les-Halles (lines A, B et D). Check opening days and times here)
Gare du Nord (tracks 7-9 – international arrivals)
(RER: Gare du Nord (lines B et D); métro: Gare du Nord (lines 4 et 5). Check opening days and times here)
Comparison of Paris PassLib' and Paris Museum Pass
Paris PassLib'
Paris Museum Pass
Queue Cutting
Yes
Yes
Unlimited transport
No
No
Cruise on the Seine
Yes
No
Unlimited 1 day Tours
Yes
No
Paris Guide
Yes
No
Advantage

 

Activities for all types of stays (for a first visit to Paris or for an unforgettable stay)
Discounts only on monuments and museums.

I aim to share my tips and recommendations for the beautiful country of France. My goal is to help you plan your next adventure, whether it's a weekend getaway or a once-in-a-lifetime trip. From finding the best hotels and restaurants, to discovering unique activities and sights, I've got you covered!