Are you looking for an original idea to spend a sensational evening or weekend in Paris? You can choose to rent boats which do not require a license with a skipper for an original ride along the Seine, Oise or Marne.
Contrary to popular belief, a coastal or fluvial boating license is not always required in order to enjoy boating. With the help of a captain who will pilot the boat along the Seine, you will be able to rediscover all of the Parisian areas from a whole new angle.
And why not make this experience even better with an unusual boat? Our partner Click&Boat has some boats which will spice up your ride. Here is our selection of original boats in Paris and in Ile-de-France which will amaze you.
1.  The Barbecue boat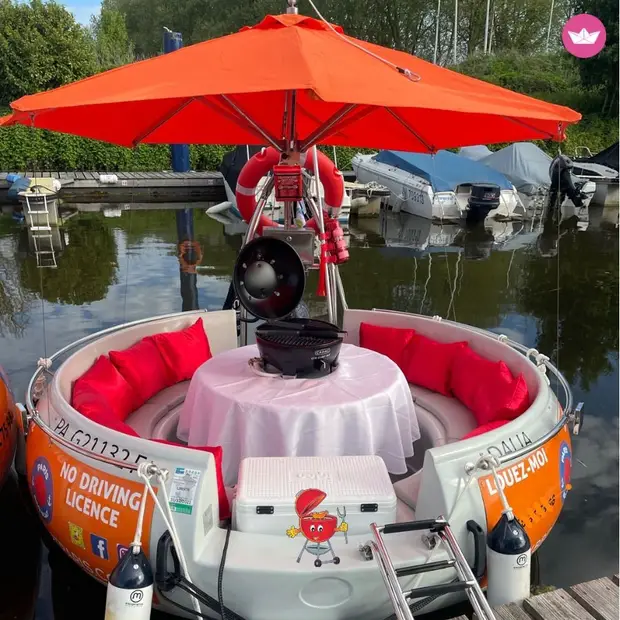 You are not dreaming: this boat exists!
It is suitable for a day or a night out with friends or family. You will be able to sail along the Seine with a nice barbecue.
The owner of the boat, Hakim, offers three different menus if you don't want to plan something to eat on your own: the menu du Boucher (Butcher's menu) the menu Sushi Boat or the menu Sea Food. All tastes will be delighted!
Capacity: 6 persons
Cost: 341€ / day
Boarding site: Port de Cergy
2.  Party barge (floating lounge)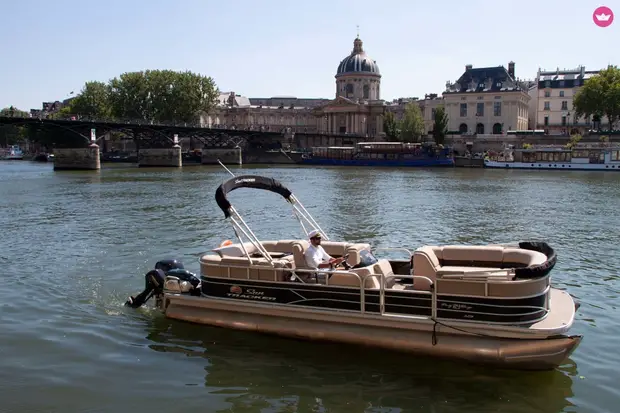 Hop on Benjamin's "Party Barge" and take a look at the most impressive monuments Paris has to offer, all of this while floating on the Seine.
The Eiffel Tower, the Grand Palais, the Louvre, Notre Dame and even the Conciergerie.; You will be able to rediscover all of them while cruising on this unusual boat with its festive atmosphere.
Indeed, this boat is made for partying on board: this will be a unique entertaining moment for you. It is a good idea for birthdays, aperitifs, or simply spending some time with friends. This flat boat will be different from the usual motorboats.
Capacity: 2 – 12 persons
Cost (1h): 300€ (+ 45€ per additional passenger)
Boarding sites:  Pont d'Issy (100 Quai du Président Roosevelt; Beaugrenelle; Tour Eiffe ; Musée d'Orsay; Pont des Arts; Jardin des Plantes and many others.
3.  Italian launch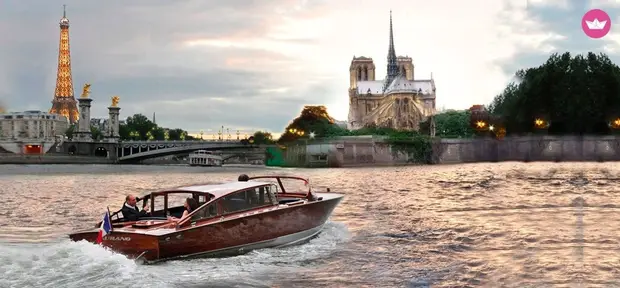 Do you want to sail on the Seine on an original, cool-looking boat?
Hop on Philippe's Italian speedboat, and get guided by a professional skipper. You will enjoy sailing on a boat that was designed in Venice, with its luxurious and elegant look.
With its 9.20 meter length, it sure is comfortable. Its leather, chrome and mahogany finishing will amaze you. In the back, the leather benches in the back will allow you to sit and relax while looking at the greatest monuments of Paris.
It has a capacity of 6 persons. When you arrive, you will be greeted with a Champagne bottle to celebrate your visit from the water.
Capacity: 6 persons
Cost for 1h20: 700€
Boarding sites: down the Alexandre III Bridge, or in the Port des Saints-Pères.
4.  The famous "Elisabeth", Storebro 1957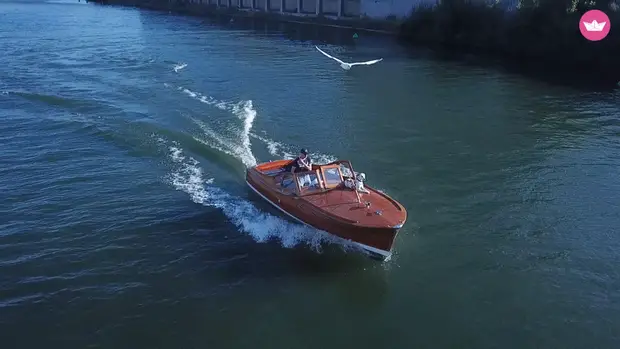 Why don't you try Elisabeth, a wonderful dutch boat you can rent from Jérôme on Click&Boat?
This boat's history makes it special. Not only did it welcome American celebrities on its board for the shooting of a Netflix series, but you may also have seen it on TV for a Lancôme advertisement!
Departing from the Saint-Germain island, your skipper will cruise around the Seguin island and the Seine Musicale. during your ride in Paris, you will be able to see its most famous monuments.
This way, from the water, you will get to see the Statue of Liberty, the Eiffel Tower, the Alexandre III Bridge, Notre-Dame or the île de la Cité.
Capacity: 7 persons
Cost: from 1000€ (+ promotion)
Boarding site: Ile Saint-Germain
5.  MOBILO 340, Étienne's uncommon boat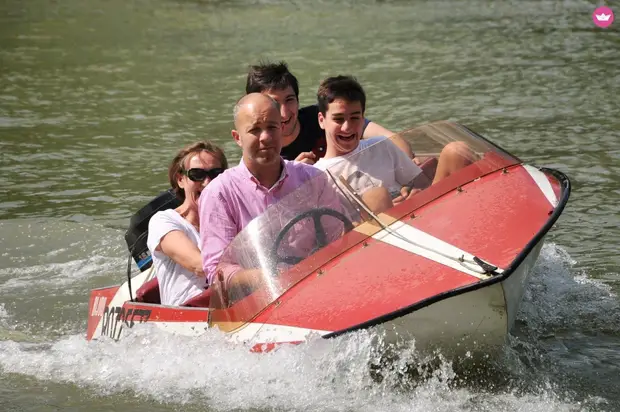 Again, a boat you don't see every day!
Up to 4 persons can board Étienne's Mobilo 340. It will take you on an unusual cruise.
On board of this handy, unfamiliar boat, you will be taken on a cruise full of thrills on the Marne.
But watch out: you will need some essential physical training to get on board;
Capacity: 4 persons
Cost: Around 342€ a day
Boarding site: Lagny sur Marne

I aim to share my tips and recommendations for the beautiful country of France. My goal is to help you plan your next adventure, whether it's a weekend getaway or a once-in-a-lifetime trip. From finding the best hotels and restaurants, to discovering unique activities and sights, I've got you covered!