You're passing through Paris, and you won't being stay there overnight? Do you need to sleep a few hours before you leave? Or do you work night shifts and you mind sleeping barely a few hours before the morning checkout? Well, it is possible to rent a hotel room for a few hours to rest. Also, prices are often much cheaper. For example, for a 4-star hotel where the night costs €220, you will only pay €70
Note 1: If you do not wish to book a hotel but simply take a shower, then we advise you to take a look at one of our articles that talks about Where to take a shower in Paris?
Note 2: Prices may vary according to dates. For a few hotels the tourist tax is not included in the prices.
How to book a hotel for a few hours?
Booking a room for a few hours allows you to rest, shower and relax.
We will talk about a few hotels from the following platforms: dayuse.fr and byhours.com . However, you will find many websites that offer accommodations for a few hours.
First, let's talk about the two different platforms:
1) Dayuse

You can book a room without a credit card on this website. Any cancellation is free, and you can get up to 75% discount on the price of the rooms – and you have access to all the services offered by the hotel.
2) Byhours

On this website you have the possibility to book a hotel room for 3, 6 or 12 hours during the day. You also have the possibility to book even in the middle of the night. So it's fairly flexible in terms of check-in. Prices vary according to the time packages (3, 6 or 12 hours). Free cancellation is not guaranteed in all hotels, but is possible in some of them.
Here is a list of 10 hotels where you can book a room for a few hours.
1) Best Western Hotel Opéra Drouot ***
4 Rue de la Grange Batelière, 75009 Paris, France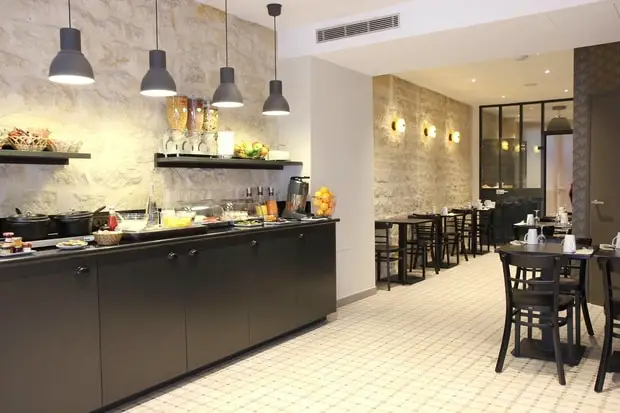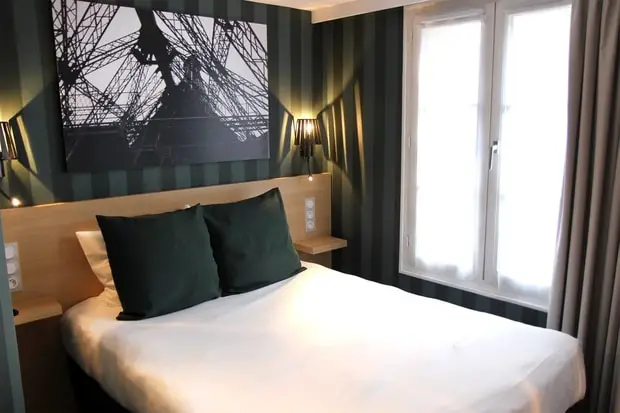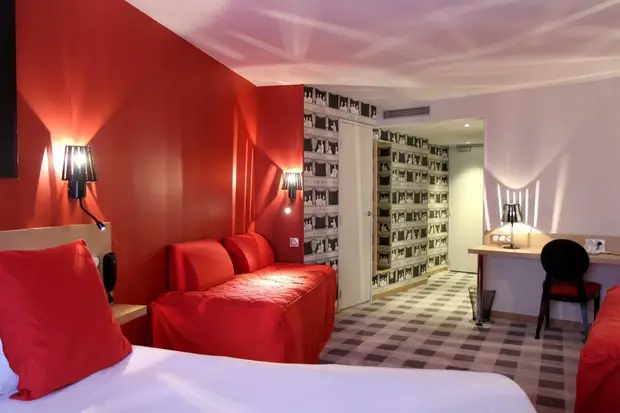 Located in the 9th district of Paris, this hotel is very well positioned. Next to the main boulevards, there is also a metro station that will take you anywhere you want in Paris.
This hotel provides free wifi, and you will find in your room an espresso machine, a safe-deposit box, an iPod base, and the rooms are fully equipped with air conditioning and a television.
A buffet is served for breakfast and a snack can also be offered in the afternoon.
You will spend pleasant time in this hotel with its modern rooms and ideal location.
You can book a room from 11am to 4pm from €80. This hotel is suitable for both business and tourist trips.
2) Best Western Premier Hotel Littéraire Le Swann ****
15 Rue de Constantinople, 75008 Paris, France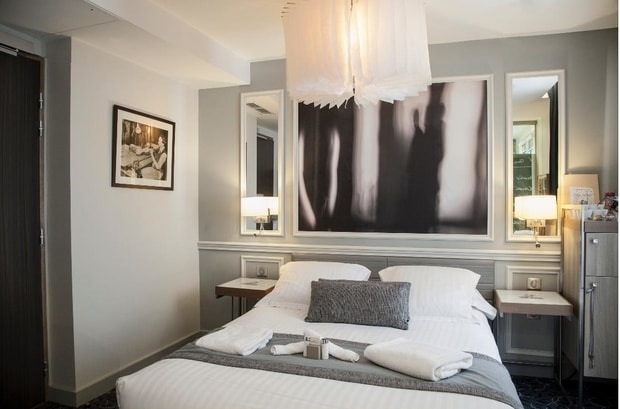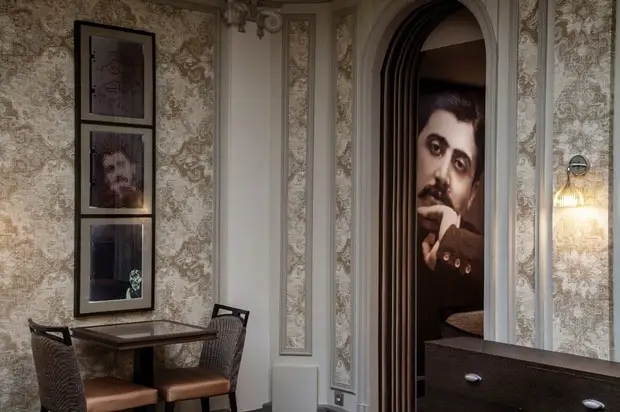 This hotel is located in the 8th district and offers two packages: from 11am to 5pm for €95, and from 12pm to 11pm for €109.
The rooms are well isolated from noise but also from heat and cold.
They are also provided with wifi, a safe-deposit box, an Ipod/Ipad base, a flat screen TV, air conditioning and a rain shower.
Marcel Proust is honoured thanks to the hotel's decoration and the literary atmosphere that reigns there.
Located 10 minutes walk from Saint-Lazare station, this is the ideal location if you have to take the train.
A buffet breakfast is served every morning and a dry cleaning service is also available.
Customers are rather satisfied with the good quality-price ratio.
3) Hôtel Beauchamps ****
24 Rue de Ponthieu, 75008 Paris, France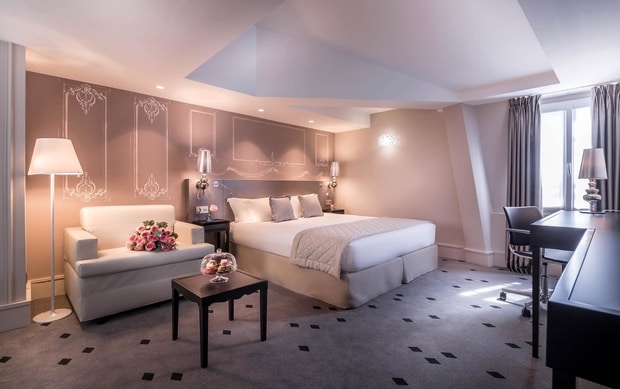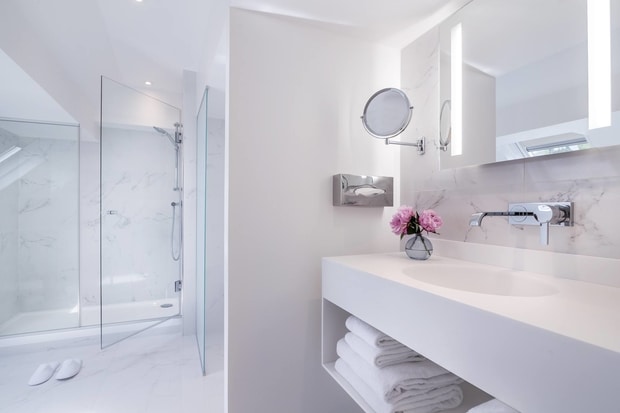 In the heart of Paris you will find this hotel which is next to the Champs-Élysées. In this district, you will find the most prestigious luxury stores such as Gucci, Hermès, Chanel.
Rooms and suites are available to guests with a lounge area and a fully equipped bathroom.
A buffet is served every morning in the dedicated area.
The team will be happy to inform you about the best places to visit in Paris, and nearby you will find some very good restaurants.
It is possible to book a room from 11am to 6pm for the price of €99.
In an Art Deco style, you will have all the comfort you need: wifi, private bathroom, television, desk.
4) Hôtel De Fleurie ****
32 Rue Grégoire de Tours, Paris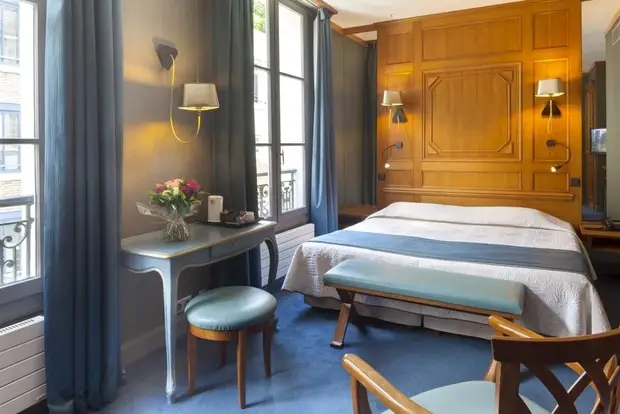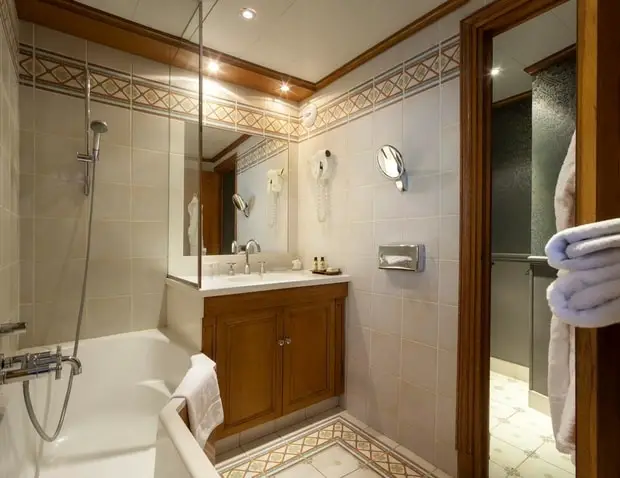 In a warmer and more family-oriented atmosphere you will find the Hôtel de Fleurie, in the 6th district, one of the city's older districts.
Inside you can enjoy its café, bar/lounge, business centre which is open 24 hours a day.
The rooms are provided with air conditioning, television, free wifi, a coffee machine and a fridge. The rooms give access to a balcony.
A shuttle bus to Paris airports is also available to customers.
For a daily use from 11am to 4pm, the cost is €89.
5) Hôtel Concorde Montparnasse ****
40 Rue du Commandant René Mouchotte, 75014 Paris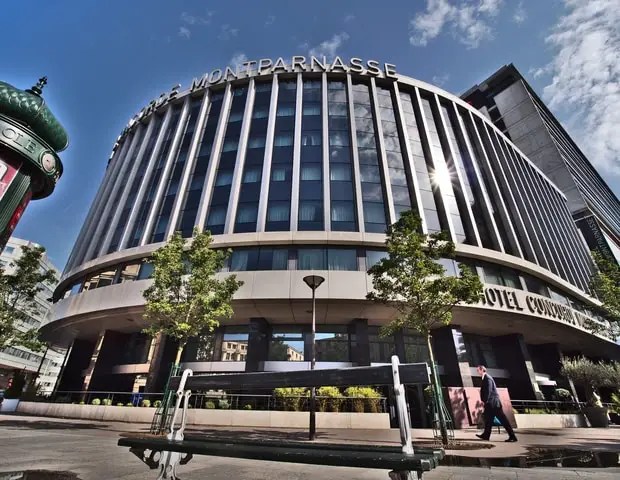 Located in the business district of Montparnasse, it is the ideal hotel if you are here for a business trip.
With a modern style, this hotel can offer you a day room from 10am to 3pm for €79, from 12pm to 8pm for €89, and from 4pm to 11pm from €105.
You have access to many services such as free wifi, room service, a safe-deposit box, a workspace, air conditioning, a television, and a bathtub.
In the centre of the hotel you will find a rather large and very pretty patio where you can eat or have a drink.
Some rooms will amaze you with their view on the Eiffel Tower.
6) Hôtel Mercure Paris Roissy Charles-De-Gaulle ****
3 Allée du Verger, 95700 Roissy-en-France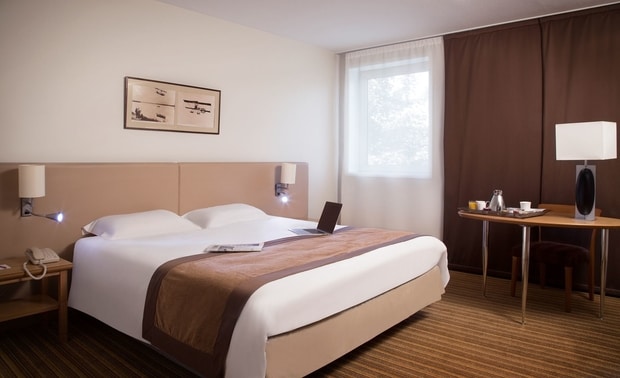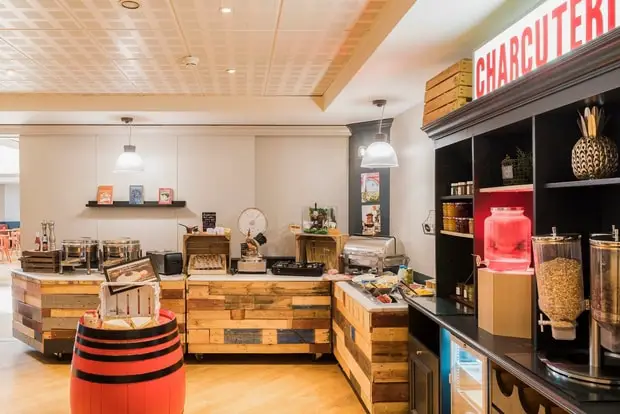 If you are on stopover in Paris for a few hours, then this hotel is perfect as it is only 10 minutes drive from Roissy-Charles-de-Gaulle airport.
A free shuttle service is available between the hotel and the airport. You will have access to the reception 24 hours a day.
Wifi is available at no extra cost in the establishment and in some rooms you will find a Nespresso coffee maker, and a television. The rooms are also air-conditioned.
There is also an outdoor terrace if you want to enjoy the sunny weather during your meal.
This hotel can offer you a 3 or a 6-hour package. Prices start from €40.
7) Hôtel Ibis Paris Italie Tolbiac ***
177 Rue de Tolbiac, 75013 Paris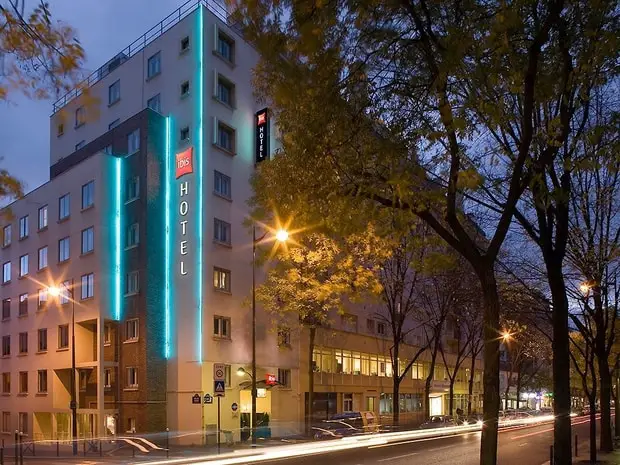 Located in the Asian district of Paris, this Ibis hotel offers to welcome you for 3 or 6 hours.
The prices vary between 54 and €62.
You will find many restaurants around if necessary.
The reception is open 24 hours a day and the rooms are fully equipped with wifi, air conditioning, television, private bathroom, desk and a telephone.
A light breakfast is available from 4am for those who have to get up early, and a more substantial breakfast is served later in the morning with many sweet dishes, but also savoury dishes.
It is possible to cancel without charge in case of unforeseen circumstances.
8) Hotel Villa Beaumarchais ****
5 Rue des Arquebusiers, 75003 Paris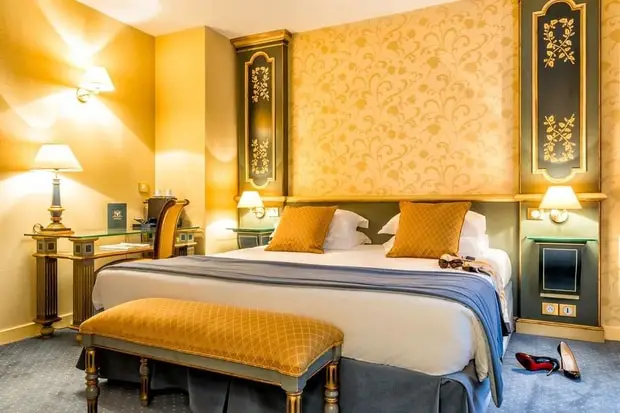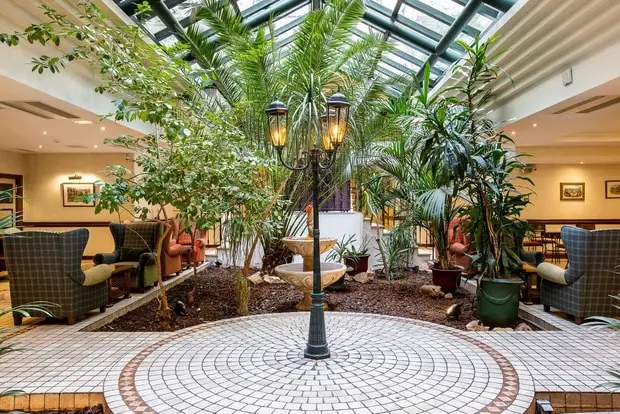 You will find this magnificent hotel in the Marais district, a few hundred meters from the Carnavalet Museum. In this quiet street you will be able to enjoy mild nights surrounded by the comfort that the hotel will offer you.
Some rooms feature a living room and they are all air-conditioned. In each room you will have access to a minibar, a television and to a hairdryer in the bathroom.
A shuttle service (at extra cost) is available to take you to the airport.
You can also enjoy wifi all over the hotel, a gym and the hotel bar for a drink.
Prices vary from €55 to €144 for reservations of 3, 6 or 12 hours.
9) Hôtel L'Interlude ***
258 Avenue Daumesnil, 75012 Paris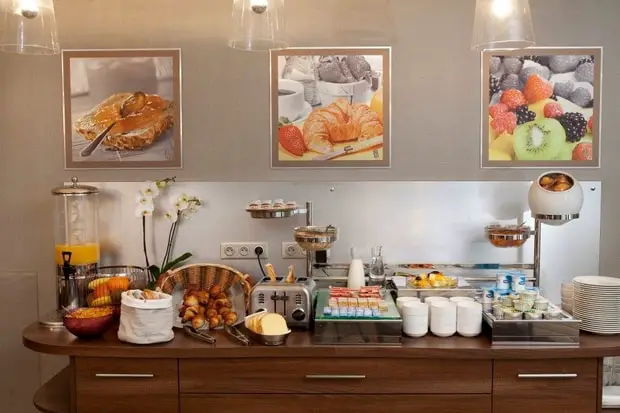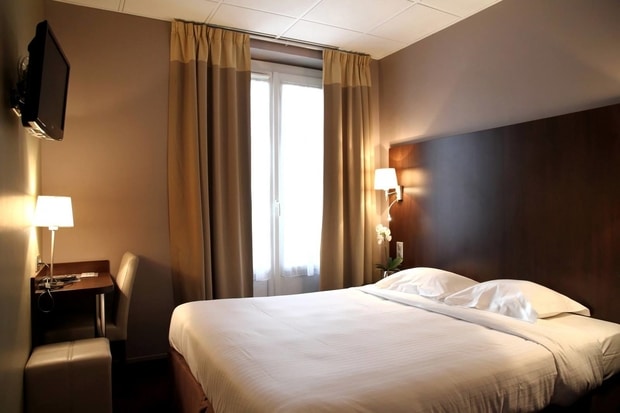 Close to Bois de Vincennes, this hotel in the 12th district of Paris will offer you all the comforts you need during your stay. In each room you will find a telephone, a television, unlimited access to Wifi everywhere in the establishment, double glazed windows guaranteeing good soundproofing, as well as a private bathroom.
For those who are passionate about art, architecture and history, this hotel is located in a suitable location for all your sightseeing tours.
From 7am to 10am you can go for breakfast in the cafeteria area provided for this purpose, where a buffet will be served.
The prices are €55 for 3 hours and €90 for 12 hours.
10) Hôtel Villa Lutèce Port Royal ****
52 Rue Jenner, 75013 Paris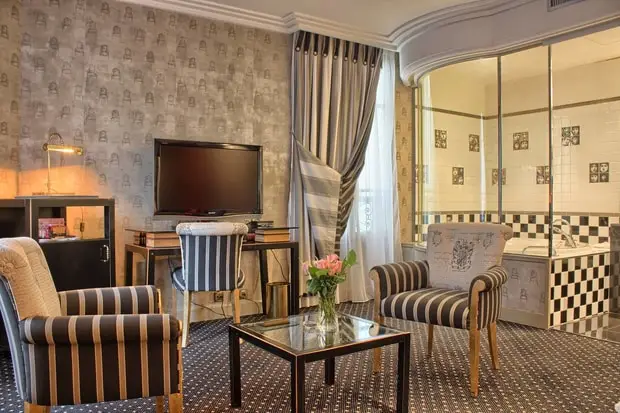 Located in the 13th district of Paris, this hotel will offer you a charming and welcoming setting near the Jardin des Plantes and the Bibliothèque Nationale. The hotel is located in a very quiet area and offers comfortable rooms.
Each room has a mini-bar and free access to wifi. All rooms have a private bathroom with a shower or a bathtub, and they are equipped with air conditioning.
It is possible to make a reservation for 3, 6 or 12 hours. Prices start from €65.
Good value for money.

I aim to share my tips and recommendations for the beautiful country of France. My goal is to help you plan your next adventure, whether it's a weekend getaway or a once-in-a-lifetime trip. From finding the best hotels and restaurants, to discovering unique activities and sights, I've got you covered!