In terms of traditional French biscuits, the list which contains cakes, dry cakes and other similar pastries is long. Here are the most famous ones. 
1. The palets bretons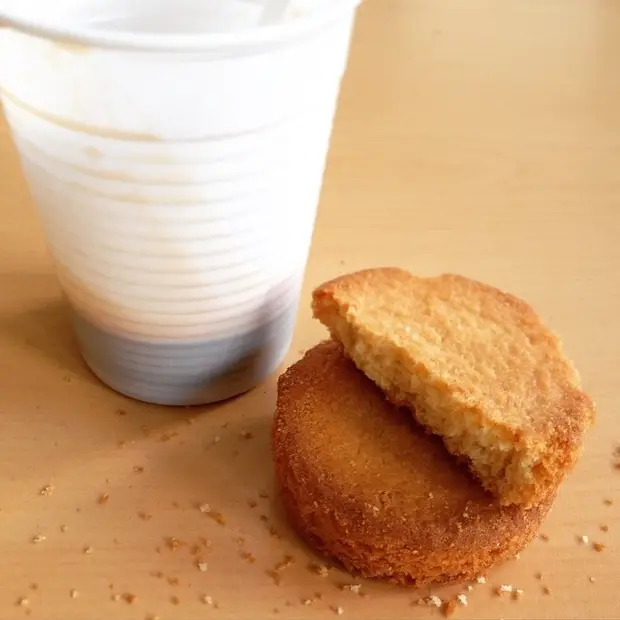 These are dry and thick biscuits which are shaped like pucks.
Little is known about their history, except the fact that their name comes from the puck game (jeu de palets).
Their taste is typical of the pastries and biscuits that can be found in Brittany; they are very sweet.
The recipe uses a lot of butter: this is something we very much noticed when we eat them.
It serves to accompany a cup of coffee, a glass of milk or even ice cream.
2. The Petit-Beurre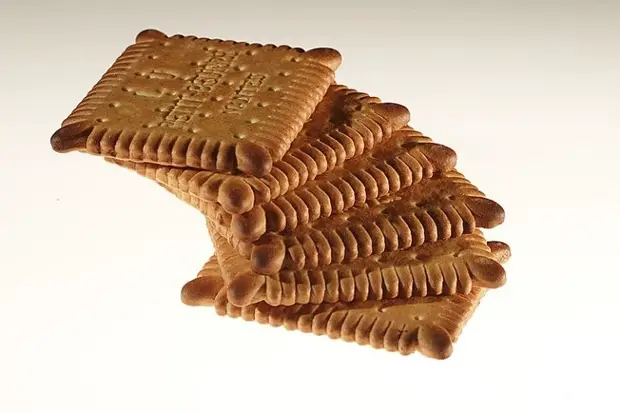 It is surely the most famous biscuit in France. It is nowadays sold worldwide: the Petit-Beurre was baked for the first time in Nantes by Louis-Lefèvre Utile, a famous biscuit maker.
It is a small, dry, flour, sugar and butter-based cookie with a very ordinary taste, but it is widely enjoyed, especially among children.
A lot of other varieties of this biscuit were later created with chocolate or white chocolate topping, which made this biscuit factory from Nantes even more famous.
3. The lunette de Romans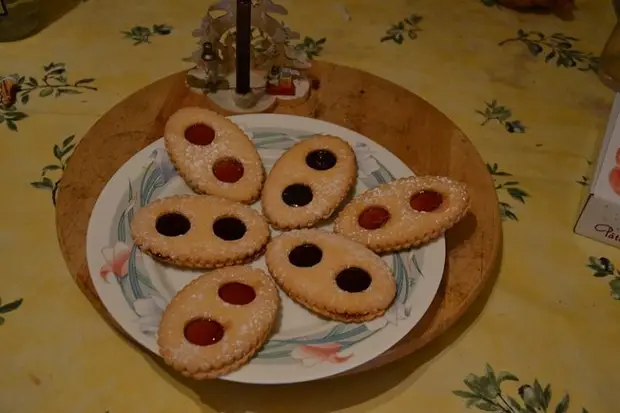 It is a stuffed biscuit from the Drôme.
It is made with two shortbread biscuits, and some strawberry, raspberry, blueberry or apricot jam in the middle. It can also be chocolate. Sprinkle it with confectionary sugar, and there you have it: the lunette de Romans.
Its name (lunettes: "glasses") comes from the two holes on the upper biscuit.
About its origin, it was inspired by an Italian biscuit named the milanais or "Milanese" which dates back to the Middle Ages.
4. The Palmier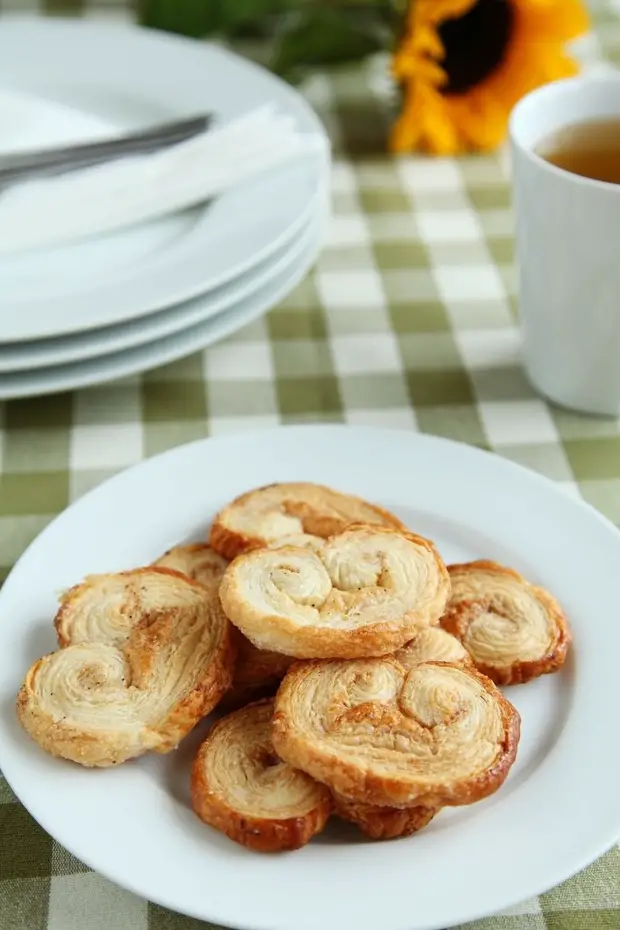 It is so influential that it is called Coeur de France ("heart of France") in Switzerland. This French biscuit made from puff pastry has a fine taste, is often very sugary and is heart-shaped.
Nobody really knows why they are shaped like this: to be fair, nobody really knows anything about their history.
Because of its taste, we could guess it is a recipe from Brittany because of the large quantity of butter, which is reflected in its taste. Maybe it actually comes from Brittany, who knows?
You often associate this biscuit with something made in a factory, sold in packets, in supermarkets.
Yet, it is served by many pastries and biscuit chefs and accompanies a cup of coffee, of tea or some ice cream very well.
5. The boudoirs
 

Voir cette publication sur Instagram

 
They are made from wheat flour, eggs and sugar. Some air is added to the dough, which gives it a special texture when eaten.
It is often covered with sugar and/or icing sugar to add some taste.
Some people mention 14th-century counts from Savoie when they speak about the boudoirs' origins, others give credit to an 18th-century French pastry chef.
6. The crêpes dentelle
 

Voir cette publication sur Instagram

 
They are also gavottes. A lady named Madame Katell is often mentioned for their invention, which by the way, is accidental! She is said to have left her crepe to cook for too long.
She then decided to fold it, and thus was born the crêpe dentelle. Its fine taste is really different from the traditional crepes from Brittany, but the recipe is very similar.
They are small, thin and crumble very easily.
They are often served in restaurants to accompany ice cream or a cup of coffee.
7. Macaroons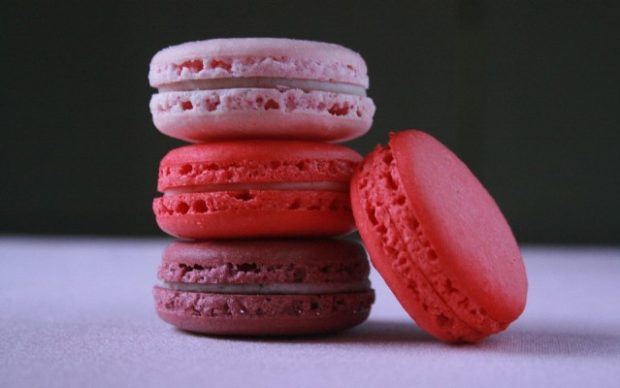 They first appeared in 16th century Italy and were named maccherone. They then appeared 80 years later in Saint-Jean-de-Luz, France, then spread in the whole country.
These little almond cakes can have any flavor you like: ordinary flavors like chocolate, strawberry or pistachio and original flavors such as passion fruit or violet.
These are very famous elements of French pastry and French cuisine in general. They have the reputation of being a fine dessert.
8. Canistrelli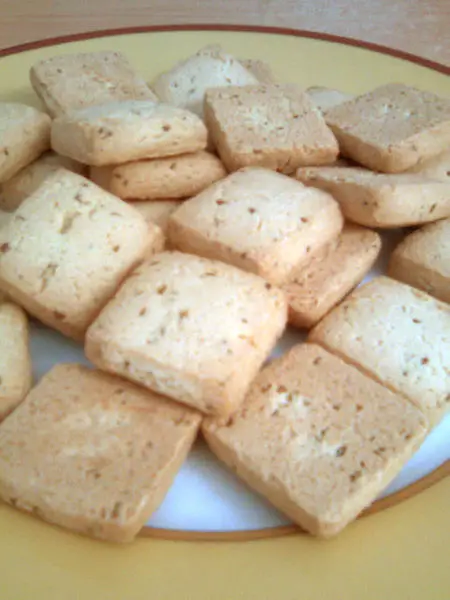 Canistrelli are Corsican dry biscuits. It is a traditional pastry among shepherds. It is famous because it is very simple to bake, and it has a fine taste.
It is made with wheat flour and sugar, and often raisins or lemon, and most of the time, almonds.
9. The Madeleine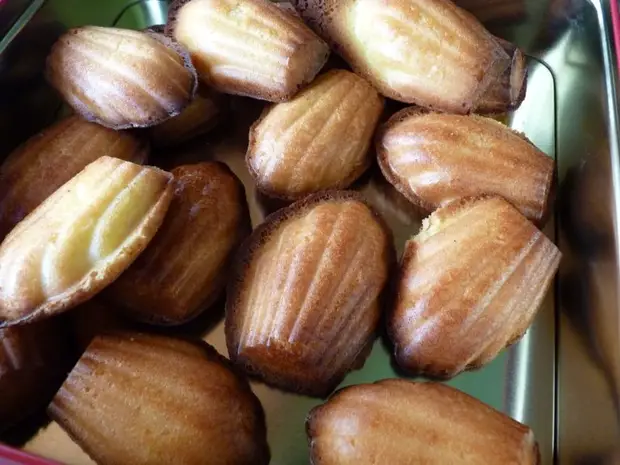 These small soft cakes often associated with Brittany come in fact from Lorraine. They are named after a cook from this region: Madeleine Paulmier.
They are made with sugar, butter, flour and milk. Originally, the recipe also required some drops of lemon in the process. But in reality, it is hard to distinguish this flavor, most of the time.
For a snack, a coffee break or even with a dessert, this biscuit is enjoyable anytime, and widely appreciated in France.
10. The biscuit rose de Reims ("Reims pink biscuit")
Some say it is the oldest biscuit in history. It kept the recipe which defines the biscuit (bi(s)-cuit, "baked twice").
It is widely enjoyed in the Champagne region, and its taste is quite ordinary because it is made with flour, eggs, sometimes some vanilla sugar.
It is often made to be eaten as a dessert or to go with a cup of tea or coffee. They sometimes add a natural or artificial food coloring to give its typical pink color.
11. The copeaux de Malavieille
These twisted biscuits are a product of Ardèche and are made with orange blossom extract to give some flavor. They were invented in 1871 and the trademark was registered at the same time.
What makes them special is the fact they can be traditionally enjoyed with a glass of champagne or sparkling wine.
They can also be enjoyed as an appetizer.
12. The croquant aux amandes
 

Voir cette publication sur Instagram

 
It is also called casse-dents ("tooth breaker") and comes from southern France.
In fact, we can find one different from the others in every city of southern France: Carpentras, Cordes, Nîmes, Marseille…
It is an almond biscuit, and has a rather hard texture, which is why it bears its two names: "tooth breaker" and "crunchy almond cake".
It is made with flour and sugar, and orange blossom extract is often added to add some taste. It is widespread, and here is a bit of its history: during the 17th century, an innkeeper made these biscuits to put the surplus of almonds to good use. At the time, the almond trees were abundant in the region.
13. The rousquilles from Catalonia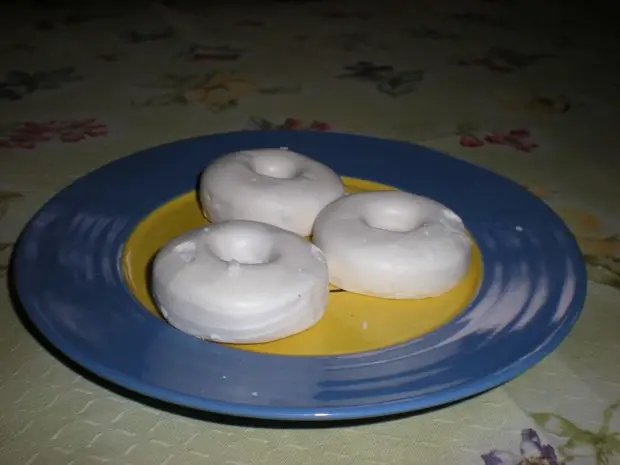 It comes from Perpignan, and it is a biscuit which is crunchy on the outside and soft on the inside. They often say it goes well with a cup of coffee or tea for teatime.
Its shape is close to the American donut, especially when its traditional icing is added. But it has nothing to do with it: its recipe indicates that they must be flavored with aniseed extract or some orange blossom extract, not to forget its lemon icing.
Here's something about its history: in 1810, a pastry chef from Catalonia wanted to revise a recipe of Spanish rosquillas, a biscuit having a similar shape.
It is still successful to this day.
14. The navette de Marseille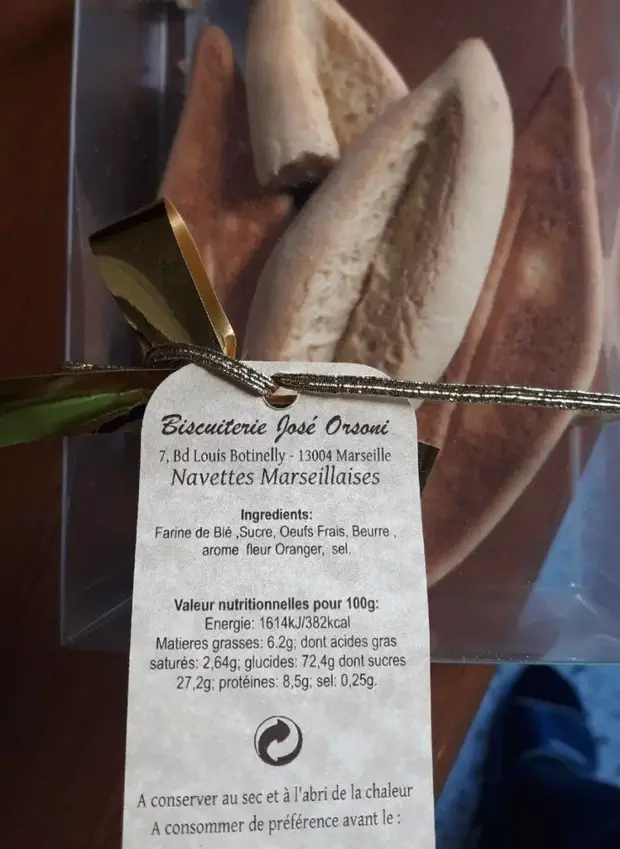 They are often credited to someone named Monsieur Aveyrous in 1781. It has the shape of a rowboat and is traditionally made for the Chandeleur instead of crepes.
To its rather ordinary recipe (flour, sugar, butter, water…) orange blossom extract is added to add some flavor, which is something rather common in pastries and biscuits of southern France.
Nowadays, people often change the recipe a little by adding other spices or aromas.
15. The Trouvillais
 

Voir cette publication sur Instagram

 
This is a very popular biscuit in Normandy. These are small shortbread biscuits: they are very simple. Some extra flavors are often added: apple, lemon, almonds, red fruits…
The history of this biscuit dates back to the 18th century. It spread quickly in the region and is now made by the Biscuiterie de l'Abbaye, a traditional biscuit company. It perfectly masters the making of Trouvillais biscuits.

Mona knows Paris like the back of her hand. Bars, restaurants, hotels… whether you want to sleep, eat, party or just take a walk in Paris, Mona gives you her best advice. Follow her lead, she will gladly give you all her good tips and best addresses!