Do you want to try something new? Indulge yourself by visiting one of these exotic restaurants in Paris. There is something for every taste and budget! So don't think too much about it and just try one of these gastronomic paradises.
1) Habesha €€
Ethiopian cuisine
Address: 19 Rue Copreaux, 75015 Paris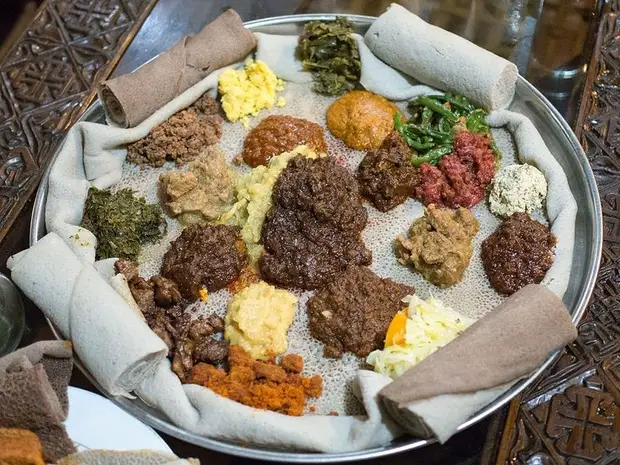 Habesha, in the heart of the 15th District, welcomes you in a friendly and colorful atmosphere. Everything that you see in this small Ethiopian restaurant makes you think about Africa. What are you going to find there? Only traditional Ethiopian food, but we are sure you won't regret it. The chef offers you a great variety of recipes to make you discover the different flavours of African cuisine.
Come and enjoy a delicious meal in a relaxed atmosphere, surrounded by a wonderful staff. Sit down and let yourself be amazed by the multiple African flavours that Habesha has for you, we're sure you won't forget this experience. And if we talk about food, there are many different possibilities, all of them delicious. If you want our advice, try the Azifa, a mix of mashed lentils, garlic and Ethiopian spices, and don't forget to taste the "discovery dish", an assortment of typical Ethiopian dishes that will not leave you indifferent. Are you veggie? Don't worry, Habesha has also something for you! Tip: Book in advance because the restaurant is small and there are always lots of people.
Average price €20
Drinks from €3
Facebook: Habesha (in French only)
2) Pisanov €€
French-Bulgarian cuisine
Address: 6 Rue César Franck, 75015 Paris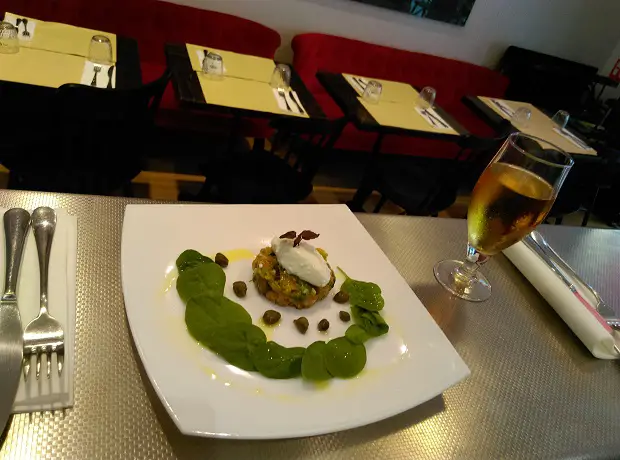 Pisanov is a French-Bulgarian restaurant located in the 15th District. It opened its doors in 2007 to present the Bulgarian traditional cuisine to a Parisien and international public. Fresh and high-quality products, innovative recipes, and an unrivalled expertise are the secrets to transform your visit into a real gastronomic experience that combines two cultures. The expertise of life, and the love for what they do, are the secrets of the owners to offer you an unique culinary experience.
If you like eastern Europe and you would like to discover its culinary traditions, Pisanov is the place to be. Try one of the entries proposed on the menu, and if you don't know what to choose we advise you to order the famous Catak, a mix of cheese and sheep yoghurt, roasted peppers with garlic, walnut and parsley – simply delicious! And don't leave without trying the traditional Bulgarian patatnik, another house speciality. In a friendly atmosphere, Pisanov invites you to live an experience that will put all your senses to the test.
Price per person: €20 à €25
Website: Pisanov (in French only)
3) Joayo €€
Korean cuisine
Address: 239 Rue du Faubourg Saint-Antoine, 75011 Paris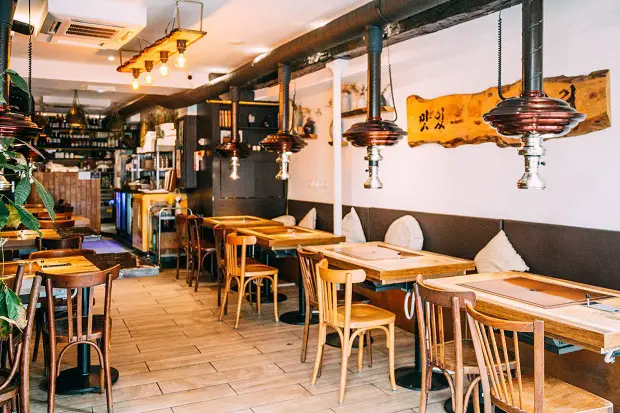 Located in a lively neighbourhood, this small Korean restaurant welcomes you in a traditional and modern atmosphere. Its wooden tables and its beautiful decor introduce you to the world of genuine Korean cuisine. If you like spices and you're a fan of barbecues, just come and visit Joayo, you won't regret it!
The friendly, 100% Korean, staff is pleased to help you. If you don't know what to order or you just don't know anything about Korean food, they will be happy to explain to you and answer all questions you may have. But be careful: this wonderful Korean corner is becoming very popular, so try to book in advance just to be sure to have a table to enjoy your Korean meal.
If you don't have too much time, don't worry! Joayo offers you a delivery service, so you can order online or just go to the restaurant and order there to enjoy your delicious Korean dish elsewhere.
Average price €18
Facebook: Joayo (in French only)
4) Chez Mademoiselle €€ – €€€
Russian cuisine
Address: 21 rue mademoiselle, 75015 Paris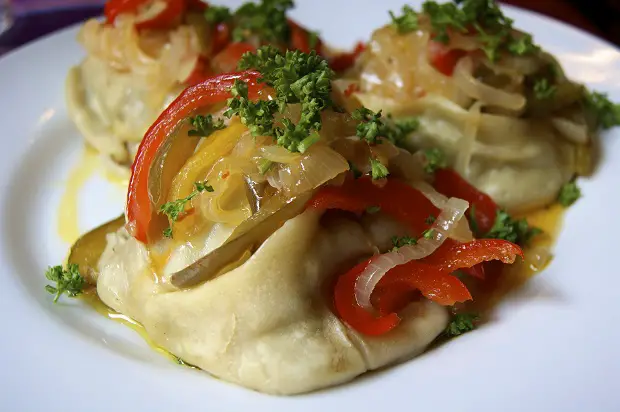 There is no point in taking the plane to Russia – at Chez Mademoiselle you will find the best Russian specialities in an elegant and welcoming atmosphere. Located in the 15th District, this unique restaurant opened eight years ago, and since then Joe and Laurent, the owners, have astonished their clients with the different specialities from Russia and central Asia. It doesn't matter what you order, we're sure you will love it!
This small Kazakh restaurant, unique in the capital, proposes a menu inspired by the seasons. It combines fresh ingredients and an unrivalled expertise to offer you dishes at reasonable prices.
We suggest you try the traditional Bortsh, the national Russian soup made of beetroot, or the delicious Olivier salad, a mix of chicken, pickles, corn, onion, potatoes, eggs and mayonnaise. For the main course, we advise you to try the Pelmenis, known as Russian ravioli, or the chicken Kiev, a chicken breast breaded roll stuffed with butter, garlic and aneth. And if all of this is not enough for you, just try the Medovik as dessert, a delicious Russian cake made of honey, cream and walnut powder.
So don't think too much and come to enjoy the wonders that this Russian paradise has to offer.
Menus between €32 and €40
Average price €32
Website: Chez mademoiselle
5) Happa Tei €€
Japanese cuisine
Address: 64 Rue Sainte-Anne, 75002 Paris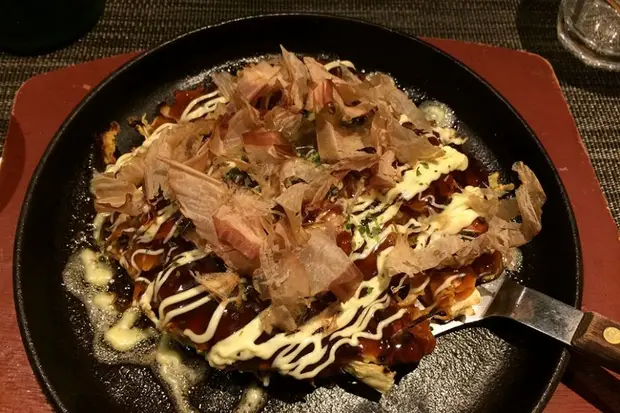 Do you like Asian food? Have you always dreamt about visiting Japan? if the answer is yes, the 64 rue Sainte-Anne, where Happa Tei is located, is the place to be. It is a small Japanese restaurant in downtown Paris, known for its wonderful Takoyaki.
You may wonder what it is, and we have the answer for you: a Takoyaki is a small ball made of wheat flour, egg, fish broth, chives, ginger, and octopus pieces cooked on a honeycombed grill. We're sure that this traditional meal from Osaka will leave you without words.
But if you're not a fan of seafood, and you prefer pork and vegetables, Happa Tei has something for you! Forget about sushi for a while and come to try the Okonomiyaki. It is a sort of crepe made of cabbage, pork, egg, cheese, and whatever you want to put inside, and those from Happa Tei are excellent. If you are a food lover and you would like to have a real gastronomic experience, we suggest you order some Takoyakis as starter and an Okonomiyaki as main course – you won't regret it!
Come and discover this Japanese paradise located in the heart of Paris; even if it looks like a fast food place from the outside, it has a room upstairs where you can enjoy your meal in an authentic Japanese atmosphere.
However, it is really popular among the Japanese community in Paris, so think about booking before coming or try to arrive shortly after the opening because there are always lots of people waiting at the entrance.
Average price between €15 and €20
Facebook Happa Tei (in French only)
6) Le village €€
Senegalese cuisine
Address: 86 Avenue parmentier, 75011 Paris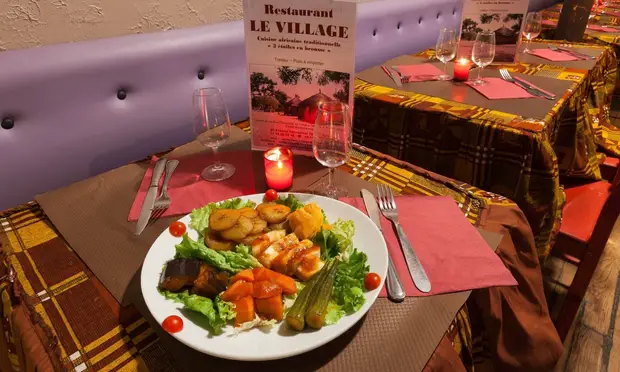 Africa is waiting for you at The Village in the 11th District. Come and discover the flavours of Senegal, the mix of herbs and spices, in a friendly and relaxed atmosphere. The decor, conceived to make you travel to Africa, will transport you to Senegal. Don't hesitate and let yourself be tempted by the African rhythms, while you enjoy a delicious meal from the south-west part of the the continent.
The Village offers you a great variety of dishes, all from African cuisine, and invites you to live a very special gastronomic experience. Indulge yourself and try the Senegalese turnover or the aloco, a fried banana, and please don't leave without trying the Thieboudienne, which literally means fish rice. It is Senegal's national dish, and it goes perfectly with a typical fresh juice or a cocktail that you can also order at the restaurant.
Main courses from €15
Menu €25
Website: Le village
7) Mi ranchito paisa €€ – €€€
Colombian cuisine
Address: 35 Rue de Montholon, 75009 Paris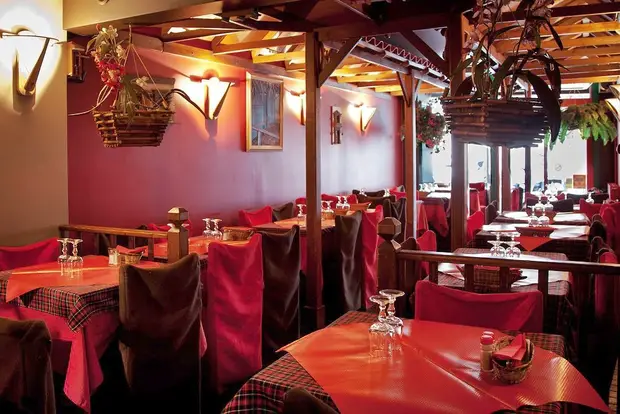 If you love Latin American flavours, this restaurant is for you. Located in the heart of the 9th District, Mi ranchito paisa welcomes you in a real Colombian atmosphere. Music, decor, and everything that you see, make you think about Colombia.
This unique restaurant offers you the most well-known dishes from the country, specially from the north-west region, but also from the center and south part.
Discover fresh and natural products, exotic fruits and spices that transform the Colombian gastronomy into a paradise. If you like exotic flavours, don't think too much and order a fresh Colombian juice, and a trio of empanadas, a sort of strudel made of corn flour and stuffed with meat, chicken, cheese or even vegetables.
For your main course, we suggest you order the bandeja paisa, a traditional dish from the country and the speciality of this restaurant; and as a dessert there is nothing better than the brevas con arequipe, figs with Colombian caramel and fresh cheese.
Just come and discover the typical Colombian flavours – it is an experience that you won't forget!
Average price starter + main course/ main course + dessert €28
Drinks from €4
Website: Mi ranchito paisa (in French only)
8) O corcovado €€ – €€€
Brazilian cuisine
Address: 152 Rue du Château, 75014 Paris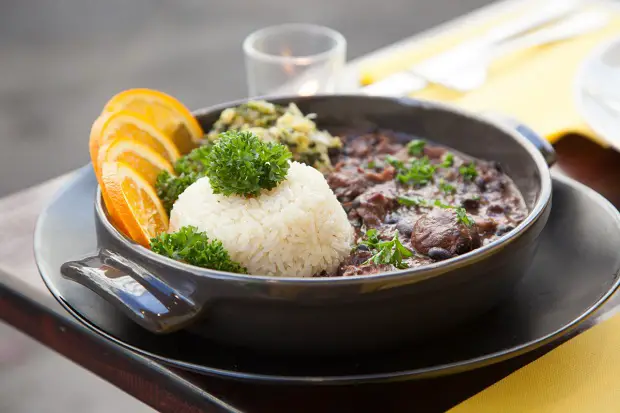 If you're a fan of Brazilian rhythms, and you love party and a good mood, O corcovado is the place to be. Located in the 14th District, this small Brazilian restaurant, founded in 2006 by Claudia and Sebastien, invites you to live a unique experience that will make you discover the richness of Brazilian gastronomy.
Known for its work related to Brazilian cuisine, O corcovado offers you an excellent meal in a familiar, relaxed and colourful atmosphere that makes you feel at home. Come and try the incredible feijoada, the delicious cocktails and the great variety of starters, and discover the unique flavours of Brazil.
Visiting this Brazilian corner will make you feel in paradise, a Latin American paradise.
Average price €35
Website: O corcovado
9) Le comptoir de Tunisie €€
Tunisian cuisine
Address: 30 Rue de Richelieu, 75001 Paris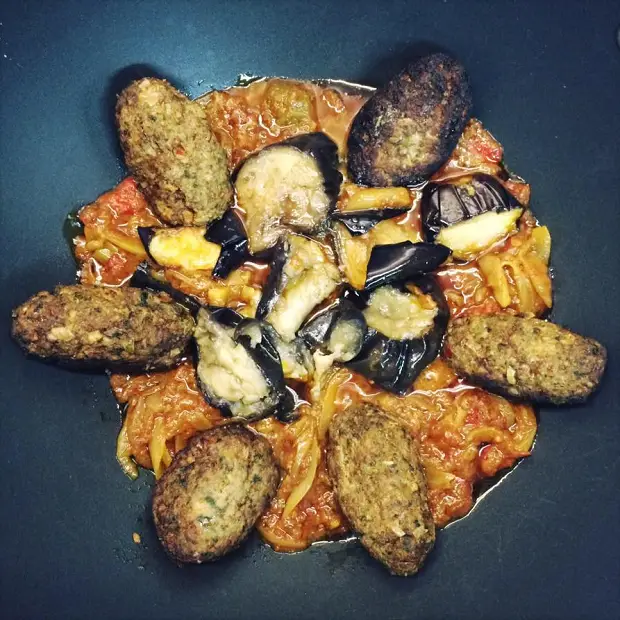 Have you ever dreamt about visiting the maghreb? If the answer is yes, just take your bag and come discover traditional Tunisian gastronomy. Located in the heart of Paris in the 1st District, Le comptoir de Tunisie, with its traditional north-African cuisine, is waiting for you to help you live a unique culinary experience. And if at the end of your meal you would like to buy some typical products, don't worry – you can do it at the restaurant! Le comptoir de Tunisie is a restaurant and a shop at the same time.
The menu changes every day depending on the fresh produce that has just arrived, so quality and freshness are guaranteed. The restaurant offers you a different menu each day, we suggest you to order the famous fish couscous, which is only served every other Wednesday and Friday on alternative weeks.
Enjoy a delicious meal in a familiar and friendly atmosphere, but be careful: there is only one menu per day and it is impossible to modify it!
Menu price €18
Facebook: Le comptoir de la Tunisie (in French only)
10) El Chalan €€ – €€€
Peruvian cuisine
Address: 6 Rue Lefebvre, 75015 Paris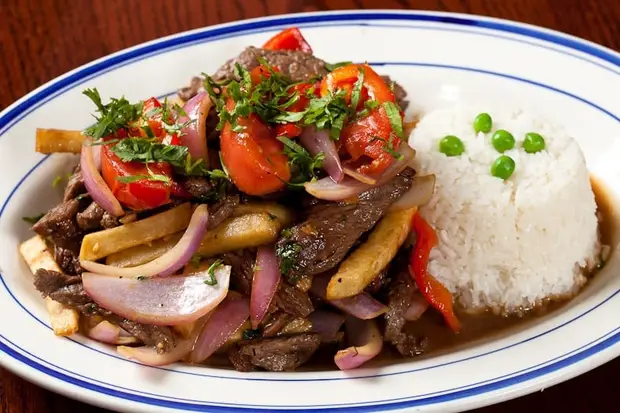 Founded 15 years ago in the heart of the 15th District, this Peruvian restaurant offers you the opportunity to taste the masterpieces of Peruvian cuisine, known as the best of Latin America.
Gina Cavero, the owner, invites you to discover this gastronomic paradise where the fresh and high-quality products, and the expertise and the passion and love for her job, meet to offer you a unique gastronomic experience.
Come and taste the famous pisco sour, one of the most well-known drinks in Peru, or try the delicious causa rellena; and if you are a food lover, just order the piqueo El Chalan, you won't regret it. It is a mix of three different starters, all of them typical of the country; so for the price of one, you can actually taste three specialities: causa limena, ceviche and chorito a la chalaca.
For the main course, there are several options, but we suggest you order the traditional Lomo saltado: slides of beef finely chopped, sautéed with onions, tomatoes and soya and served with rice and fries.
However, if you prefer chicken, don't think too much and order the famous aji de gallina: chicken breast chopped and mixed with a slightly spicy sauce, and served with rice.
Average price between €30 and €35
Website: El Chalan (in French only)

I aim to share my tips and recommendations for the beautiful country of France. My goal is to help you plan your next adventure, whether it's a weekend getaway or a once-in-a-lifetime trip. From finding the best hotels and restaurants, to discovering unique activities and sights, I've got you covered!