If you are ever craving for barbecues and all kinds of grilled meat to enjoy even under a gray Parisian sky, look no further than below. Whether American or Asian inspired, here is our list of the best barbecues in town.
Freddy's BBQ
163 Rue Saint-Denis 75002, Paris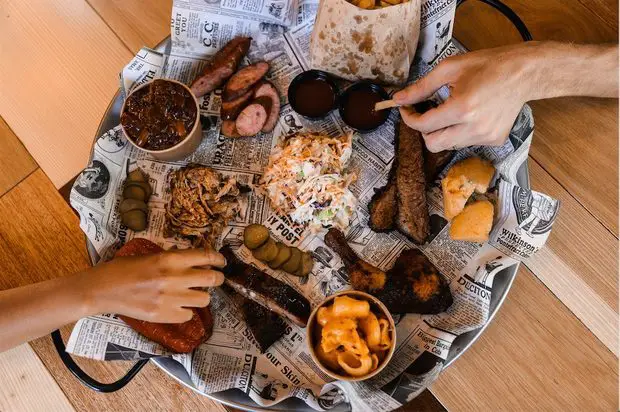 This Texan-style restaurant is located in the heart of Paris and offers delectable meat cooked on site in its smokehouse.
Black angus beef brisket, pulled pork, ribs, chicken thighs, smoked sausages with their sides: crispy fries, beans and the inevitable mac & cheese are but a few of the things that you can find on the menu.
The grilled meats are served on large platters and in newspaper sheets as seen in the American series.
When it comes to drinks, you can enjoy American cocktails, buckets of beers (exactly 8 to fit the American extravagance) and of course classic sodas.
The little extra: With the group booking option (a minimum of 6 people), you will be entitled to a selection including all their smoked meats and sides served with their homemade barbecue sauce, red onions, pickles and their traditional cornbread. For vegetarians and vegans, vegetable sausages are available upon  request.
Price: €5/100 g for chicken drumsticks; €7/100 g for beef brisket,
€7/100g for the sausages; €6/100 g for the ribs; €5.5 /100 g for the pulled pork
€ 24.90 for one person's menu
Website: https://www.freddysbbq.fr/
Floyd's Bar & Grill
11 Rue d'Enghien, 75010 Paris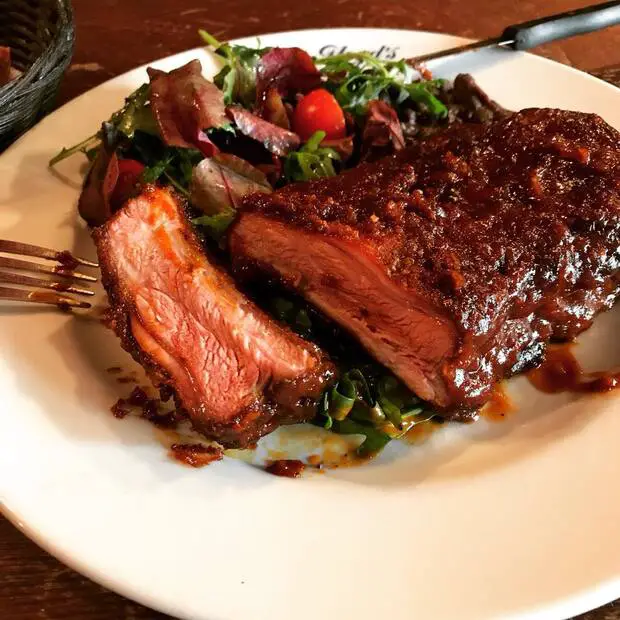 The double theme of the Floyds will take you alternatively from Texas to the Californian desert as you wish.
However the theme of the house remains centered around the American barbecue experience.
You can therefore enjoy a "prime rib" in the tall armchairs with padded seats of the first room of the restaurant.
You can also enjoy the authentic Kansas City BBQ Ribs, smoked pork ribs in the restaurant's most secluded room.
The little extra: Sit around the cozy wooden bar to enjoy their cocktails, their old fashioned and strong drinks.
Price: Between €23 and €24 for the pieces of beef
Website: http://floyds.fr.zenchef.com/en/
Splash Port Van Gogh
Port Van Gogh, 92600 Asnières-sur-Seine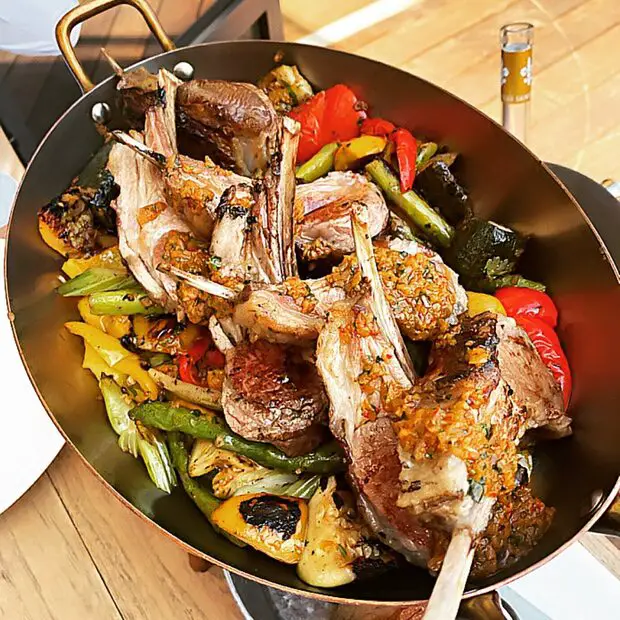 This bistro-style restaurant is located on the banks of the Seine river.
In its trendy French Riviera atmosphere, you will enjoy good barbecue.
Set by the pool, on the brazier grill, you will find beautiful pieces such as beef tenderloin, lamb chops, prime rib … for a flavorful barbecue!
The little extra: When you get to the outdoor space, you become completely disconnected from reality. The outdoor wooden bar and rattan furniture highlights the luxurious vegetation of the place which immediately transports you out of Paris, far from the city bustle, and makes you dive directly onto the sublime beaches of Pampelonne.
Price: € 37.90
Website: https://www.bistrot-splash.fr/ (only in French)
Flesh Restaurant
25 Rue de Douai, 75009 Paris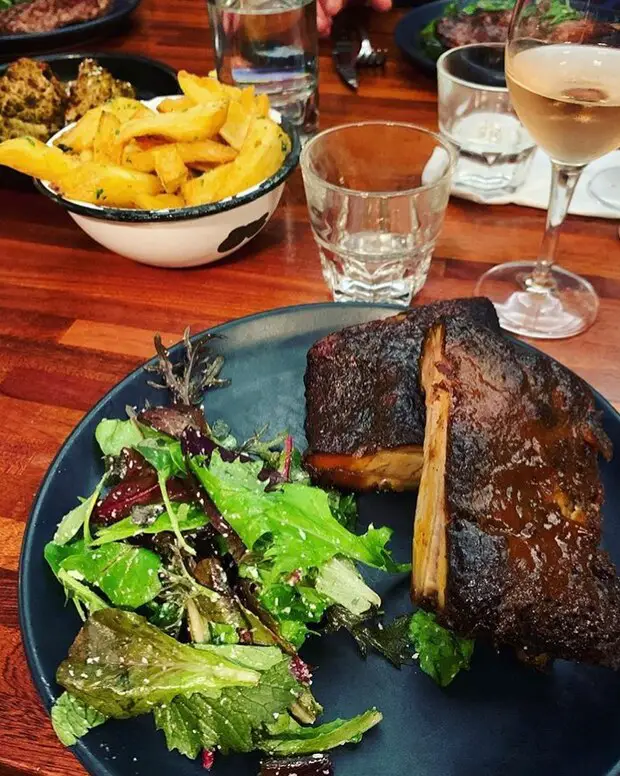 Cooking over a wood fire is the signature of the house.
On the menu, you will find pieces such as black angus chuck flap, free-range chicken thigh marinated in lemon oregano and smoked pork ribs.
As sides, you can choose between corn on the cob, leek, cauliflower, zucchini, tomatoes … or even fries (homemade) to enjoy with different sauces such as barbecue, lemon or blue cheese.
For non-meat eaters, you can enjoy a trout version of banka or  prawns.
The little extra: Their drinks are purely wonderful. Our recommendations are the "Boulevardier" a cocktail made with bourbon buffalo trace, campari and red martini or the "Mexican Fuel" made with tequila, chartreuse, lemon juice, agave syrup, cucumber and coriander.
Price: Lunch menu €14.50 (1 meat selection + 1 side + 1 drink)
Website: http://ww7.flesh-restaurant.com/
Korean Barbecue
22 Rue Delambre, 75014 Paris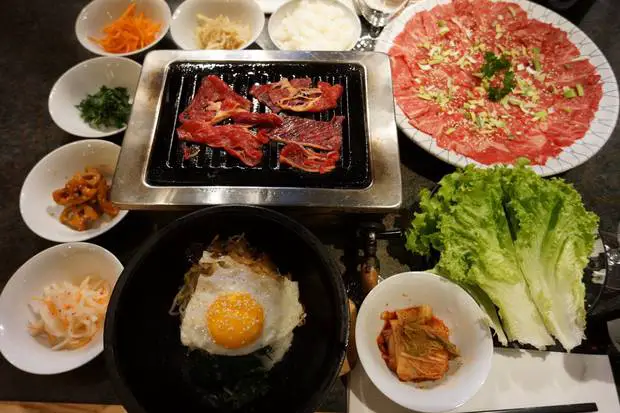 This restaurant located in the 14th arrondissement offers you a unique Korean barbecue experience.
Seated around a grill in the center of the table, you will enjoy seasoned meat cooked to your liking.
Thin slices of beef ribs, entrecotes or pork belly, are but some of the things you will enjoy.
The little extra: A friendly and warm setting where you can accompany your grilled meats with Korean specialties such as bibimbap and other Asian specialties, particularly Japanese and Chinese.
Price: €25
Website: https://fr-fr.facebook.com/barswickkorean/ (only in French)
Hôtel Le Grand Quartier
5 Rue de Nancy, 75010 Paris
The barbecue is set up on the splendid rooftop terrace of Le Grand Quartier hotel, a stone's throw from the Saint-Martin canal.
On the menu, grilled beef skewers, chicken thighs to have with potatoes and sucrine will be waiting for you.
You can also treat yourself to the restaurant's other à la carte dishes such as the chicken supreme, the butcher's piece composed of a mole Poblano sauce, anise tamal, new potatoes with lemon, all in a juice of reduced beef cooking.
The little extra: Every Saturday and Sunday: a BBQ brunch is offered with a hot drink, organic orange juice, a pastries' basket, natural yogurt and granola, and of course grilled meats.
Price: € 22 à la carte dishes and € 28 for the BBQ brunch
Website: https://www.legrandquartier.com/en/hotel
Le Rhino Rouge
2 Rue Théophile Roussel, 75012 Paris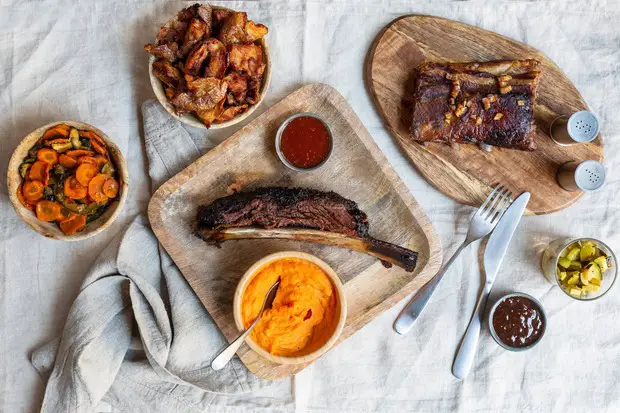 Texas is in the spotlight here: With its red brick wall, wooden counter and the star of the place this huge 12m2 red smokehouse, fueled with wood, cooks tender smoked meat.
Among the meat selection (all from the Metzger butcher, a house of excellence concerning beef meat) find signature pieces such as beef brisket, beef ribs and Black Angus baroness Tri-Tip.
You will also find other typical pieces of Texan BBQ such as pulled pork, Baby back ribs or lacquered pork ribs.
Sides to enjoy along with your meat include "rebellious potatoes", these are soft and crispy potatoes, in short, they are irresistible…
The little extra: In addition to this Texan culinary treat offered by Le Rhino, you will also find specialties from France and elsewhere such as duck breast, Thai salad, sweet potato, orange and hazelnut mousseline and even roasted fried vegetables. It is also possible to opt for a take-away formula for lunch, consisting of pulled pork sandwich + potatoes + a drink for €11
Price: Brisket: €10 for 150g and €13 for 220g. Tri-tip: €15 Brisket sandwich: €9
Website: https://rhinorouge.fr/(only in French)
La Brigade
103 Rue Oberkampf, 75011 Paris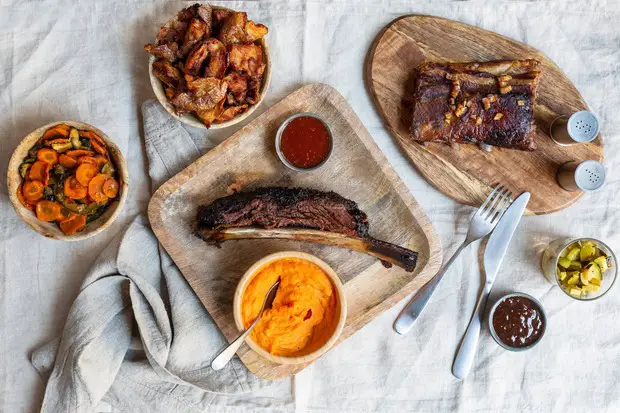 On board its incredible food truck, La Brigade serves up one of the best meaty street foods in town.
You will enjoy a la plancha cooking of pieces such as the beef tab, duck breast, breaded chicken fillet, Argentinian angus rib steak and Montbéliard sausage served in a take-away box with lettuce, fries and gret original homemade sauces with pepper, honey, green curry and peanuts.
The little extra: A lunch formula valid until 3 p.m. whichincludes a drink, a dessert of your choice and a take-away box of your choice. For the biggest meat-lovers, choose between the gourmet formula (two meats) and the Gargantua formula (three meats). The little ones too, can have a good treat there, with the little brigadier formula, consisting of nuggets, fries and a drink.
Price: €12 for the take-away box/ €17 for the gourmet formula / €23 for the gargantua formula and €8.9 for the little brigadier formula
Website: www.la-brigade.fr (only in French)

I aim to share my tips and recommendations for the beautiful country of France. My goal is to help you plan your next adventure, whether it's a weekend getaway or a once-in-a-lifetime trip. From finding the best hotels and restaurants, to discovering unique activities and sights, I've got you covered!