Finding a hotel in Paris is a good thing, but finding a great hotel with a swimming pool is even better! After a full day of visits or a seminar that never seemed to come to an end, do you dream of nothing but lolling in a swimming pool? You've chosen the right place! The capital is full of hotels that can provide you with this small luxury. We have listed the best hotels in Paris with a swimming pool, to make it easier for you.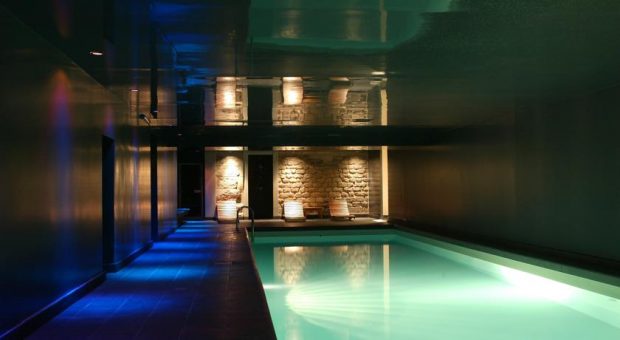 1) La Maison Favart**** – Change of scenery in Paris

Area: Opéra – Bourse
5, rue Marivaux, 75002 Paris
This used to be the house of Charles-Simon Favart's and Justine Duronceray, his wife, two important 18th century Opéra-Comique comedians and playwrights and one of most famous theatre couples. This is an exceptional place dedicated to Art and Theatre enthusiasts. You'll be taken back to those times — their times, I mean — in this very Parisian 18th century scenery which will certainly make your holiday … exceptional!
Several types of rooms are available. The decoration is unique in each of them; they will ensure you have a unique and personal trip. The rooms are spacious, with an office, a free Wi-Fi connection, a bathroom with a shower, welcoming products and bathroom linens. Suites and duplexes have an extra lounge corner with a free film library and the opportunity to choose a bathtub instead of the shower.
Families and groups of friends will be welcomed kindly in "La Petite Maison" (The Little House), a 75 square meters wide outbuilding composed of a dining room, two bedrooms and two bathrooms. Why would you want to skip that?
And the swimming pool you've been waiting for … A healthy and relaxing breakaway with bubble-shaped mirrors and waterfalls … On top of this warm bath, you can enjoy the sauna for a getaway outside the capital. You haven't had enough yet? The hotel offers a massage room so you'll lay in a massage waterbed under the friendly surveillance of a staff member. Before or after that moment of intense relaxation, you can go and sweat in the fitness room, on one of its three high-tech pieces of equipment. Last but not least, don't miss the Honesty Bar, open as early as the beginning of the afternoon to let you refresh a little bit.
The hotel staff will be available anytime. French and international newspapers, a locker service and a luggage storage area will also be available. The staff will give you tips about the neighbourhood and the Richelieu-Drouot metro station (lines 8 and 9) is close at hand and will take you directly to the Trocadéro, the place de la République and the Invalides. In the surrounding areas you can discover the Galeries Lafayette Mall and the Palais Garnier, which are just 5 minutes away from the hotel!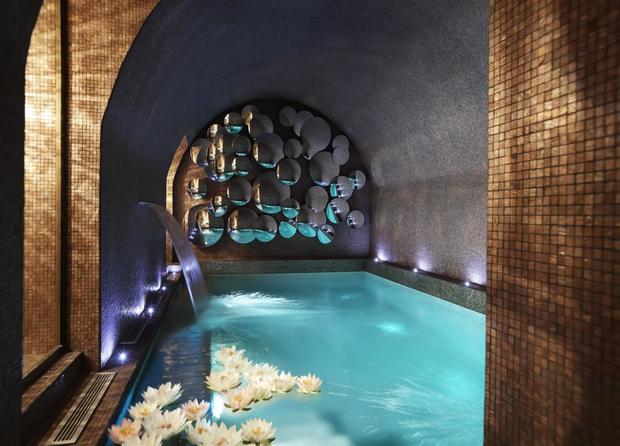 What we like: the meticulous and unusual decor
What we love: the swimming pool's waterfall!
For further information about the Maison Favart, its services, prices and availabilities, click here.
2) Hôtel La Lanterne**** – An ocean of light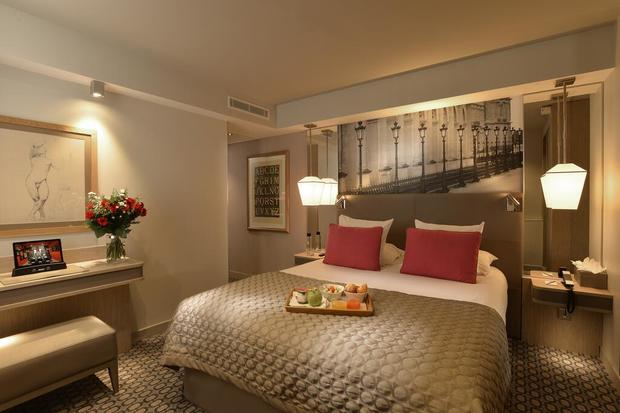 Area: the Latin Quarter
12, rue de la Montagne Sainte-Geneviève, 75005 Paris
Flea-market and designers' furniture, a decor like no other … these are the words that suit the hotel La Lanterne's atmosphere best. This 5th district boutique hotel has entirely been adorned by two decorators and a photographer in order to create a unique place where you can be far away from the Parisian vibrancy. If you ever want to get out of it, you'll find the Notre-Dame de Paris cathedral, the Panthéon and the Jardin du Luxembourg to be very close by.
As you enter the hotel, the sensation of well-being should be starting and never stop increasing after that. There you will find an indoor garden, with vegetation and soft colours to turn the whole environment into a Zen one; lights are also disseminated everywhere to reinforce the relaxing ambiance.
But the heart of the hotel surely is the relaxation area with the indoor swimming pool and its hot tub; its Paris print decoration will remind you that you are not dreaming, and that this is for real! Stone walls make the whole place both atypical and cosy. You'll be taken into another world for a swim through the clouds.
Beside the swimming pool, you'll discover the hammam, where you shall relax even more because you never get enough of these kinds of activities! White colours and soft lights make a sweet mix to the eyes. But please, do not fall asleep … Furthermore, you can use the sensorial shower to wake you up, or even to arouse your senses, with different types of water jets, several shades of colour and scents of essential oils.
Anyway, you're going to end up sleeping eventually, and you can choose between rooms and suites. Classic rooms are covered in wooden floor or carpet, and they all comprise a bathroom with an Italian-style shower and the possibility to pick adjoining rooms for a family stay. However, we regret that there are no terraces nor balconies … If you want one, you'll have to book more expensive kinds of rooms, but having a view over Paris? You can't put a price on that experience! The rooms are still too small for you? Thirty-five square meter rooms are also available and they have a lounge corner and a bathtub in the bathroom.
The buffet breakfast is served every morning and is composed of fresh and quality products (and bacon!). The Honesty Bar welcomes you all day long so that you never die of thirst, with its wine menu which will enchant the aficionados.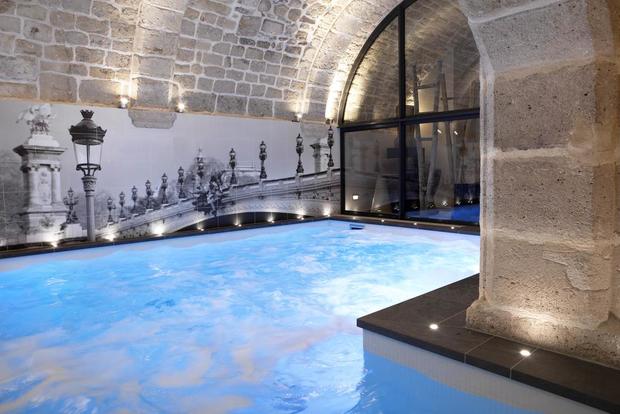 What we like: the relaxing atmosphere of the place
What we love: the relaxation area and its hot tub
For further information about La Lantern, its services, prices and availabilities, click here.
3) Saint James Albany Paris Hotel Spa***** – A well-being bubble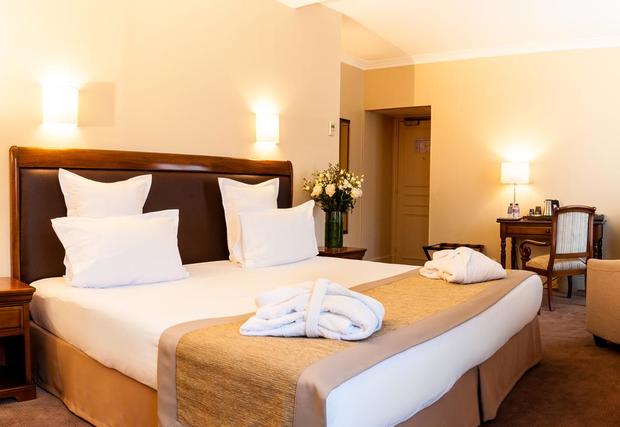 Area: Louvre – Châtelet
202, rue de Rivoli, 75001 Paris
What is better than living in front of the Jardin des Tuileries? You'll be ideally located on the rue de Rivoli, with the Louvre Museum and the Place de la Concorde across the street and the Seine River 5 minutes away. For art lovers, there are monthly exhibitions at the Grand Palais museum, which is situated a 10-minute walk away from the hotel.
The Saint James is a glamorous and luxurious hotel that might remind you of a palace. Its long marbled and stone corridors, its high-ceiling dining room that looks like a dance hall, its carved façade … You'll be happy to know that you can pick one from among the 200 rooms, suites and private flats.
The single room can host 2 customers; it comprises a bathroom with a bathtub. The duplex suite, on the other hand, can welcome 4 persons in 45 square meters, with a lounge corner, a bathroom and two toilets. As a customer, you can access the hotel's full services, including the restaurant, the room service, the parking lots, the Wi-Fi connection and the Clefs d'Or Concierge services.
Now, enough chitchat … where is the swimming pool? It is in a 500 square meter basement, equipped with a spa for beauty wants and needs, a hammam, a Jacuzzi, a relaxation area and a fitness room; yes, this is all for you! And if you ever get fed up with swimming, a masseur and a therapist are also here for you and will help you clear your mind completely.
After such a moment of relaxation, let's go to the 202 Rivoli Restaurant, with a full menu that will satisfy your every mood. You can also have brunches there during the weekends, or enjoy the indoor courtyard garden during summer. If you're the home-lover kind, you can call room service 24 hours a day. As for drinks, you can go to the bar; it is open all day long and serves sweets, cocktails and snacks on the run (don't worry, they'll give you a plate).
A wedding anniversary, a birthday or any other sort of party, or simply a seminar? The hotel provides you with a room, some staff members and kitchen employees especially for the occasion. A whole group of professionals will be at your service and give you advice during the preparations and supervise on D-Day.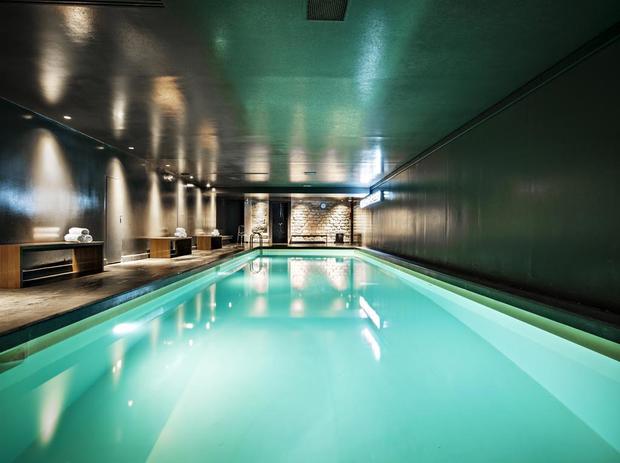 What we like: the both discreet and reliable staff
What we love: the well-being area to recharge your batteries
For further information about the Saint James Paris, its services, prices and availabilities, click here.
4) Molitor Paris MGallery by Sofitel***** – A historical place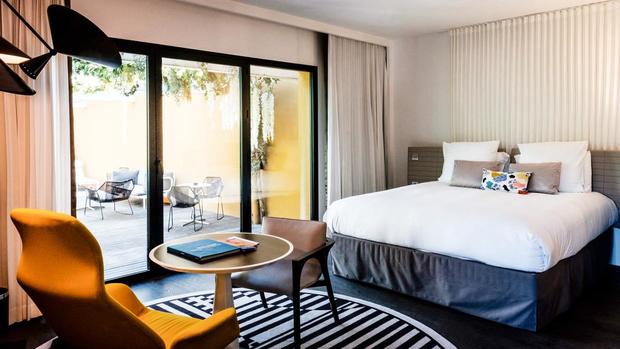 Area: Porte Molitor – Porte d'Auteuil
2, avenue de la Porte Molitor, 75016 Paris
Molitor was founded in 1929 and at that time, it was only a swimming pool, but not just any swimming pool. It was the most popular! That popularity lasted 60 years — and for good reason: it comprised two pools, three floors of cabins and it seemed very avant-garde at the time. It was closed in 1989 and later abandoned because of several controversies and a construction project that didn't hold up. It was taken over by artists and rave parties were organized in the ruined building. The rehabilitation led to the re-opening of the luxury hotel in 2014 and it has kept marks from its swimming pool and street art makers' squat past.
Thus you will sleep in an exceptional setting; its unusual history makes the whole place authentic. The cabin floors have been turned into rooms and suites and there are 124 of them now. To reach your room, you'll walk through corridors covered in portholes, which make the whole building look like an ocean liner.
Rooms were carefully adorned and contrast with the decor of the swimming pools. It feels like the designers have chosen an elegant and refined decor to enhance sobriety and clearly separate the authentic swimming pools from the new hotel.
Every room has a private bathroom full of Clarins beauty products, and the porthole looks onto the outdoor pool or the city.
We've evoked the swimming pool as it was before being abandoned, but the most important is what it is now. The summer pool (46 meters long) is surrounded by lawns with sun loungers so as to mimic the atmosphere of a beach. Even if it's a summer pool, you can go and dive, as it is heated all year long (28 degrees Celsius). All right, all right, sun is better … As for the winter pool (33 meters long), you can still contemplate the three floors of blue cabins from there, recreated thanks to the setting, just underneath a huge canopy.
Apart from diving, the Molitor spa provides one the most complete hotel services in the capital, so as to ensure a moment of relaxation for everyone. You will also find hammams, saunas, a dream room, a reading room, a tea service, a hair salon and numerous creative services like "bubble nails," which is a nail polish application along with champagne tasting.
After a day spent in the pool, you might feel a little bit hungry. The restaurant is open every day and it serves delicate dishes that were chosen and created by chef Julien Mercier. During summer, the chef suggests original and more summery products that you can taste on the rooftop terrace which contemplates the summer pool and the capital.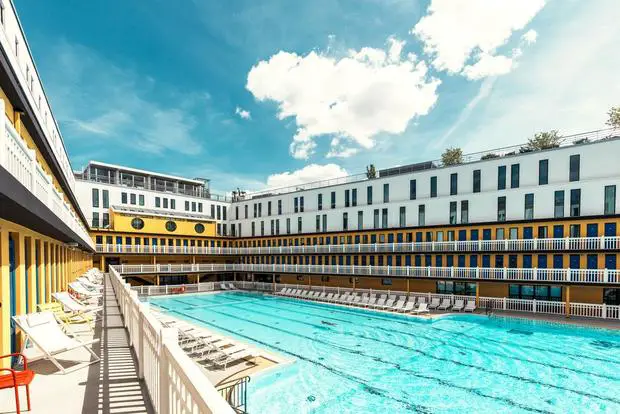 What we like: the fact that is full of history
What we love: going to the very complete spa between two dips.
For further information about the Hôtel Molitor, its services, prices and availabilities, click here.
5) Hôtel Océania Porte de Versailles**** – Taking a dip in Paris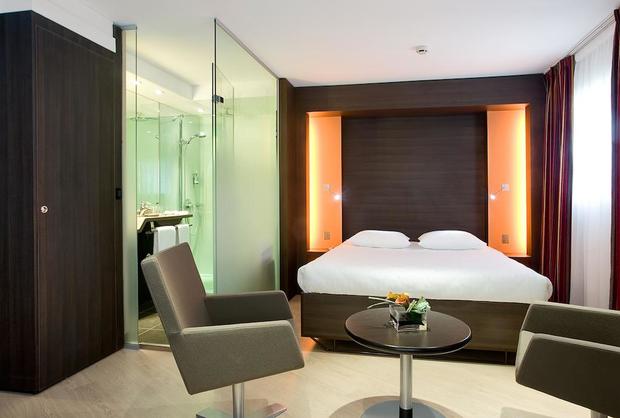 Area: Porte de Versailles
52, rue d'Oradour-sur-Glane, 75015 Paris
A 700 square meter garden, a swimming pool, a hammam, a Jacuzzi — all these things in Paris … This is definitely not a dream! Nested in the 15th district of Paris, this hotel is ideal if you want to attend the Paris expo Porte de Versailles exhibition hall or the Palais des Sports arena. The metro station Porte de Versailles, on line 12, will allow you to reach the National Assembly, the Madeleine nice neighbourhood and Montmartre.
The Hôtel Océania comprises 250 rooms of different categories to help you in the best way possible. These rooms can welcome between 1 and 4 customers; nobody will be left behind! There can be one or two bathrooms; it depends on the number of guests. You'll always have anything you need and there's even an umbrella, which won't be useful because it never rains in Paris, does it?
The swimming pool, please, where is the swimming pool?? Don't worry, it's coming. You'll have free access to the underground swimming pool, ideally heated during summer and during winter. But … only a swimming pool? No! There is also a well-being centre with two hammams (one for men, the other for women), a Jacuzzi, a fitness room and a treatment room with a full list of beauty services that will help you relax (it is always nice after a day of visits).
A 4-star hotel means 4-star service! The bar is open all day, along with catering service and breakfast, because you cannot swim with an empty stomach. Room service and dry-cleaning service are also available (but you have to pay an additional amount of money). You can also bring your pets … but they're not allowed to swim!
What we like: the green setting and the change of scenery
What we love: the massages by the pool
For further information about the Océania, its services, prices and availabilities, click here.
6) Hôtel Da Vinci**** – A peace haven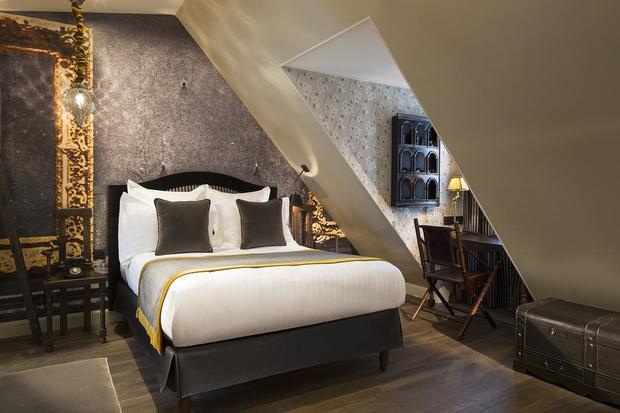 Area: Saint-Germain – Luxembourg
25, rue des Saints-Pères, 75006 Paris
The Hôtel Da Vinci follows the codes of style and elegance by creating a sophisticated and luxurious place. Everything has been designed for your ease and comfort, so that your holiday turns into an extraordinary moment. First of all, you'll go to your room to unpack your luggage and get some rest. The rooms, with their inspired and singular names (Mona Lisa, Medicis, etc.), will bring you back to an unknown place, somewhere in the past. They all have a minibar, a workspace and sometimes even a balcony. Their bathroom is private, composed of an Italian shower or a bathtub; you'll also find welcoming products and a hair-dryer. Rooms are all pretty much the same; the only things that differ are the decor and the organization.
After you've left all your stuff inside your room, next comes the relaxation! The basement level spa is a magical place which will bring you to a fairy tale world! The spa is embellished with a starry sky. You'll navigate through a universe painted with the soft colours Leonardo da Vinci used for its famous Mona Lisa, colours that will inspire relaxation. Despite the short size of the pool, it is provided with a countercurrent swimming system to invigorate your body between two breaks.
For a higher kind of relaxation and an intensified feeling of serenity, you have the opportunity to privatize the space for a while and enjoy massages and services by the pool. You can also benefit from the masseur's services in your own room, on request when you're booking.
For breakfast, you will go to the Café Da Vinci, which opens at 7 a.m. You are free to eat there all day long in case you're experiencing jet lag. You can also drink their refreshing drinks, and do not miss their espresso, which is one of the best in Paris!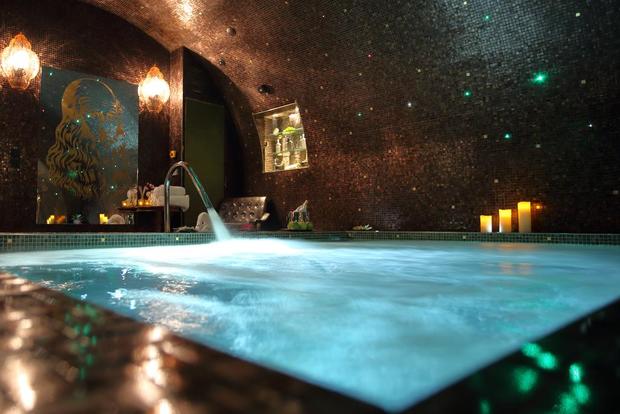 What we like: the idyllic setting, very Leonardo da Vinci-like!
What we love: the magical decor of the swimming pool
For further information about the Hôtel Da Vinci, its services, prices and availabilities, click here.
7) Hôtel Félicien Paris**** – Diving into design
Area: Mirabeau – Javel
21, rue Félicien David, 75016 Paris
The boutique hotel Félicien is unique — it is black and white! You will enter a quite futuristic universe with neon lights. The hotel has a very graphic design and decor. Its creator, the famous French fashion designer Olivier Lapidus, seems to have made up a haute couture setting without pretention. You will walk through six different floors and pick one from among the 34 rooms.
Several categories of rooms and suites are available and they were all designed by Lapidus, from the bottom, with black rooms, to the top, almost completely white. You can come as a couple (2 guests) or as a family or group of friends (up to 4 guests). The place is as comfortable as possible. You'll have access to a private safe, your own minibar, a free Wi-Fi connection and a bathroom with a shower or a bathtub.
Now let's talk about the pool … As a customer, whatever room you book, you can go the spa and the pool. The swimming pool was built in a dark room with underwater light beams. Red candles have been scattered all around the pool; on the pool floor, the drawn key will remind you of a spy searching for the perfect type of relaxation. The Félicien Spa also offers you intense moments of relaxation at the sauna or with professional masseurs, with a complete list of services and treatments. To avoid carelessness and to revitalise, there is a fitness room equipped with everything you need to gain muscle mass.
There is a Jacuzzi on the hotel rooftop, overlooking the whole capital, for a unique experience. It is also provided with a few sun loungers to enjoy summer days.
After you wake up, have a sweet and sour Félicien breakfast in the dining room adorned with Olivier Lapidus sketches. Or you can just stay in your room. In the evening, you can have refreshing drinks or a snack at the Black Bar, in an intimate atmosphere that will remind you once more of the mesmerizing aspect of the hotel.
There are numerous hotel services, offered by a smiling and reliable staff who will manage to make your stay an unforgettable one. Twenty-four-hour janitorial and luggage service, room service and a valet service … and more.
If you want to travel a little bit through the city, a lot of interesting Parisian sites can be reached only by walking. Don't miss the Parc André Citroën, the Eiffel Tower, the Champ de Mars and the Trocadéro on the opposite shore.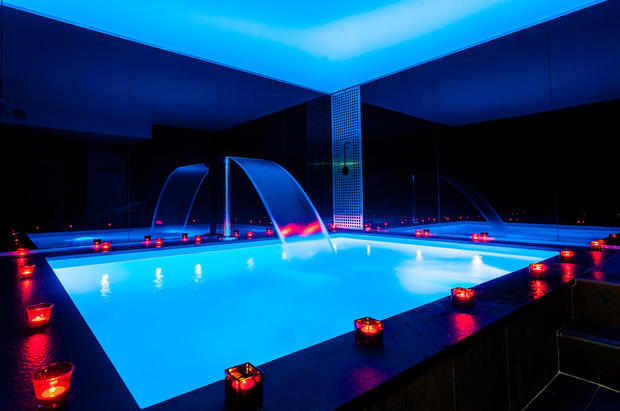 What we like: the fashion-show like decoration by Olivier Lapidus
What we love: the marvelous view from the Jacuzzi
For further information about the Hôtel Félicien, its services, prices and availabilities, click here.

I aim to share my tips and recommendations for the beautiful country of France. My goal is to help you plan your next adventure, whether it's a weekend getaway or a once-in-a-lifetime trip. From finding the best hotels and restaurants, to discovering unique activities and sights, I've got you covered!