Here we won't redo Pigalle's reputation. For centuries, we have dedicated a sensual and festive fame to this neighborhood full of history, and this isn't about to stop. Numerous brothels were transformed into popular clubs throughout the last few years, and if you want to have fun in an aesthetic and exceptional decor, it is here that it happens. From cabaret to brothel, while passing by concert halls, you will surely have an unforgettable night.
The Moulin Rouge, symbol of Pigalle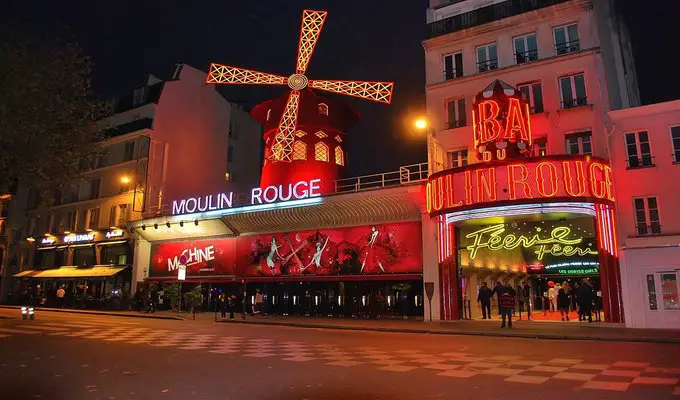 What would the Pigalle neighborhood be without the Moulin Rouge?
Founded in 1889 by Joseph Oller and Charles Zidler, it was one of the trendiest places in the capital, and that being throughout entire decades.
Its success began with the few comedians that would come do shows there. The atmosphere was light-hearted and the (very eclectic) audience came to the cabaret to relax and let go.
They'd drink, smoke, and dance. The Belle Epoque was underway.
So came the French Cancan. This dance style was inspired by the Quadrille or "ruckus" and staged dancers dressed in alluring costumes, especially rustly dresses that let their undergarments show when they danced.
Certain names have remained legendary today, like that of Jane Avril, La Goulue, Yvette Guilbert, Mistinguett, and plenty of others.
The Moulin Rouge has seen dozens of artists come to fame, like Henri de Toulouse-Lautrec for example, who was a house regular.
Living on the Butte, he came to spend his clearest moments at the Moulin by the side of his muse, La Goulue… A French painter and lithographer, he is famous for his many paintings about the cabaret and this famous dancer.
The Moulin Rouge is recognized still today throughout the entire world thanks to its shows that make thousands of spectators turn their heads each year.
A little anecdote: it was the first building to have electricity in the city of Paris.
You'll find it at 82, boulevard de Clichy in the 18th arrondissement.
Book a show at Le Moulin Rouge
Concert venues in Pigalle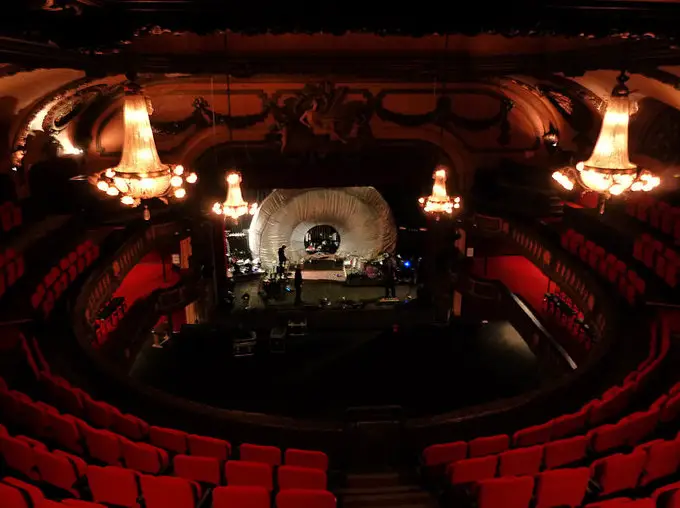 Le Trianon
Pigalle is also about the music scene.  With its concert halls and music stores, music lovers will be delighted.
A few notable concert halls:
Regarding the many stores for musical instruments, you'll find them mainly on boulevard de Clichy, rue Victor Massé, and rue de Douai.
Clubbing in Pigalle
For those who prefer night clubs, we suggest Le Bus Palladium, with its crude, rock decor and its multicolored lights, it's sometimes transformed into a concert hall ;
La Foule with its vintage decor and good atmosphere ;
La Machine du Moulin Rouge, with its parties with a 90's or electro theme;
The Rouge Pigalle, a club with an electro sound that is pretty distant from common commercial music and its red gogo décor
Chez Moune, with its vintage décor from an old lesbian cabaret and its soft lighting.
Here are their addresses:
Le Bus Palladium: 6, rue Fontaine, 9th arrondissement.
La Foule: 12, rue Frochot, 9th arrondissement.
La Machine du Moulin Rouge: 90, Boulevard de Clichy, 9th arrondissement.
Rouge Pigalle: 77, rue Jean-Baptiste Pigalle, 9th arrondissement.
Chez Moune: 54, rue Jean-Baptiste Pigalle, 9th arrondissement.
And to party, what better than to move those hips to wild rhythms in a vintage décor worthy of the Belle Epoque, with softened lights and velvet seats?
Pigalle is overflowing with old brothels renovated into trendy clubs.
We suggest going to Carmen where the decor is vintage and astonishing.
You can also go see what's going on at l'Orphée, a kind of special bar that we don't recommend to the faint of heart.
Here are a few locations that we suggest:
Le Carmen: 22, rue de Douai, Paris 9th arrondissement.
L'Orphée Privé : 7, rue Pierre Fontaine, Paris 9th arrondissement.
Le Dandy: 26, rue Pierre Fontaine, Paris 9th arrondissement.
La Villa Frochot: 2, rue Frochot, Paris 9th arrondissement.

Our recommended hotels in this neighborhood
5 stars:
Maison Souquet : 3 minutes away from the Moulin Rouge, the hotel is fully decorated in a Belle Époque theme, well equipped and extremely comfortable.
4 stars:
Terass Hôtel Montmartre by MH : peaceful place, its decoration is both modern and art-deco, the Moulin Rouge is just 500m away from it.
Hôtel Beausejour Montmartre: Formerly a family guest house, this elegant and discreet hotel is a real haven of peace and quiet in the heart of Paris.
Le Grey Hôtel : boutique hotel located between Montmartre and Opéra Garnier, in a small quiet street within a lively and traditional district.
3 stars:
Helussi Hôtel : modern and colorful rooms decorated with original and designer furniture, ideally located.
Hôtel Le Relais Montmartre :you will be enchanted by the charm and elegance of the decor.
Hôtel des 3 Poussins : just 150m away from the St. George station, the spacious guest rooms are individually furnished.
1 & 2 stars:
Hôtel France Albion : idealy located, this beautiful blue frontage Parisian hotel will warmly welcome you.
Hôtel Darcet : located close to the Place Clichy , Hotel Darcet is 500m away from the Moulin Rouge and close to the Montmartre district.