Do you like modern art? Located on the banks of the Seine, the Musée d'Art Moderne (Museum of Modern Art) of Paris offers a breathtaking view of the Eiffel Tower. Pablo Picasso, Henri Matisse, Raoul Dufy… They are all waiting for you at the MAM. Prices, access, collections… Don't worry, we're about to tell you everything!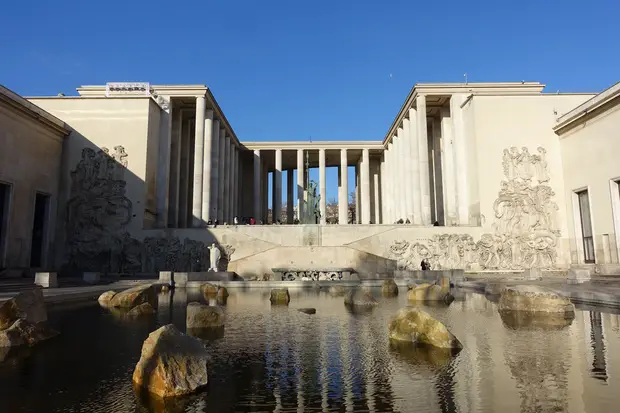 Our opinion
We like
The amazing collections
Less people than in other national museums
Free exhibitions
We don't like as much
The quality of the restaurant
You don't know much about modern art? It doesn't matter! You will be seduced by the diversity of works and styles presented within these walls.
I think you understood, we totally recommend a visit to the MAM.
What is the MAM?
Built in 1937 as part of the International Exposition of Arts and Technology in Modern Life, the Musée d'Art Moderne of Paris has an original Art Deco architecture.
This museum is an emblematic palace of the 30's architecture and one of the largest museums of modern and contemporary art in France.
A building which is both classic and modern
The museum has two large wings, both perpendicular to the Seine, connected by a walkway.
You will be amazed by the astonishing combination of classical architecture (colonnades, bas-reliefs and the composition of the building) and the works of modern art held inside.
The architectural decoration is deliberately concentrated on the exterior and excluded from the interior of the building in order to highlight the works of art.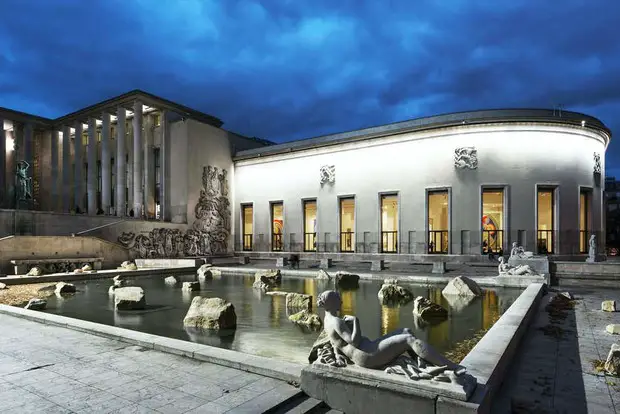 The museum is also outside
Stroll along the terrace and the edge of the pool to discover these splendid decorative elements: the Lying Nymph sculpted by Auguste Guénot, the Young Grape Picker sculpted by Pierre Vigoureux or the Moorish Woman sculpted by Anna Quinquaud.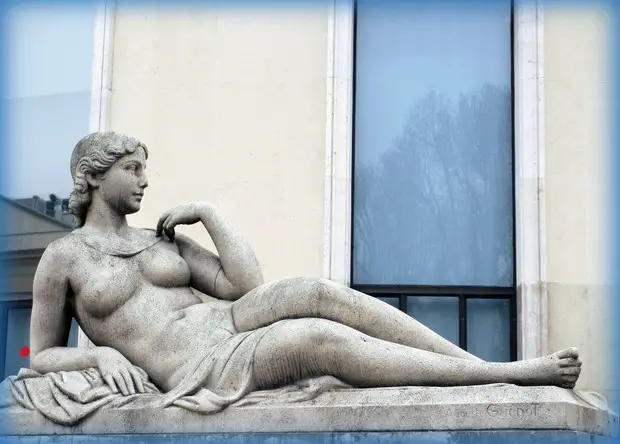 What can you see at the MAM?
Pablo Picasso, Henri Matisse, Pierre Bonnard, Raoul Dufy, Fernand Léger… What do they have all in common?
They are all in this museum!
You can admire their works in this collection, which is already very complete (it includes more than 15,000 works) and is constantly growing.
It gathers the main art movements of the 20th century such as Fauvism, Cubism and Surrealism.
Would you like an overview?
Here are three examples of famous paintings that you can discover or rediscover in this museum: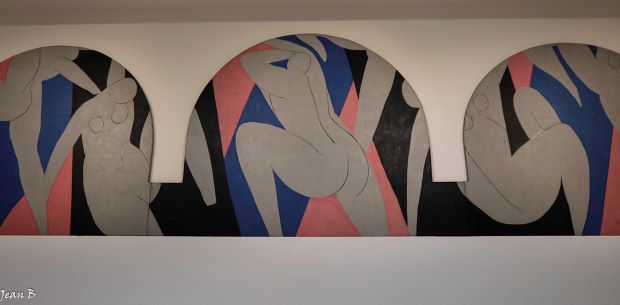 Nude in the Bath and Small Dog by Pierre Bonnard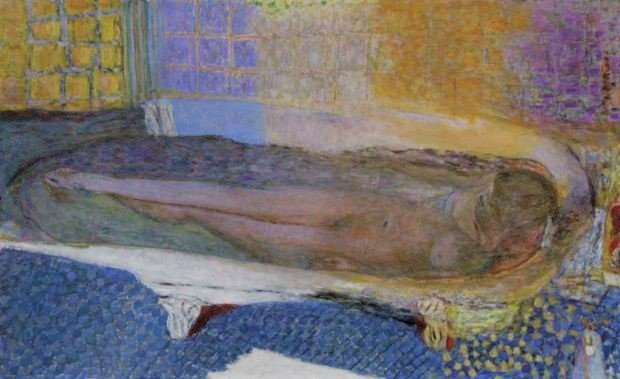 La Fée Électricité by Raoul Dufy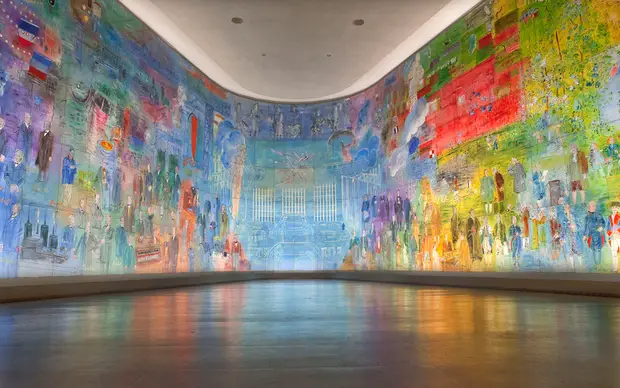 And even if you already know the permanent collections by heart, you will still be captivated by the various temporary exhibitions.
However, we recommend this museum to modern art lovers, as other visitors might be disappointed.
How to visit the Musée d'Art Moderne
Access
Internationally famous for its major artistic works on the 20th and 21st centuries. The Musée d'Art Moderne stands between the Champs-Elysées and the Eiffel Tower.
By metro: line 9 (Alma-Marceau or Iéna stop)
By bus: lines 32-42-80-82-92 (Alma-Marceau or Iéna stop) or line 72 (Musée d'Art Moderne stop)
The visitors' entrance is situated 11 avenue du Président Wilson, 75116 Paris.
What are the opening hours?
The museum opens its doors from Tuesday to Sunday between 10am and 6pm.
The visit lasts around 2 to 3 hours.
Recommended hours:
Thursday morning
Friday morning
Is there a reduced price?
Please note: access to the permanent collections is free! No need to book in advance.
Click here to book your ticket for the temporary exhibitions.
The price is usually between 7 and 13€. You can also have a reduced rate on presentation of relevant proof.
Reduced price:
young people between 18 and 26
students
holders of the "Paris Pass Families" card or "Famille nombreuse" card
professional teachers
Free admission:
visitors under 18 years of age
art students
teachers at the Ecole du Louvre
public servants of the city of Paris
disabled people and guide
jobseekers
members of the Maison des artistes
guides and speakers
holders of a Paris Museum Pass
friends of the MAM
Is it useful to get an audio guide?
More than the audio guide, we advise you to download the mobile application which offers several tour routes. It is adapted for adults, families, children and disabled people. This application is totally free so don't hesitate.
It is available on Google Play Store and on the App Store.
Is there a cloakroom?
Be careful, the museum doesn't have a cloakroom. Moreover, only bags measuring less than 45x36x20 cm are allowed.
Don't forget this when you come to visit the museum. It would be a shame to be denied access due to that.
You have just arrived or are about to leave and you don't know what to do with your suitcases? We suggest you to book your luggage storage near the Musée d'Art Moderne on the Nannybag website.
For €6 per day with an extra €4 for each additional day, you can put down your suitcases and will be able to freely enjoy your visit to the museum.
The two nearest lockers are about 600 meters from the MAM: rue de l'Amiral Hamelin and avenue Kléber.
Is the museum accessible for disabled people?
The museum provides free access to people with disabilities and their companion. In addition, parking spaces are reserved for them.
Two lifts are provided for disabled people to access to the exhibitions and it is also possible to reserve a wheelchair.
Family visit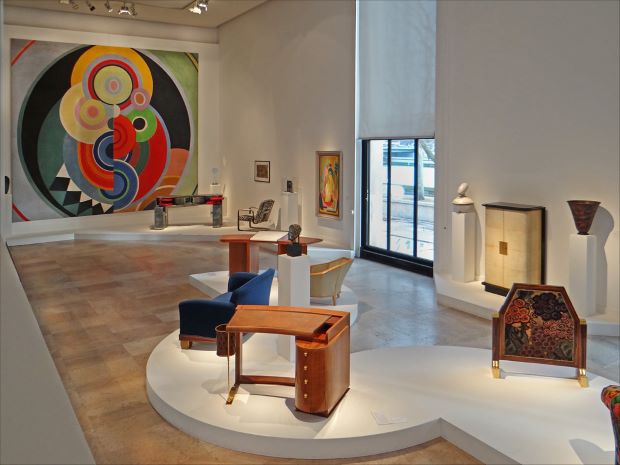 Would you like to discover the museum with your family? Various workshops and visits allow you to enjoy a pleasant moment with the younger children. The museum offers different options:
Discovery visits with the family.
Browse the exhibitions independently and then join an instructor for a workshop of plastic creations.
Baby visit.
Ideal for young children; this tour offers breathing and relaxation exercises for children and their parents. Parents then create a tactile surface for their child in relation to the works observed.
"Health and well-being for the family" workshops.
These workshops allow children to approach art through their senses and awaken their creativity. Children and their parents are invited to express their feelings and emotions throughout the visit.
Click here to learn more about the family visits.
Recommended restaurants near the MAM
The museum has a café-restaurant with a large terrace and a breathtaking view of the Eiffel Tower.
However, if you are looking for a good price to quality ratio, we advise you to avoid it because prices are rather high in this small cafeteria.
We therefore recommend other restaurants close to the Musée d'Art Moderne.
Les Marches
Address: 5 rue de la Manutention.
This restaurant is a real traditional Parisian bistro.
Just a stone's throw from the Musée d'Art Moderne and the Eiffel Tower, this restaurant offers simple but carefully crafted cuisine that will delight your taste buds.
Bonus: despite its exceptional location on the banks of the Seine and in a chic Parisian neighbourhood, this restaurant is not overpriced.
For about 25-30 euros per person you will be fully satisfied.
Opening hours: everyday
Le Galliera
Address: 15 avenue Pierre 1er de Serbie.
With a modern brasserie-style atmosphere, this restaurant stands out by its warm reception and good quality dishes.
All this is at a reasonable price: the take-away menu with a main course and a dessert costs €19.50.
Opening hours:
from Monday to Saturday between 11am and 8pm
Sunday between 11am and 4pm
Learn more about Le Galliera (website in French).
La Pâtisserie Cyril Lignac – Chaillot
Address: 2 rue de Chaillot.
Fancy a sweet treat?
Then, you should go to this renowned establishment that renews classics of traditional pastry crafting. You will be pleased by the quality! Be careful though, the prices are rather high.
Treat yourself to a little sweet after your visit to the museum.
Opening hours:
Monday between 7am and 7pm
from Tuesday to Sunday between 7am and 8pm
Learn more about La Pâtisserie Cyril Lignac.
Conclusion
The Musée d'Art Moderne is a beautiful museum noticeable for its ideal location in Paris. The free access to its permanent collections and some of its temporary exhibitions is a plus.
The architecture of this building is something to see and you will not be disappointed by the works it contains.
In conclusion, we highly recommend a visit to this museum!

I aim to share my tips and recommendations for the beautiful country of France. My goal is to help you plan your next adventure, whether it's a weekend getaway or a once-in-a-lifetime trip. From finding the best hotels and restaurants, to discovering unique activities and sights, I've got you covered!