Lebanon's cuisine is just like its inhabitants: centered around sharing. This is why it is mainly composed of mezzehs, an assortment of three or four dishes eaten in small bites with a flatbread galette or, if all else fails, a fork. You dream of tasting Lebanese gastronomy's flavours, but you don't have time for holidays or money for a plane ticket? Here is the list of our favourite Lebanese restaurants for a guaranteed successful Paris to Beirut trip.
Lebanese Snacks On The Go (€)
1. Chez le Libanais
35 rue Saint-André des Arts, 75006 Paris
In the course of a walk in the heart of the Saint Michel district, don't miss a halt at the Lebanese caterer Chez Le Libanais.
Its keywords? "Ancestral" for the traditional oven cooking, the Saj, "Healthy" for the organic bread and spices directly imported from Lebanon and "Balanced" for the salads, vegetable soups and vegetarian plates which will change from the Falafels and Manakiches.
The salads and Manakiches' prices fluctuate from 4 to 6€ and the lunch formula allows you to add a drink and a pastry for 8.50€ only.
So, let's roll!
2. Au Vieux Cèdre
2 rue Blainville, 75005 Paris
Au Vieux Cèdre is the perfect fast-food if you want to eat Lebanese for just a few pennies.
At any hour, (the restaurant is open 7 days a week from 11 am to 2 am), the owner prepares delicious sandwiches with flavours and spices of his home country for 4.50€ only; a perfect alternative to the usual Shish Kebabs.
Give yourself a treat with the Makanek, a sandwich with small beef sausages, pine nuts and houmous or with the Chawarma, a sandwich with thin slices of marinated beef and lemon sesame cream.
It is not possible to consume on-site, but the Arènes de Lutèce, the Jardin du Luxembourg and the Jardin des Plantes, which are just at a stone's throw away, are just as pleasant.
3. Le Traiteur du Bois Le Vent
63 rue de Boulainvilliers, 75016 Paris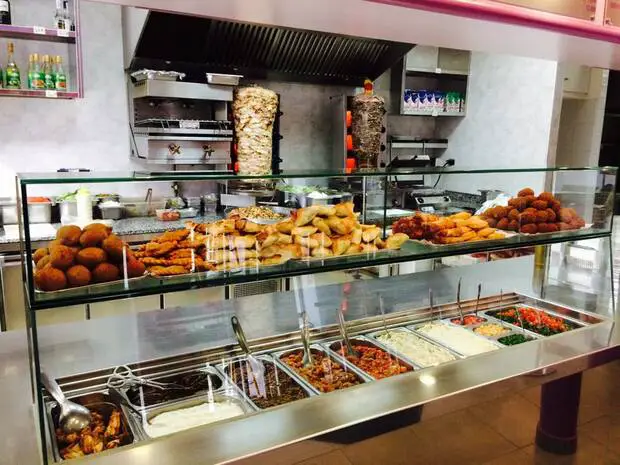 Just a few steps away from the Trocadero, at the 63 rue de Boulainvilliers, Dalal Abi-Khalil warmly welcomes you to the Lebanese restaurant created by his father.
The team prepares classic Lebanese cuisine. You'll find the famous Labné (Fromage blanc covered with curds), the unavoidable Fatayers (buns filled with spinach) or the Chich Taouk (chicken skewers marinated in lemon, oil and garlic).
With the fast service and the small prices (lunch menus are from 8.50 to 12€), the place is perfect for eating on the go without spending a fortune.
Typical Lebanese Restaurants (€€)
4. Aux Délices du Liban
3 rue de l'Estrapade, 75005 Paris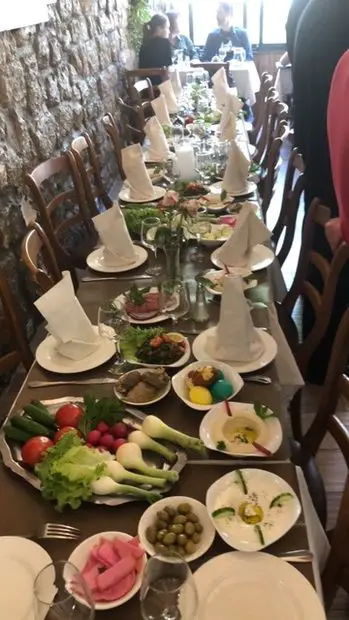 At a stone's throw from the famous rue Mouffetard and the well-known Pantheon, indulge yourself with a good meal at Aux Délices du Liban.
As a forerunner of Lebanese gastronomy in France, this restaurant exists since 1968!
Whether you are a neophyte or a connoisseur, you'll be able to discover or rediscover the classics of the Lebanese cuisine, made using fresh products.
The owner and her daughter, whose kindness and smile remind of Mediterranean people' s warmth, will attend you.
This is a safe bet to enjoy Lebanese food without breaking the bank!
Starters: 6,50 to 8€
Main courses: 17 to 19€
Desserts: 6 to 7€
Formulas: 16 to 23€
Mezzeh: 48€ for 2 people
5. Olive & Thym
60 rue Quincampoix, 75004 Paris
Olive & Thym is a concept imagined by two brothers of Lebanese origin, Olivier and Jad, who were brought up by Mediterranean cuisine, over the years helping in their parents' Lebanese restaurant.
In concrete terms, they draw their inspiration from new food trends to bring Lebanese cuisine up to date.
Their speciality? The Cartounée, a salad that combines products from France and ingredients from Lebanon.
How about the Cartounée "Chicken Capellini" made with chicken filet capellini and fried baby potatoes with coriander, garlic and garlic cream?
Unless you prefer the Cartounée "Falafels" with its falafel balls, sumac-smoked onions and grilled eggplants, all of which are accompanied by a sesame cream?
In short, for a healthy and trendy Lebanese restaurant, This is the place!
Cartounée for big hunger: 13 to 14€
Cartounée for munchies: 6 to 8€
Desserts: 4,50€
6. Les Passagers de Beyrouth
18 Passage de la Bonne Graine, 75011 Paris
Les Passagers de Beyrouth (Beirut's Travelers), the name says it all… Wooden chairs and tables, intimate lights, walls covered with paintings representing the Land of Cedar. Entering this rococo restaurant is like being transported in the streets of the Lebanese capital.
The experience continues in the plate thanks to the chef who thinks about nothing else than the taste of the food, the quality products, the plentiful dishes and the affordable prices.
If this is your first time, the mezzeh, an assortment of hot and cold hors-d'oeuvres, will be perfect for discovering a wide range of Lebanese specialties, all of which are accompanied by a rose, date and blackberry syrup. You can go there in blind faith!
Starters: 6 to 8€
Main courses: 14,50 to 16€
Desserts: 5,50€ to 8€
Mezzeh: 47€ for 2 people
7. Litani
120 rue du Faubourg Saint-Martin, 75010 Paris
Litani differs from traditional Lebanese restaurants that are aplenty in the capital.
There is no touristic district nearby, no monument to visit.
Inside, one is startled by the brightness of the room, the blue seaside paint, the zinc bar, the mismatched wax tablecloths and the colorful posters of Lebanese movies.
This originality is also present on the menu, which includes both classics of Lebanese cuisine and inventive variations, with cocktails on the frontline.
Indeed, Litani is, first and foremost, the very first Lebanese cocktail bar of Paris!
Therefore, don't hesitate to accompany your makdous (mini eggplants stuffed with nuts and peppers) or your grilled halloumi and candied quince with a "Tannourine Les Alpes" made of arak, dry vermouth, gentian, lime, cucumber, mint and tonic.
Finally, if you're not too into desserts, you can always choose the "Beirut Punch" composed of white rum, gum Arabic, Lipton Yellow tea, orange blossom water and lemon, which is a reinterpretation of the Mhalbi, a famous orange blossom custard.
Mezzeh: 6 to 9€ per unit
Gastronomic Lebanese Restaurants (€€€)
8. Loubnane
29 rue Galande, 75005 Paris
If you are looking for an authentic and high-quality Lebanese restaurant, then Rendez-vous at Loubnane, a restaurant located a few steps away from the Notre-Dame Cathedral.
In this restaurant, which exists since 1984, the know-how is transmitted from father to son.
Just as you pass the threshold of the door, the charm of the visible stones, added to the character of the raw lumber beams and the subdued lights create an atmosphere which takes you straight to the Land of Cedar.
In the basement, a vaulted cellar houses an oriental-style secret garden which is perfect for groups or more quiet meals.
As a starter, don't miss the Rakakat (crispy cigars fried with sheep's cheese and mint), to continue with the Kebbe Naye (lamb tartar seasoned with crushed wheat, onions and spices), before ending with a Mouhalabieh, a dessert as long to pronounce as it is quick to eat.
Starters: 7 to 10€
Main courses: 17 to 20€
Desserts: 7 to 9€
Mezzeh: 27€ per person
9.  Liza
14 rue de la Banque, 75002 Paris
Right by the Bourse, with its rattan chairs, its beige mosaic matching with the sofas' cushions and its decoration sprinkled with oriental vibes, Liza is a genuine replica of the classy and contemporary Beirut.
Liza Soughayar, who is from Beirut, offers you sophisticated dishes accompanied by high-quality Lebanese wines on an oriental jazz background.
As a starter, don't hold back in front of the Baba Ghanouj (grilled eggplants accompanied by sesame cream and pomegranate seeds), then give in to the Kharouf Meche (a five-hour cooked lamb candied with five sweet spices), to end with the Ossmaliyeh (a milk cream with crispy vermicelli and seasonal marmalade).
Starters: 8 to 9€
Main courses: 21 to 24€
Desserts: 4 to 6€
Menus solo: 16€ / Menus to share: 25€ or 30€
10. Le Cherine
74 rue de La Croix Nivert, Paris 75015
Le Cherine is a family story, a father-daughter duo between Paris and Beirut.
Lebanon lovers and proud of their culture, Cherine and her father help us discover the cuisine of their country following traditions, all in a pleasant atmosphere and a modern restaurant with warm hues.
You'll find the parsleyed Tabouleh, the Hummus chickpeas and sesame, the traditional Falafels, as well as the crispy Baklavas.
A safe bet tested and approved by the Michelin Guide!
Starters: 7 to 10€
Main courses: 15 to 20€
Desserts: 6 to 8€
Mezzeh: 39€ per person
11. Assanabel
6 rue Pierre Chausson, 75010 Paris
Assanabel is one of the oldest Lebanese restaurants in the capital.
With its know-how of more than 30 years, it is nowadays known as one of the best Lebanese restaurants in Paris.
Opinions are unanimous: the team is nice, smiling, sometimes amusing.
The portions are plentiful.
The interior looks chic with its quilted booth seats, chandeliers and large mirrors.
As for the chef, he commits himself into preparing traditional Lebanese dishes, making fresh and organic products his first choice.
As a victim of its own success, the restaurant is quickly full, so it is preferable to book beforehand.
Starters: 7 to 9€
Main courses: 16 to 22€
Desserts: 6 to 8€
Mezzeh: 23€ per person

Mona knows Paris like the back of her hand. Bars, restaurants, hotels… whether you want to sleep, eat, party or just take a walk in Paris, Mona gives you her best advice. Follow her lead, she will gladly give you all her good tips and best addresses!