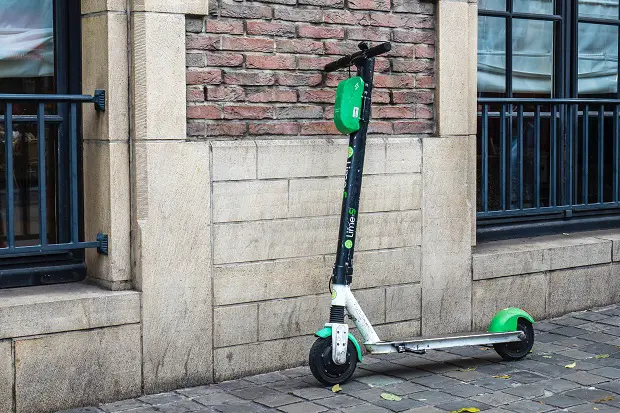 There are currently 3 electric scooter operators in Paris. In this article, you will find information regarding the rentals of these scooters, the rules to follow and a comparison of the three operators offering electric scooters in Paris.

The general situation regarding electric scooters in Paris: opinions are divided
Strengths
The reasonable price and availability (15,000 scooters in July 2020) make it an ideal choice.
The handling is also something to consider. The electric scooter is lighter than a bicycle, less bulky, and therefore it is easier to carry.
Riding in the fresh air without fearing the traffic jam, even on a Sunday at 7 pm, and parking, wherever you want (including, of course, right in front of the Palais des Congrès on the first day of a convention), is a satisfying experience.
And what to say about this new way of visiting the capital? If the weather is good, it is really ideal. It is easy to use an electric scooter in Paris and takes little time to ride from monument to monument.
Problems
Despite these positive opinions, it is not possible to avoid talking about the problems caused by these machines.
The city was not really prepared for the surprise and massive arrival of the electric scooters, which has caused some problems.
People on scooters tend to ride on the pavements and sometimes they even run lights.
The most common and recurrent inconveniences are pedestrian rushes, which cause some accidents, and the inopportune parking of scooters.
Indeed, although if the greatest advantage of scooters is that you can leave them wherever you want, many people tend to just leave their scooter lying around in the middle of the sidewalk after getting off without thinking about pedestrians.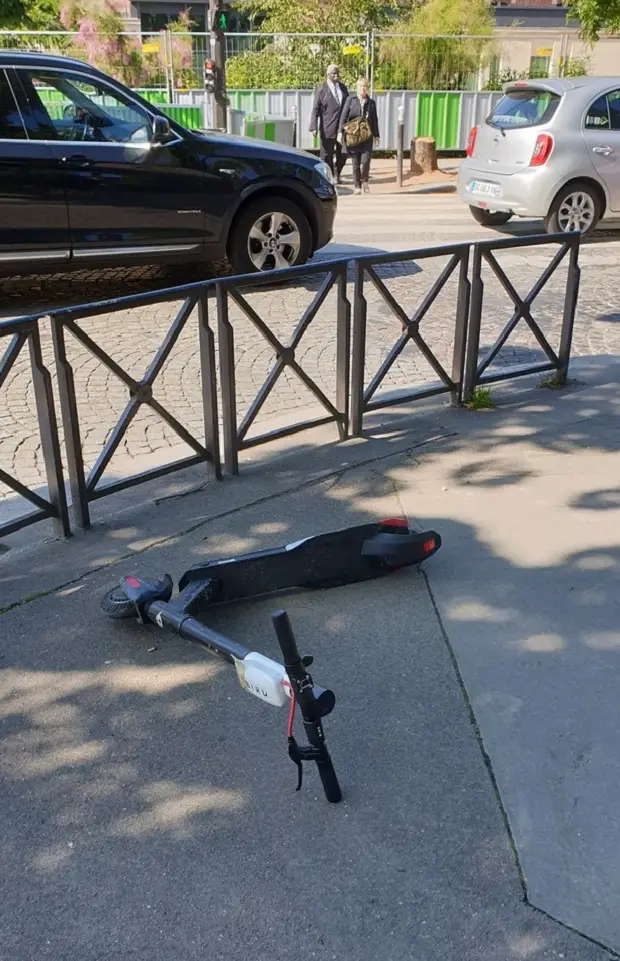 Of course, the Paris City Hall was quick to intervene and responses were put in place to solve these problems. As with bicycles, the electric scooter has been and will be subject to very similar regulations, if not almost identical ones.
What are the rules for electric scooters in Paris?
It is possible to ride on cycle paths and roads where the maximum authorized traffic is less than 50km/h in the urban area. Outside the urban area, it is possible to ride only on cycle paths. The authorized limit is 25 km/h.
It is imperative to wear a yellow security jacket at night, and although it is not obligatory, it is strongly recommended to wear a helmet for those over 12 years old.
In addition, electric scooters are forbidden to children under 12 years old.
The use of electric scooters is now subject to the Highway Code.

It is also necessary to sign up for Civil Liability insurance.
In addition, there are some prohibitions, such as wearing headphones, carrying passengers, and the aforesaid unauthorized parking.
If you want to park, leaving your scooter lying around is forbidden. You have to park it in a scooter parking area or in a parking for two-wheeled vehicles not to disturb pedestrians on the sidewalk.
Any transgression of these rules can result in a fine ranging from €135 to €1,500 and impoundment costs!
Self-service shared scooters in Paris; how does it work?
What do you need to use a self-service scooter in Paris?
A license?
 Not if the vehicle runs at less than 25km/h.
Do you have to go to specific places to pick them up?
Not necessarily, it is self-service so the scooters are almost everywhere.
You do not need a ticket or a transport card neither. All you need is a smartphone or a tablet and simply to download the application corresponding to the scooter you want to use.
How to rent a self-service electric scooter in Paris?
Scooter applications are simple and effective.
After downloading the app of the company you are interested in (see it below) and making the initial settings, you just have to scan the QR code, get on the scooter and go.
The best part is that with these apps you can geolocate the nearest scooters.
Most of the time you will find a scooter within a 10-minute walk from where you are.
How much does it cost to rent self-service electric scooters in Paris?
Most rental companies follow the model of €1 for unlocking the scooter, and 15 to 25 cents per minute (so €10 to €13 for one hour).
Surprisingly, the price does not vary that much between brands.
Therefore, you do not really need to walk for a kilometer to find the cheapest one.
And there is no guarantee deposit required to start renting scooters.
Who can rent a self-service scooter in Paris? Is it possible for tourists?
Anyone from Paris, France, Europe or any other continent can simply use their smartphone to get a self-service electric scooter.
You just need to have the internet on your phone though, and of course, a credit card to make the payment online.
Also read: The Best Prepaid French SIM Cards for Tourists Compared
What happens if you damage your scooter?
Technically, the scooter belongs to the operator. So, either you damage it just a little (like scratching the paintwork for example) and there is no problem, or you damage it seriously (which will be considered vandalism!) and you can be fined up to €30.000 (French article)! So try to take care of it.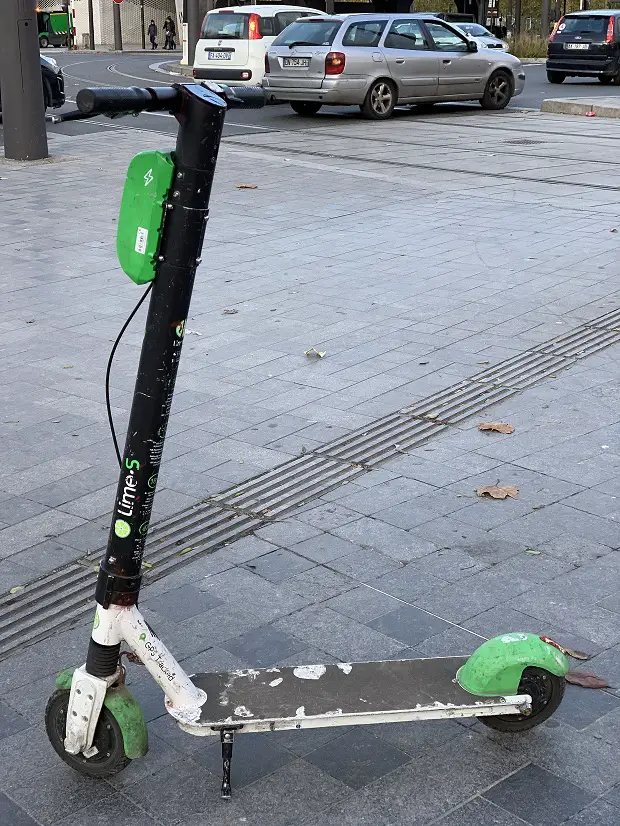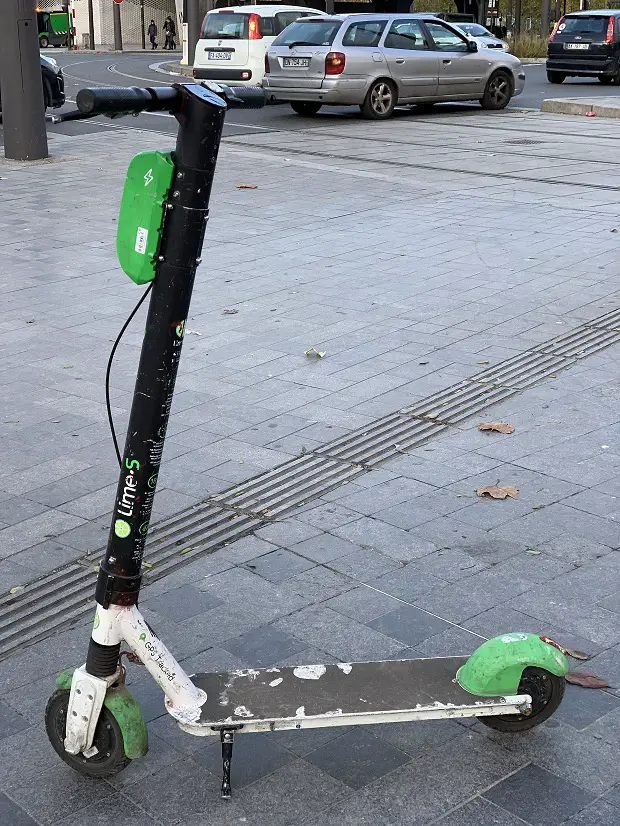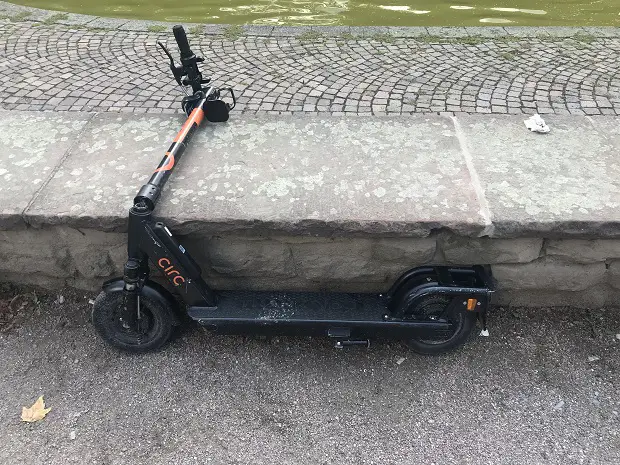 What happens if you park your scooter wrong?
If an officer sees a wrongly parked scooter, it could be sent straight to the pound.
The company will have to pay a fine and of course you –or at least the last user of the scooter –will have to repay the impound fees (French article).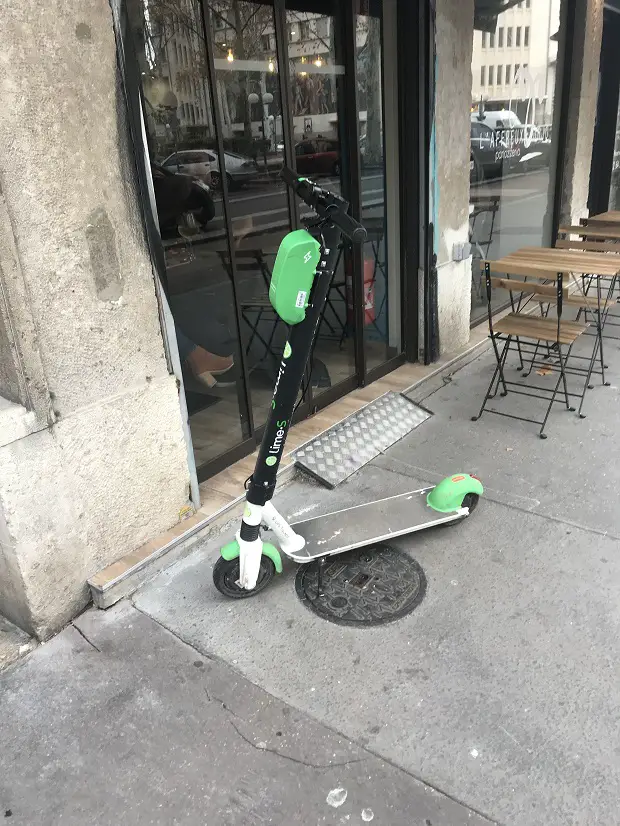 Comparison of the 3 operators present in Paris and their scooters
Each scooter has its own advantages and disadvantages, but which operator will you choose?
Apart from the question of distance and availability, you have to choose the electric scooter that suits you best; this is why we are going to check everything they have to offer.
Since the end of September 2020, only 3 operators are authorized to deploy their scooters in Paris.
After a call for applications, 3 operators were selected, based on social and environmental criteria such as user safety, maintenance management, recharging and environmental responsibility.
When someone creates and commercializes a product, it is important to consider the environmental impact. According to a study published in 2019, electric scooters may not be as Eco-friendly as people think. They emit about 202g of CO2 per km and per passenger over their entire life cycle. These figures are similar to the emissions of a combustion car.
By selecting these 3 operators, Paris has therefore chosen environmental responsibility as criteria. The aim here is to protect the environment as much as possible and to repair any damage that may have been caused. The objective is for the operators to obtain a better environmental record.
Each operator has 5,000 electric scooters in Paris.
The first scooter, the initial one, the one that started the trend… The Lime scooter is American.
Rather large and elegant, it has a battery life of over 30 km.
Several conditions must be respected to use this electric scooter: be 18 years or older, have a valid driving license, wear a helmet.
 The fact that it is the first one explains its main advantage: it is the most common. You can find them almost everywhere.
Easy to find and easy to ride, it is very simple to use.
As for prices, you will pay €1 for the unlocking and 23 cents per minute.

In addition, Lime now offers packages:
The Daily package for €12.99. With this package, it is possible to access any two-wheeler for free, with a limit of 30 minutes of use, for 24 hours. Unlocking fees are also offered.
The Monthly package, with 3 different options: 8 rides for €19.99, 25 rides for €44.99 or 50 rides for €79.99. With this package, you can benefit from free unlocking fees and 30-minute rides.
Be sure to look for information because the packages change regularly.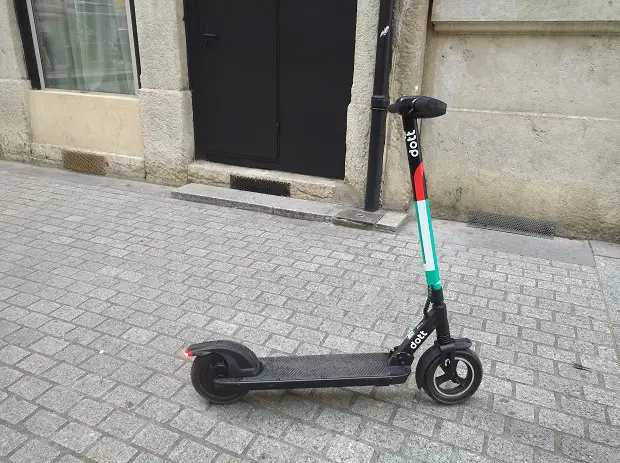 The Dott has many advantages, especially in terms of comfort.
It has a large footrest and large wheels that ensure a pleasant ride, you will not lose control. The Dott is also colorful.
Unfortunately, it also has a little difficulty climbing the slopes.
It gains speed smoothly so there is no unwanted scare, and in addition, its braking is quick and smooth.
Regarding prices, you will pay €1 for the unlocking and 20 cents per minute.
A daily package is available for €3.99 (2 20-min rides maximum).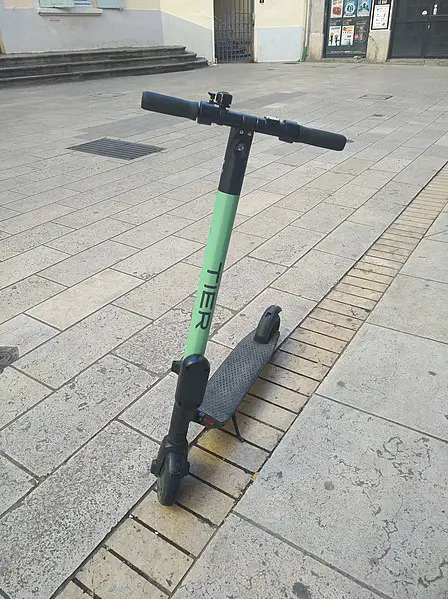 You can also try out Tier, another electric scooter operator, coming straight from Germany.
The Tier scooter is quite manageable, however, its weight can make it a little difficult to handle for some people.
Only people over 18 years old can use these scooters.
Concerning prices, you will pay €1 to unlock the scooter and 15 cents per minute.
Tier also offers several monthly subscriptions:
The Unlimited unlocking for €5.99 per month.
The Unlimited unlocking for €14.99 per month and 60 minutes free during that month.
Price comparison of shared electric scooters in Paris
Finally, as a statistical table is always clearer and more convincing, here is a model in which you will find much information.
| | | | |
| --- | --- | --- | --- |
| | Speed | Manageability | Characteristics of the app |
| LIME | 20km/h | Stable, except on cobblestones | The distance is displayed and the scooter beeps when you approach it |
| DOTT | 20km/h | Problems in slopes but good braking system | Nice and extremely precise |
| TIER | 20km/h | A little heavy | Easy to use |
Comparative table of shared electric scooters in Paris
Basic price
Example 1: Price per ride for 8 uses per months of 30 min
Example 2: Price per ride for 30 uses per months of 30 min
Example 3: Price per ride for 50 uses per months of 30 min
LIME
€1 + 23c/min
€7
€7
€7
Daily package for €12.99

30-minutes rides for 24 hours

–
–
–
Monthly package

– 8 rides for €19.99
– 25 rides for €44.99
– 50 rides for €79.99

Free unlocking fees + 8/25/50 rides of 30 minutes

€2.49
€2.66
€1.59
DOTT
€1 + 20c/min
€7.90
€7.90
€7.90
TIER
€1 + 15c/min
€5.50
€5.50
€5.50
Unlimited unlocking for €5.99 per month
€4.50
€4.50
€4.50
Unlimited unlocking for €14.99 per month + 60 free minutes during this month
€3.37
€4.20
€4.32
Which scooter and which package to choose according to your needs?
If you use an electric scooter only a few times a month, it may not be necessary to pay for a package.
 For example, if you make 3 10 minute rides, you will pay €7.50 without a Tier package (€1 to unlock the scooter + 0,15 c x 10 min = €2.50 x 3 rides = €7.50).
If you chose the Tier unlocking package, you will pay €5.99 for the package plus the price per minute. Therefore you will pay €10.49 with this package (0,15 c x 10 min = €1.50 x 3 rides = €4.50 + €5.99 = €10.49).
If you travel from time to time, you can choose an unlocking package, starting from €5.99 per month. This way, you will not pay the unlocking for every ride.
If you travel with an electric scooter regularly, it may be interesting to choose a package, such as the Lime one.
For example, if you make 8 30-minute rides, it will cost you €63.2 without a package (€1 for the unlocking + 0,23 c x 30 minutes = €7 x 8 rides = €62.3). So it will be more interesting to choose a package with 8 rides for €19.99.
Electric Scooter Rentals at Rental Shops (without an App)
If you are technophobic, or simply don't want to hand away your credit card number in order to rent an electric scooter, don't worry, there are solutions for you too. Some shops figured that the scooter fad.
Shop-provided scooters are generally of a better quality (much better) quality and better maintained than those public pick-me-up scooters. Besides, they follow the usual principle of "the longer you rent it, the cheaper it gets", therefore a long term rent (at least a few hours) will come out cheaper than the usual 1€ +15 to 20 cents per minute
Here are a couple of shops.
19 Quai des Grands Augustins, 75006 Paris
101 avenue de la Bourdonnais 75007 Paris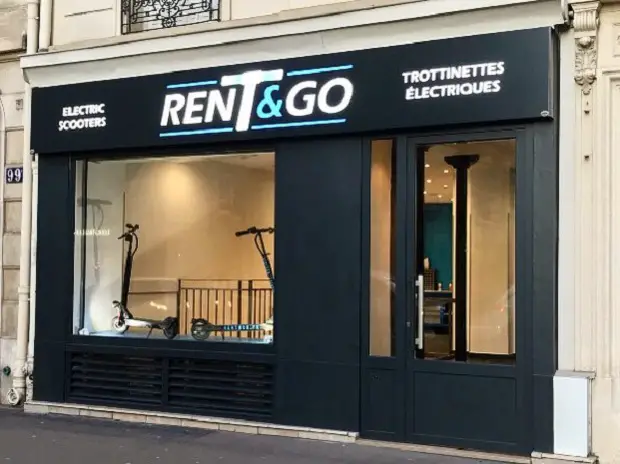 RENT & GO offers scooter rental services starting from 1 hour to 24 hours. These scooters have a battery life of 45 km.
It is very easy to rent a scooter. You just have to go on the website, to make a reservation and pick up your scooter in the appropriate shop.
You can choose between a scooter with a seat or without a seat.
A helmet and gloves will be provided for your security. The scooters are available starting from €15.
8 rue Lucien Sampaix, 75010 Paris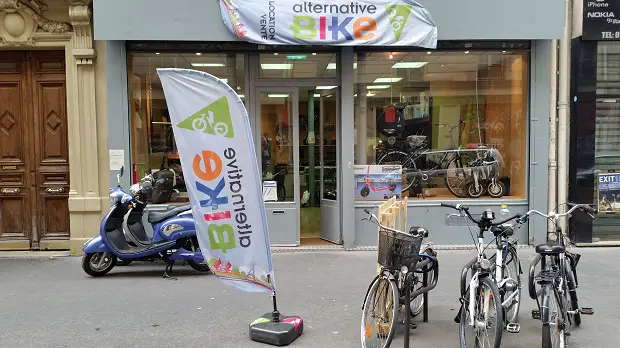 In contrast with its competitor, ALTERNATIVE BIKE offers a wide choice of scooters.
There are also low prices (up to half the prices of their competitors' rate) and above all, you can choose to rent a scooter for an indefinite period of several months!
Services such as helmets, gloves, antitheft devices and ponchos for the rain are also available.
You just have to go to the shop, leave a bank card imprint or a deposit cheque and show an ID to rent one of their models.
It is also important to know that ALTERNATIVE BIKE is also and above all a shop where the rental can be repaid if you buy the device.
Scooters are available starting from €8.

I aim to share my tips and recommendations for the beautiful country of France. My goal is to help you plan your next adventure, whether it's a weekend getaway or a once-in-a-lifetime trip. From finding the best hotels and restaurants, to discovering unique activities and sights, I've got you covered!