Need to recharge your batteries without going too far away? It's possible, here are the top places to go to relax alone, as a couple or with your family in France for 4 or 5 days.
An original stay in tree houses
Welcome to Occitanie, in Vebron, in the heart of the Cevennes National Park in a beautiful natural landscape. I present you "Ma petite Cabane en Lozère" (website in French), one of the glamping cabins (glamorous camping) offered for rent in France.
In these cabins, you will have all the comfort of a hotel room with a terrace, an equipped kitchen and a swimming pool.
Your children will have access to an outdoor playground (immersed in nature) and you will not have to leave the comfort of your cabin to eat since meals will be offered with traditional local cuisine and products.
You will also be able to enjoy the wellness area which offers, among other things, a spa, a sauna and massages. And if you still want to explore the region, there is plenty to do.
Indeed, you can visit the Gorges du Tarn, participate in treetop climbing, visit the castle of Salgas (in French), canyon, visit caves and many other activities.
Budget: At least 1135€.
A stay in Ardèche in a Yurt
A few nights in isolation in the nature of the Ardèche, does that sound like heaven to you?
In these Yurts, you will be able to enjoy comfortable bedding and heating, solar or communal showers and dry toilets. Say goodbye to unnecessary comforts (still, sometimes a Jacuzzi is available) and take advantage of this great opportunity to relax.
Don't worry, you will have plenty of things to do in addition to the walks you can take with your family among the animals of the Ardèche countryside.
On the agenda: stroll through the surrounding medieval villages, find small, affordable and pleasant restaurants, visit farms, participate in guided and historical tours and taste the local specialties.
You can also choose one of the yurts in Saint-Julien-du-Gua (in French), one of which is suspended; there is even a treehouse!
You can also visit the surrounding villages like Antraigues sur Volane, stroll through its medieval streets or visit the Château de Craux (in French) built on volcanic rock, you can enjoy the landscape from the mountain.
Budget: Between 700€ and 800€.
Exploration and relaxation in Camargue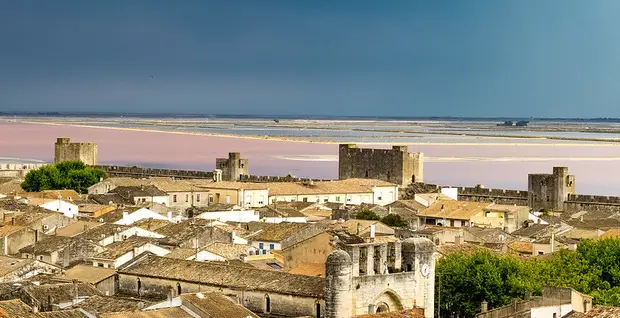 Let's remain in the south, but this time in Camargue, the region of pink flamingos where water and land exist in equal parts.
Rent a hotel in a good location to enjoy the scenery during a walk around Aigues-Mortes and its salt flats and at Saintes-Maries-de-la-Mer.
You could also go horseback riding thanks to one of the equestrian centers (in French) in the area, it is a very good way to discover the local fauna and flora.
Saintes-Maries-de-la-Mer is the regional capital of Camargue; this city is a must for many reasons such as its national natural park: the oldest natural reserve in France with a surface of 13,200 hectares.
Cross the pink water of the Aigues-Mortes salt flats in a small train (in French), the color of the water, the flamingos and other animals that you will see there make this place a magical place.
Go bird watching at the ornithological park of Pont-de-Gau: it is 60 hectares of sanctuary to dozens of species of birds that you can approach closely.
Rent a boat (in French) to spend a relaxing afternoon on the water and let yourself drift through a magnificent landscape with the Rhone river and the sounds of the atmosphere.
Budget: Around 600€.
A getaway to relax and stroll through the villages of the Luberon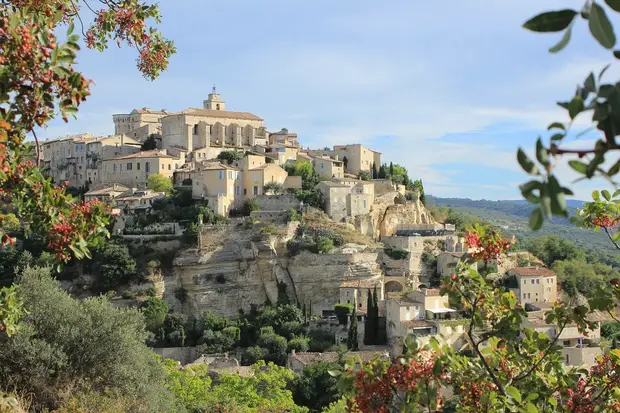 A retreat in the Luberon in the heart of Provence is perfect to recharge your batteries.
We recommend you stay in the Village Pierre et Vacances in Mallemort in the center of this region which includes a number of villages where you can wander and enjoy the warm sun.
This Pierre et Vacances village is inspired by the surrounding villages and includes a warm wave pool, slides, a natural river, a playground, a golf course and a mini farm. In short, you won't even have to leave this village during your stay if you don't want to.
There are several beautiful towns and villages nearby to discover.
Lourmarin is classified as one of the most beautiful villages in France, and when you see it you'll realize why. Only 25 minutes from the hotel, come and walk through the narrow streets of this typically Provençal village.
Be sure to visit the Château de Lourmarin, a beautiful historical place that opens all year round.
Discover Oppède-le-Vieux, a medieval village on the side of a mountain, 40 minutes away by car, but pleasant to walk around because there are practically no cars.
Discover Gordes, the so-called "perched village" which offers an exceptional view on the region.
Continue your tour of the Luberon through Baux-de-Provence and visit its splendid, ruins of the castle which offers many kid-friendly activities.
A few steps from the castle you will have the possibility to visit the quarries of the village and attend the magnificent light show: projections on the stone of works of art.
You should also spend a day in Aix-en-Provence, a 40-minute drive from the hotel, to walk through its streets and discover its secrets and beautiful buildings. You could also visit the Atelier Cézanne, the planetarium (in French), or the Granet Museum.
Budget: 350€ for the hotel.
Wellness and spa stay in Bordeaux
Indulge in a few days of pampering in Bordeaux, with nothing to do but plan a roadmap to organize all the treatments you'll try.
Start by booking a luxurious hotel like the Hotel Burdigala, just a stone's throw from the historic center of the city, which will also provide you with a spa and gym.
The hotel is located at a 10-minute walk from the first spa I'm going to talk about: the Dans le Noir spa. Here, you will be offered classic massages in solo or in duo but all in the utmost dark.
You will also be able to enjoy a body treatment and massage with chocolate and coconut oil, a unique experience that will allow you to be overwhelmed with wellness.
Continue on your way and try the sensory bubble to lose yourself in a secondary state. This is possible at the Bulles à Flotter center (In French).
You'll be weightless, you will recharge in this environment that will remind you of your mother's womb, and you'll be completely relaxed.
Go to the next location of your stay, the Guily Spa (in French), which offers relaxing moments for the legs in pools of cleansing fish.
This kind of treatment does not only make your skin more beautiful, it is anti-stress and promotes blood circulation and resolves minor scars.
What to visit in a few words: The Mer Marine museum, the Grand Theatre, the Darwin ecosystem, the Saint-Michel spire, the Pey Berland Tower and many other monuments.
Budget: Between 1100€ and 1600€ depending on the treatments you get.
A stay on the Isle of Beauty, sea, boundlessness and peacefulness

Where better than Corsica to recharge your batteries? Magnificent landscapes, traditional villages, the sea as far as the eye can see… you are sure to get your batteries recharged.
I suggest you stay in the High Corsica, in Calvi, where you will be able to see diverse landscapes and enjoy the authentic Corsica.
Choose a hotel like the Saint Christophe or the Hostellerie De L'Abbaye where you will stay in luxury and in a typical Corsican setting. You will be close to Île Rousse, the ferry and an airport.
Calvi is full of attractions such as the Quai Landry and its marina where you can stroll for hours.
Admire the Citadel of Calvi perched above the Mediterranean and enjoy a 360° view of the city from its top.
Then wander along the narrow streets of the city, soak up the generous Corsican atmosphere and discover the treasures of Calvi such as the Cathedral of St. John the Baptist, the Oratory of St. Anthony, the Salt Tower and many others.
Rent a boat and visit the jewels of the island such as the Scandola reserve, classified as a UNESCO heritage site, the Piana creeks which are also classified as a heritage site or the Gulf of Calvi which is perfect for spending a beautiful evening.
Budget: between 1100€ and 1500€.
A trip dedicated to châteaux
Would you like to sleep in a château?
In addition to making you feel like royalty, you are signing up for a real trip back in time in these castles that have been restored and fitted out to welcome tourists.
These castles are also beautiful buildings to visit. They organize various activities to take you back in time.
The castle of Tennessus, for example, invites you to cross a drawbridge, to visit its medieval fort with its moat and its loopholes and to stay in its splendid medieval room (websites in French) that will make you feel like a feudal lord.
There are also boat rides, costume outfits and guided tours.
Budget: Between 750€ and 1400€ for a stay in a castle.
Another approach to visiting these castles is to stay in accommodations close to these buildings and to visit them during the day, which is also less expensive.
In Loire, there are 42 castles formerly occupied by royalty or nobility that you can visit. You can also stroll along the banks of the Loire or enjoy a walk along the water before sampling the local specialties and wines.
You can choose to book a stay with an agency (in French) or create your own itinerary by staying in a hotel in  Val-De-Loire.
For your stay, I recommend hotels such as the Hôtel de France Et De Guise, only 100 meters from the Château de Blois, or the Appart'City Blois also ideally located near the Châteaux.
Whatever your choice I advise you to buy one of the Châteaux Passes (in French) which will allow you to visit all the châteaux of your choice in the region without ruining yourself.
Budget: Between 400€ and 600€ with the Châteaux pass.
A Retreat in the Gorges du Verdon
The Verdon is the very heart of Provence, it is a region that will surprise you, delight you, amaze you and where you'll be able to recharge your batteries.
Stay in a hotel in Moustiers Sainte Marie (one of the best villages to start your discovery of the Verdon) like the Ferme du petit Ségriès or the Bastide du Paradou in the heart of the Verdon and enjoy this magnificent place while walking or canoeing.
Here is a small list of the must-see places of the Verdon:
Manosque, the city of the writer Jean Giono
Visit the village where you will stay, Moustiers, a village where sublime mosaics and are very beautiful fountains are set up.
La Palud sur Verdon and its route des crêtes (in French) which can be explored by car, motorcycle or, for the bravest, by bike; you will have magnificent panoramas of the canyon from the belvedere at sometimes more than 700 m of altitude and observe the local wildlife.
The fortresses of Artuby
The magnificent Saint Julien sur Verdon (in French) on the banks of the lake of Castillon
The village of Rougon (in French) built up high, a village with character perched in the mountain which will offer you breathtaking views, it is famous for its Point Sublime du Verdon, the place where you will see the lake passing between the mountains, the very essence of the Verdon.
Budget: Around 500€.
A stay in the province of Berry
 

Voir cette publication sur Instagram

 
Come and spend a few days in the province of Berry, which includes the departments of Indre and Cher, this wonderful, somewhat forgotten part of France will surprise you and provide you with a rejuvenating vacation.
To begin, choose a hotel in Bourges; this beautiful city is well positioned for you to discover Berry. Here are a few options : L'hôtel de Panette – Un Château en Ville, le Château De Lazenay or l'Oustal. You must visit Bourges, a jewel of Berry.
In Bourges, you must see the Saint-Etienne cathedral and its Tour Sourde, the medieval center of the city with its half-timbered houses and its medieval animations, the Jacques Coeur palace in the heart of the city and the museum of Berry among others.
You will be able to get a change of scenery by taking a boat trip on the swamps of the city (in French), which offers a breathtaking view and an unusual way to discover it.
Alternatively, you can go to Châteauroux and discover the city from the Indre river by canoe. The city is about an hour's drive from Bourges but it's well worth a day trip to discover it.
45 minutes by car from Bourges is the Pôle du Cheval et de L'Âne, an equestrian complex that offers nature walks with a donkey. Walking with this animal is a great way to refocus on nature and also a great way to discover the picturesque surroundings.
Budget: between 500€ or 800€.
An ayurvedic bhavana cure in Burgundy
 

Voir cette publication sur Instagram

 
Enjoy a total change of scenery at the Divali Farm (in French) and recharge your batteries as you would in India, in Burgundy in the Morvan Park, at 1h30 from Dijon.
This Bhavana sinecure lasts 5 days and 6 nights. Before the stay, they carefully determine the program which will be tailored according to your needs.
Every day, you will be treated for several hours to purify, cleanse, soften, relax and revitalize your body and mind.
These treatments include herbal baths, milk and honey scrubs, traditional Ayurvedic massages with hot stones and oils and other surprising delights.
The food will be adapted to your previously established morphology and needs. The food is vegetarian, organic and at Divali the emphasis is on taste, detoxifying properties and exploration of spices and flavors.
Your treatment will be complemented by activities that go hand in hand with your treatments such as yoga workshops, meditation, nature walks, cooking workshops and many others…
Budget: The price of this sinecure is 1260€ or 1460€ depending on the room chosen.
Discover ski resorts outside of winter
In the summer, the ski resorts change completely; they are quieter, less crowded and it is a wonderful time to discover the mountain in a different light.
Among the activities that we think will be the most rejuvenating (and quiet) you have:
The cani-rando (hiking with a dog tied to your waist) Chamonix Mont-Blanc offers this activity.
The summer hikes, there are several routes that are proposed to you according to your abilities or the difficulty of the path.
Visit local cheese factories, dairies, farms and parks: the Merlet animal park welcomes you for walks among the animals, at the Métabief resort in the Jura, visit the Sancey-Richard cheese factory, at Flumet in Savoie go and see the La Coopérative cheese factory… this kind of installation is commonplace in the mountains, and it is a relaxing activity.
Orienteering: some ski resorts, like Chamonix, offer a number of orienteering courses for everyone.
Swimming: swim in lakes, lounge on mountain beaches such as Lake Gerardmer in the Vosges or Lake Aiguebelette in Savoie or choose heated aquatic centers such as the Richard Bozon pool in Chamonix.
Horse or pony rides: for example, Val Thorens or Tignes offer a pony ride to discover the surroundings of their resorts.
Budget: Between 250€ and 500€ (many hotels near the resorts are closed during the summer)
Cocooning nights in the spa-ciné
Treat yourself to an unforgettable week with your partner. A comfortable stay in this Nuit Spa Ciné (in French) lodging in Montmurat, a 110 m2 cozy space, perfectly equipped and whose only goal is to help you recharge your batteries together.
Montmurat is not close to big cities but it is for the best; this gite is in the heart of nature, near Aveyron, Cantal and Lot.
A king-size bed, a high-end spa/jacuzzi, a private cinema room with the most famous streaming platforms as well as a giant connected screen and a private shower room are all waiting for you.
You will have access to a professional massage area, sensory shower cabins, light therapy, a tea/coffee room and a fully equipped modern kitchen.
The exceptional natural setting is also ideal for daytime walks and hikes (in French) and you can also visit the pretty villages of Montmurat, Montredon and Saint-Santin.
A multitude of medieval villages (in French) are within a 20 km radius if you wish to visit the surrounding area by car.
Budget: The "Saturday to Saturday" package is 1600 euros.
Nights in Asia with the Nid du Dragon Rouge
Find the Nid in pictures on the official website.
Le Nid du Dragon Rouge can also be a retreat of choice for lovers. Yet it is also a haven of peace where you will spend a week away from the city, in the exceptional natural setting of the Haut Languedoc Regional Park.
In addition to a private kitchen and bathroom, you will have access to the garden and the spring water swimming pool of the owners who are very discreet but will always remain attentive and welcome you warmly.
Le Nid has two bedrooms: one for two adults and one for two children.
You will have a view of the beautiful, forest hills of the park from the balcony, you will be able to walk under the sun and recharge your batteries in the nature in a short time.
The Nest is inspired by Asian architecture where red is a dominant color. It is an almost esoteric temple that reproduces a traditional interior and exterior.
Those who like to ride should definitely bring their bikes, there is a 28km bike path that takes you to the Gorges d'Héric and the Caroux where you can also swim, climb or watch the waterfalls.
You could visit the medieval city of Minerve which is 20km from the Nid and if you want to discover new cities be sure to go to Montpellier or Carcassonne, two great cities to discover.
Budget: The one-week package is between 600 and 800€.
Thermal immersion in Vichy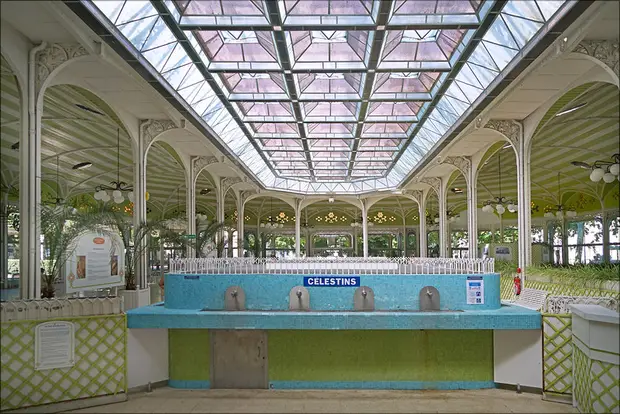 Vichy is a famous city for its thermal waters. The properties of its waters have been known since the time of the Romans.
I suggest you try a thermal cure in Vichy, a week of care and well-being punctuated by visits of the city.
Indeed there are things to see and do in the city apart from getting pampered. For example, the Venetian villa and the Vichy Domes thermal center located not far from the Palais des Sources.
The Vichy Opera (in French) is also a monument to see. You will love its dome, its painted ceilings, its sculptures and its ironwork.
I suggest you stay in hotels close to the thermal baths like the Résidence des Sources or the Mercure Vichy Thermalia, the latter being directly connected to the Les Dômes thermal baths and you will have access to a fitness center.
Les Dômes and Callou thermal baths have offers ranging from half a day to a week. You will have the choice among many; there is something for everyone. Wraps, massages and other treatments of all kinds…
Don't forget to visit the aquatic stadium of Vichy (websites in French) at 10 minutes from the city center. It is an area  equipped with a hammam, a sauna, massage benches, a whirlpool, and a fitness area in addition to the pool area with its slides and jets.
Budget: between 300€ and 500€ depending on the treatments you do there.
A stay in the Monts d'Azur Reserve
Here is a particular and magical place, the Biological Reserve of the Monts d'Azur: this is wild nature in a preserved place for the European fauna which unfortunately is not present enough in France.
In these 700 hectares reserved for Bisons, deers, wild boars, horses, bucks, eagles and many other animals you will find a place for Man to stay in the heart of this vastness.
Among these activities, you will find safaris on foot as well as by carriage, snowshoeing or sledding trails. Depending on the season, observation cabins, photo workshops, a natural swimming pool and many other activities are possible.
Packages include safaris, at least one dinner and activities.
Budget:
The reserve has a restaurant at affordable prices.
A cruise on the Saône and a stay in Dijon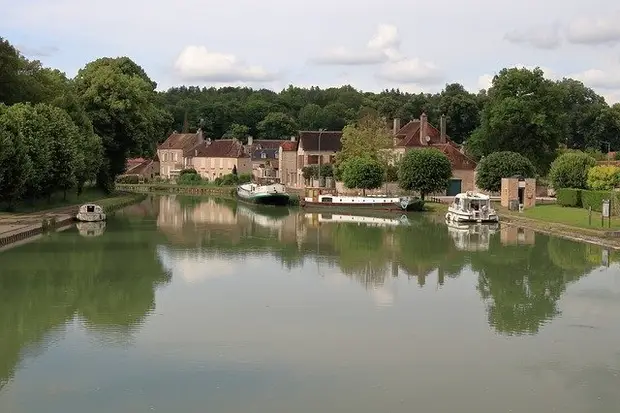 A cruise (in French) on the Saône river is perfect as it is a calm river in the east of France; it has been set up for pleasure boating. Its banks are constantly welcoming locals, hikers and cyclists.  It is pleasant to travel the calm waters of the Saône and the canals of Burgundy.
Embark on a comfortable boat for the whole family, for 7 days and 6 nights to discover the splendid medieval towns that surround the Burgundy canal.
The cruise includes 4 excursions in its classic package: a visit to the castle of Champlitte, a visit to Gray, walking along the Burgundy wine route and a guided tour and gala evening in Dijon.
Budget: Everything is included in your package, but you should expect to pay around 1900€.
Another way to visit Dijon: you could choose a less expensive way to discover Burgundy than a cruise by staying in a hotel in Dijon such as the Holiday Inn Dijon Toison d'Or or the Jacquemart and by doing some sightseeing on the spot, such as the famous Parcours de la chouette (official video, in French).
Find a travel guide to Dijon in pdf (and in french) -very useful for your future stay.
You can also rent a boat or book a boat trip (in French) near Dijon for a few hours.
Budget: In this case, you should expect to pay about 500€.
Discovery and nature stay in the Landes

The Landes region is located in the southwest of France, close to the Spanish border and is a natural territory that is on the edge of water and is full of relaxing places and ways to recharge your batteries.
I recommend you stay in a hotel like the Village Pierre et Vacances de Moliets in Moliets-et-Maa, a very nice town in the Landes close to the ocean and close to the places of interest to be discovered.
Lakes, forests, beaches… there is no lack of beautiful landscapes in the Landes and we will tell you about some of them that you can discover within a few days by car or by bike.
Here are two paths (in French) that will take you to the Moliets lake and then to the Prade lake, going through the magnificent artificial forest of the Landes (the largest artificial forest in Western Europe).
Paddle in the Petite Amazonie. One of the hidden jewels of the Landes in the pond of Soustons invites you to come and cross it while admiring the water lilies.
Then, head for the embouchure du courant d'Huchet in Moliets, where Lake Léon and the Atlantic Ocean join, forming a wild beach in constant evolution.
A 50-minute drive south, visit the Marais d'Orx national nature reserve which is also a bird park.
Budget: between 230€ and 400€.

Mona knows Paris like the back of her hand. Bars, restaurants, hotels… whether you want to sleep, eat, party or just take a walk in Paris, Mona gives you her best advice. Follow her lead, she will gladly give you all her good tips and best addresses!