What could be better than a good breakfast to start a long day of discovering the streets of Paris? Whether on the spot, to take back home, french breakfast or continental breakfast, vegan or pure butter, our selection is mouth-watering!
Du Pain et des Idées – The 100% pure butter breakfast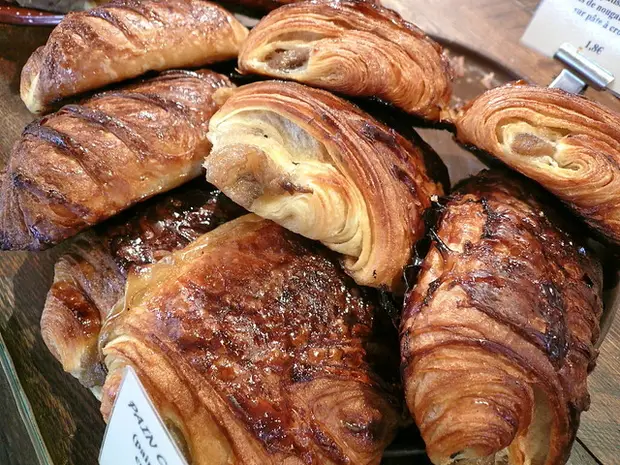 Price for a croissant: €1.80
Price for an escargot: €2.20
Trip Advisor: 4.5/5
Even though the Du Pain et des Idées (website in french) bakery has been open since 1875, it was when Christophe Vasseur bought it in 2002 that it became one of the most famous bakeries in Paris.
Located between the Saint-Martin canal and the Place de la République, the shop stands out with its facade made of wood and gildings.
Clients can eat at the tables of the terrace. The interior decor is vintage with the original gildings, a painted ceiling and big mirrors.
Because the main focus is put on baked goods, the only pastries available are in-season fruit tarts.
All the ingredients are high-quality products and most of them are organic.
You can enjoy their delicious pains au chocolat and croissants made with pure extra fine butter or one of the specialties: the escargot (commonly called pain aux raisins).
The most famous flavor is the chocolate/pistachio but you can also go for pineapple/passion fruit, red berries/cream cheese or even rum/raisins.
One of the best French breakfast in town.
Address: 4 rue Yves Toudic, 75010, Paris
Terrass Hotel – The panoramic breakfast
Price for a full breakfast: around 25€/person
Trip Advisor: 4/5
The Terrass Hotel is located right in the heart of the Montmartre district. It was opened in 1911 to offer a breathtaking view of Paris to the clients of the hotel thanks to its beautiful rooftop. It attracted a lot of celebrities in the 1950s and it is still the case today.
You can have access to the panoramic restaurant – and the rooftop terrace if it is not fully booked – even if you are not a client of the hotel.  The view of the Eiffel Tower and the roofs of Paris is mesmerizing.
For breakfast, you can have artisan bread, mini-pastries, dried fruits, organic cereal, jam, eggs, dairy products and a large selection of cheese and cold cuts.
If you are still hungry, a breakfast daily special is available: mini-croissants with ham and cheese, speculoos and pear bun, etc.
Have a look at the menu.
Breakfast is served every day until 10:30 am
Address: 12 rue Joseph de Maistre, 75018, Paris
Cloud Cakes – The vegan breakfast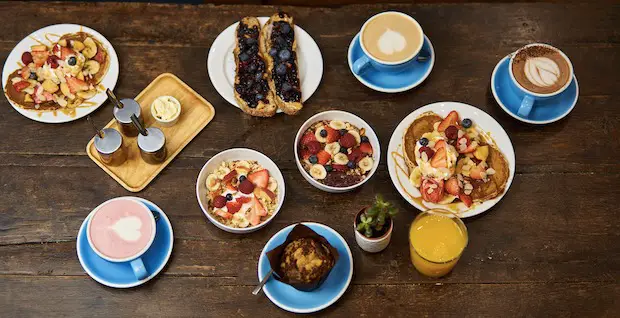 Price for a "Cloud Breakfast" menu: €10.50
Trip Advisor: 4.5/5
A few tables, a minimalist decor and cakes to die for: that is the simple but efficient recipe of Cloud Cakes (website in french), the vegan coffee shop of the rue Mandar.
For breakfast, you can pick among a large – and yummy – selection of croissants, muffins, toasts with peanut butter, jam or home-made chocolate spread, homemade granola, açai bowl, avocado toast and pancakes.
All recipes are vegan.
As for the drinks, you can have the traditional espresso, cappuccino and infusions (those are from the LØV organic brand) but also turmeric spice latte and many other delicious recipes to slowly wake you up in the morning.
Breakfast is served from Monday to Saturday until 11am.
Address: 6 rue Mandar, 75002, Paris
Anticafé – The connected breakfast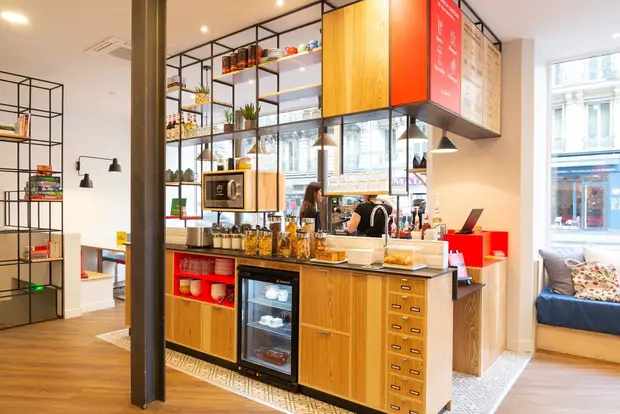 Entrance fee: €5/hour
Trip Advisor: 4.5/5
You are visiting Paris and would like to have breakfast but you still have to work? No problem, the Anticafé* is here to help you.
The very first Anticafé (website in french) was opened in Beaubourg in 2013 by Leonid Goncharov and can now be found throughout France and other countries.
The concept? You feel at home thanks to the armchairs, the sofas and the long tables. You feel like in your favourite coffee shop thanks to the team of baristas, hot and cold drinks and sugary and salty snacks. But you are just as productive as you are at work thanks to the Wi-Fi, printers, video-projectors and paperboards.  All of this in one place and accessible for only €5 for an hour or €24 for a day.
No time or food limit here. Just come on in and enjoy the cosy atmosphere while having a coconut cappuccino and a cookie.
Different Anticafés can be found throughout Paris.  We selected for you the Anticafé Louvre (webiste in french) which is ideally located in-between the Louvre museum and the Palais-Royal. Its unconventional design and its basement decorated in a cabin fashion can accommodate up to 50 people.
Address: 10 rue de Richelieu, 75001, Paris
Echo – The Californian Breakfast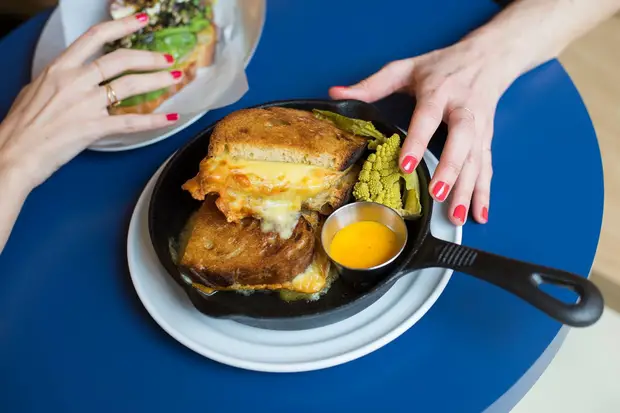 Prices for pastries: from €4 to €6
Price for a "Larry David": €12
Trip Advisor: 4/5
All it took to bring the Californian sunshine back to Paris was a chef coming straight from two of the most famous LA "healthy" restaurants (the Gjusta and the Gjelina) and a boss in love with the city of Angels.  Mailea Weger and Matthias Gloppe's restaurant, Echo, has only been open since winter 2018 but it is already internationally renowned.
They are specialists of breakfast and lunch and their menu is mouth-watering.
If you are in the mood for a salty dish, you can go for the Westside Brioche Toast (scrambled eggs, leeks fondue, mix of herbs), the Ranchero Crispy Rice Bowl (scrambled eggs, Mexican chorizo, avocado, coriander, pickles, brewed hot sauce) or the Scrambled Eggs & Mexican Chorizo Sandwich (scrambled eggs, gouda, coriander, green onions, English muffin, hot sauce).
If you have a sweet tooth, don't worry. They thought about you, too. You can go for the Caramelized Grapefruit (roasted grapefruit, honey with seeds, cinnamon), the Dark Chocolate & Toasted Coconut Brioche Toast (caramelized bananas, maple syrup, coconut cream) or even the Multi-Grain Banana Pancake (strawberry syrup, orange blossom whipped cream).
As for drinks, all sorts of coffees, teas, smoothies, hot chocolates, lattes and steamed plant-based milks are available.
Address: 95 rue d'Aboukir, 75002, Paris
T'Cup – The British breakfast
Prices for a T'Breakfast menu: start at €12
Trip Advisor: 4.5/5
It is in the very heart of Paris that Nassila and her mum decided to open T'Cup, a tea house and a restaurant at the same time. They joined both their worlds together: the decor is in-between Harry Potter and Alice in Wonderland and their cooking stems from both the traditional French and English cuisine.
You can relax in a chesterfield while having a cup of origin or flavoured tea. You can even go theine-free with the Mélange du Cap that no one can resist (red tea, cocoa shards and vanilla bean). To go with your tea, you can order cakes, scones and finger sandwiches.
There are two menus for breakfast.
For €12 you can choose between: scrambled eggs with calf bacon or marinated salmon, and toasts; omelette with cheese or herbs; or an English muffin with calf bacon and a fried egg.
For €20 you can have a Full English Breakfast.
Both are served from Monday to Friday between 9am and 10:30am.
Address: 16 rue des Minimes, 75003, Paris
Henriette – The boho breakfast
Price for a full breakfast:  around €12/person
Trip Advisor: 4.5/5
It is on the left bank that the Henriette hotel is located, a haven of peace in the middle of Paris.
The inside of the building is decorated with floral wallpaper, pastel colours, vintage furniture, old mirrors and a conservatory. The lounge has furnished sofas, long wooden tables and a counter with the buffet.
One of the strengths of the hotel is its outside terrace. It is very private, with vines growing on the old stones of the walls and only a few cast-iron tables to maximize the intimate setting.
The atmosphere is cosy and relaxed, mostly thanks to the welcoming staff.
You can have a full and delicious breakfast in this bucolic environment – or even take a nap.
The menu is composed of pastries, toasts with jam and butter, all kinds of cakes, cereal, yogurts, boiled eggs and a selection of cheese and cold cuts.
All ingredients are fresh and the prices are just as nice as the hotel.
Breakfast is served everyday from 7am to 10:30am for €12.
Address: 9 rue des Gobelins, 75013, Paris.

Mona knows Paris like the back of her hand. Bars, restaurants, hotels… whether you want to sleep, eat, party or just take a walk in Paris, Mona gives you her best advice. Follow her lead, she will gladly give you all her good tips and best addresses!