Ever wanted to know where in Paris, you can find the most beautiful tropical-themed, exotic, aesthetics-oriented or Art Deco-themed restaurants? Check out this list of our favourite ones.
Beefbar
5 Rue Marbeuf, 75008 Paris
Settle in the red velvet banquettes of the Beefbar to have one of a royal dining experience ever. From its tables made in rich material, to the paintings on the wall and the mosaics, everything in the decor of this restaurant will draw your attention. Here, the specialty is meat. It is cooked in all the ways you could ever imagine and with many foreign flavours. Your taste buds will travel from Japan to Korea not to mention Italy.
The little extra: The meat cooked here is freshly supplied every day, so you will definitely enjoy the nicest grilled meat.
Price range: The price range is between €22 and €49 for meat menus.
Website: Beefbar
Bouillon Julien
16 Rue du Faubourg Saint-Denis, 75010 Paris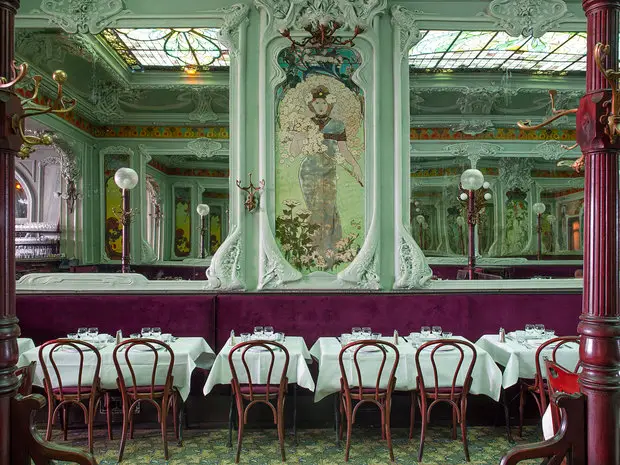 The Bouillon Julien will captivate you with its beauty and special charm. Indeed, a goldsmith's work led to the creation of this majestic palace. From the glass panels, where four flower women appear, personification of the four seasons (a reference to the iconography of Alphonse Muchas), to the tiling designs of the glass roof as well as by the dominant color of the place, namely a magnificent celadon green.
The dining room is plain yet elegant. Waxed ebony wood chairs, mirrors and lightings standing here and there will be there to greet you. It is a whole Art Nouveau inspired atmosphere.
They serve good, simple and gourmet cuisine. Some of the à la carte dishes you can enjoy are, beer-braised pork knuckle on a bed of sauerkraut or a duck leg confit with mustard sauce and fries.
The little extra: As the house motto goes, "here, everything is beautiful, delicious and of great value", you will indeed be able to have tasty dishes like the Julien broth (beef broth, fregola pasta, beef scoter, ginger, lemongrass), a house's specialty at a very reasonable price, with both quality and flawless service.
Price range: Between €8.80 and €14 for à la carte dishes.
Website: Bouillon Julien
Kong
1 Rue du Pont Neuf, 75001 Paris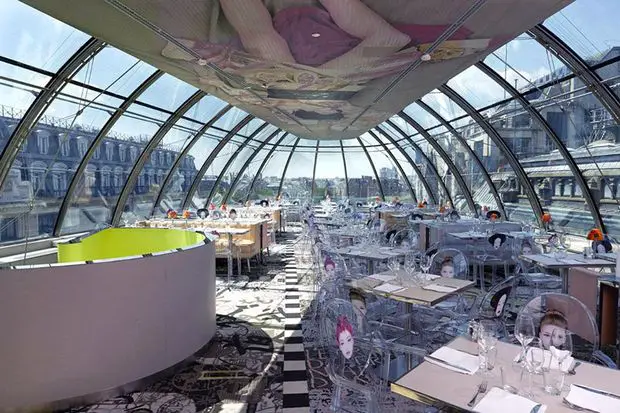 This unique and somehow spectacular spot is located on the fifth floor of the Samaritaine building. Obviously, the breathtaking view of Paris is part of the charm. Seated under the opulent glass roof, you will have high-end dishes of French cuisine with Asian influence. Also, check out the bar that has a very intimate and sophisticated decor.
The little extra: Its open-air terrace whose design is at the crossroads between the Baroque-style and  Japanese inspirations with plexiglass seats that feature Geisha faces.
Price range: The price of the lunch menu is €40 or €50.
Website: Kong
Train Bleu
Place Louis Armand, 75012 Paris (Gare de Lyon)
 

Ver essa foto no Instagram

 
The magnificent decor of this restaurant will dazzle you as soon as you walk in and a sensational dining experience is guaranteed.
The moldings on the ceiling, the art works on the walls and the impressive chandeliers keep the elegance in place.
So, not only will you enjoy high-end French cuisine in a ravishing royal decor, you will also be amazed by stunning culinary shows such as meat carving.
On the menu, signature dishes in sauce, broths and stews.
The little extra: its elegant bar which is as gorgeous as the main dining room.
Price range: From €15 to €48 for à la carte dishes. Check out the menus which cost between €49 and €110 for adults while the children's menu costs €25
Website: Train Bleu
The Ice Kube Bar
5 Passage Ruelle, 75018 Paris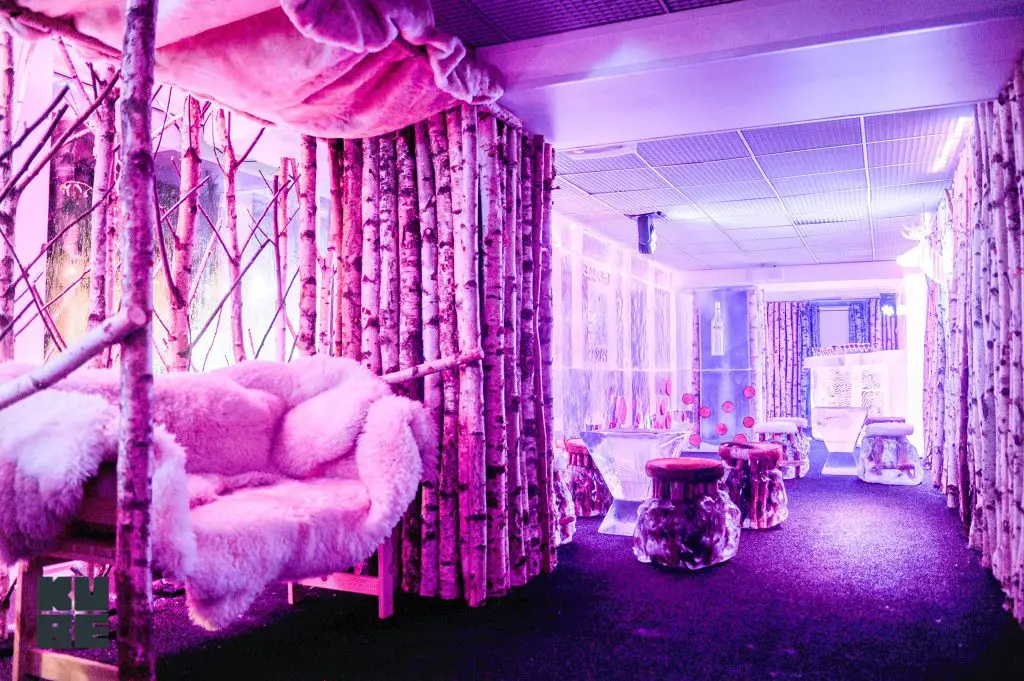 Looking for an unusual restaurant? The Ice Kube Bar is the one for you.
In an altogether restaurant and bar style, this place is solely made of ice. Dive into an icy world to enjoy the best cocktails at a -20°C temperature. Do not forget to bring along a coat and some gloves.
Then, settle into the apocalyptic overgrown jungle-themed shelter of the restaurant named Apres (after), to have the most delectable traditional French cuisine's dishes as well as some Italian classics, cooked with fresh and seasonal ingredients.
The little extra: Their sunday brunches are definitely something you might want to try. For fitness lovers, there is a fitness center where you can get tailor-made training sessions. The Ice Kube Bar is also a hotel with elegant rooms and suites decorated in a very nice and sleek design.
Price range: It changes according to the chosen formula. The Basic formula, for instance, gets you 2 cocktails and a shot for €25. The Restaurant's prices are mainly between €9 and €70.
Website: Ice Kube Bar
La Felicità
5  Parvis Alan Turing, 75013 Paris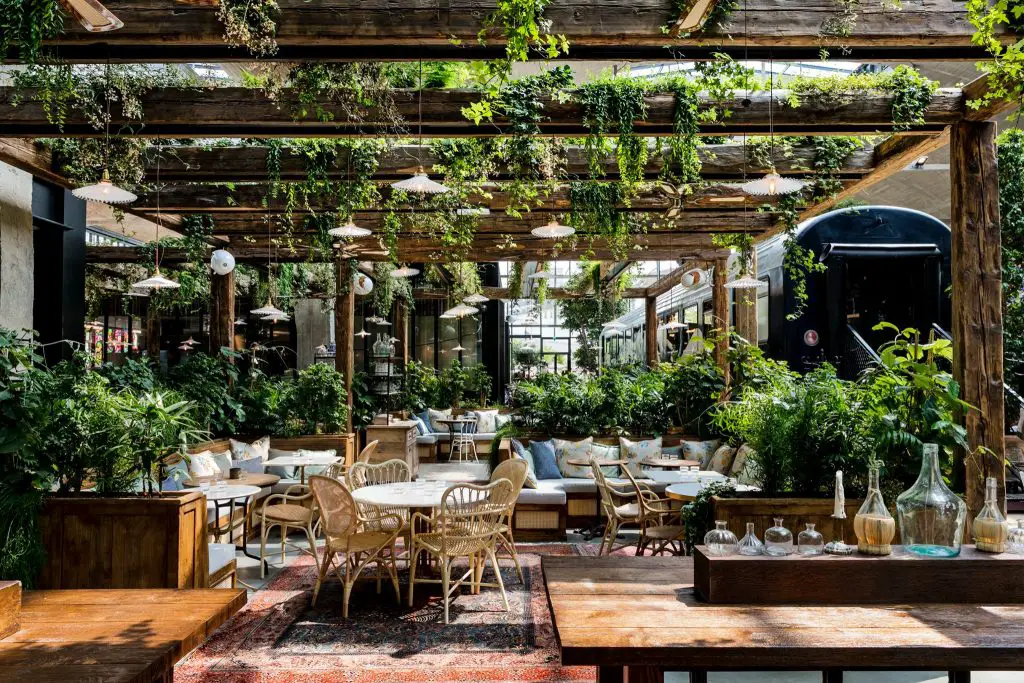 This is a food court entirely dedicated to Italian cuisine. It has many restaurants and bars, a bakery and a cafeteria.
On the outside, the terrace with the colourful lights, the deckchairs and the musicians playing randomly jazz sounds or soul music will catch your attention.
However, the interiors are equally charming with hanging floral decors festooned in a rustic atmosphere that make the place very romantic.
You just have to stop by the bar which is both vintage and modern at the same time.
Basically, it is the perfect spot to enjoy delectable  pizzas in a festive atmosphere.
The Little extra: The restaurant hosts a food market where you can buy fresh Italian products: such as cold cuts, vegetables, pasta or wines.
Price range: Between €9.50 and €18.50 for pizzas' menus and pastas.
Website (in French): La Felicità
Alcazar
62 Rue Mazarine, 75006 Paris
 

Ver essa foto no Instagram

 
This trendy restaurant is located in the heart of Paris, in the Saint Germain des Prés area to be precise, and reappropriated the tropical jungle concept making it urban. There is a smart display of nature and luxury with plant decors here and there and you will probably be captivated by the glowing glass roof.
The balcony is a must-see, especially at night. A panoramic view of the city is part of the magic this place has to offer. As far as the menu is concerned, the restaurant serves tasty traditional dishes. You are going to love spending your time here.
The little extra: From Wednesday to Saturday, the balcony is turned into a bar at night, where you will enjoy signature cocktails, with some good music thanks to the DJ.
Price range: Between €30 and €44 for lunch menus. Between €15 and €90 for à la carte dishes.
Website: Alcazar
Polpo
47 Quai Charles Pasqua, 92300 Levallois-Perret
 

Ver essa foto no Instagram

 
Here is an Art Deco restaurant to check out in the french capital city. Located on the edge of the Seine river, Polpo is one part restaurant and one part brewery that goes heavy on plant life in terms of decor. This green brewery has indeed some luxurious plant decor in  its main hall, rattan and wicker chairs. This is a seafood-focused restaurant, so make sure to enjoy the Polpo mussels a la plancha among others.
The little extra: Enjoy their seasonal terrace on the banks of the Seine river, with real sand, beach umbrellas and benches everywhere.
Price range: The price of the lunch menu is between €19.50.
Website: Polpo
Cristal Room Baccarat
11 Place des Etats-Unis, 75116 Paris
 

Ver essa foto no Instagram

 
This curious restaurant balances the elegance of its various twinkling crystal chandeliers with the contemporary pop style of its brightly colored velvet chairs.
On the menu you will find creative dishes and plenty of tasty surprises.
The little extra: The restaurant has a private garden at the back which you can enjoy if you want more tranquility.
Price range: Between €29 and €35 for lunch menus.
Website (in French): Cristal Room
Dragons Elysées
11 Rue de Berri, 75008 Paris
 

Ver essa foto no Instagram

 
This restaurant which is specialized in Chinese and Thai cuisine, will surprise you with its unusual decoration.
As soon as you walk in, you will feel like entering a Chinese temple.
Inside you will find a gigantic aquarium under a glass floor and many fountains.
You will enjoy yourself in this friendly and original setting.
The little extra: It has a withdrawn room, away from the liveliness of the main room, where you can eat under the watchful eye of a giant dragon.
Price: Starting from €29 for menus while the price for à la carte dishes is between €6 and €98.
Website: Dragons Elysées
Maison de l'Amérique Latine
217 Boulevard Saint Germain, 75007 Paris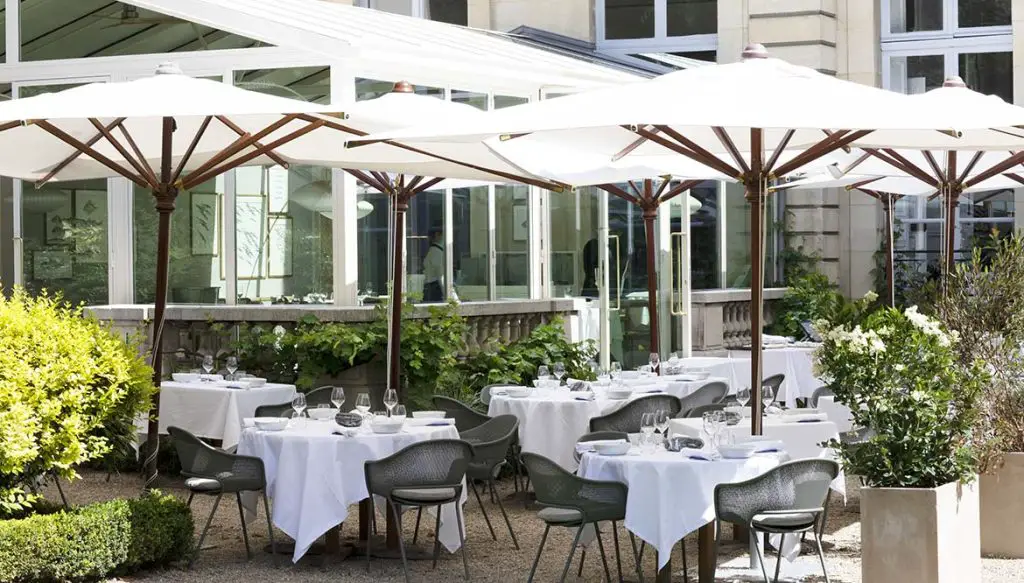 This garden-like restaurant with its ornamental mirrors, chandeliers and its green terrace is a true haven of peace suitable for a peaceful lunch or dinner.
Here, you will enjoy international cuisine mainly South American-focused but with some Asian dishes too.
Some specialties to find on the menu are: sea bream ceviche with guacamole, Quesadilla, Steak a la plancha cooked the Argentinian way, chestnut soup with crispy chicken or a beef mashed with beets.
The little extra: There are often seasonal artistic exhibitions specific to Latin America that you can check out
Price range: The lunch menu is worth €19. Between €5 and €25 for à la carte dishes.
Website: Maison de l'Amérique Latine

Advice, best plans, great places; I will help you in your search for trips, activities, hotels and restaurants. Whether it's for a walk, a weekend, an afternoon or merely to find a trendy place to eat, I can give you all the pointers you need for your endeavor. Just follow the guide!