With its past rich in history, Bastille-République-Nation is a part of the revolutionary neighborhoods.  Some of the most lively places in the capital, you'll always be able to have a good night at one of the many bars and restaurants on rue Keller, Lappe, and Roquette in Bastille, rue Oberkampf next to the Place de République and on the Place de la Nation. Concerning shopping, no need to go much further, you'll find everything you need on the squares and on rue du Faubourg Saint-Antoine.  As for rue de Charonne, you'll take a trip through time thanks to the many traces of the past that are still present today.
A bit of History…
The Bastille neighborhood gets its name from the famous prison that used to stand on the square of the same name. In the 14th century, its main function was to defend the king, Charles V, in case of a revolt. At the time, the Bastille wasn't yet used to house prisoners.  It was actually a state prison.  July 14th, 1789 marked a turning point in the history of France. The people decided to revolt to fight against the tyranny that reigned in France and started what led up to the building's destruction.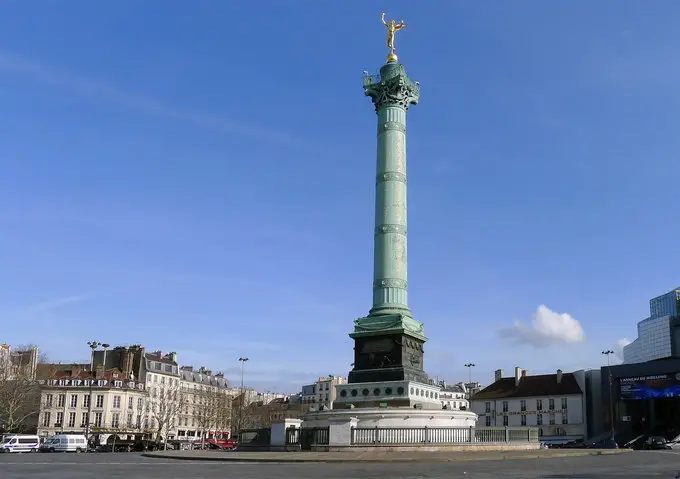 Crédit © Mbzt
In 1792, a column symbolizing peace was erected at the site of the prison. It wasn't built until 1830, at the request of Louis-Philippe, but this time to commemorate the Trois Glorieuses*. The July Column, designed by Jean-Antoine Alavoine and decorated by Joseph-Louis Duc, was inaugurated in 1840 and named a historical monument in 1995. It was topped by a statue named the Spirit of Freedom (or Génie de la Liberté). This golden bronze statue was created by Auguste Dumont in 1836 and was also listed as a historical monument in 1995. A copy was conserved at the Musée du Louvre.
Called Place Antoine after the Revolution in 1790, the Place de la Bastille welcomed the guillotine in 1794. (It will once be moved to Place de la Nation, known as Place du Trône-Renversé at the time.)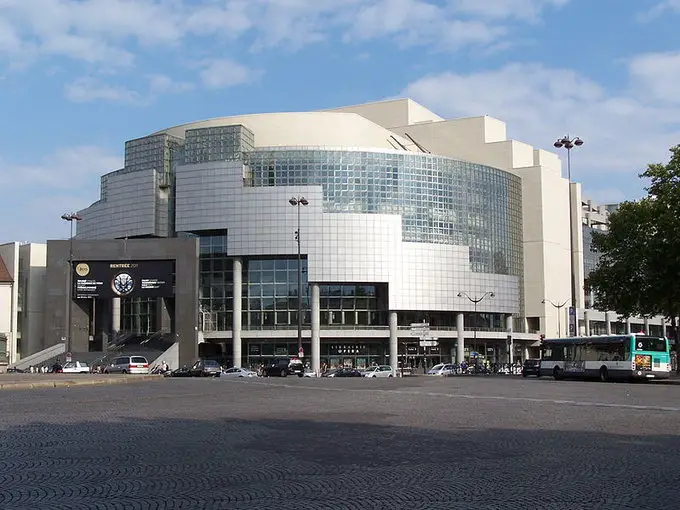 Crédit © LPLT
Presently, and since 1989, you can enjoy the Opéra Bastille, which is connected to the Paris Opera and serves to help relieve the crowding in Opéra Garnier. More modern in its architecture than the Opera Garnier, it was opened on the occasion of the 200th anniversary of the French Revolution marked by the storming of the Bastille in 1789.
(* The Trois Glorieuses symbolize the three days, the 27th, 28th, and 29th of July, 1830, which are also called the July Revolution, to overturn the regime reinstating Charles X, and restore the July Monarchy.)
Discovering the Neighborhood
If you feel like taking a walk across this neighborhood rich in history, start by discovering the Cimitière du Père-Lachaise. To get there, take rue de la Roquette that will take you directly to the cemetery, and with just about half an hour of walking.  At 70, rue de la Roquette, you can also admire the Fontaine Molinos, dating back from 1846. It was listed as a historical monument in 1992. You'll also pass by the Square de la Roquette, placed at the site of the La Roquette Prisons that were destroyed in the 1970's.
At 76, rue de la Roquette, the Théâtre de la Bastille is dedicated to contemporary dance and theater.
At number 47 on the street, the Eglise Notre-Dame-D'Espérance will surprise you with its architecture that is different for a religious building. In fact in 1928, Father Anizan had a chapel built with cheap materials that fell apart rather quickly and led to its destruction in the 70's.  In 1997, 47, rue de la Roquette saw the birth of a new church built by the architect Bruno Legrand. Its extreme modernism made it famous throughout the city. It includes a large glass front framed by two large cement towers.
Père Lachaise Cemetery
Finally you'll arrive at Cimetière du Père Lachaise. The largest cemetery in Paris and undoubtedly the most famous in the world, it was officially opened in 1804.  What makes it really special is its famous graves. The atmosphere there is one of the most mystical, but remains nevertheless peaceful and pleasant to visit. The many trees create a great lighting that illuminates the graves, which are sometimes marvelously decorated and sculpted. Among others, you can reflect at the graves of Jim Morrison, Edith Piaf and Marcel Proust.
If you are someone more trendy who likes bars, restaurants, and even boutiques, stay on rue de la Roquette and check out the rue Keller and rue de Lappe that are overflowing with various and sometimes colorful establishments, perfect for a nice night. We've chosen a few places for you:
Iguana Café:15, rue de la Roquette. A vintage and chic cocktail bar.
Les Marcheurs de Planète:73, rue de la Roquette. Restaurant-bar offering platters of meat and cheese as well as glasses of wine, the height of French life.
Le Café des Anges:66, rue de la Roquette. Bar offering Brazilian cocktails and typical French dishes with a vintage style from the 60's.
Le Mojito Lab:28, rue Keller. As its name suggests its specialty: MOJITOS!
Dr Feelgood:34, rue Keller. A bar where you can dance to exclusively rock music.
Café Moderne:19, rue Keller. Bar with meatballs and homemade dishes for its specialties.
Hideout Bastille:25, rue de Lappe. Bar with screens showing sports events, and Happy Hour on Thursdays until close (2am).
El Rancho Dominicano :43, rue de Lappe. Cozy rum bar.
Le Balajo:9, rue de Lappe. A club founded in 1936 with themed evenings.
Just a word about the rue Keller: if you are into rock, manga, or emo you'll surely find something! In fact, this street is known for it many boutiques including rock, manga, cosplay ones.  You'll find the Goeland boutiques at number 17, l'Indien Boutique at number 39, Landscape Rock Shop at number 16, and for manga fans: Black Sugar at number 27 and Mango Dori at numbers 23 and 29. You will probably make friends that share the same passions.
The lively neighborhoods of République and Nation are characterized by their many restaurants, bars, and boutiques. You'll never have time to be bored!  Also, well serviced by the Ile-de-France's railways, you can take the metro or the RER whose multiple lines would take you all over Paris.
For your restless nights, we recommend a little journey through the cool streets of the capital: Quai de Jemmappes, rue Oberkampf, boulevard Saint-Martin. You will have plenty of choices!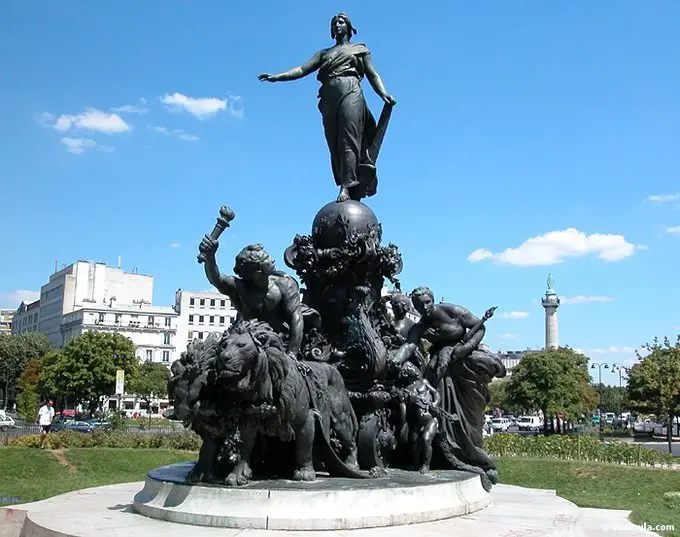 Place de la Nation; Crédits ©  Alceste
Previously named "Place du Trône" until 1880, the Place de la Nation is overflowing today with many stores and restaurants. The area isn't the most historic in Paris, but if you like shopping and going for walks, you should appreciate this area.
Called « Place du Château d'Eau » until 1879, the Place de la République is represented by the Monument de la République, symbolizing Marianne. Like its neighbor, Nation, République is a lively neighborhood, ideal for youth. The bars are really present in the neighborhood's culture and when night falls, its time to celebrate.
Here is a little list of bars to visit if you find yourself in the area of Quai de Jemmappes:
Our recommended hotels in this neighborhood
4 stars:
Hôtel Fabric : in a contemporary decor, not far from the station Oberkampf.
Hôtel le Mareuil : minutes from Place de la Republique, the Oberkampf metro station is 200m away, comfortable rooms.
Hôtel du Petit Moulin : in the heart of the Marais, the Hôtel du Petit Moulin is a particular mansion, very picturesque and elegant, decorated by Christian Lacroix, the rooms are luxurious and refined.
3 stars:
Hôtel International Paris : nicely decorated and very comfortable, it is 800m away from Oberkampf quarter.
Grand Hôtel Français : the Place de la Nation is 500m away from the hotel, it offers comfortable, modern with simple elegant décor.
Hôtel Angely : This contemporary and design establishment will offer you modern and tastefully decorated rooms, well-equipped, you will appreciate their comfort and their pleasant ambience.
1 & 2 stars:
Lux Hotel Picpus: you'll be welcomed in a cozy atmosphere, in a sober setting, only 10 minutes away from the Place de la Nation and 400m away from Picpus metro station.
And for more activities in Le Marais quarter, check this article !