If you like arcade games, here is our selection of the best retro and VR arcades in Paris.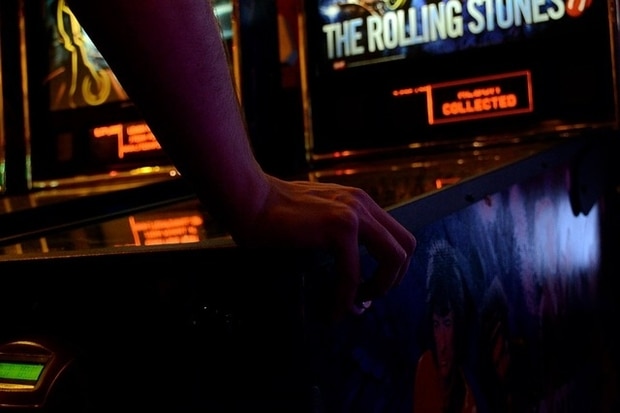 MindOut Paris
Address: 35 Rue de Turbigo, 75003 Paris
Come and discover a new generation arcade entirely dedicated to virtual reality, the very first one in Paris.
Sports, gaming, family games and virtual escape game… everything is gathered to have you enjoy a moment of fun alone, with friends or family.
Prices: 15€ for 30 minutes (decreasing rate from 2 hours)
100€ per hour for 4 people
Website: https://mindout.fr/  (link in French)
Neo legend
 

Voir cette publication sur Instagram

 
Address: 3 Rue de la Torpedo, 93200 Saint-Denis
Specialized in the manufacture of retrogaming arcade terminals, Neo legend also offers a showroom by appointment where you can try them out.
Website: https://www.neo-legend.com/en/
La Tête dans les Nuages
 

Voir cette publication sur Instagram

 
Address: 5 Boulevard des Italiens, 75002 Paris
A huge game room in the heart of Paris.
Bowling, billiards, children's games, traditional arcade terminals, you'll find everything you need for a fun afternoon with your family or friends.
Prices: free entry + tokens
2€: 1 token
10€: 6 tokens
20€: 12 tokens
30€: 18 tokens
40€: 24 tokens
50€: 30 tokens
Website: https://latetedanslesnuages.com/nos-centres/paris/ (link in French)
Reset Bar
Address: 17 Rue du Cygne, 75001 Paris
A new bar concept with free access to many retro arcade terminals. A real pleasure for vintage video game lovers. Come and play while sipping a beer or a cocktail.
Prices: free access to the terminals
Website: http://www.reset.bar/ (link in French)
Player One Bar
Address: 224 Rue Saint-Denis, 75002 Paris
A concept similar to the reset bar but specialized in beer.
You will have access to arcade terminals as well as many other activities which are typical of the geek, pop and retro cultures.
Prices: bar prices and free access to the terminals, board games, etc.
Website: https://playerone.bar/  (link in French)
Extra life café
 

Voir cette publication sur Instagram

 
Address: 9 Passage des Patriarches, 75005 Paris
A café well-rooted in geek culture: retro gaming room, arcade terminal, manga library, etc.
Recently renovated, the extra life café welcomes video game fans and offers modern and vintage consoles as well as a collection of 1000 games and 6000 manga!
A place to discover for sure.
Prices: 5€ to 7€ per hour of gaming with drinks
Facebook page: https://www.facebook.com/extralifecafe/
Virtual Center
 

Voir cette publication sur Instagram

 

Address: 33 Rue Vavin, 75006 Paris
With their centers all over France, Virtual Center welcomes you in Paris to let you enjoy virtual reality and the best racing simulator equipment on the market.
For fans of new generation video games, this game room will take you away from reality with one or more games with your family and friends.
Prices: 30€/hour and person (20€ at happy hour 2-5pm)
Website: https://virtual-center.com/en/
Coin-op
Address: 17 Rue de Maubeuge, 81 Rue du Charolais, 75009 Paris / 41 Avenue du Groupe Manouchian, 94400 Vitry-sur-Seine
There are two locations in the Paris region: Coin-op table (restaurant, bar and game) and Coin-op legacy 25min from Paris (RER C).
The second one is a game room managed by an association whose aim is to preserve vintage arcade terminals.
Find the list of events on Facebook as well as the prices.
Website: https://coin-op-table.com/  – https://coinoplegacy.com/  (links in French)
Geek-room
Address: 39 Rue de Nanterre, 92600 Asnières-sur-Seine
An associative arcade that has stayed true to the classics with vintage terminals and games.
A concept straight out of the 80's for the greatest pleasure of nostalgic people as well as that of the younger ones.
Prices: Admission 18€ then unlimited access.
Website: https://www.geek-room.com/  (link in French)
VR and CO.
 

Voir cette publication sur Instagram

 
Address: 49 Boulevard Saint-Michel, 75005 Paris
Another new generation arcade for modern enthusiasts with VR.
A wide range of games is available, as well as escape games to play alone or in teams.
You will also find a bar to enjoy a break between two games.
Prices: between 9€ for 15 minutes and 30€ for 50 minutes
Website: https://www.vrandcompany.com/ (link in French)

Mona knows Paris like the back of her hand. Bars, restaurants, hotels… whether you want to sleep, eat, party or just take a walk in Paris, Mona gives you her best advice. Follow her lead, she will gladly give you all her good tips and best addresses!