Do you travel alone (or not) and want to meet other people? It is not always easy to meet other travellers or even locals when staying in a hotel. So here are 6 pretty amazing apps! You can stay with the locals but also meet wonderful people from all over the world.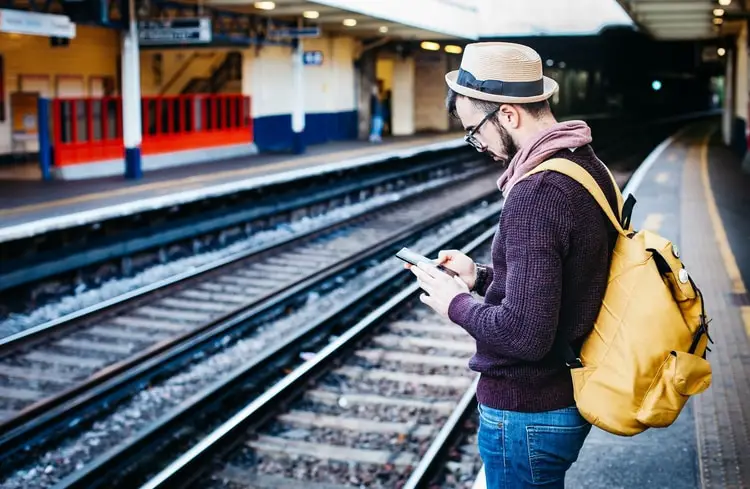 1) Couchsurfing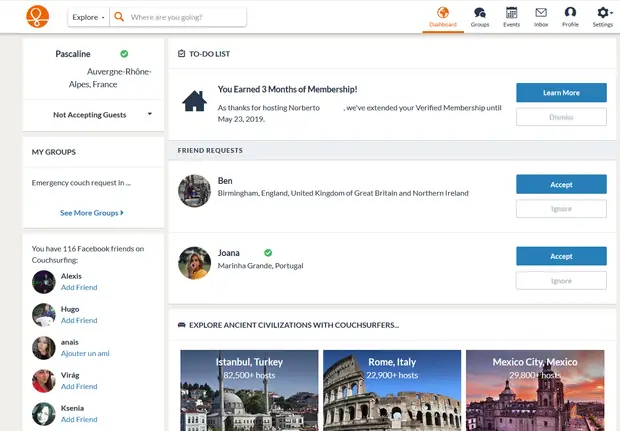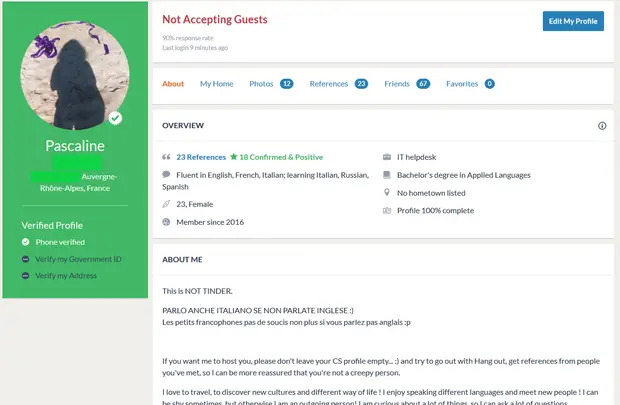 Basically, it is a website (and an application) for travellers who are looking for a sofa for the night. If we actually pay attention to the name Couchsurfing, it literally means "surfing on the couch".
So the main function of this site / application is to host or be hosted by other people for free!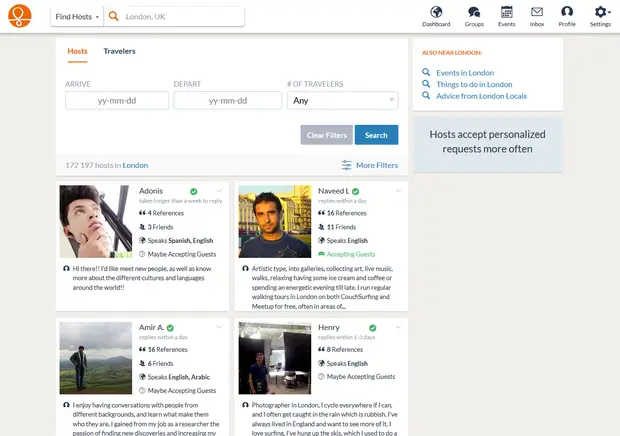 Be careful, however, we are not talking about crashing for free at someone's house as if we were in a hotel. And I would like to be very clear on this point. It is a matter of providing a roof over the head or a sleeping accommodation to travellers passing through. Everything is based on interaction.
Let me explain it to you: sharing a meal together, stories, good times, an excursion to the place where you are, etc. It all depends on each "host" and his "guest(s)" and the time they can devote to each other.
Events / Meetings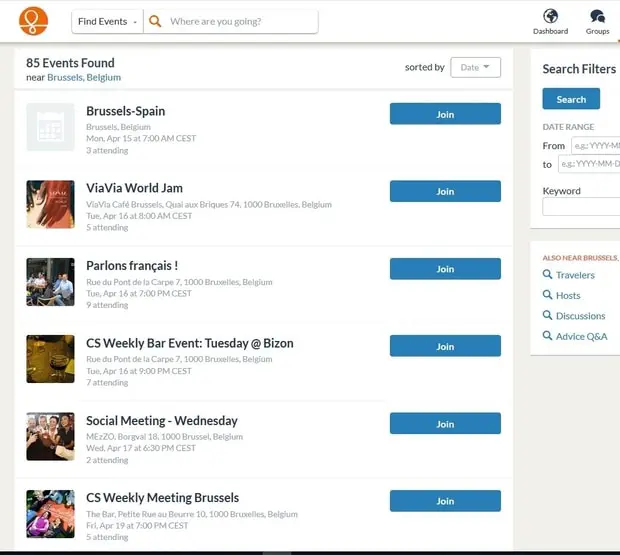 Couchsurfing is not only about hosting, it's also about socialising. On the website you can participate in various events organized by locals, or even by yourself (and yes, because you can also schedule a meeting).
Evenings are organized each week either simply to chat (often in English or other languages), or for a picnic or to play games, etc.
Hangouts
Then, on the application on your phone, you have the "Hangouts" option. In terms of structure, it looks a bit like Tinder in the way that it works with the GPS tracking of your phone and it shows you the people available to go out for a walk.
But unlike Tinder, multiple conversations are formed; sometimes 10 people can be on the same conversation. And so you can manage to form a small group to eat in a park or go out for a drink somewhere.
A Trust-based System
But how do you know if people aren't crazy? You might well ask. Well, it works like Blablacar (the carpooling system): anyone who has met or hosted another person can leave references and reviews on that person. This makes it very reassuring and builds greater trust.


A minor drawback: given the growing popularity of Couchsurfing, many people are signing up and not necessarily for the right reasons. Some people use this as Tinder, while that's absolutely not the point of the application. So be a little cautious.
2) Meetup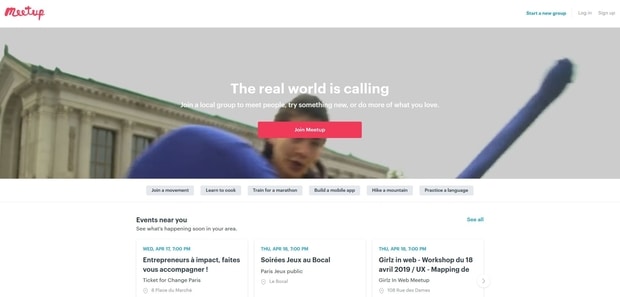 This site was created shortly before Couchsurfing. As with the last-named app, it can be used anywhere in the world!
You will find activities held in every major city, where people use the website.
Are you on a trip (or not) and looking to meet new people? Going out for a drink with someone doesn't really suit you because you're not sure you're talkative enough?
Well, with Meetup, you can go salsa dancing, or participate in game evenings, meals or cooking classes, sports classes, hikes, language exchanges and many other events.
All you have to do is to register on the website and search in the cities where you are located. Here is a small example from Budapest (Hungary).
So this website (which also has an app on the phone) is not only for travellers, but also for locals who are looking to meet new people.
This is based first of all on interests and hobbies – you must specify them in your profile, and without even doing any research the platform will offer you events related to your interests.
On the other hand, this site does not offer to be hosted by local people, it is just about meeting other people by participating in an activity together.
3) OVS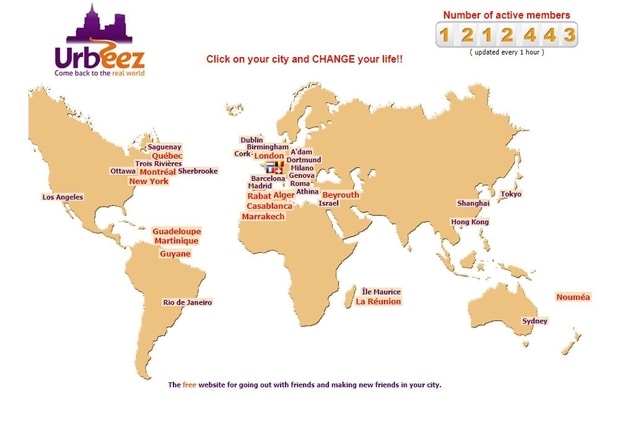 OnVaSortir, or OVS, is a French website, but it is also used in some countries that are neighboring France and has also developed around the world (under the name Urbeez).
Registration on the website is completely free of charge, as for the other applications discussed before. Travellers are a little less familiar with this website.
In smaller cities, it is most often used by adults over 30 years of age in general. But of course if you are 18 years old and under 30 years old, you can register on the website as well.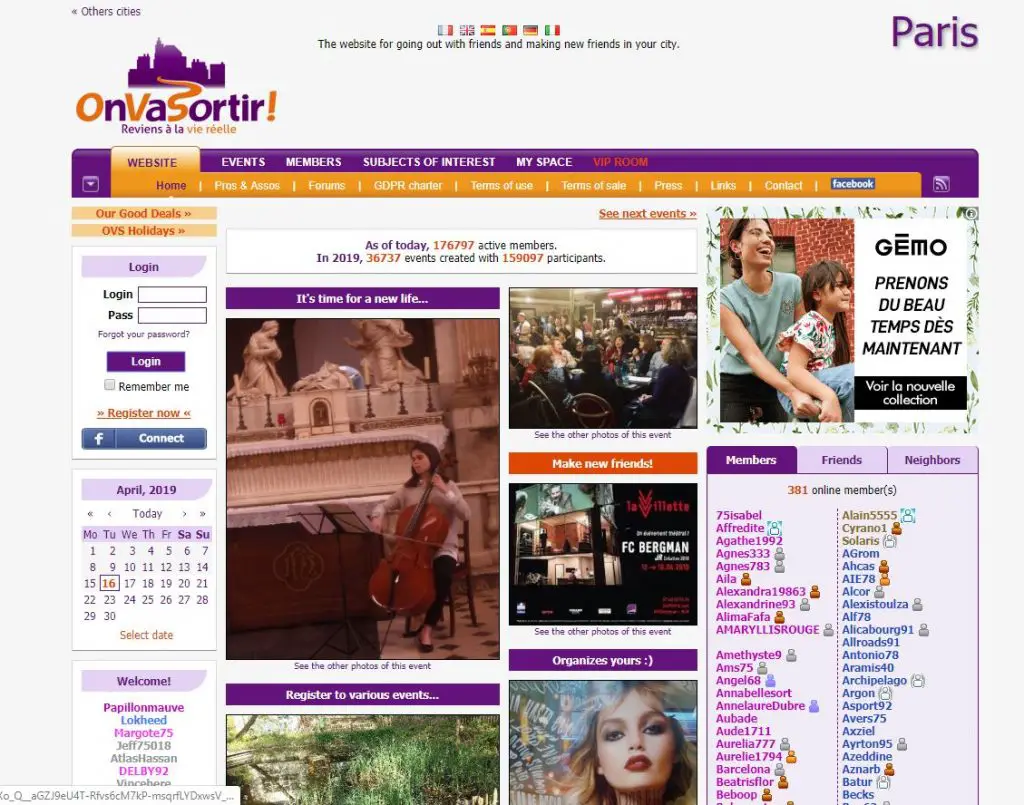 On OVS you can see which activities are organized in the "events" tab and, if you wish, you can also plan an event yourself – yoga classes, movie night, travel, hiking, etc.
Are you looking for a bowling night and none of your friends are with you or are available? Well, in that case you can create your event and indicate the maximum number of participants to book a night at the closest bowling alley, for example.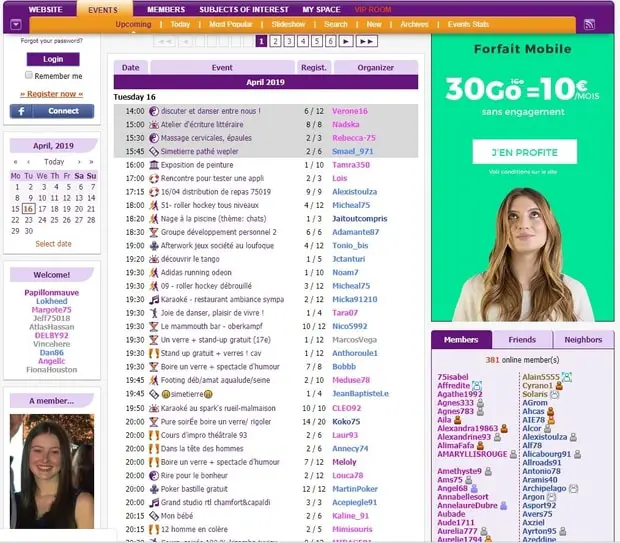 4) Facebook groups!
Don't neglect the social network you use multiple times a day: Facebook! Many groups are created by expats, students or Erasmus associations, etc.
For Erasmus students, in Paris you can find a page created by the ESN association. Other than that, for people who are not Parisian but who have just moved in and want to meet other nationalities, you have a group for expats living in Paris.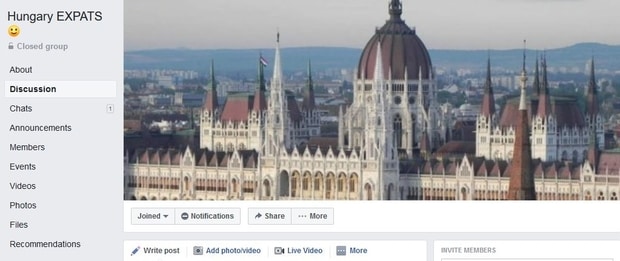 For people who are moving abroad, groups such as "Italiani a Lisbona" are created but in many cities all over the world and for so many different communities.
5) PolyglotClub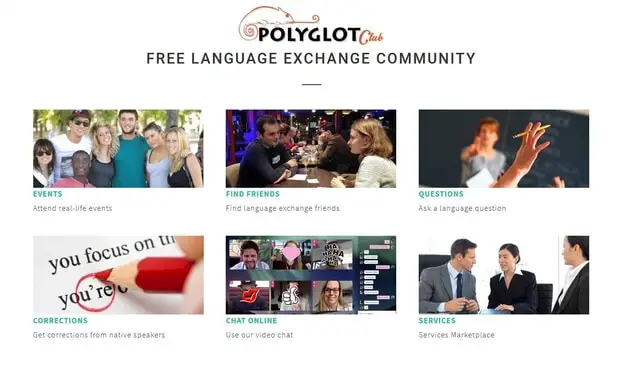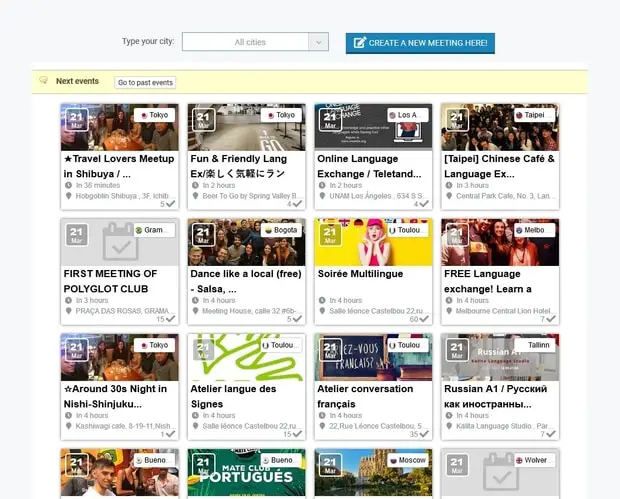 Polyglotclub is a community for those who like to practice foreign languages and want to improve or help others.
You can chat online with people from all over the world, correct other people's mistakes when they communicate on the website, but also participate in various cultural meetings or exchanges.
This website is a little less known than the others but it is still interesting and used in several countries.
6) BeWelcome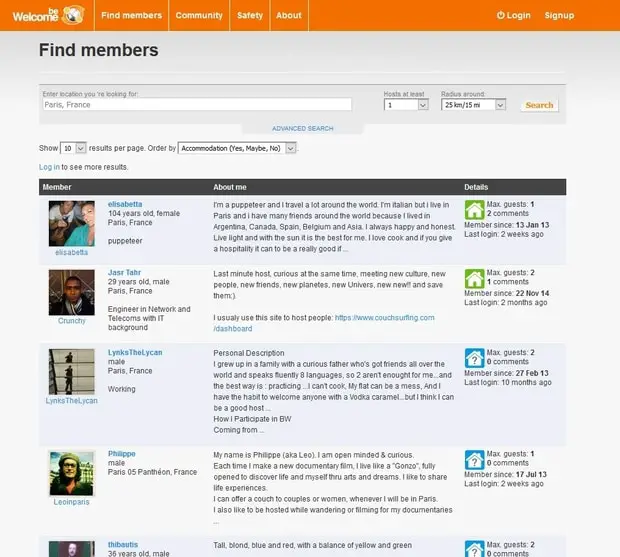 With the same philosophy as CouchSurfing (CS), members of the website offer to host travellers for a few nights free of charge on BeWelcome.
The service is not necessarily on a two-way basis: just because someone is hosting you does not mean you have to do so.
Discussion groups are possible on the portal, and you can search for hosts in the cities where you travel. You can also participate in trips or organize them through the website, which is actually pretty cool!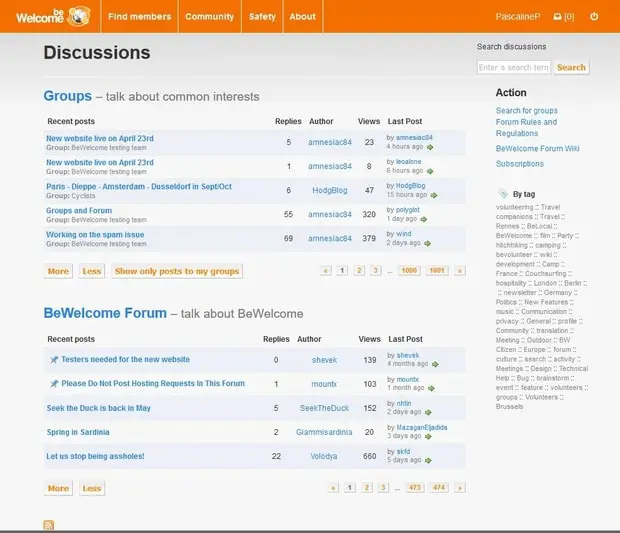 It is true that the website's design is a little less well developed than on other platforms or applications, but it works rather well. It is also possible to write comments about the people on the portal.
Being welcomed by a person living in the city or country you are visiting is really a good thing because it allows you to discover the world in which they live – their habits, traditions, lifestyle, family, good tips (restaurants, museums, etc.), and they can also show you around the city.
You will come out of this experience with something more rewarding, something more human and enjoyable than from simple tour packages or if you travel alone without meeting anyone.
Never forget that the whole point of these applications and websites is to meet and share with others! Be open-minded, don't judge too quickly, take a step back, but of course always be careful. With these apps you can enjoy your trip and never really be alone in the end. And it's always nice to share a good time with people, even if they're complete strangers and with whom you may eventually stay in touch.

I aim to share my tips and recommendations for the beautiful country of France. My goal is to help you plan your next adventure, whether it's a weekend getaway or a once-in-a-lifetime trip. From finding the best hotels and restaurants, to discovering unique activities and sights, I've got you covered!