Known for being one of the richest neighborhoods in the capital, the Madeleine neighborhood has always been capable of attracting well-to-do individuals and making lovers dream of Paris. From the Place Vendôme with its chic boutiques and its luxury hotels, to the parochial Eglise de la Madeleine passing by the big political places like Elysée and the United States Embassy, let yourself be guided through a world of French luxury and prestige.
Leaving from Place de la Madeleine, admire the church's architecture, listed as a historical monument in 1915. With its Greco-Roman style, this 250-year-old structure has witnessed first hand Emperor Napoleon I's military displays and paid homage to his comrades in arms. During the building's restoration, the church was dedicated to the royal family, executed during the Revolution. Its tall columns of 20 meters invite you to meet this neoclassical monster in Paris.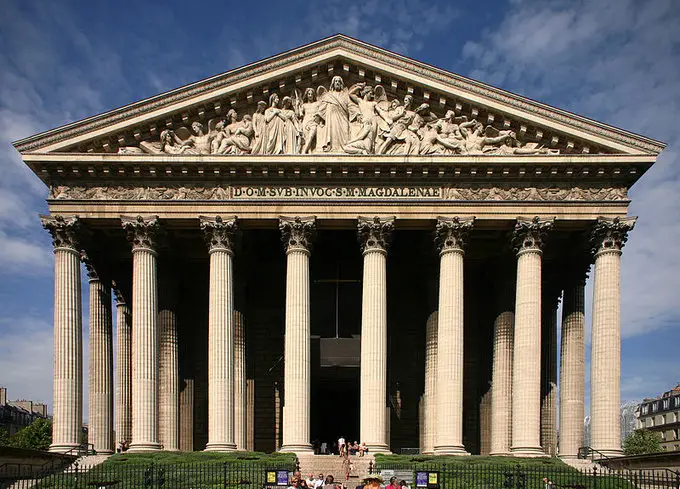 Eglise de la Madeleine; Crédits ©  Shahee
A spectator of the neighborhood's evolution, as much in the architectural planning as the urban planning, the Eglise de la Madeleine was built to respond to a rise in the neighborhoods population in the 19th century. The old parochial church being too small to host everyone, Napoleon I decided to construct a new one. The architectural style is based on that of Greek temples, especially the Olympieion in Athens. Located in the heart of Parisian social life, Place de la Madeleine offers a very rich touristic setting. Many surrounding restaurants and neighboring luxury boutiques never empty.
The Pinacothèque de Paris is also found on the square. The first private museum in Paris, it welcomes temporary exhibits and works retracing the history of art. You'll find it at 28, Place de la Madeleine, Paris 8th arrondissement.
Symbol of luxury shopping and prestigious fine dining, Place de la Madeleine is the essential place for those look for something exceptional. Fauchon, Hédiard, Mariage Frères, CaviarKaspa… everything is there so that lovers of fine grocery stores can find what they're looking for.
If you like tea, are in search of full-flavored coffee, or want to discover the sweet pleasures that Paris is known for, it's all here:
Hédiard : Located at 21, Place de la Madeleine, this boutique has been part of the lavish decor since 1870. Its founder, Ferdinand Hédiard, offered products that came straight from their producers: exotic fruits, oriental spices, remote fragrances, etc. Find these pleasures in the magnificent boutique in Madeleine.
Fauchon : Founded in 1886 by Auguste Fauchon, the boutique at number 26 on the square, opens its doors to a universe of prestigious flavors. A symbol of Parisian luxury dining, its notoriety is based on the quality of its products and their diversity. In fact, you can enjoy its pastries, but also its spices, foie gras, sweets, mustards, oils, vinegars, wines, teas, etc.
Mariage Frères : A luxury tea salon, the boutique, Mariage Frères, was founded in 1854 by the brothers Henri and Edouard Mariage. Considered as a reference in terms of quality, it offers a large selection of tea and tea accessories whose temptations you can give into. The boutique is found at 17, Place de la Madeleine.
Caviar Kaspa : At the time when all of Paris was caught up in the Roaring Twenties, Arcady Fixon opened his boutique at 17, Place de la Madeleine.  Straight from Russia, he introduced caviar to Parisian nightlife. The precursor to this area for France, Fixon achieved immediate notoriety that is fixed in time.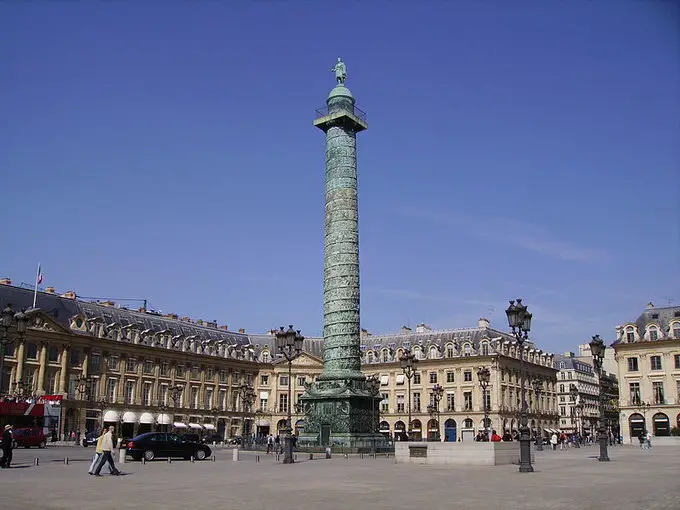 Place Vendôme; Crédits ©Yair Haklai
Another legendary place that makes Paris a prestigious place, the Place Vendôme.
Globally known for its luxury jewelry stores and for the Hotel Ritz, the Place Vendôme knows undeniable notoriety today that never ceases to attract more and more tourists every year.
Built in 1685 under Louis XIV, its goal was to symbolize the grandeur and the splendor of the Sun King. The layout was trusted to the architect, Jules Hardouin-Mansart in 1699 and followed a special initiative. In fact, the place had to be in a square shape and could only be crossed over by a path connecting rue Saint-Honoré to rue des Capucines. Made up of classically French styled buildings, it brings together 28 private mansions, in which high society of the time lived, and that surrounded the central column. We can specifically pick out Hôtel Gramon, located at 15, Place de la Madeleine, which houses the globally renowned luxury hotel, the Ritz, since 1898.
At the center of the 20,000m2 surface, the Vendôme Column rules. Erected in 1805, it was cast from the canons taken from the enemy during the Battle of Austerlitz under Napoleon and symbolized France's victory. Today, the Place Vendôme keeps its international fame for its luxury boutiques that make up the square. Jewelry, clockmaking, goldsmithing, etc., the biggest luxury brands are mixed in the magic of the City of Lights. Names like Christofle, Breguet, Baccarat, Chanel Joaillerie, Cartier, Chaumet, Chopard, Dior, Jaeger-Le-Coultre, Omega, Montblanc, Piaget, Rolex, Poiray, and many others will fascinate you with their finesse and elegance, witnesses to French luxury.
Finally on rue de Faubourg Saint-Honoré, Palais de l'Elysée resides at number 55 on the street.  300 years old, this mansion from the 18th century was the home of big figures in our history.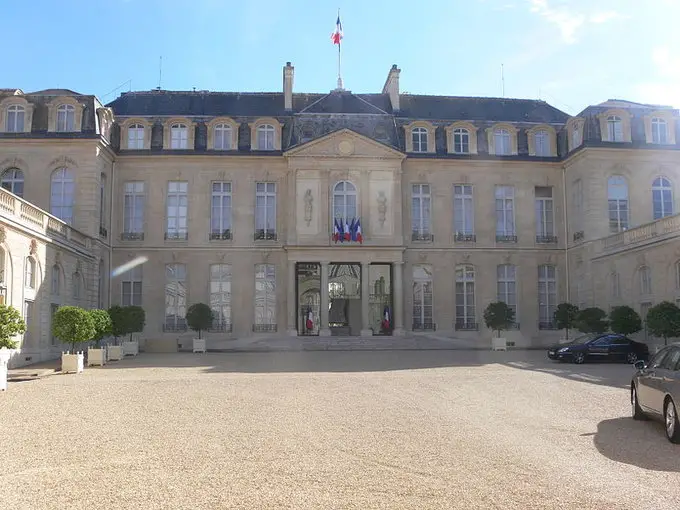 Palais de l'Elysée; Crédits © Remi Mathis
It was in 1720 that the palace was completed.  Built by the architect Armand-Claude Mollet, it was intended for Louis Henri de la Tour d'Auvergne, Count of Evreux.
In 1753, it was the king, Louix XV, who repurchased the place and offered them to his favorite, the Marquise de Pompadour. It was also the residence of Napoleon III (Napoleon I's nephew) and his family in 1799. But it was from 1848 that this structure took up the function of the Palais de l'Elysée, headquarters of the Presidency of the French Republic and became the official residency of the president.
Our recommended hotels in this neighborhood
5 stars:
Mandarin Oriental Paris : located in Paris city centre, the hotel offers high-quality services with elegantly furnished rooms and suites.
Buddha Bar Hotel Paris : the ambiance and cozy charm will seduce you, the rooms are luxurious and elegant.
Sofitel Paris Le Faubourg : located between Place de la Madeleine and Place de la Concorde, luxurious rooms and suites decorated in a refined style.
4 stars:
Hôtel Chavanel : "boutique hotel", the Hotel Chavanel is warm and elegant, decorated in a contemporary style.
Hilton Paris Opera : This palace is located 150m away from the Gare Saint-Lazare, chic, traditional and modern at once.
Hotel Stendhal Place Vendôme Paris MGallery Collection : exceptional location, just steps from Place Vendôme and Madeleine.
3 stars:
Hôtel Augustin Astotel: idealy located near the Gare Saint-Lazare, the hotel offers modern and well-equipped rooms.
Hôtel de l'Arcade : charming hotel, private balconies, close to the Galeries Lafayette and Printemps Haussmann.
Petit Madeleine Hôtel : elegant rooms close to the Rue du Faubourg Saint Honoré.
1 & 2 stars:
Hôtel Paris Saint Honoré : ideally located, 650m away from the Champs-Elysées.

I aim to share my tips and recommendations for the beautiful country of France. My goal is to help you plan your next adventure, whether it's a weekend getaway or a once-in-a-lifetime trip. From finding the best hotels and restaurants, to discovering unique activities and sights, I've got you covered!