"Little Tokyo": such is the nickname of the Japanese district of Paris, a small triangle formed around the rue Sainte-Anne and delimited by the avenue de l'Opéra, the rue de Richelieu, and a bit beyond the rue des Petits-Champs. It is actually a rather recent district, as the first businessmen from Japan only arrived there in the 60s, but it still managed to expand and develop until it became a tiny reflection of the land of the rising sun. If you feel like experiencing a scene-changing visit, here are all our tips.
What to see in the Japanese District?
The rue Sainte-Anne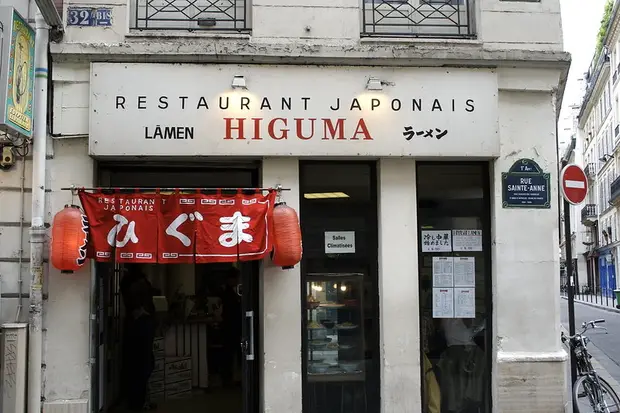 It is the core of the district, which it cuts straight through.
It is lined with plenty of Japanese restaurants, each offering their own specialty, as well as all kinds of souvenir shops.
Its surreal atmosphere will truly give you the feeling that you've landed in Japan with merely a few steps.
Stepping in this street will be like diving in a whole other culture.
The Buren columns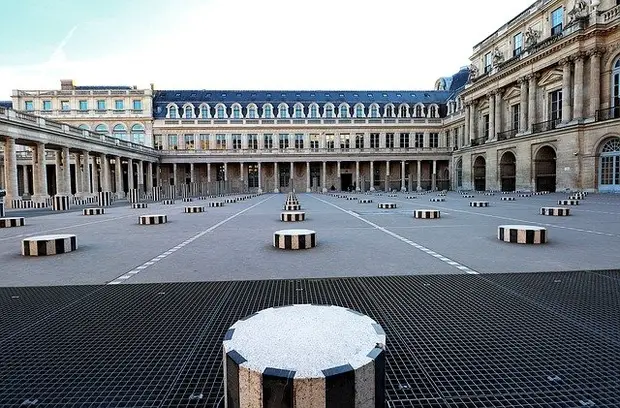 Right next to the rue de Richelieu, in the courtyard of the Palais Royal, stands an artistic installation named Les Deux Plateaux ("the two plateaus"), more commonly known as the Buren columns, which was realized in 1986 by Daniel Buren.
It was originally ordered by Culture minister Jack Lang, who wanted to prevent people from parking their cars in the courtyard.
The columns, or rather, the little black and white cylinders, have since become a choice meeting place for the inhabitants, and the perfect spot for a small break after a long walk.
The passage Choiseul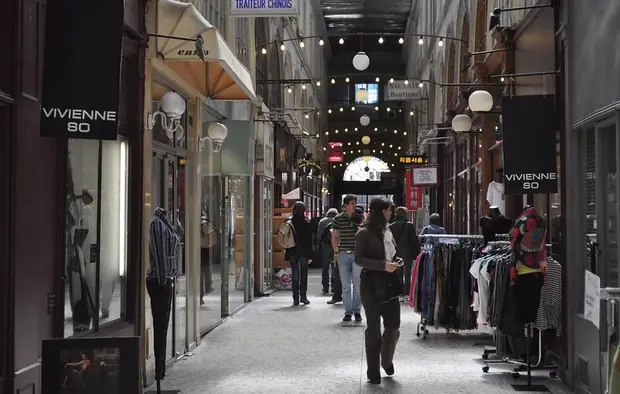 Built between 1825 and 1927, it is now the longest of all covered passages in Paris.
You'll be able to access it from the entrance located in the rue des Petits-Champs, and walk for 190 meters in a pathway lined with high arcades under a glass roof, among shop and restaurant windows from the entire world, though still mostly Asian.
The passage is open to the public Monday through Saturday, from 8am to 8pm.
What to do in the Japanese district?
Grocery shopping at Kioko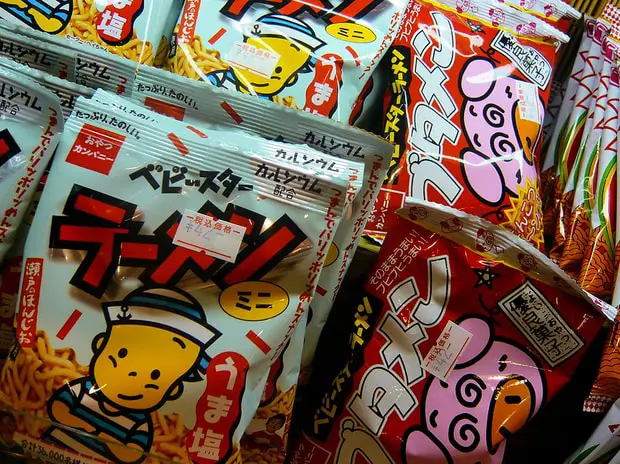 Want to bring some of the classics of Japanese cuisine back home with you?
Go to Kioko, and you will find everything you'll ever need: soba and udon noodles, rice, kidney beans, sake, matcha and gyokuro teas, mochi, and all the basics of Japanese gastronomy.
Even though a larger budget may be needed, the wide choice of ingredients and typical bento meals makes it a must-visit for any visitor who wants to discover products of Japan.
Address: 46 rue des Petits-Champs, 75002 Paris
Opening hours: Tuesday through Sunday, 10am to 6pm
Souvenir shopping at Cool Japan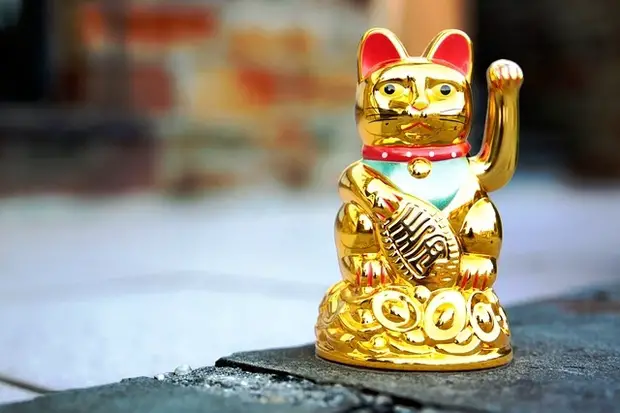 If you're looking to bring back a souvenir from your visit to Little Tokyo, Cool Japan is definitely the shop you're looking for.
The items, which are directly imported from Japan, are as varied and diverse as can be. From traditional clothing for men and women to typical decorative objects like darumas, manekinekos and kokeshi dolls, to dishes covered in gold leaf, you'll have Japan at the literal tip of your fingers.
Address: 45 rue Sainte-Anne, 75001 Paris
Opening hours:
On Monday: 1.30pm to 7pm
Tuesday through Saturday: 11am to 12.30pm and 1.15pm to 7pm
Visiting Junku the Japanese bookshop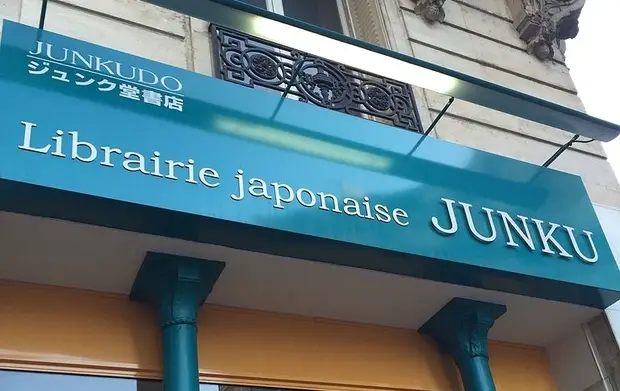 Nothing better to dive into Japanese culture than a detour by a bookshop, right?
Located slightly outside of the rest of the district, the Junku bookshop offers a wide range of magazines, books and mangas, both in French and in Japanese.
Whether you're looking for a new novel to read or just admiring the well-kept shelves, you will always find a warm and welcoming atmosphere there.
Address: 18 rue des Pyramides, 75001 Paris
Opening hours: Monday through Saturday, 10am to 7pm
Where to eat in the Japanese district?
Aki Boulangerie: for the pastries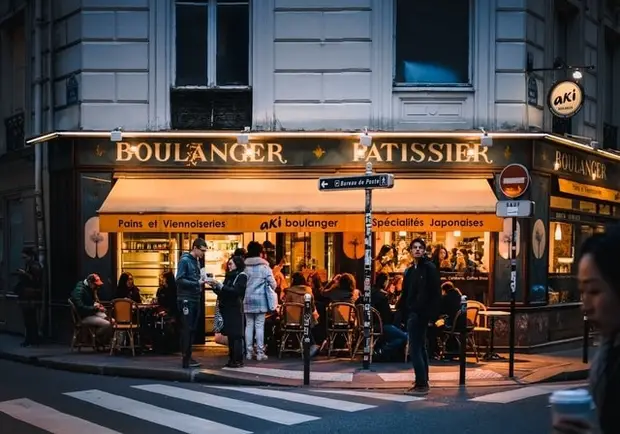 Google reviews: 4.5/5
You'll be able to find all kinds of Japanese specialties like kabuki, dorayaki, mochi, matcha and yuzu-flavored pastries in this half-French, half-Japanese fusion bakery.
As it is very well-known in the district, it's sometimes crowded because of its success- for good reason, though!
Also interesting to see are the Mochi Mochi sister shop a few buildings away, which obviously specializes in mochi, and the Aki Café, located a little higher in the rue Sainte-Anne, in which you can find the same pastries, as well as nice and warm Japanese dishes to go.
Address: 16 rue Sainte-Anne, 75001 Paris
Website: https://akiparis.fr/ (in French only)
The Alley Opéra: for the tea
Google reviews: 4.4/5
No matter what your favorite type of tea is, you'll find everything you want in this tea house, which largely flaunts its use of organic ingredients.
In the wide choice of cold and warm teas, you'll particularly appreciate the use of brown sugar, which delicately spices up the soft, tasty flavors of each drink.
The Alley also offers a range of bubble teas, a Taiwanese drink with tapioca bubbles, to every customer's delight.
Definitely a must for a delicious and relaxing break.
Address: 55 rue des Petits-Champs, 75001 Paris
Website: http://www.thealley.fr/ (in French only)
Takara: for lunch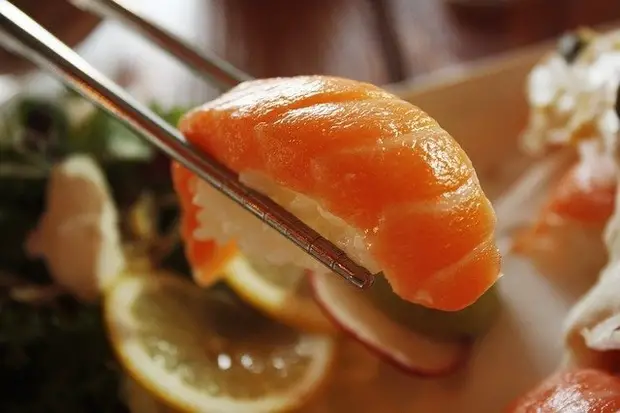 Google reviews: 4.4/5
It opened for the first time in 1958, and is therefore the oldest Japanese restaurant both in Paris and in Europe.
"Takara" meaning "treasure" in Japanese, the name wholly makes sense when you discover the range of traditional dishes on the menu.
From classics like sushi and sashimi to lesser-known but still tasty dishes, you'll doubtlessly find something for all tastes.
Address: 14 rue Molière, 75001 Paris
Website: https://www.takara-paris.com/ (in French only)
Happa Tei: for the takoyaki and okonomiyaki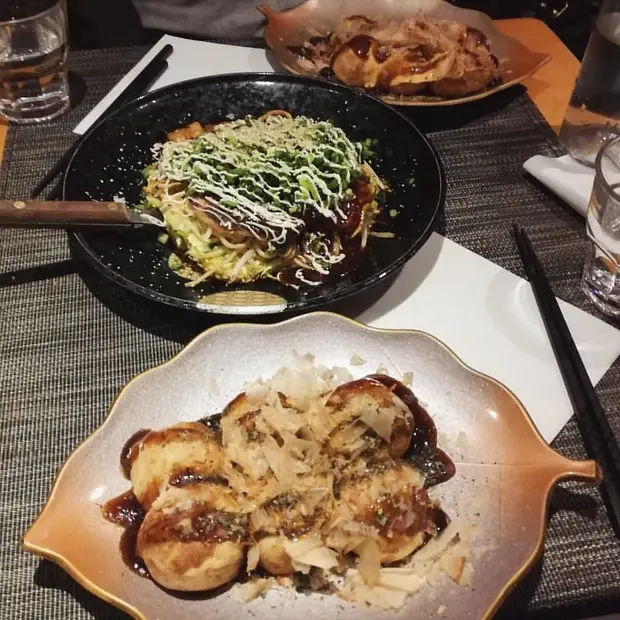 Google reviews: 4.4/5
You'll have more than enough on your plate: Happa Tei specializes in takoyaki (stuffed pancake dough balls) and okonomiyaki (a sort of savory pancake).
Despite prices sometimes being a bit high, you definitely won't be disappointed by the know-how and the incredible taste of these specialties just like in Japan.
Don't miss out on it if you want to live through an actually extraordinary culinary experience.
Address: 64 rue Sainte-Anne, 75001 Paris
Website: https://www.bigpicky.com/happatei(in French only)
Kodawari Ramen (Tsukiji): for the ramen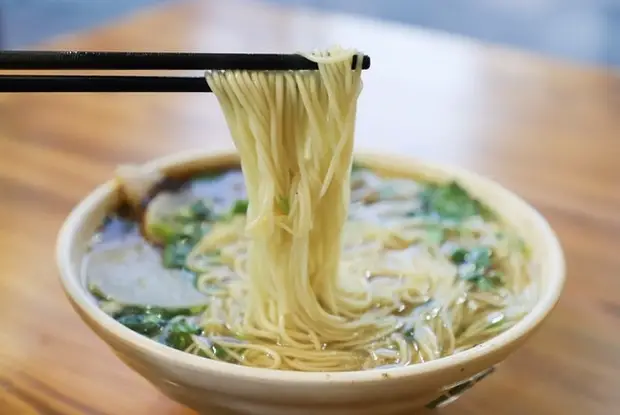 Google reviews: 4.6/5
Ramen restaurants are common in Paris, and many are competing for the first place, but Kodawari Ramen gets unanimous reviews.
Come choose between traditional ramen and seafood ramen from the house, which will largely fill both your stomach and your desire for something foreign, all in a restaurant decorated like the old fish market in Tokyo.
Please note that the restaurant is often crowded due to its success, and you may need to wait for a while before getting a table.
However, the warm dishes and typical taste are largely worth it.
Address: 12 rue de Richelieu, 75001 Paris
Website: https://www.kodawari-ramen.com/ (in French only)
Where to stay in the Japanese district?
Hotel Opéra Maintenon
On the border of the Japanese district, the Hotel Opéra Maintenon has twenty well-decorated rooms, in a way that enhances its beautiful 17th-century architecture.
This comfortable hotel will allow you to enjoy Little Tokyo, as it is located directly next to it, barely a few steps away.
Prices: from €80 per night
Address: 36 rue Sainte-Anne, 75001 Paris
Hotel Louvre Sainte-Anne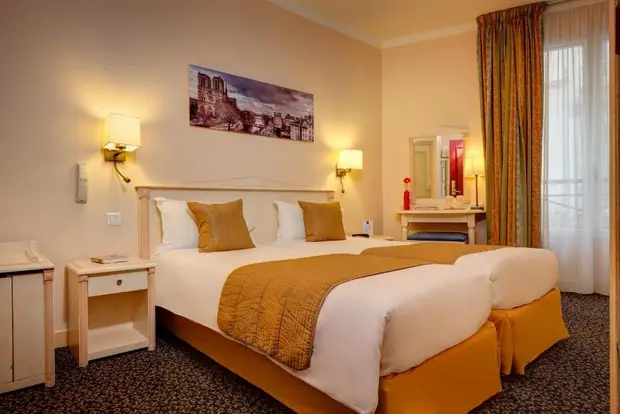 At the heart of the district, the Hotel Louvre Sainte-Anne is the perfect place if you want to stay as close to your centers of interest as possible.
The rooms are elegant, some are even equipped with a balcony, that will offer you both calm and peace.
Prices: from €162 per night
Address: 32 rue Sainte-Anne, 75001 Paris
Hotel Louvre Marsollier Opéra
Two minutes away from the district, the Hotel Louvre Marsollier Opéra is ideal for tighter budgets, with single rooms from €60 per night.
It is the guarantee of a relaxing sleep, as it is located in a quiet street. It will be perfect for a prolonged stay near the Japanese district.
Prices: from €60 per night
Address: 13 rue Marsollier, 75002 Paris
Hotel Thérèse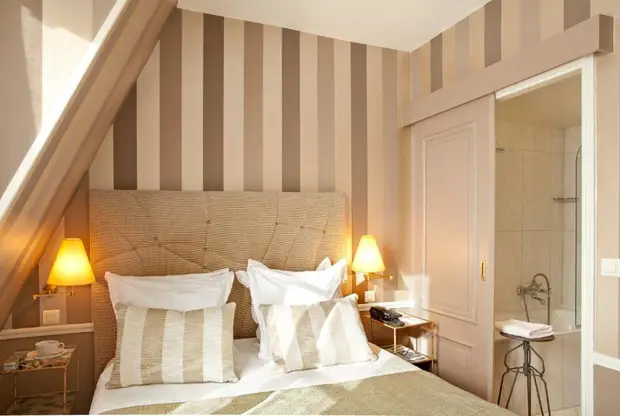 A few steps away from the rue Sainte-Anne, the Hotel Thérèse will give you a warm welcome.
If you wish to enjoy French luxury and comfort for one or two nights in the center of Little Tokyo, this hotel is perfect for you.
Prices: from €180 per night
Address: 5 and 7 rue Thérèse, 75001 Paris
Drawing Hotel
The Drawing Hotel located rue de Richelieu rents out big, comfortable, modern rooms, right at the border of the Japanese district.
Luxurious and elegant, it also offers a wide patio for customers to enjoy, with a view over the rooftops of Paris.
Prices: from €125 per night
Address: 17 rue de Richelieu, 75001 Paris
How to get to the Japanese District?
The district lies just in front of the Pyramides metro station, on lines 7 and 14, but it can also easily be reached from the Palais Royal Musée du Louvre station on lines 1 and 7 and the Quatre-Septembre station on line 3.
Bus lines 21, 27, 29, 39, 68 and 95 also make some stops near the district.

Mona knows Paris like the back of her hand. Bars, restaurants, hotels… whether you want to sleep, eat, party or just take a walk in Paris, Mona gives you her best advice. Follow her lead, she will gladly give you all her good tips and best addresses!