Whether you are just passing through Paris or you are living there, having a good book to read is always appreciated. We have selected unusual bookstores and libraries in order for you to find the rare gem that will keep you up all night.
Bookstores:
1) Librairie Ofr.
20 Rue Du petit Thouars, 75003 Paris
This bookstore is a reference on fashion, photography, architecture, and design. You will find many things on these specialised topics. Passionate people will welcome you with a smile and will definitely give you great advice!
You will not only find literary books but also accessories (scarves, candles, diaries…), perfect for a gift. In the backroom, you will find a gallery where lots of paintings are displayed and which also hosts previews all year long. The backroom is also used as a place for private sales with knock-down prices. So, don't hesitate to ask for information.
This bookstore also has a large collection of postcards including photographers Arno Lam's and François Coquerel's ones.
For all English speakers or Anglophiles, note that this bookstore also provides international magazines, even issues from the previous months, but you will have to ask the employees for them.
Even though it is a bookstore before anything else, it also serves as a main point of sale of "Meilleur Ami" (literally translated: Best Friend) which is a small Parisian brand of men's accessories.
2) Librairie Shakespeare & Co
37 Rue de la Bûcherie, 75005 Paris
Since 1951, this bookstore is THE reference in English literature. It is located near the Cathedral of Notre-Dame and has beds upstairs where you can take the books to read them in peace.
Before anything else, this bookstore is a literary center, both bookstore and library, and sometimes accommodation for tourists passing through. In the 1950's, it welcomed the writers from the Beat Generation (Allen Ginsberg, William Burroughs…).
It also appeared on the big screen, especially in Woody Allen's Midnight in Paris or Richard Linklater's Before Sunset.
Whether you're looking for contemporary or old novels, you will find the real gem for sure, and for the collectors, note that they sell rare and really old books that you might be interested in. Warning: all the books are in English.
3) La Librairie Paris Boutik
12 Rue Caffarelli, 75003 Paris

Have you always dreamt of sleeping surrounded by books? Have you ever wanted to stay in a bookstore? Paris Boutik has a new concept combining a luxury suite and a bookstore. Located in the middle of the Marais district, this 45m² room will make you live an unprecedented experience surrounded by 4500 books.
The suite is expensive but can host up to 4 people and is fully equipped. The room has a bathroom with a bathtub, a kitchen, many bookcases and, of course, a king size bed with a high-end mattress.
You will also have free Wi-Fi, a kettle, a coffee maker, a minibar, a fridge, a microwave, an iPod docking station, as well as a flat screen TV (with 83 French and international channels).
This room with exposed beams was soundproofed to give you a peaceful and quiet reading experience and offer you a haven of peace in Paris.
Finally, you will be able to leave with some of the books in exchange for some of your own.
4) La Belle Hortense
31 Rue Vieille du Temple, 75004 Paris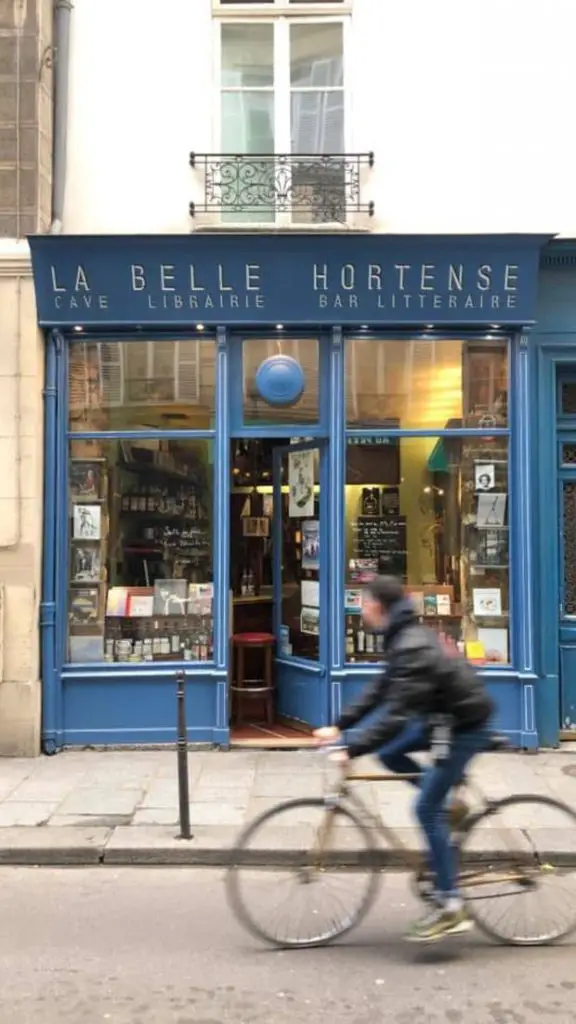 La Belle Hortense, created in 1997, doesn't just sell books as it is in fact a bistro-bookstore in which you can not only enjoy great wines but also read your favourite books.
This bookstore has a whole selection of novels and coffee table books that you can consult on the spot while drinking a coffee or glass of wine. If you don't want to stay at the bar, you can go in the room at the back of the shop where you'll be able to read in peace.
Their wine menu offers bottles from all over France. But be careful, the price of one glass is quite expensive, so it is more interesting to buy a whole bottle. If you wish to accompany your wine with a meal, you can order directly at the bar, although there is no kitchen on site: the dishes come from the restaurant across the street, "La Chaise au Plafond" because both establishments are run by the same person.
At "La Chaise au Plafond", everything is fresh and homemade so don't hesitate to order while reading your book.
The good news for the insomniacs is that it is open until 2am, to keep them busy with a good book while waiting to find sleep again.
In this bookstore, you will find a few contemporary novels but a large quantity of classics, poems, and philosophical books. If you're interested, the bookstore also organizes an exhibition once a month in the backroom.
5) I Love My Blender
36 Rue du Temple 75004 Paris
The goal for this bookstore "I Love My Blender" is to make French people discover English writers. There, you will find as many books in English than books translated in French.
The owner will welcome you with open arms and you might even be able to drink tea or coffee with him. This passionate man chose to select the books for his shop himself, which is different from the classic bookstore.
He also chose to not appear on any social network, but word of mouth is enough to make this little bookstore of the 3rd arrondissement known. Its colourful and eclectic window shop might catch your eye and make you enter in this place where novels are alongside postcards as well as candles, toys for children, and stationery.
Libraries:
1) Sainte-Geneviève library
10 Place du Panthéon, 75005 Paris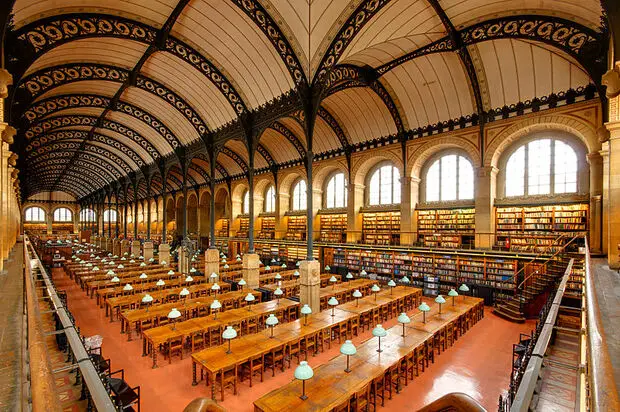 This library of the 5th arrondissement isn't just a university library. It is also a library open to the general public, with more than 2 million books divided in 3 different sections.
First, there is the "réserve" (storehouse) where rare and precious books are kept, then the "fonds général" (general collection) which has books and documents published from 1811 to today. Finally, there is the "bibliothèque nordique" (Nordic library), which has lots of fennoscandian books since it used to be the collections of the old abbey that stood there in 1624.
In 1851, the actual building was constructed by architect, Henri Labrouste, at the place of the old "Collège de Montaigu". Note that this library has been a "monument historique" since 1992 and its facade dates back to 1848.
2) Bibliothèque Mazarine
23 Quai de Conti, 75006 Paris
Bibliohèque Mazarine is the oldest public library of France since it opened in 1643 to French scholars in the private mansion of Mazarin.
You can look up close to 600,000 documents as well as 220 works of art or art objects and hundreds of restored papers. You will find close to 200,000 volumes mostly encyclopaedic but also a modern collection specializing in history, particularly history of religion, of literature, and of the culture in the Middle Age and 16th and 17th centuries. You will also find books on the History of books and local and regional history of France.
This library has amazing assets including a lot of manuscripts and documents from before 1800. You can read these documents only on site and rare documents are available for consultation under certain conditions.
Bibliothèque Mazarine is public, so don't hesitate to go in and wander through its aisles.
3) Bibliothèque Vaclav-Havel
26 Esplanade Nathalie Sarraute, 75018 Paris
Created in 2011, this library inside the Halle Pajol, which has the second biggest photovoltaic power plant on its roof, manages to stand out from the others, especially by offering a video game corner.
This library is divided into 3 floors: press and new arrivals on the ground floor, comic books and magazines on the first floor, and literature and cinema on the 2nd floor. It welcomes more than 3,000 visitors per month which might be because it has designed spaces depending on what you need.
So there is the Moderato room if you want a quiet space, the Allegro room if you are with a group, a multimedia area named "@robase", and an area for children and toddlers named Hut.
The library also offers a lot of services, in collaboration with the district organizations, like homework assistance, home delivery of books for disabled people, sessions of conversation in French, a book club, a manga club, movies and video games sessions, etc…
This library has 6 screens to play video games, in order to relax after a long day of work or school, and a big collection of games at your disposal. It is not forbidden to eat or drink there. Actually, you will find a cafeteria on the ground floor!
4) Bibliothèque du cinéma François Truffaut
4 Rue du Cinéma – Forum des Halles – 75001 Paris
The Bibliothèque du cinéma François Truffaut is one of the 17 libraries specialized in the seventh art in Paris.
You will find almost everything you're looking for on cinema, whether it is technique or the glamour since it has 31,700 books on the cinema, television, and video. Moreover, around 30% of its collection is in English, which will make English speakers and Anglophiles happy.
All the library, documents are available for consultation on site, except for some encyclopaedias, dictionaries, directories, etc… Apart from written works, you can also borrow more than 16,000 DVDs and even watch 3,000 at the library. Moreover, it has a projection room where you can watch a movie every Sunday at 3pm according to a theme and every second Wednesday of the month at noon, the librarians offer a "pause documentaire" (documentary break).
5) Bibliothèque Chaptal
26 Rue Chaptal, 75009 Paris
The Bibliothèque Chaptal is one of the four libraries for deaf people in Paris. Former private mansion of the 18th century, it kept its charm with its squeaky floor, its golden moldings and its painted ceiling, a very pleasant setting to read.
The general collection of the library centers around sign language (LSF: French Sign Language) and deaf heroes, through DVDs, novels, and comic books. Of course, every activity offered by this library is accessible to deaf people. Actually, two members of staff are hearing impaired as well.
The particularity of this library is that it has a special authorization that allows them to translate general public books to sign language. So, there is a DVD in sign language with some books.
The Bibliothèque Chaptal has 3 floors: in the basement, there is the "deaf" part of the library, the ground floor is for adults, and the first floor is for children, toddlers, and teenagers.
On every floor, there are computers with an internet connection if you need to do some research.
A lot of activities are also offered, even though most of them are for the children. There are "L'heure du conte" (Storytime) and "L'heure du conte bilingue (Bilingual Storytime (French/LSF)) for children aged 2 to 4, a film club (from age 6), some creative multimedia workshops (from age 6 to 12), as well as a workshop for adults which centers around multimedia training to begin and to improve.

Advice, best plans, great places; I will help you in your search for trips, activities, hotels and restaurants. Whether it's for a walk, a weekend, an afternoon or merely to find a trendy place to eat, I can give you all the pointers you need for your endeavor. Just follow the guide!