Sunbathing on a terrace, having your breakfast on a balcony, and contemplating the city from your room … everything is possible in Paris! You want to book a room with a terrace or a balcony to breathe the air of Paris peacefully? Here is a list of the best Parisian hotels with a terrace or a balcony, so that you can enjoy this pleasure without having to move heaven and earth.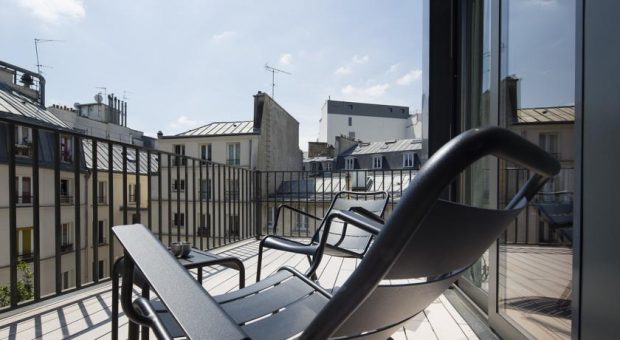 1) Le Littré**** – A family hotel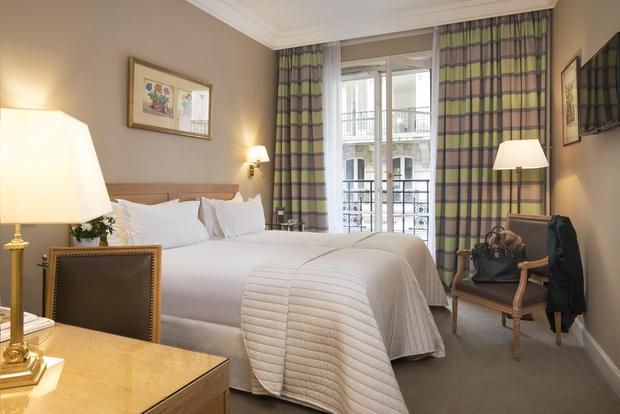 Area: Saint-Germain – Luxembourg
9, rue Littré, 75006
You like plays, shopping, and historic places? Then, you've come to the right place. It is only two blocks away from the Vieux-Colombier Theatre, from the rue de Rennes filled with stores, and from the area of Saint-Germain des Prés. Le Littré's location is ideal: you will discover the Parisian style, a mix of historic boroughs and more modern districts.
The same family has owned this hotel for three generations. You'll feel like you're home, with a very efficient and professional staff at your service; well, you know, it's not surprising, because it's in their DNA! You'll get into a friendly and cosy atmosphere, which is kind of rare for a Parisian hotel. Le Littré comprises 90 rooms and 9 types of rooms and suites. You'll enjoy a personalized holiday that will suit your expectations in the best way possible.
The rooms can host between 1 and 3 customers. They have a bathroom, king-size beds, and a few services like a free Wi-Fi connection and a television.
But what did you come for? The balconies and the terraces, right? The superior rooms all have a private terrace from where you will look at Parisian roofs by day, and at the City of Lights by night. Moreover, you'll benefit from an extra privilege you don't want to miss: a nice view over the Eiffel Tower. Enjoy!
The suites also have arranged balconies where you will relax, eat breakfast, and sip a glass of champagne in the Parisian sun. However, there are only 5 rooms and suites with a balcony or a terrace, so you might want to hurry and book your room as soon as possible!
In case the balconies and the terraces don't offer you enough relaxation, let me tell you that booking a room will give you access to the relaxation area, to the lounge, and to the bar. Thus, you will enjoy the sauna all day long to recharge your batteries, along with the winter garden that opens onto an inner courtyard: a peaceful place, equipped with some armchairs and sofas, far away from the touristic turmoil. You'll have your drinks in a wildlife setting: cocktails, liquors, and other fresh drinks you can order at any time, under the surveillance of the false beasts.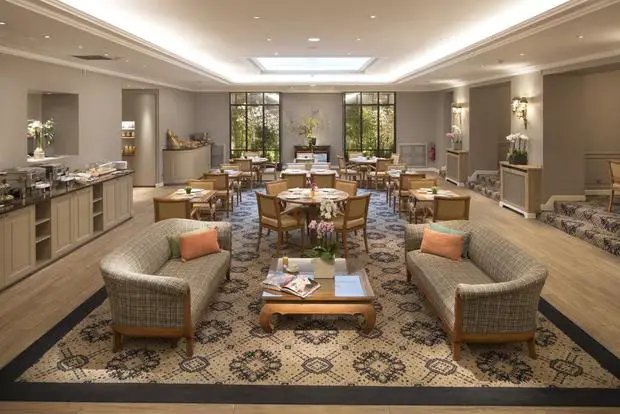 What we like: The very original and sober decoration.
What we love: Being given the opportunity to choose between a balcony and a terrace. And what do they have in common? They both have a perspective on Paris!
For further information about Le Littré, its services, prices, and availabilities, click here.
2) Le Pavillon des Lettres**** – A temple of literature
Area: Champs-Elysées – Madeleine
12, rue des Saussaies, 75008
The arts, words, novels … As you might have guessed from the title (well, if you speak French, of course), the Pavillon des Lettres ("The Pavilion of the Arts") is a tribute to the language of Molière, and to French and international literature, which makes it a pure combination of art and writing. For such an unusual mix to happen there needs to be a triggering event. And the trigger was pulled by an amazing designer, Didier Benderli, who decided to invade this place and to merge all forms of art there.
There are 26 letters in the alphabet, which makes 26 rooms (obviously) that were all dedicated to an author (Baudelaire, La Fontaine, Proust, etc.), to a style, and to a story told to the customers. They can host up to 4 customers (for adjoining rooms), so that you can share the beauty of literature with your whole family. Every room is equipped with free access to the Wi-Fi connection, with a big bed, a television, toiletries, and with a bathroom with either a bathtub or a shower. As for the suites, they comprise something more: a living room and a private balcony where you will luxuriate and devour French literature for hours.
When you're fed up with reading, you might want to leave your room to think about poetic verses or to picture yourself as a Parisian main character in a novel. In order to dream peacefully, the hotel provides you with a unique setting: a half-bar half-lounge space is available all day long for you to quench your thirst while you keep on reading. Nevertheless, there is one place that will make you forget about books: apart from the balconies in some of the rooms, a joint terrace is available for you to keep your feet on the ground, thanks to the people around you, and to the attentive staff.
If you've ever read Parisian novels, it is now time for you to discover their decor in real life. You're lucky the hotel is ideally located in a fancy neighbourhood of the capital, surrounded by many Parisian sites you don't want to miss, and sites you might recognize from the books. You will find the Elysée Palace, the residency of the French President, only a few blocks away, then you will continue your path, along the avenue des Champs-Elysées, 5 minutes' walk away from the hotel, or you can walk towards the historic quarter of La Madeleine.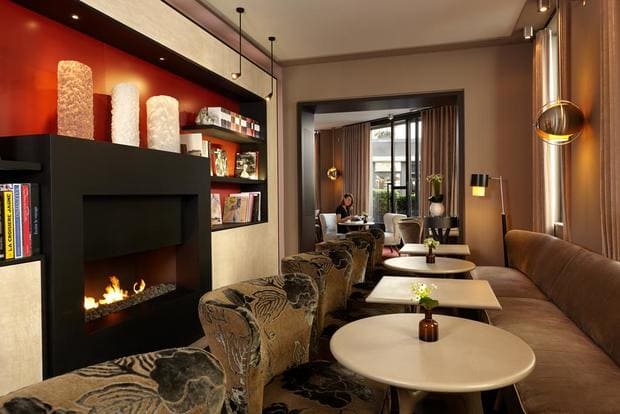 What we like: The unprecedented literary atmosphere.
What we love: Reading a book that was made available for us while observing the capital from our private balcony.
For further information about Le Pavillon des Lettres, its services, prices, and availabilities, click here.
3) L'Hôtel Eugène en Ville*** – All dressed in black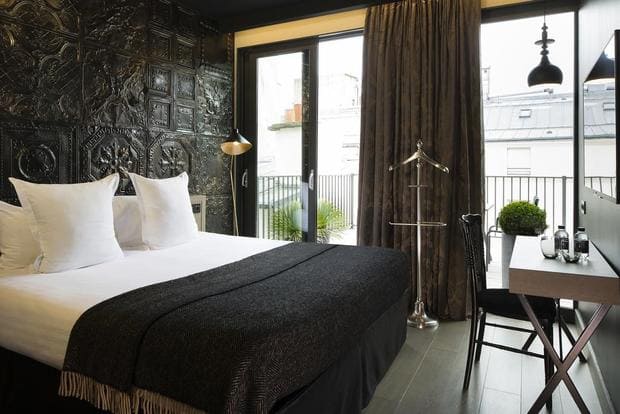 Area: Opéra – Haussmann
6, rue Buffault, 75006
The hotel Eugène en Ville is situated in one of Paris's fanciest boroughs: the Opéra Garnier and the Grand Magasins mall are close at hand. You'll reach the Louvre museum and the Canal Saint-Martin, in the North of Paris, thanks to the tube station Le Peletier, on line 7. But if you simply walk in the surroundings of the hotel, you will wander around in the streets, looking at the Haussmanian buildings; in one of them you will find the Eugène en Ville.
Velvet black, varnished, and olive shades … You'll be surprised by the decoration as soon as you enter the gates. Don't be afraid of black! The shades of black make the place cosy and relaxing; you will never want to get out of your room again! The hotel comprises many rooms and suites. They are chic and elegant, thanks to their softened ambience and their dark colours. They are equipped with a luminous bathroom, with a king-size bed, and with a desk.
Among the 66 rooms, some will provide you with a small (or rather big) extra: a private terrace! The terraces are spacious. The tables and the deck chairs are perfect for sunbathing or having a fresh drink if you have enough time for such leisure.
Unfortunately for you, there is not enough sun to enjoy the terrace? Don't be sad because there is a wine bar with a very musical atmosphere in the building, along with a restaurant, La Cantine d'Eugène ("Eugène's Cafeteria"), where you will eat French traditional dishes. However, the best place for relaxing is the fitness centre! You will enjoy some massages performed by professionals. Thus, you shall forget about your long walks in Paris.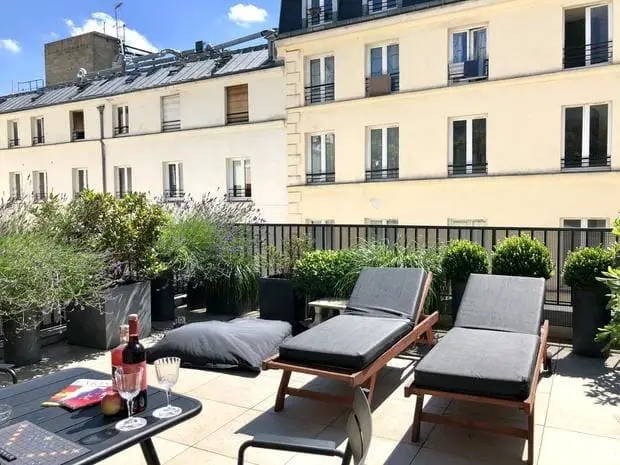 What we like: The black walls' relaxing effect.
What we love: The fact that the very spacious terraces offer a moment of pure relaxation.
For further information about Eugène en Ville, its services, prices, and availabilities, click here.
4) Hôtel de la Porte Dorée*** – Environment friendly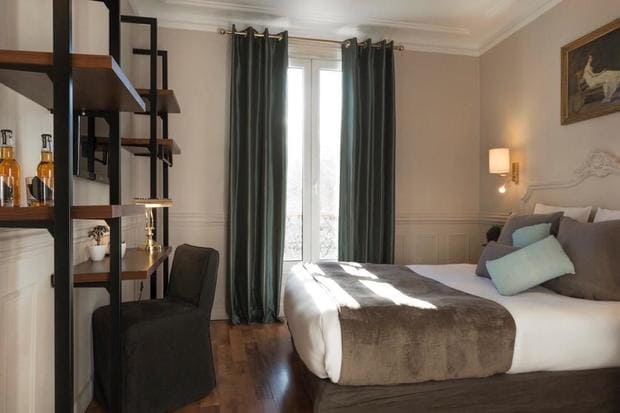 Area: Bercy – Porte Dorée
273, avenue Daumesnil, 75012
This charming hotel is located in a pretty place in the city, near a few little-known sites that are nevertheless nicer than their most touristic twins. You will discover a former Roman viaduct, the "Coulée Verte," only a few steps away from the establishment. This walk in high heights is interesting and it will allow you to become familiar with a less urban part of Paris.
The Hôtel de la Porte Dorée is just like the viaduct: quiet and soothing, thanks to its warm colours and its modern paneling. The hotel is very involved in welcoming and taking good care of the children, for it is a family hotel. Your kids will never lack pencils or colouring pictures or toys, all provided by the equipment in the triple and in the family rooms. In every room you will also find a desk, a phone, and one or two bathroom(s) with a shower or a bathtub.
The biggest rooms open onto a small private terrace where you will savour your breakfast before going on a tour in Paris. Its arrangement will allow you to enjoy the sun (if it's shining, of course) while preserving your intimacy at the same time.
The Hôtel de la Porte Dorée has received the eco label, for it is environmentally friendly: they have energy-saving light bulbs, ecological televisions, an efficient weather-proofing system, and ecological cleaning products.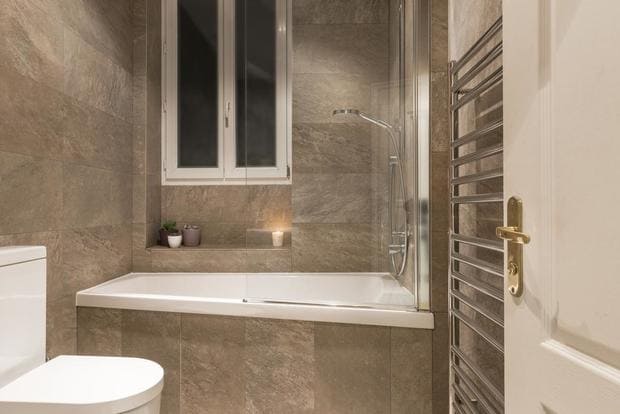 What we like: There are few tourists in this pleasant area.
What we love: You can enjoy the private terraces with your kids.
For further information about the Hôtel de la Porte Dorée, its services, prices, and availabilities, click here.
5) Hôtel Baltimore Paris Champs-Elysées MGallery by Sofitel***** – Friendly luxury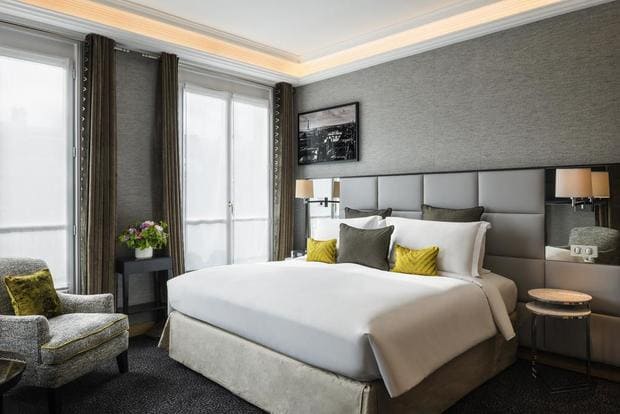 Area: Trocadéro – Victor Hugo
88 bis, avenue Kléber, 75116
The Hôtel Baltimore has become a luxury hotel in 1920. It embodies Parisian architecture. You'll be impressed by its Haussmanian façade, covered in flowers; inside, you'll be enchanted by the canopy and the refined 19th century furniture.
This 5-star hotel will offer you a luxurious environment, where you will spend an exceptional holiday in the shoes of a Parisian citizen. It comprises 75 rooms and 28 suites with a wide choice of categories, from the classic room up to the Eiffel suite (which looks onto the Eiffel Tower, obviously!). Most of the rooms have one or two beds, a bathroom with a bathtub or a shower, and a minibar. Of course, some of the rooms also comprise a balcony looking onto the avenue Kléber, whereas other rooms contemplate the Eiffel Tower (if your room is high enough). You'll also benefit from a faraway perspective on the sunset.
Rooms are spacious enough for you to relax and be at your ease, but the hotel offers other services. On the first floor, the lounge bar is equipped with armchairs, to soften the atmosphere even more. There, you will taste some cocktails; the menu is complete and varied. If you're more into generous dishes than into little snacks, let's try the restaurant: La Table de Baltimore ("Baltimore's Table"). They serve French traditional cuisine, carefully and lovingly cooked. Last, you might want to know that a fitness centre is open every day for the hotel's customers, with high-tech equipment so that you can work out correctly (and you digest easily!).
You will also have the opportunity to attend or to organize some meetings in the conference room. It is comprised of state-of-the-art technology: a video conference system, video hardware, and audio equipment.
And the extra privilege: since the neighbourhood is very fancy, you will be in one of Paris's most beautiful places. You will easily walk and discover the surroundings: the Trocadéro esplanade is 0.25 mile away, followed by the Musée du Quai Branly and, of course, the Eiffel Tower, which overhangs the Champ de Mars.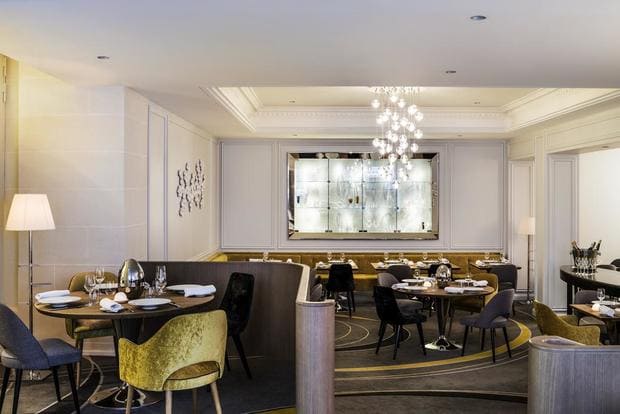 What we like: The panoramic view from the balconies.
What we love: The lounge bar where one can relax at the end of the day.
For further information about the Hotel Baltimore Paris Champs-Elysées, its services, prices, and availabilities, click here.
6) Hôtel Beauséjour Montmartre**** – A poetic holiday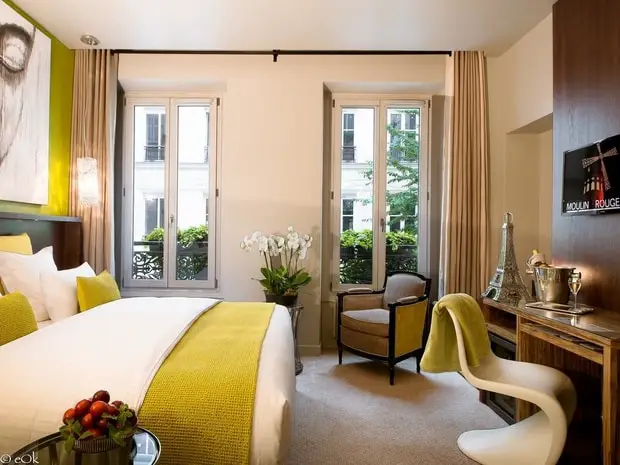 Area: Rome – Place de Clichy
6, rue Lécluse, 75017
This 4-star boutique hotel is located in a popular borough of Paris. If you walk a few minutes more, you will catch a glimpse of the façade of the Moulin Rouge, and maybe attend a show there! Go on your way, discover Montmartre, the artists, and the stunning view over the city. In case you're not fond of walking all the time, you should take the subway, at the station Place de Clichy (lines 2 and 13), to reach the Champs-Elysées avenue or Père-Lachaise cemetery.
After all those tours, you will go to the Beauséjour Montmartre, an appealing, romantic, and singular boutique hotel with 36 rooms. It was founded in 1855. At first, it was a boarding house, which was modernized recently. You'll enter a contemporary world, both comfortable and sober, so comfortable that you will forget the city around you. You will choose between several types of rooms, all equally nice and cosy. You'll sleep in a big bed, benefit from a free Wi-Fi connection, and take care of yourself in the bathroom, with either a shower or a bathtub.
The superior and junior rooms (from triple to quadruple rooms) will give you access to the private balcony, so that you can gaze at the Parisian vibrancy, in the sun and with a fresh drink to sip. Nevertheless, the privilege rooms will guarantee you the highest privileges. They open onto a private terrace, at the back of the garden, with a table and small armchairs, for you to take your breakfast in the fresh air of the morning.
In case a terrace is not enough for you, you can spend some time in the communal backyard, full of plants and tables, where you will quench your thirst all day long and in the evening. You'll go back once more in the morning, because they also serve breakfast there.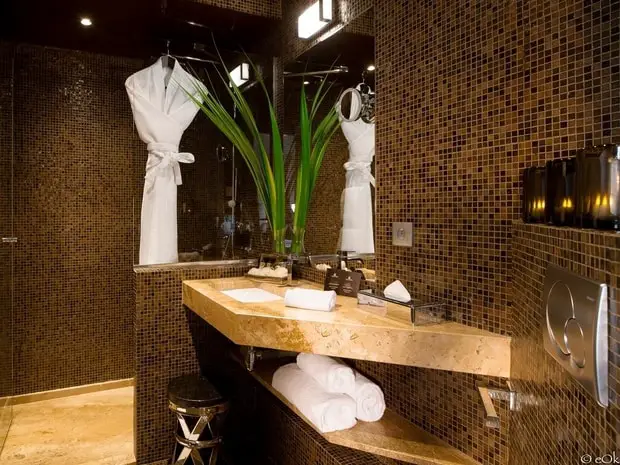 What we like: The borough is vibrant, and full of bars and restaurants.
What we love: The private terraces open onto a small garden.
For further information about the Hôtel Beauséjour Montmartre, its services, prices, and availabilities, click here.
7) Hôtel Le Placide Saint-Germain des Prés**** – Cute and small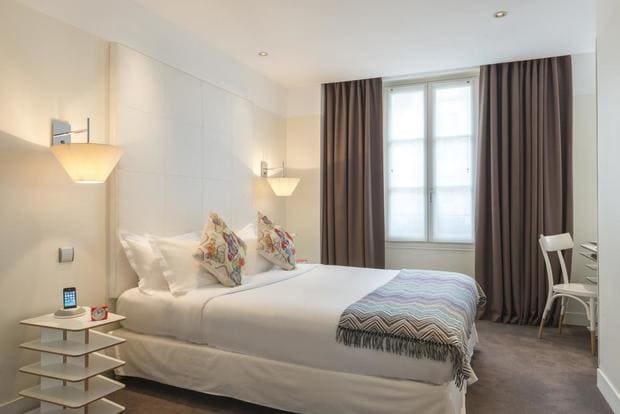 Area: Saint-Germain – Luxembourg
6, rue Saint-Placide, 75006
Colours, light, and authenticity. Yes, we're obviously talking about Paris. This 6th district little hotel will offer you a touch (and even a lot) of fresh air in the French capital. The area of Saint-Germain des Prés is perfect for touring, for spending your entire day, and enjoying your evening. There are a lot of nice things to see around: a very gorgeous church, never-ending stores, bars, and French traditional restaurants.
By nightfall you'll have to go back to the hotel. The 11 rooms are all decorated differently: they're unique and homey. You can book either a junior room or a junior suite; the latter comprises a small lounge area, which doesn't exist in the other rooms. The bathroom is wide and well-lit, thanks to the room's numerous windows, which rarely happens in Paris.
But we know why you came here … You were looking for a small place of your own, in the fresh air, right? Yes, be happy, because there is a balcony in every room, with a table and some chairs. Although we're in Paris, the street is very quiet, which means you will relax without being disturbed.
For you to feel like you're home, the hotel offers many services: a free Wi-Fi connection, room service opened 24 hours a day, a sports coach, a baby-sitter, and some massages and cosmetic treatments. After all, you won't be feeling like you're home, because it is even better than home!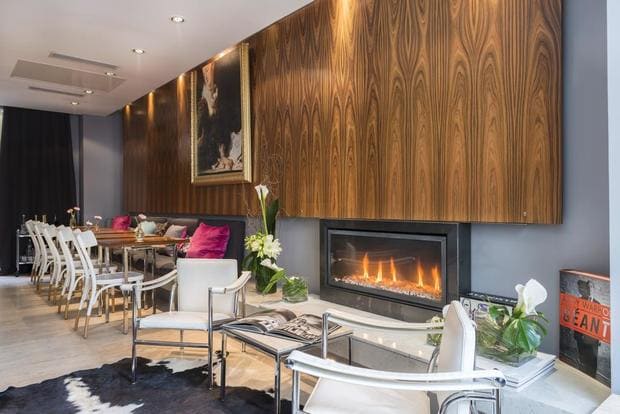 What we like: The singular decoration that will make you want to stay!
What we love: The rooms are bathed in light. And the small balcony adds extra sun!
For further information about Le Placide, its services, prices, and availabilities, click here.
8) Le Burgundy Paris***** – A little piece of heaven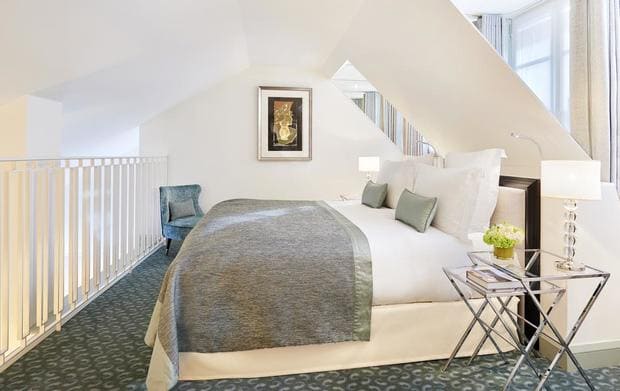 Area: Louvre – Concorde
6-8, rue Duphot, 75001
This building was first built in 1850; it is one of the first hotels that has received the "Palace" label. It is an open-air art gallery, with a decor that pays tribute to all forms of art. You'll benefit from all the services a high-class hotel can provide, so that your holiday is both unforgettable and convenient.
The nice thing about this hotel is the number of rooms: there are only 59 rooms and suites, which is not that much for a palace. Armchairs are scattered all around the rooms, for an intense moment of relaxation. The suites are bigger and comprise a lounge area, the perfect space for a family! However, the rooms and the suites have a lot in common: an office area, a minibar, and a large bathroom with a bathtub or a shower, depending on your preferences. But they have one major common point: the balcony! It is very spacious, it was arranged to eat some snacks, drink, and enjoy your breakfast while looking at Paris.
After that, you might want to stay in your room/suite forever, but you cannot miss the hotel's other suggestions, like the Bar Baudelaire, which looks like a folkloric bistro, where you will rediscover traditional starters and main courses, but with a modern twist. Moreover, since France is known for its desserts and its sweets, why don't you try the essential specialties of the pastry chef? You'll never get enough of them!
And don't forget the restaurant, led by famous chef Pierre Rigothier, where the meals are less traditional but more refined. But you'll still be amazed!
Since we're talking about amazement and pleasure, you might want to know that the hotel also comprises a huge relaxation area (250 square meters wide), where you will rest after an exhausting day. This harmonious space is open all day long for you to forget about your daily issues. You will enjoy a wide range of beauty services, along with the sauna and the hammam. What's more, a fitness room and a swimming pool are also available. You'll never want to go back home again!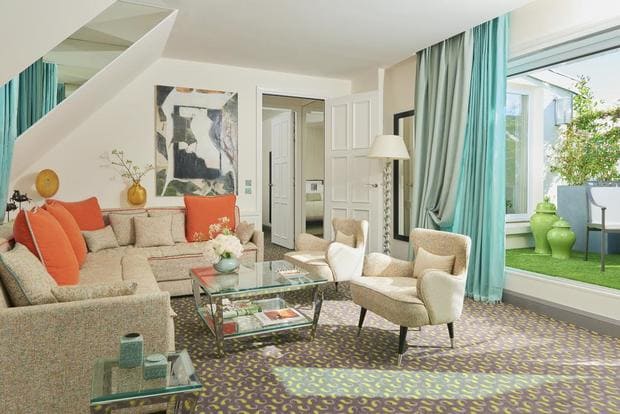 What we like: Going to the spa after a day of touristic visits.
What we love: Spending our holidays without ever stepping out of the hotel.
For further information about Le Burgundy, its services, prices, and availabilities, click here.

I aim to share my tips and recommendations for the beautiful country of France. My goal is to help you plan your next adventure, whether it's a weekend getaway or a once-in-a-lifetime trip. From finding the best hotels and restaurants, to discovering unique activities and sights, I've got you covered!