Public transport in Paris (Metro, RER, bus, tram)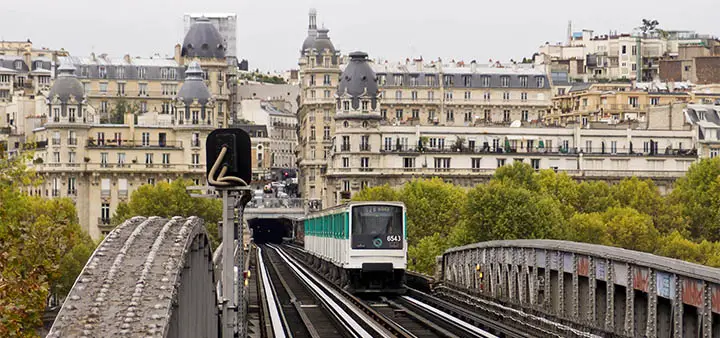 How does it work?
The Paris public transport system is run by RATP and consists of the Métro (underground), Tram, RER suburban express train (which interconnects with the Métro inside Paris), bus and Noctilien (night bus). Paris and its surburbs divide into 6 zones.
Zones 1 and 2 cover the city center and ALL Métro lines. RATP tickets and passes are valid on the Métro, tram, buses and RER. The Métro alone is very efficient and will take you anywhere you need to go within Paris city limits, and sometines slightly beyond. Buses are less reliable but still offer a good service. Smoking is not allowed.
On the Métro, one ticket is good for any destination, even if the station is beyond Paris city limits. Transfers are permitted (including with connecting RER lines).
On the RER, one ticket is good only within Paris. Transfers are permitted, including with connecting Metro lines. To go beyond Paris city limits, you need to buy a special ticket for your chosen destination.
On the bus, transfers (bus/bus or bus/tram) are also permitted for up to 1 hour 30 minutes (from first to last check-in). Between 1 a.m. and 5.30 a.m., while the Métro is closed, Noctambus lines may be used 7 days a week. A special fare will apply. 
Types of passes and tickets
Paris Visite Pass is valid for either 1, 2, 3 or 5 days' unlimited use on all RATP services (métro, suburban trains, trams, buses etc..). Fares vary according to number of days and travel zones selected; children 4 to 11 years old are half-price. You may buy a Pass that covers either Zone 1 to Zone 3 or Zone 1 to Zone 6. The latter will allow you to go all the way to places like Disneyland Resort, Château de Versailles and both Charles de Gaulle and Orly airports. Fares for ParisVisite Pass.
Information and prices of the pass Paris Visite




Example ticket 'Paris Visite'




Single tickets (known as ticket t+) may be purchased at the counters each time, but the better value is a booklet ("carnet") of 10 single tickets, which will save you queuing each time. Both single tickets and "carnets" may also be purchased from tobacconists.




Sample ticket t+




Parisians mostly buy yearly passes ("Navigo"), or monthly/weekly passes ("Carte Navigo") which are most economical if you plan to be there long enough. The yearly Carte Navigo begins on January 1st. The monthly Carte Navigo begins on the first day of the month. The weekly Carte Navigo goes from Monday to Sunday. All passes offer unlimited travel on all RATP services (métro, buses etc..) within the Zone(s) you have chosen. You first need to buy a "Navigo découverte" card (for €5) at any RATP counter inside a metro station and then you can choose the Carte Navigo you want (monthly or weekly). 
For travelers aged under 26 (not included) coming to Paris for the week-end or during a French public holiday, the youngster ticket ("Ticket Jeune Week End" ) is pretty economical. It allows unlimited travel for one day on all RATP services. You may buy Ticket Jeune for Zone 1-3 or Zone 1-5 or Zone 1-6 or Zone 3-6. Ticket Jeune does NOT allow you to connect to airports with the RER suburban train. Rather, you are allowed to use bus lines 183 or 285 to connect to Orly airport (Zone 4), or lines 350 or 351 for Roissy Charles de Gaulle airport (Zone 5).
Disabled travelers: RATP has greatly improved the service available to disabled travelers and other persons with special needs. Please click here for more information.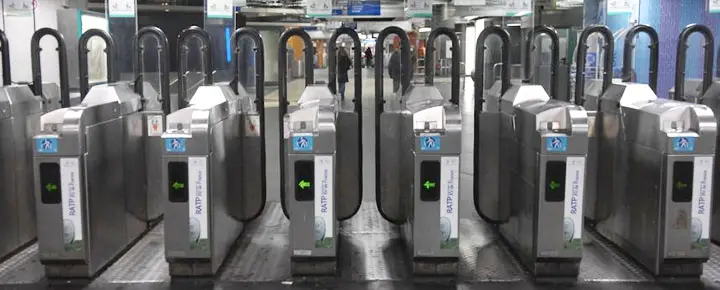 Turnstiles of the Paris Metro