Here is the thrid romantic tour that we have planned so you can spend another wonderful day in the capital of France:
1. Stroll at Parc Monceau
Visit the Parc Monceau (in french), a private park that will seduce you with its rotunda, pond, beautiful arches, groves, statues and bridges. If you have childrens, the park even proposes a playground designed especially for them.
Today, the Monceau Park is considered as one of the most elegant park of Paris. The geographical location of the park (near the Champs Elysées) is also very central. This relaxing venue will offer a change of scenery and a quiet place, even in the heart of Paris.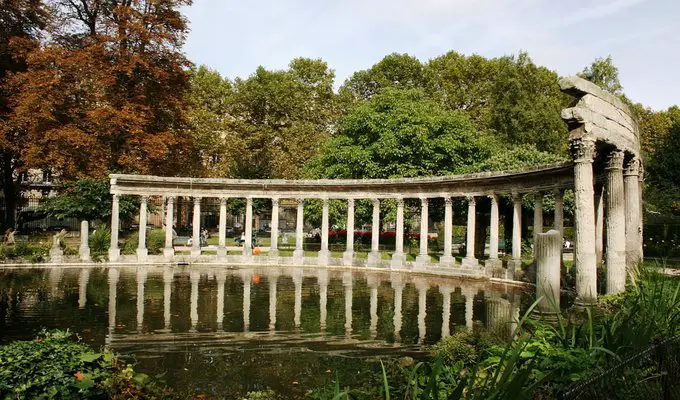 Parc Monceau: 35, boulevard de Courcelles, Paris 8th.
2. Lunch break at Ile de la Cité
After your morning stoll, reach for the metro station Courcelles (line 2) and stop at the station Charles de Gaulle Etoile to change and take the line 1 until you've reached Châtelet station. After a couple of minutes, you will reach Ile de la Cité, an small island on the Seine river, considered as the historical heart of Paris, right in the middle of the city. This is where you will find the  Bistrot Au Bougnat. In a warm atmosphere, you will enjoy a creative, old fashion style cuisine. The menu changes with the seasons, but it always features local products. It has a selection of breakfast, snacks, lunches, pastries, chocolates, teas, coffees, dinners, wines and liqueurs.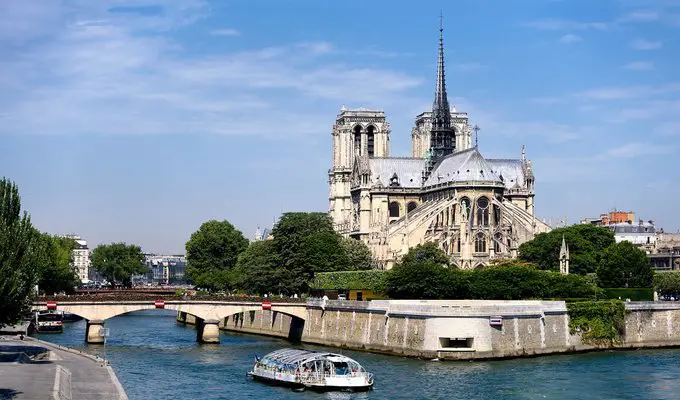 Bistrot Au Bougnat : 26, Rue Chanoinesse, Paris 4th.
3. Visit of Notre-Dame Cathedral
Once you've had lunch, you will be ready for the visit of the Cathedral of Notre-Dame-de-Paris. You will be able to enjoy beautiful architectural elements that adorn the cathedral towers, such as the portal of the Last Judgement, the Gallery of Kings, the West Rose Window, the church bells and of course the many gargoyles and chimeras.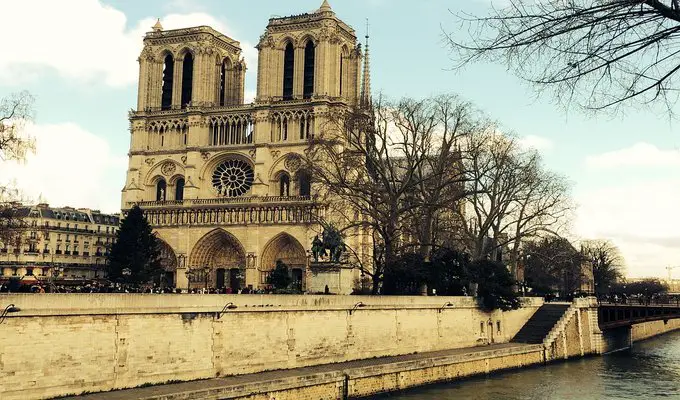 Notre-Dame: 6, Parvis Notre-Dame – Place Jean Paul II, Paris 4th.
4. Magnificent evening
You can choose to end your day with a romantic ride on a bateau-mouche or you can go and have a dinner theatre at the Moulin Rouge ! The cabaret serves dinner accompanied by a performance on various topics.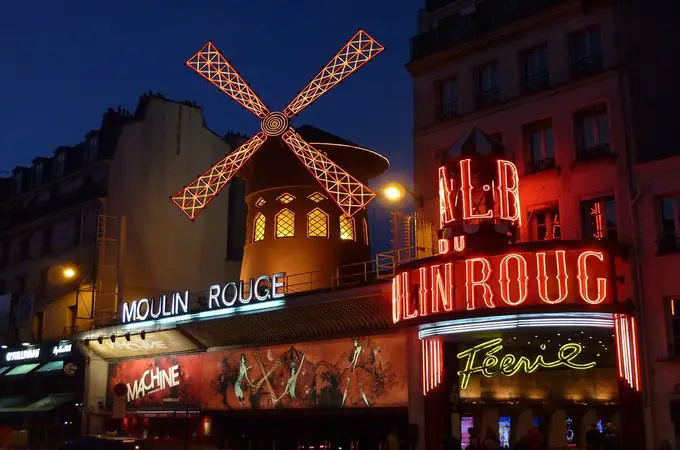 Les Bateaux-Mouches: Pont de l'Alma (right bank), 75008 Paris.
Moulin Rouge: 86, boulevard de Clichy, 75018 Paris.
So do not hesitate any longer and immerse yourself in the special atmosphere that rules in the City of Love.
For more romantic walks articles, check these pages:
Number 1
Number 2

I aim to share my tips and recommendations for the beautiful country of France. My goal is to help you plan your next adventure, whether it's a weekend getaway or a once-in-a-lifetime trip. From finding the best hotels and restaurants, to discovering unique activities and sights, I've got you covered!